With new product showcasing from beloved paper crafting brands like Sizzix, Echo Park, Lawn Fawn, and more, it's no wonder Creativation is the largest event of the year for like-minded creatives! Currently based in sunny Phoenix, Arizona, Creativation temporarily becomes home to hundreds of brands that range from paper lines and planners to paint, beads, edible arts, and more!
As usual, this year's AFCI Creativation event presented show-stopping new tools, innovative off-the-page apparatus, and bursts of new color, textures, and irresistible motifs!
Because we are located just east of Phoenix, in Mesa, Arizona, we were able to easily get to and from the show to see old friends, make new friends, and see all of the new collections, tools, and crafting supplies up close and personal. We brought a video team so we could show YOU all of the new releases before they hit the shelves in stores. You can see those videos on our YouTube Channel.
Top Trends Seen at Creativation
Traveler's Notebooks
If we only had two words to describe the new products at 2018's Creativation, we'd probably say "TRAVELER'S NOTEBOOKS." The trend, started a few years back and slowly gaining momentum, has suddenly hit full speed and many industry-leading brands are coming along for the ride!
Echo Park, Doodlebug Design, Momenta, and Paper House, to name a few, are seasoned paper crafting companies and new to the T.N. (Traveler's Notebook) scene. Simple Stories' Carpe Diem, Prima Marketing, and Webster's Pages are all names we recognize and love when it comes to T.N.'s, but now the options are expanding and there really is a design, color, and texture for every taste.
Take a peek at Echo Park's NEW T.N.s!
Glow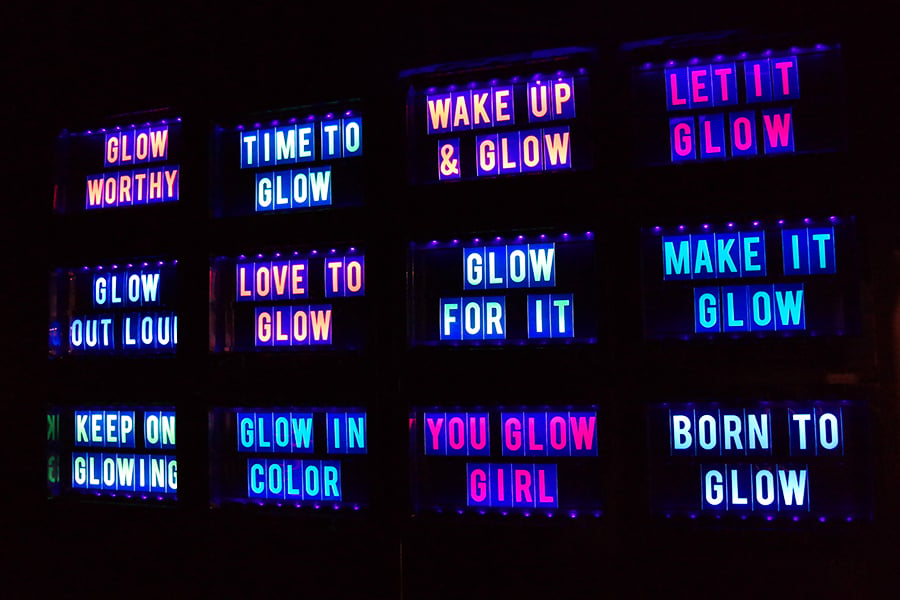 GLOW! The glowing aesthetic is IN! Featured in Heidi Swapp's booth, we're all about glow. We even saw the beginnings of the glow aesthetic in other booths, such as Lawn Fawn's new glow in the dark embossing powder (and yes, it actually works - we tested it). We've already seen touches here and there, such as in Tonic Studio's glow in the dark Glow Drops, but now glow is slowly (or should we say, glowly) making its way into the papercrafting parade and we're giddy.
Glowing effects are starting to pop up here and there and we think we'll be seeing more of this trend in the coming months.
Iridescence
Shiny, lustrous, reflective iridescence is the way of the future! Like a spaceship blasting through space or soap bubbles in sunlight, there's something about the kaleidoscopic nature of iridescent effects that can keep our attention.
Present in Heidi Swapps' new Fresh Start line, Kaisercraft's new Misty Mountains collection, and even Gina K's foils with Therm O Web, iridescent elements are materializing before our very eyes.
Llamas & Sloths
From 2016's Narhwals to 2017's Flamingos and Unicorns... to 2018's Llamas and Sloths, we can only imagine what is coming next!
The Unicorn trend rose up halfway through 2017 and still prevails, seen at many booths such as Reminisce and Kaisercraft, but llamas proved triumphant on the Creativation show floor, Sloths scoring silver and coming in second.
Llamas are everywhere. From Crate Paper to Photo Play, Me and My Big Ideas to Simple Stories, Sizzix to Spellbinders... you get the picture!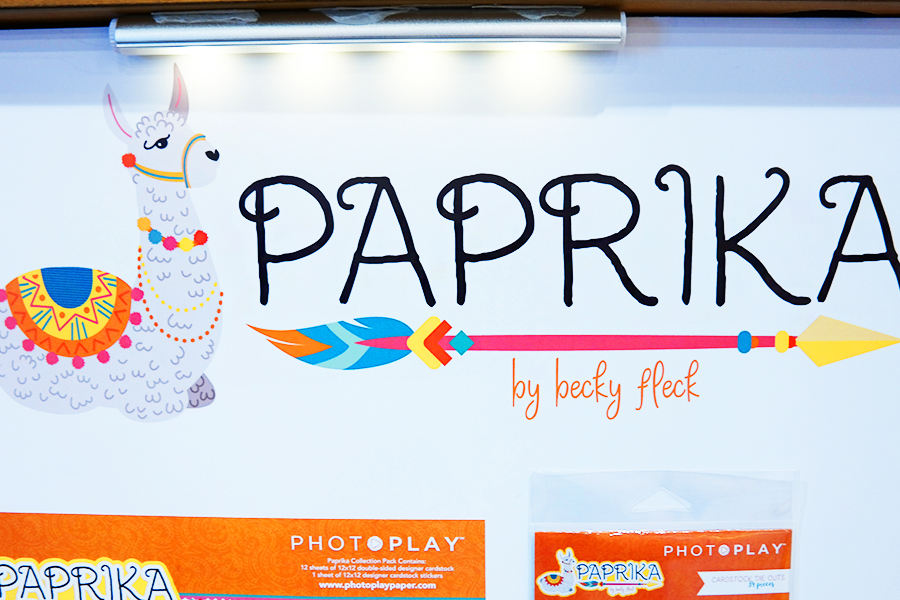 More llamas spotted in their natural habitat (Creativation, of course!)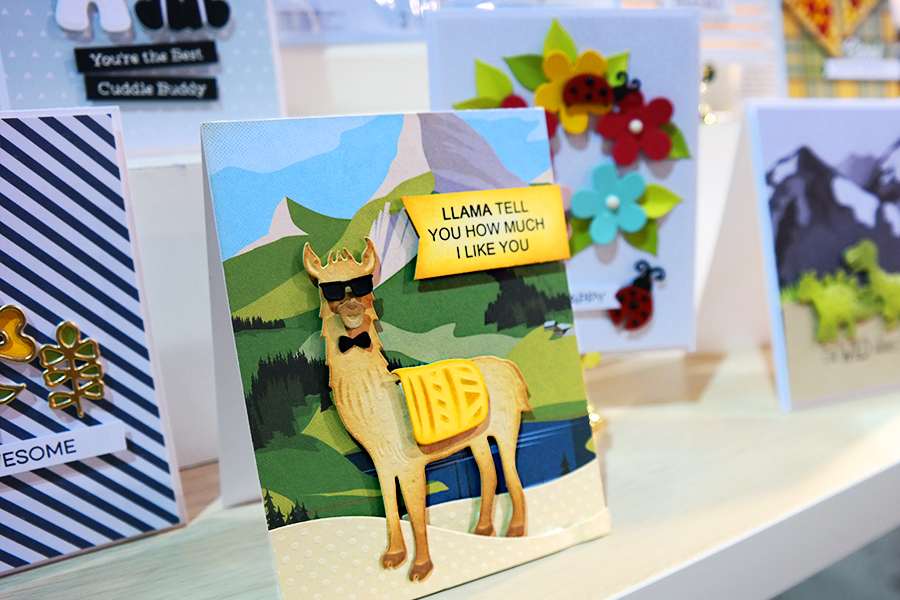 Paper Flowers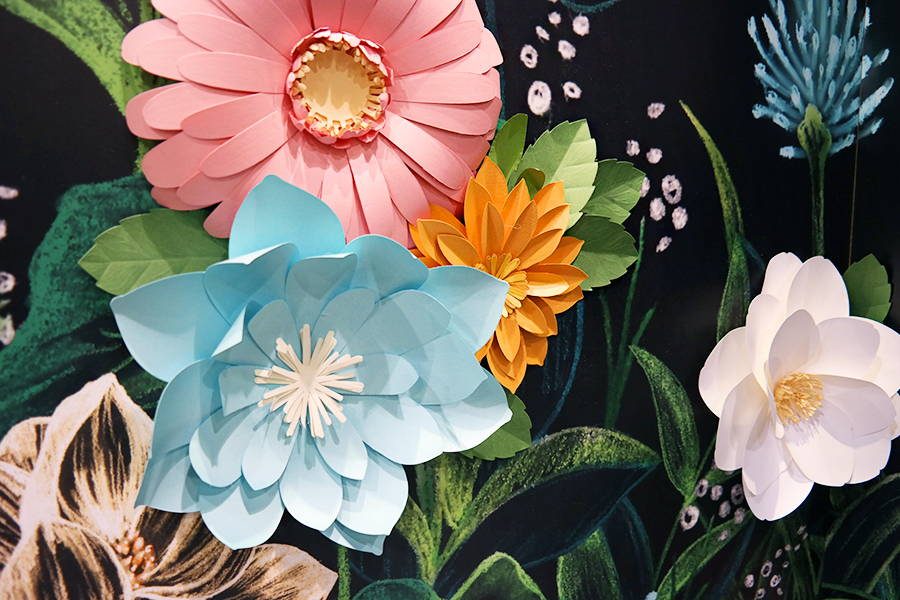 Sprouting up here and there on the showroom floor, paper flowers brought a bouquet of surprise! The paper flower trend (a produce from the prior and ongoing DIY party trend) is only going to grow. Seen in the Sizzix booth from wedding planner extraordinaire, David Tutera, we've fallen in love with larger than life florals!
Echo Park's 2018 Creativation booth also showcased a new collection filled with large paper flowers.
Metallic Accents
The trend of metallic sheen rolls over to the year 2018, continuing to make our projects a little bit brighter! First silver and gold, then rose gold, metallic accents are being seen in almost every booth in the exhibit hall. From mixed media royalty, like Faber-Castell to beloved paper companies like Kaisercraft, the trend lives on and we don't see it fading out any time soon.
We did notice one twist in this ongoing aesthetic - Prima Marketing has a line that features raspberry metallic accents!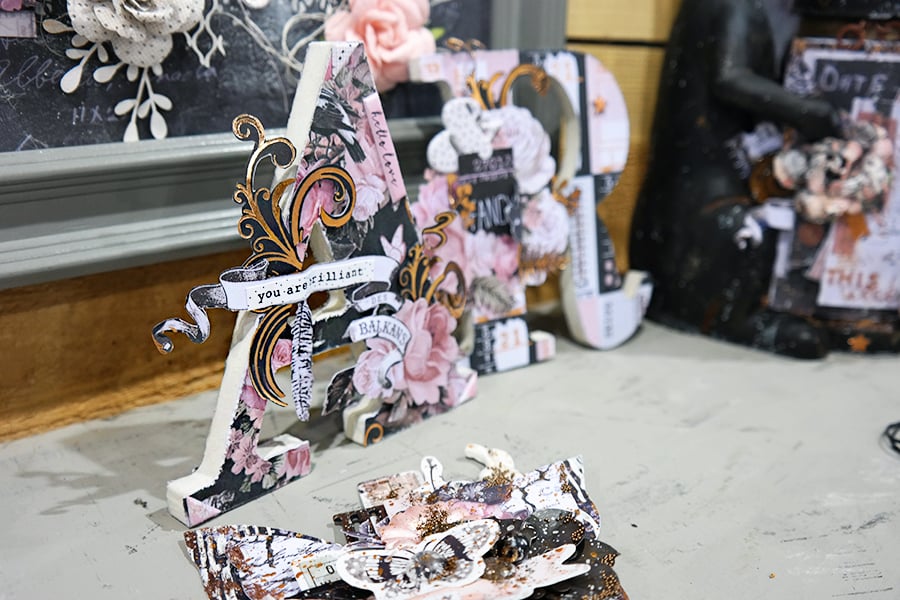 If you can't get enough of the foil accent trend (and we sure can't), you have to check out this new line, Cherry Blossom, from Prima Marketing!
Saguaros and Succulents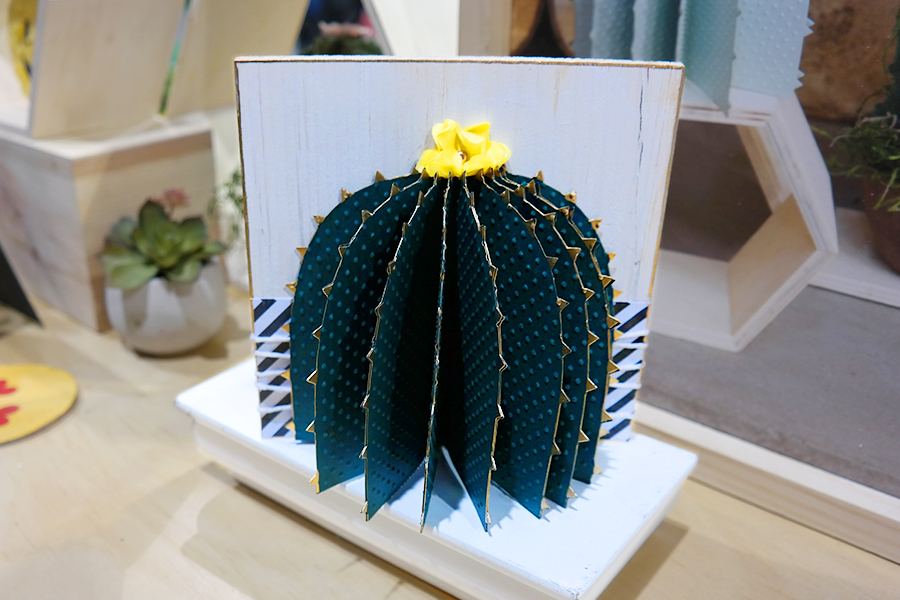 Succulents hit the scene earlier last year, and their reign persists. Along with the succulent trend, cacti, particularly Saguaros, have joined in on the fun! Seen at Crate Paper's booth, Amy Tangerine's with American Crafts, Sizzix, and more, the cacti trend is sticking around!
Chunky Glitter
Realistically, glitter is always in style when it comes to paper crafting, but this new chunky glitter trend is worth mentioning! Seen on the cover of new planners (from Heidi Swapp, Prima Marketing, and Momenta), in mixed media elements (like in Tonic's Nuvo collection), and as accents on specialty ephemera and card stock, like Crate Paper's Main Squeeze and Bo Bunny's new 3-dimensional chipboard stickers, chunky glitter is a season must-have!
Interactive Cards
The barrier between paper and reality seems to get shorter and shorter as technology advances! Interactive cards were seen all over the exhibit hall! From Art Impressions' innovative dies (like their new Flutters and Twist Ties) to Lawn Fawn's incredible Pivot Die and Waffle Flower's eye-catching Pop-Up House Die - Responsive cards are the name of the game!
This is the era where you can send a handmade card that pop ups, spins, wiggles, or is even 3-D (with the help of 3-D glasses, of course)! With a heap of dies that make creating seemingly complex cards quick and easy, the possibilities already seem endless!
Best Booth at Creativation 2018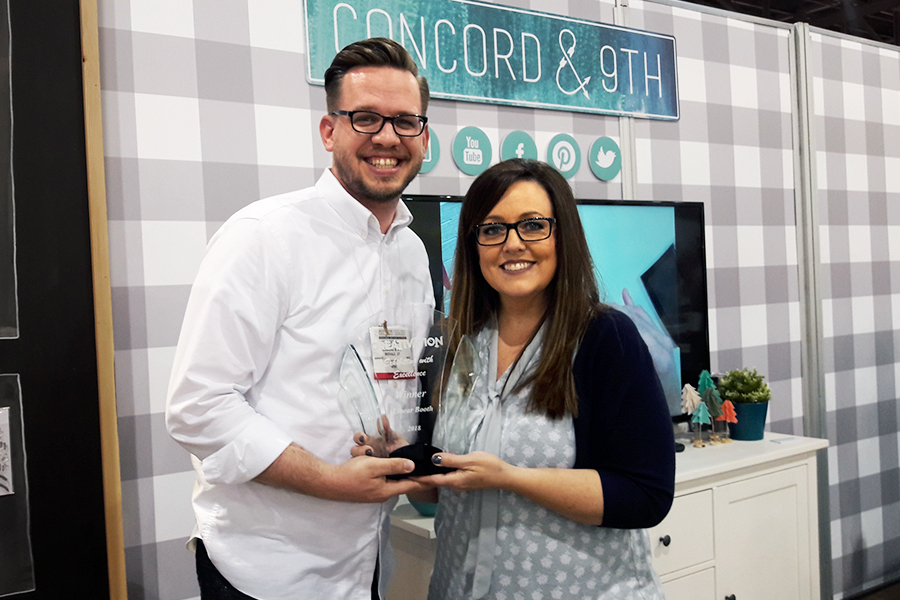 2017's winners, Art Impressions, passed the torch onto Concord & 9th, this year's "Best Booth" award! A stamping and die cutting line at only their 2nd Creativation in history, Concord & 9th showcased their well-deserved trophy for us! Let's give a round of applause and congratulations to them!
Tim Holtz and Tonic Release The Glass Media Mat
On day one of Creativation, Tim Holtz debuted the Glass Media Mat! The perfect work space for all of your creative projects, mixed media and otherwise, this versatile mat can be cut on, painted on, and more. We were able to film the debut for YOU and you can watch it here.
---
We had a blast at this year's Creativation event - from the reminiscing with friends to seeing new products that you're sure to adore, we are always honored to attend and create lifelong memories to go into our very own scrapbooks here at Scrapbook.com.
Sarah (Digital Advertising and Content) and Kendra (Graphic Design) having fun exploring all Creativation has to offer!
Want more Creativation? Make sure you head on over to our YouTube Channel where we will be posting over 200 videos we took at this year's Creativation Event so YOU could see the show up close and personal!
Happy Crafting!
---