Fifteen years ago, at the beginning of the growth of the scrapbooking movement, one of the big attractions of the corner scrapbook store was usually a huge (and expensive) die cutting machine. These large machines were based on industrial die cutting design concepts, but were made for the craft space. One of the most popular large craft machines was the Accucut machine. Today, many home crafters have their own die cut machines – or even multiple machines - and die cutting is an integral part of the daily crafting experience.
What is Die Cutting?
Die cutting, at its most basic level, is the use of a die to make repeated identical cuts from a material with a machine. Think of the die kind of like a cookie cutter. In manufacturing, obviously, this is useful for affordably creating thousands of items quickly and with perfect duplication. You can learn more about general die cutting here. For scrapbookers, cardmakers and paper crafters, die cutting also allows easy creation of perfect renderings of any given shape time after time. You can easily cut out nine 3" circles for that color blocked layout in minutes, or 22 shapes for wedding invitations, getting the perfect shape and cut every time, etc. But just as important, die cutting machines also allow for the cutting of shapes too detailed to cut by hand, or for the cutting of shapes that match together perfectly (as a set) to create an image or 3D item. You can cut an intricate doily in seconds or build treat boxes for an entire class or group of friends with a lid that fits nice and snug. How cool is that?
Nowadays, die cutters are also used with accessories to help add beautiful foiling to your handmade cards and projects. Simply get one of the easy-to-use heat add-ons, and your die cut machine will now have a shiny alter-ego.
What is a Die Cutting Machine?
A die cutting machine (also known as a card making machine to some crafters) can take many forms. The machine's purpose is to apply the die to the surface being cut (paper, chipboard, etc.), with enough force to cut or form the shape into said surface. Die cutting machines in the crafts industry can be manual or digital, and even within those types, can have many different features. Most manual die cutting machines have a cutting path that leads to compression rollers through which the die and material are moved by either manual cranking of a lever or an electric motor. With digital die cutting machines, the material is placed on a cutting mat and then fed into the machine to be cut by the machine's blade.
What is a Die?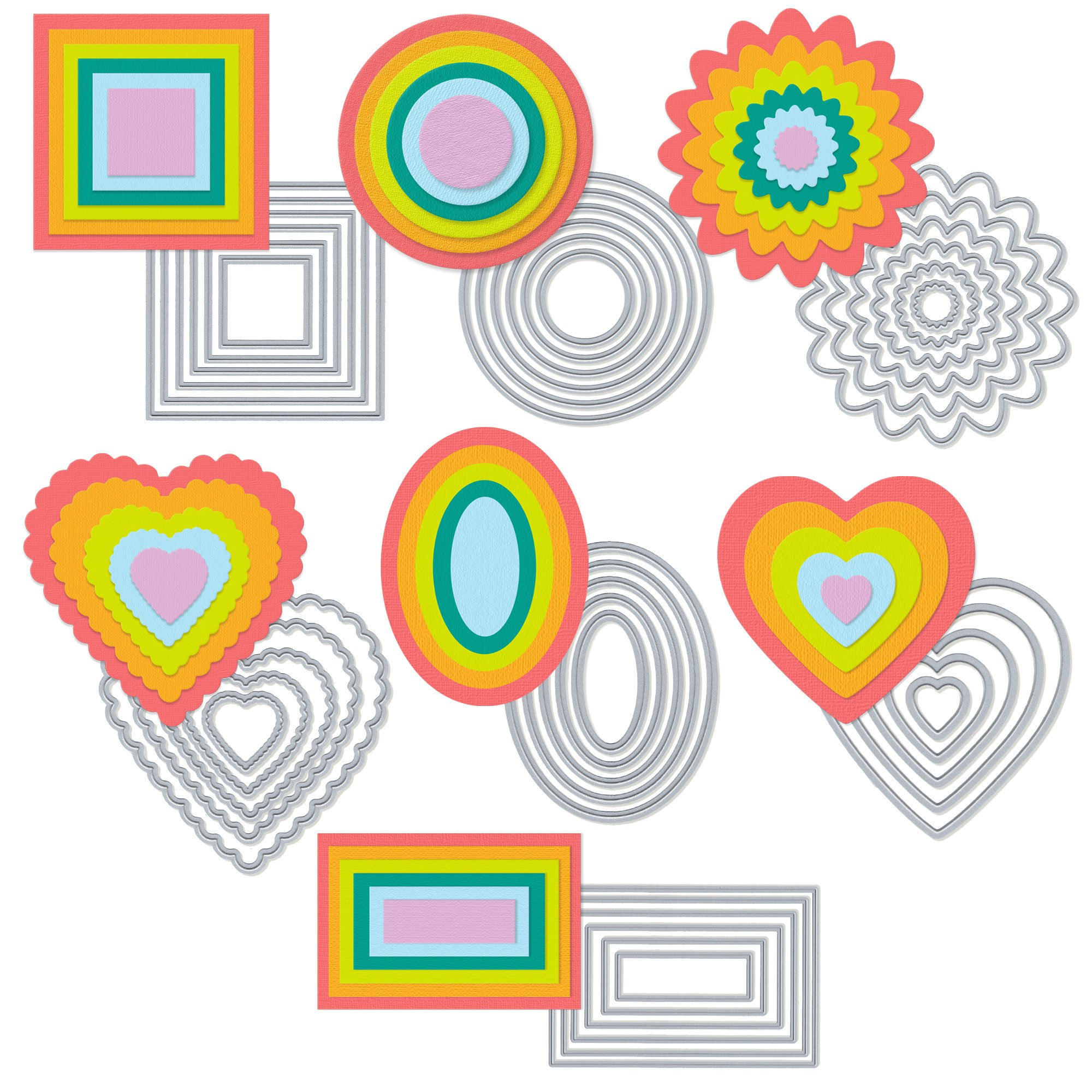 Both types of die cutting machines, manual or digital, cut designs based on dies. A die is a pattern or form that is used for creating identical duplicates out of materials like paper, cork, fabric, leather, foam, thin metal and wood, chipboard, and other materials. Think back to the cookie cutter comparison.
For manual die cut machines, there are two major types of dies: steel rule and thin metal. Thin metal dies are made of etched metal with the centers cut out. They have a flat back and a thin raised area that traces out the design and serves as the cutting edge.
Steel rule dies are more like a steel cookie cutter – a steel "rule" is formed into the shape to be cut. This rule or "cookie cutter" is then attached to a wood base with the steel edges surrounded by protective foam that serve to both protect the steel and to prevent the cut pieces from getting stuck down in the die.
Steel rule dies are stronger and have more cutting force than a thin metal die, so they can cut through more difficult materials (such as mat board or leather) or more layers of material at once (such as multiple layers of fabric for creating quilt pieces). However, it is possible to create much more detailed designs with thin metal dies, and thin metal dies are much more affordable. Thin metal dies are also lightweight and take up less room to store.
For digital die cut machines, the "dies" are digital files that serve as patterns to tell the machine what to cut. Different machine manufacturers use proprietary file formats for their machines, but many machines can also use widely available SVG files or even import files such as .jpeg files for conversion to use in their software.
Manual Die Cut Machines vs. Digital Die Cut Machines
A lot of factors go into considering whether a manual die cutter or digital die cutter (or a combination of both) is best for a scrapbooker. To get the best of both worlds, some crafters choose to invest in both types of die cut machine.
Manual machines are more affordable as an initial investment, but the cost of individual dies for them can make them more expensive to use in the long run. Stampers may love a manual die cut machine for the ease of working with the large variety of dies available that match their favorite stamps. Manual die cut machines also have an ability that digital machines don't – they can also emboss paper and thin metal using plastic embossing folders. Using steel rule dies, manual machines can also easily cut a huge array of materials.
You place your die of choice with your paper of choice on the board, how you want it cut, then you cover it with a protective, clear board (usually referred to as a mat). Next, turn the lever and the mat will come back out the other side. You can take the clear mat off and pop the clean cut paper right out of your die. Voila!
Digital machines have the advantage of the flexibility of digital – design files can be resized and even modified to fit the design style of the crafter. Digital machines also have the advantage of 24/7 access to online stores to purchase just the design that you need for the project that you are working on. But digital machines are not as portable as manual machines, especially because they require power to operate.
We're big proponents of creativity by hand and we encourage crafters to get out from behind their computers and to the table to physically create, by hand, as often as possible. There are many health and emotional benefits of handmade self-expression. For this reason, if you're truly on the fence, and not sure which type of machine will be best for you, you may want to go with a manual machine. It will keep you off of your digital device and at the creative table longer.
Top Manual Die Cutting Machines
A wide selection of manual die cutting machines with features ranging from electric motors to portability, are available for crafters. With prices starting from around $40 and rising to around $200, there's a machine for every budget. Here's a look at a few of our customers' favorites.
Sizzix offers different sizes for different crafters' needs. They offer an 8.5" wide machine (the Big Shot Plus) and a 6" wide machine (the Sizzix Big Shot) as part of its line. In addition, the Big Shot line includes the Big Shot Pro, a 13" wide machine. For those who would like assistance with their cutting, Sizzix offers two machines with electric motors instead of cranks, the Big Shot Express and the Vagabond 2. When it comes to accessories, a wide range is available for the Big Shot machines, from magnetic platforms for thin metal dies to a clip on tool caddy. You can view and compare all Sizzix machines to read reviews and more.
Spellbinders has the Spellbinders Platinum, which can take dies up to 8.5" wide, and its smaller sibling the Spellbinders Platinum 6, which can take dies up to 6" wide. One of users' favorite features of the Platinum machines, besides their sturdy steel core construction, is that the machines fold so that they take up less space for easier storage. The Platinum works with steel rule dies or thin metal dies (when used with the accessory Platinum magnetic platform). View and compare all Spellbinders machines and read reviews.
What Is A Die Cutting Sandwich?
Whichever machine you select, the basic procedure for making a standard cut with a die is fairly similar. Follow the machine's instructions for creating a cutting "sandwich" of cutting pads, material, and your die for whatever die type you are cutting with. It's conveniently called a sandwich because it has layers. The outside plastic cutting plates are the bread, the die is the deli meat, the cutting material is the cheese, and any shims are the condiments or fixins.
To achieve a beautiful, seamless cut every time, you'll want to add a Scrapbook.com Magic Mat to your sandwich. It replaces one of the pieces of "bread" that you cut into for super clean die cuts for every project.
Then place the sandwich on the machine's "cutting path" and either turn the crank or turn on the motor to move the sandwich through the machine. When it comes out the other side, disassemble the sandwich and remove your completed, beautiful cut!
Top Digital Die Cutting Machines
There's even more variety in digital die cutting machines than there is in manual machines. Thanks to the ability to customize computer software, each digital die cut machine has a distinct set of features and strengths. There really is a machine for everyone!
With their feature called PixScan, the Silhouette Cameo machine can cut out anything (including stamped designs) that you can take a picture of with your smart phone's PixScan app. The machine runs from Silhouette's Studio software, with access to its massive online store of cutting files.
The Cricut Explore Air machine connects via Bluetooth wireless to your computer or iOS device to cut from the company's Cricut Design Space software. The Cricut Design Space online store gives Cricut Explore Air owners access to purchase designs from a library of more than 50,000 files that include licensed designs from brands like Anna Griffin, Disney, Sesame Street, and more.
---
Procedures for using digital cutters can vary immensely because of the complexities of software design, but the general concept is the same for most currently popular models.
For most digital die cutters, basic cutting begins by designing and arranging your cut in the machine's software on a computer or mobile device. Then the material to be cut is placed on a cutting mat, and loaded into the machine's cutting path. After the material is in place, the machine is activated.
Once completed, the cutting mat and material can be ejected from the machine and removed from the mat to prepare the mat for another use.
Which die cutting machine should I buy?
With all of these options to choose from, how do you know what machine is the right one for you? You can research each machine and read reviews of all of the major machines here at Scrapbook.com. You can also check out this handy guide that compares the features and benefits of some of the top machines. The answer depends on what your priorities are in making a purchase. We'll go through a few below.
Cost
If your priority is a low initial investment, select a machine such as the Sizzix Big Shot, Spellbinders Platinum 6, or We R Memory Keepers Evolution, and then add accessories to it over time. If operating cost over time is your concern, then digital may be the way to go. The initial price for a machine like the Cricut Explore Air or the Silhouette Cameo can be prohibitive, but over time, the lower cost of dies/shapes will help offset those costs, especially for users who like to cut a lot of different designs.
The best cost-effective deal if you're in the market for a die cutting machine is a bundle, where you can get the machine and a variety of dies together in one exclusive grouping. The Big Shot bundle is a very popular kit at a great price. The Spellbinders Platinum 6 bundle is another bestseller that comes with dies in a variety of styles.
Versatility
For a machine that will do a little bit of everything, you may consider buying a digital die cut machine. These machines will do most die cutting tasks (except emboss or cut super heavy duty materials), and although not the best machines for the task, they can be portable or cut large volumes of duplicates if needed.
Portability
If you want a machine that is easily portable, you'll likely want a manual cutter. Try the Sizzix Big Shot, Spellbinders Platinum 6 or the We R Memory Keepers Evolution. These manual machines weigh between 6 and 7 pounds and fold for easy portability. Digital die cutters are not very portable and some of them need to be connected to a computer.
Size of Output
With digital die cutters, extremely large designs can be sectioned into smaller parts and then pieced together to create huge designs – perfect for creating large signs and wall art. This cannot be accomplished in the same way with a manual cutter. There are some manual cutters like the Big Shot Pro and Big Shot Plus that do create quite large shapes and are worth a second look if you prefer manual cutters.
Ease of Use
Nothing can beat the ease of use of a simple manual roller die cut machine, which is simple enough that a child can use it with supervision. You can take most manual cutters out of the box and be creating within a few minutes with almost no reading or training. But recent advancements in the design of digital die cutting machines and software – including the introduction of iOS apps for the Silhouette Cameo and Cricut Explore Air - have greatly enhanced the ease of using those machines. If you are even a little technically inclined, you don't need to feel intimidated by the "computer" aspect of digital die cutting – for a small learning curve, the return in design possibilities can be absolutely worth it.
Durability
With steel rollers, no wiring, electronics, and few moving parts, manual die cut machines like the Sizzix Big Shot or the Spellbinders Platinum easily win in the durability department. However, don't dismiss electronic machines like the Cricut Explore Air and others, as they can be surprisingly sturdy, even for portable use.
Cutting Large Volumes
For quilters, or for crafters who do large quantities of duplicate cuts for things like swaps or large events, a manual die cut machine with a steel rule die is the fastest and most cost effective way to cut large quantities quickly. For papercrafters who want to create several copies of a single shape for cards, invitations, or other projects, however, either type of machine will suffice.
Design Licenses
Different manufacturers have licenses with different designers to produce content for their machines. Although metal and steel rule dies from most brands can be used with any of the manual machines, this is not the case with digital cutters that use proprietary files. So if you are a Tim Holtz super fan, you may want to consider the Sizzix eclips 2 over the Cricut Explorer Air. Have a kid that is all Disney all the time? Then the Cricut Explore Air is probably your machine. Each machine has its own licenses and its own aesthetic.
Warranties for Die Cutting Machines
The various warranties differ depending on manufacturer and sometimes also depending the machine. Sizzix is arguably the best, with a 3-year limited warranty on most machines. Of course, at Scrapbook.com we offer a money back guarantee. If you are unhappy or disastisfied after your purchase of any machine, you can always return it for a full refund within the first 60 days. We recommend reading up on warranties after you have decided so you are aware of your timeline to remedy any issues that may arise.
---
Still uncertain which die cut machine is right for you? Check out our Die Cut Machine Comparison Chart for more information! Want to read real reviews from actual customers of each machine? Check out our die cutting section at Scrapbook.com and click on the machine you are interested in. You'll find reviews are at the bottom of the page.
---