Times are changing. Technology is advancing rapidly into many areas of our lives that used to be 100% manual. Amazingly, crafting is one of them! All of a sudden, a resurgence of electronic die cutting machines and digital cut files is occurring in relation to scrapbooking, card making, journaling, planning, mixed media, home decor, and lots of other creative outlets!
There's just so much information out there, how do you make sense of it all? Let us help!
This article will teach you everything you need to know about digital cut files - and you'll soon discover that they're so much easier to use than you ever imagined!
1. What is a digital die cutting machine?
A digital die cutting machine is an electronically-powered piece of machinery that uses software from your computer, smartphone, or tablet to cut or draw designs from a variety of materials inserted into the machine. You've probably seen or heard about some of the most popular models of digital die cutting machines over the past few years. It started with the Cricut Expression and specialized cartridges filled with shapes and designs and has evolved significantly through the years.
Tech-savvy crafters everywhere are enjoying the precision benefits of machines like the Cricut Explore Air family, the Silhouette Cameo line, and the Brother ScanNCut.
These time-saving devices offer an automated solution to cutting out shapes, sentiments, and designs that oftentimes leads to your digital die cutter getting promoted to the top dog in your craft room!
Think of a digital die cutting machine like your home printer: you have an image or design on your computer, and you send it to the machine. But instead of ink printed on a page, you have a design cut from the material!
Many Cricut and Cameo machines also have a nice added feature in that they are drawing or writing machines as well. If the machine of your dreams has a pen caddy, you can insert a specialty pen in the slot and have the machine draw a design, word, or shape of your choosing in ink.
You can even combine the two functions and have something cut and drawn - all with the machine! That means you can cut out fun shapes with your journaling on them for scrapbooks and traveler's notebooks, or even make a full cut and drawn card front!
2. Do you need an electronic die cutting machine?
We're going to tackle some of the critical questions that you'll most certainly ask yourself when you're considering an electronic machine to up your crafting game.
This question gets straight to the heart of a big purchasing decision. You can ask the opinions of hundreds of crafters, and you will get extremely different answers as to whether or not you truly need an electronic die cutting machine in your life. Some say it's the best thing that ever happened to their crafting. Others say it collects dust.
Ultimately, it's important to think through all the ways you can and will use the advancement of this device to determine its usefulness in your specific crafting projects.
What size projects do you work on?
It's a common misconception that Cricuts and Cameos are designed solely for scrapbookers; this is ultimately not true! The beauty of the software behind these machines is that you can size your sentiment, shape, phrase, or design to whatever size you need!
While you may see scrapbookers using big, beautiful words in their innovative layouts, cardmakers everywhere are scaling things down to a greeting card size!
Whether you are a 12 x 12 scrapbook layout maker, card maker, pocket page scrapbooker, journaler, planner, or love the versatility of a traveler's notebook, you can easily use a digital die cutting machine to make your creativity come alive!
What Materials Do You Create With?
Paper and cardstock are not the only materials that can be cut with a digital die cutting machine. With the appropriate settings and machine blades (while following instructions on your specific machine, of course), you can cut things like glitter cardstock, photographs, adhesive vinyl, iron-on vinyl, canvas, denim, leather, linen, felt, silk, cork, craft foam, magnetic sheets, vellum, wood veneer, and almost 100 other materials.
The Cricut Maker machine can even cut over 125 types of fabric and materials up to 2.4mm!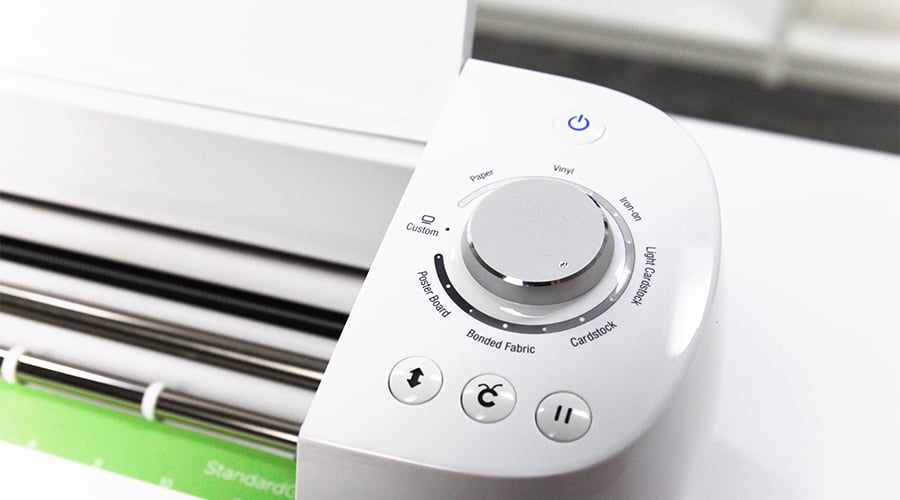 Very popular ways to use a Cricut or Silhouette Cameo right now is to cut out adhesive vinyl designs for tumblers, mugs, or wall decor or iron-on vinyl for custom shirts, pillows, blankets, or other clothing accessories.
How Can You Add Foil With a Digital Die Cutter?
We R Memory Keepers, a name you know and love for creating innovative tools, introduced a heat foil device for electronic cutting machines called the Foil Quill*. This system works with select Cricut, Silhouette, Brother, and Sizzix machines to add beautiful, professional-looking foil designs onto your projects.
*Please note this product has been discontinued.
It combines the drawing function of your electronic machine with high levels of concentrated heat, heat-reactive foil, and your material of choice to transfer foil designs in almost no time at all. For added ease of use, the Foil Quill Magnetic Mat and strip magnets are a dream!
Once you use the Foil Quill to create one project, you will undoubtedly be addicted to the gorgeous results and ease of use!
What Are You Cutting out?
Say you don't need a machine to draw words or designs because you're already a talented artist. Or you love to stamp images and create scenes but don't care much for coordinating die sets. The Brother ScanNCut machines have an unbelievable added function that will amaze you (hint: it's right in the name!).
If you've stamped and colored in an army of fun critters and want to assemble them in a scene, simply run your page through the Brother machine for it to be scanned. Once scanned, the machine will give you a digital image of your paper where you can tell it exactly how you'd like the images cut out.
You can tell the machine to cut the shapes exactly or even tell it to give you a clean border around the figures - the choice is yours. Once selected, the machine cuts out your images with precision and leaves you with amazing results!
3. What is an SVG or PNG file?
You use files every single day in your daily life. You take photos that are JPG files and listen to music as MP4 files. In crafting, you use SVG and PNG files!
Also known as cut files, SVG (scalable vector graphic) or PNG (portable network graphic) are the preferred file types for use with your digital cutting machine. These types of graphics specifically allow your software to understand where it needs to cut, so you don't end up cutting out a square around your graphic.
The SVG files are also more user-friendly when stretching and scaling them to size, which means you can cut something 12" x 12" scrapbook-sized or 4.25" x 5.5" card front-sized in no time at all!
Where Do I Find Cut Files?
You mean other than Scrapbook.com? Depending on your machine and software, the files are usually right at your fingertips! For Silhouette users, their Design Store is a nearly endless supply of options. From witty phrases to fun fonts, complete projects, premade cards, and weekly freebies, whatever you're looking to create, you'll definitely find.
Cricut users have access to Cricut Design Space, that houses thousands of similar options and weekly free images as well. While both of these companies offer free designs and downloads, the majority of the content is available for purchase from approximately $0.99 to a few dollars.
Many other sites and companies also offer cut files. Paige Evans even has an Etsy shop dedicated to files she's designed herself!
Where Can I Get Free Cut Files?
Say no more! Scrapbook.com actually has several free cut files for you to download and use with your digital cutting machine. These freebies are an excellent way to dip your toe into the multitude of possibilities available to you in the great big world of cut files.
You can pick up our FREE Floral Sampler Pack that includes designs for scrapbook layouts, traveler's notebook pages, planner dashboards, cards, and more! Since they're free, you can play around with the files and figure out if you'll create something amazing with these digital files.
How Do I Use Cut Files?
It all starts with a download. Depending on which cutting machine you have, what device you're using, and which software is needed, it all starts with downloading the cut file of your choosing.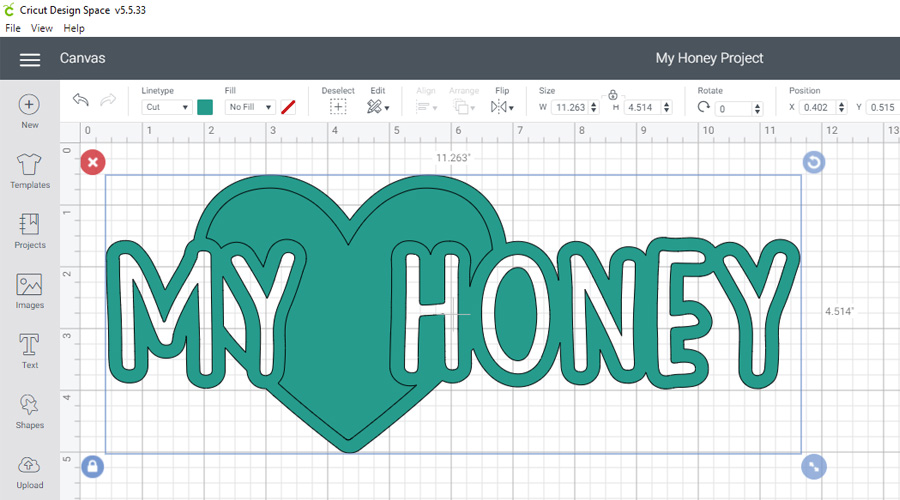 Once you've downloaded the PNG or SVG file, open your software and tell it to upload the file you just downloaded. Once uploaded into your software, it's just a matter of sizing, placing, and designing a look that works for you before sending it to your machine to cut or draw.
You simply use your machine's specialty mat and choose the material you want to cut or draw on before loading it into the machine to make the magic happen!
4. Where will you be working with your digital machine?
When it comes to manual die cutting with your Sizzix Big Shot Foldaway, Spellbinders Platinum 6, or like machine, the good thing about them is their portability. Some of them even fold up to save space before you grab them by the handle and store them away. A digital die cutting machine definitely takes up more space in your crafty area.
How Big are digital die cutting machines?
A Cricut Explore Air 2 is a 14-pound machine that measures 24" x 9.5" x 9.5". A Silhouette Cameo 4 is 24" x 10" x 8" and weighs a little over 15 pounds. These creative beasts are big, heavy, artistic powerhouse machines.
It's also important to note that the machines need clearance for your material to move in and out of the machine - both in the front and the back.
So unlike your desktop printer that spits out pages from the front, these machines cannot be placed flush against a wall or cabinet. Before you consider adding this to your space, make sure you have a dedicated spot to put it.
What are the connectivity options for machines?
Very similar to your home printer, your electronic cutting machine has a couple options for connection. If you set up your Cricut or Silhouette next to your computer or laptop, you can easily use the included USB cord to connect the two together and transfer the data. This is a great option for a nice big crafting area or office.
But what if your machine is in another room? That's where Bluetooth connectivity comes in! Many of the newest models of machines are equipped with the technology to connect your computer or phone without wires. The new Cricut machines use an app that can be downloaded to your computer, laptop, Android smartphone, or iPhone and Bluetooth to communicate and send instructions from your device to the Cricut machine!
That means you can sit on the couch and design something for your Cricut in the app and wirelessly send it to your Cricut machine in the other room to cut out. How cool is that?
5. What can you make with a digital die cutting machine?
Here's the part where we show you all the amazing things that can be done when you go digital! These files, paired with your electronic machine and creativity, will truly make any project you're working on come alive! And they use some of your favorite designer brands and supplies to do it!
How to Use SVG Files - The Quickstart Guide
Get out your Cricut, Cameo, or other digital cutting machine - turn it on!
Connect your machine to your computer or smart device using a cord or Bluetooth technology.
Open the software you use with your specific machine, such as Cricut Design Space or Silhouette Studio.
If using Silhouette Studio, you can access this on your desktop computer or laptop. If using Cricut Design Space, you can access it on any computer, laptop, tablet, or smartphone.
Download your shape, image, or design (also known as an SVG or PNG file) onto your computer or device.
Locate the download in your computer's downloads folder, on your desktop, in your smart device's Files folder, or other designated location - upload it into your software!
Using all the features in your machine's software, you can size, stretch, rotate, and design your image to suit your project. Select whether you want to cut, draw, or both!
Load your material (like cardstock, vinyl, or fabric) onto your machine's cutting mat and feed it into your digital cutting machine.
Hit the go button and watch the magic happen! The blade will cut out your SVG file design in no time at all!
Remove the mat from your machine and enjoy creating something amazing with your design!
We hope that this detailed deep-dive into digital die cutting has been helpful! Don't forget to upload your Cricut, Cameo, or other projects into the gallery to inspire others. Looking for more inspiration? Don't forget to check out our collection of Digital Cut Files - only at Scrapbook.com!
---