You're on vacation at Disneyland! It's time to relax. However, don't get too comfortable, because many photographic opportunities await you! From the scenery to the activities full of people, Disneyland is a photographing dream. Making sure you capture all those magical moments can be overwhelming, however. Here are some tips to ensure you encapture memorable photographs when visiting Disneyland.
Bring More Than One Camera
Often, the first decision when planning photographs for any occasion is deciding what camera to use. SLR (Single Lens Reflex) cameras are better at taking different lighting situations on top of being able to zoom in on a subject. Keep in mind, though, that SLRs are heavy and bulky. Consider bringing a smaller digital camera or using the camera on your phone as backup options. The outcome might be a little different based on capabilites, but you will have to weigh the pluses and minuses. If you are spending multiple days at Disneyland or are heading back to the hotel during the day, use that opportunity to switch cameras. Plan when you want the SLR and when you want to use the compact camera. If you are staying at the park all day, consider having someone else carry the larger camera for a while.
Make a List
With a wealth of photographic opportunities at your reach within Disneyland, start your trip off right with a list of photographs you know you'll want to take. Work through your list as you work through the park. Don't limit yourself to your list, but use it as a way to keep track of all the "must" photographs.
Photograph Characters
The top photographs on most Disney-related photography lists are ones of/with Disney characters. Character photographs can be candid or staged. Take advantage of the staged opportunities and use your own camera. Take your time, get level with the subjects, and get close.
Photographing Rides/Attractions
To take a photograph with your subject on the ride, you may have to go on the ride ahead of your subject. Then, when you exit the ride, position yourself at the ride's exit or another location along the ride. Alternatively, take a photograph of the ride from outside or inside the ride. I took a photograph of Big Thunder Railroad on the exit platform immediately after exiting the ride. Consider taking photographs while on the ride/attraction.
Uncluttered Group Photograph
Every visit should include at least one group photograph. Look around the park and consider several backdrop options. Choose something uncluttered, where you won't have people walking behind your or a distracting background. To get everyone in the shot, let an employee take the photograph or use a tripod. If you do not have a tripod available, use a trashcan or other tall object.
It's All in the Details
Disneyland rides and attractions are full of little details. Disney's Imagineers work very hard to include these details. Capture them in a photograph!
Include the Photographer
Photographers are great at taking shots of others, but rarely photograph themselves. Occasionally, hand the camera over and let others take photographs with you included!
Candid Moments
Even in the dullest moments, keep a camera available. You may be surprised by what your eye sees and wants to take a photograph of. The look of wonder on my daughter's face was captured while riding a slow-moving boat ride at Disneyland. By keeping the camera handy, I was able to capture her in a natural moment of expression.
Panning
Don't put the camera away just because the subject is moving. Use the technique of panning to capture the subject in your photograph. To pan, move your camera along with the subject. Your subject will remain focused while the background blurs. This is great for in-action shots!
Include the Photographer
Photographers are great at taking shots of others, but rarely photograph themselves. Occasionally, hand the camera over and let others take photographs with you included!
Discover Unique Subjects and Angles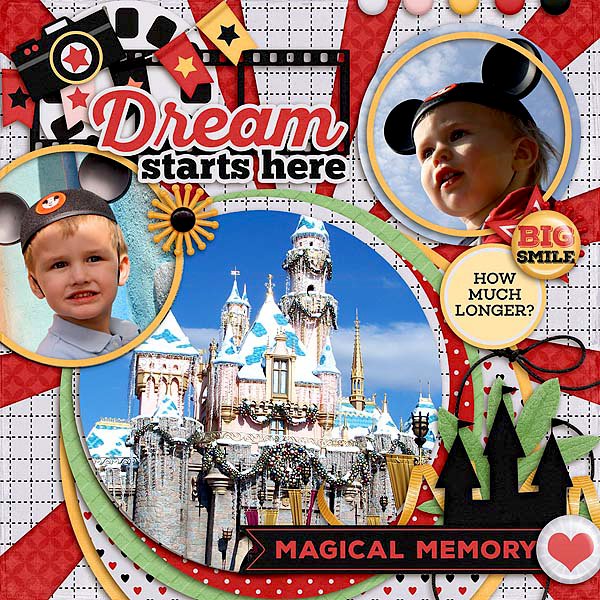 Try to crouch down and aim upwards, or stand on something and aim downwards. These angles will produce unique shots.
Repeat Photographs at Different Times of the Day
Some attractions, especially those that light up at night, may look better or different throughout the day. Take photographs of those differences.
Be Well-Positioned for Parades and Shows
If possible, arrive early and get an unobstructed view of the many Disneyland parades and shows. Most indoor shows will allow photography, as long as there is no flash being used during the show. To get great parade photographs, I sit in the front row with a long view of the parade.
Evening Photographs
Do not use a flash when taking photos outside in the evening. Not only can a flash not focus on more than one subject, it also blinds and disturbs those sitting around you. If your camera is able, disable the flash. To get the bests shots without a flash, use high-speed film. Particularly, a high ISO setting and/or fast shutter speeds.
Enjoy Yourself
While it may seem best to take a photograph as often as possible while at Disneyland, remember to sometimes just put the camera away. Grab a postcard of some of the rides and attractions, and just relax!
Summary
For your next Disneyland trip, make a list, grab your camera/s, and take those marvelous photographs. These images will provide you with wonderful scrapbooking opportunities!
Like This Article? Then take a gander at these...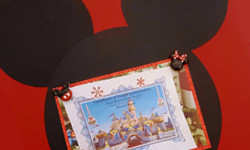 This article was written courtesy of Denise Gormish, who originally wrote this content for Scrapjazz.com.
---