You'd never guess it, but back in her school days, Dyan Reaveley was kicked out of art class and told she'd never amount to anything. Well, she certainly proved everyone wrong!
Years later, Dyan Reaveley is a signature designer for the Ranger Ink brand and a truly unique, talented artist who inspires everyone around her. She empowers individuals to express themselves and be creative, confident, and crafty to feed their souls.
Explore some of Dyan's favorite products from her Dylusions line below.
Dylusions Ink Sprays
Each and every one of Dyan's products for her Dylusions line for Ranger Ink is carefully designed, crafted, and created within the specifications that Dyan herself requests. This ensures that each and every product is of the utmost quality and consistency. Her first products, which are still 5-star fan favorites, are the Dylusions Ink Sprays.
These intense, bright colors form an incredible basis for any and all art journaling, mixed media, or fabulous crafty project. Available in a variety of water-reactive colors, from cool hues like Periwinkle Blue and Fresh Lime to warm tones like Postbox Red and Lemon Zest, these unpredictably addicting inks are a fabulous addition to your repertoire.
Aside from being positively gorgeous, they're acid-free and non-toxic, with a fine mist sprayer for the best possible results on your project. That means you can spritz the concentrated colorant close up for a saturated, inky look, or from a higher position, creating a delicate drizzle of colorful ink.
As an art journaler, Dyan uses these inks in a fabulously frenzied fashion to add solid splashes of color to her journal pages...and herself. But no worries, her inks are never permanent and easily come off your hands, craft sheets, and tools with just a little bit of water!
One of the best characteristics of her inks is the ability to be reactive with any other water-based product. This includes more hues of ink, paints, and water itself. No matter how long ago you inked your project, be it a minute, a day, or a month, you can always go back and add water-based solutions to change it up!
Just look at the magic that occurs with a little spritzed water and a fantastic stencil! That's right - that's just water reacting with the sprayed ink and lifting some of the pigment from the page. Unbelievable!
Shimmer Sprays
Intensely-colored spray inks are magnificent to work with, but what if you want a little shimmer and shine on your design? Then you turn to Dyan's Shimmer Sprays. Choose from 24 different shimmering hues that coordinate beautifully with the entire Dylusions line to turn your art journal entries into gorgeous, glimmering works of art.
These magical little bottles are similar to the Ink Sprays, but with a little something extra. Filled with colorful ink and a pearlescent mica, these sprays will add a luminous, shimmering effect to your projects.
Give them a vigorous shake and swirl to mix the mica with the ink before activating the spray nozzle on your project. Before you know it, you'll have a fascinating, glimmering design on your page.
You can use the Shimmer Sprays on a variety of surfaces, but they truly come to life against the black journals and Dyary pages in the Dylusions line.
Dylusions Paints
After Dyan's extremely impressive foray into inks, she moved on to create a signature line of paints. What sets Dyan's acrylic paints apart from others? Other than how gorgeous they are, the mixture is a proprietary blend made especially for the Dylusions line.
First of all, it's a quick-drying paint, which is very important for working in an art journal or notebook. It's blendable for mixing hues with other colors and even her Ink Sprays. And it's semi-opaque for creating unbelievable layering effects with colors, designs, and more!
But that's not all! Even though it's blendable, it's also waterproof. And the matte finish allows you to use all sorts of writing implements on top of the dried paint to create your doodles, calendars, notes, entries, and more. It can even be stamped on!
With Dyan's specialized paints, a little bit goes a long way. The creamy, delicious texture works wonderfully with a blending tool to create quick and easy backgrounds for your art journal. Since the paints are semi-opaque, you can blend softly for a textured, shadowed effect, or with a heavy hand for deep patterns and accents.
How to Keep Dylusions Paints From Drying Out
When designing these wonderfully versatile paints, Dyan specifically asked for a wide-mouth jar design due to her preference for working out of the lids. It also allows for tools like spatulas, ink blenders, and small brayers to easily fit inside and get loaded up with colorful paints.
But this also means that air is more likely to get inside the jar, especially when paint starts to get used up. How do you keep your beautiful paints fresh and ready for your next project?
Amazingly, just a little spritz of water is all you need to help your paints stay nice and creamy. After you've used some of your Dylusions paint, spray just a small amount of water into the jar. Close the lid and give it a good shake to mix the water into the paint and even out the mixture.
What this does is give air less space in the jar to affect the paint. The less air, the better environment for keeping your paint fresh and fierce for your next project.
Start Your Art Journal With Creative Journals
What good are fabulous inks and paints without a perfect surface to absorb them? Her extensive collection of Dylusions Creative Journals are beautifully stitched and filled with delicious pages of mixed media paper. If you are looking to start or continue your art journaling, need a fantastic notebook, or are looking for a unique planner option, this is the way to go!
Available in a variety of shapes, sizes, and options, you can choose the one that suits your needs and allows you to express yourself.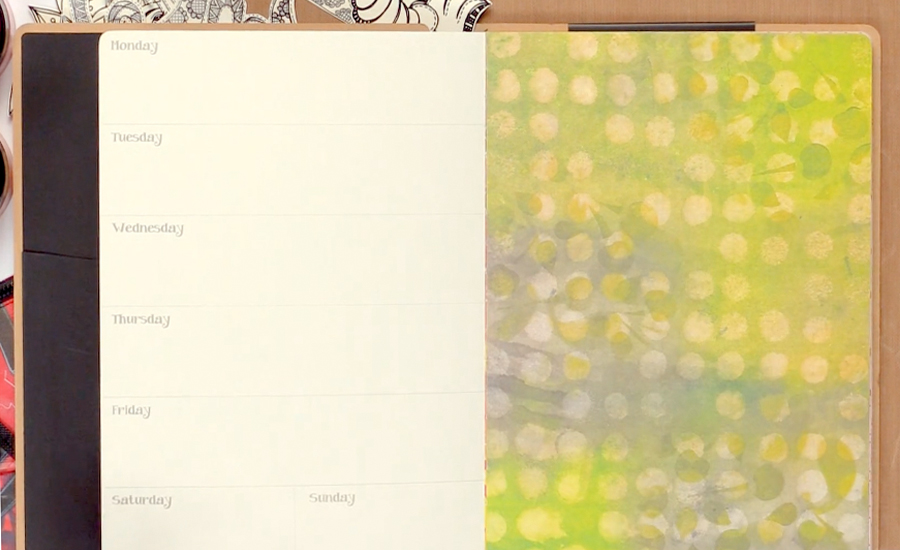 Pick blank pages to create everything your own from start to finish, undated calendar options to write your to-do's (or to-done's like Dyan favors), a little mixture of blank pages and pre-created designs from Dyan, or a black book for making your designs light up the pages.
Want to try out the products and the paper but not sure a journal is the best place to start? You can pick up a pack of Mixed Media Cardstock designed specifically for using Dyan's inks and paints and creating magic.
Dyan's Dyalogs
What you might call a Traveler's Notebook, Dyan calls a Dyalog. This collection consists of covers, books, and accessories that are all standard Traveler's Notebook sizes. That means that you can use other books in Dyan's covers, or other covers for the Dyalog insert books.
Dyan's Dyalog line offers a variety of book styles to personalize your system exactly how you like it. Choose from Handwriting Lines (think old school penmanship sheets), Grid (like graph paper), Agenda (undated weekly calendar), Blank, Ruled (lined), Backgrounds (Dyan's colorful artwork), Dots (for bullet journaling), or Black books. Pick your favorite type or mix and match to create something unique!
Each of the covers holds endless possibilities for loading up books. With the helpful addition of Elastic Bands, you can comfortably fit six different books inside one cover.
You can have your weekly agenda for staying on track, blank pages for doodling, ruled pages for journaling, dots for tracking your to-dos, handwriting pages for inspiring quotes, and grid pages for documenting your habit charts.
You'll love the versatility and inspiring feeling you get from carrying around this beautiful system and expressing your creativity whenever the mood strikes.
How to Create a Unique Art Journal Background
Along with inks, paints, and beautiful journals and notebooks, Dyan Reavely has designed a variety of unique products to help you create something original and meaningful.
Stencils
To get true depth, dimension, and interest in your art journal background, you need to create some interesting patterns that draw the eye. Stencils are a super simple way to accomplish a completed background in no time at all. Plus - you don't need to possess any drawing skills to achieve brilliant results!
It's a common misconception that you need to use stencil designs in their entirety on your project. But that's not true at all. Sometimes the best art journal backgrounds, card fronts, or accents are from a very small piece of a stencil's design.
Position the stencil, blend out a little paint, and a few swirls in a few different key locations on your page will make a great design. Then, flip the stencil over and press down to add the inverse design in a different spot - it's brilliant!
Dyan's stencils are designed in a variety of sizes - from huge 9" x 12" large designs, 5" x 7" small designs, 9.25" x 8.25" sheets with a fold in the middle for storing in your notebook, to fun silhouette shapes with corresponding masks.
Paint Pens
Doodling is another art form that doesn't take learning or talent. When you trace, outline, scribble, scratch, or write, you are doodling.
Sometimes it's lines, or dots, or circles, or random shapes that make absolutely no sense to anyone (including you!). But that's all doodling is - having fun and getting lost in whatever you're creating. Stellar doodling requires the right tools, and for Dyan that tool is a paint pen.
These quick-drying, fascinating tools come in a rainbow of options, including a must-have duo of black and white. They leave behind an unbelievably clear, opaque paint that enhances anything you've created in your art journal.
How do they work? They're uniquely designed with a chamber full of ink, a fine tip nib, and a specialized value action in between that allows the paint to move smoothly from one end to the other.
Because they're filled with quick-drying paint as opposed to ink, they show up beautifully over inked or painted pages and make your designs or writing really stand out! They work exceptionally well for adding fun little details that stand out against colorful images.
Gel Plates
Gel Plates are clear, thick, jelly-like shapes (think Jell-O Jigglers) that are used like giant flexible stamps to create interesting, unique backgrounds with paint. Because of their unique texture and flexibility when pressed against a surface, the paint creates unbelievable, unrepeatable patterns every time.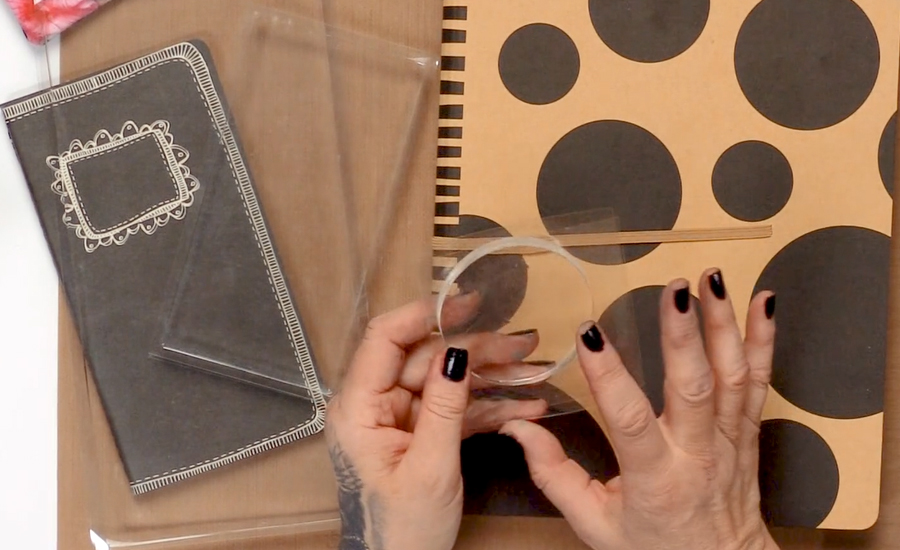 You can simply add dabs of paint to them, or get out your tools for some real fun! Use them with a brayer to roll out and distribute the medium, texture tools for interesting patterns, marking tools for specific designs, and more. Then give them a press against your journal or notebook and watch the magic happen.
Pick up a giant 9" x 11" Gel Plate, or a must-have 3-pack that includes two different sized rectangles and a fun circle. These tools are also reusable, easy to clean, and made in the USA! Just pop them in your Gel Plate Storage Tin for next time or using on-the-go!
Stamps
To add some interest to your background or your weekly outline, Dyan offers a variety of fun stamp supplies including inks, sentiments, patterns, and characters to put in your journal. Some of her most popular options are her snarky, sassy stamp phrases including "You may not have lost all your marbles but there's definitely a hole in the bag".
There are also funky flowers, imaginative animals, heads and body parts to create unique characters, and more!
And no stamp is complete without a funky and fresh tiny ink pad to go with it. Her mini ink cubes coordinate with the rest of the hues in her Dylusions collection and make a perfect companion to your art journal creations. Pop them all in a Storage Tin for creating on the go!
Stickers
Stickers add a certain little something to your journal entry or notebook page...especially the ones that Dyan designed. Her cardstock stickers are filled with sassy statements and fantastically snarky phrases for adding some sneaky silliness onto your pages.
You can also pick up a Creative Dyary Sticker Book that has original drawings, shapes, and words in Dyan's distinctive handwriting style.
Want to see more Dyan Reaveley? Learn techniques and find inspiration in seeing the products in action with Dyan's two instructional video series on the Scrapbook.com site. Hear about her journey into the world of art journaling here and explore inspiring products and techniques here.
A big thank you to Dyan Reaveley for being an inspiration to art journalers and crafters everywhere with her passion for art and creativity. And also a thank you to Ranger Ink for offering imaginative products so crafters all over the world can be creative!
Be sure to shop for all your Dylusions and Dyan Reaveley products from Ranger Ink at Scrapbook.com!
---