Hippity, hoppity, Easter's on its way and we have everything you need to get your Easter crafts started!
Make sure you're ready for the Easter Bunny this year with the top products and collections filled with chocolate bunnies, pastels, Easter eggs, flowers, chicks, baskets, and so much more!
1. Scrapbook.com - 6 x 8 Stencils
When the Easter Bunny is on his way, you need to get ready by preparing baskets with jelly beans, dyeing colorful eggs, and making Easter crafts! Pick out some of your favorite pastel ink colors, glitter gels, and pastes to go with Scrapbook.com's springtime-themed stencils.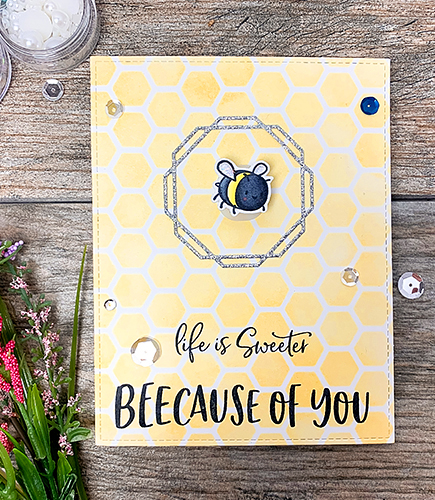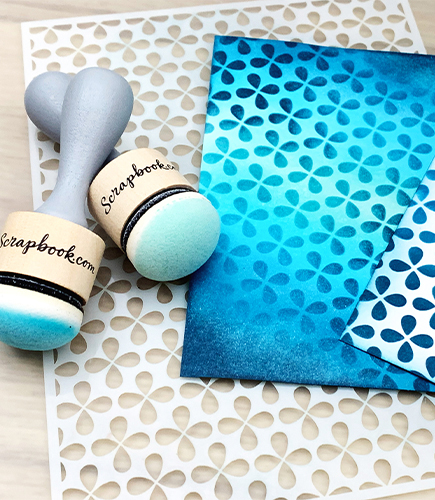 These big, beautiful 6" x 8" stencils are versatile for any and all Easter projects. Choose from honeycombs, giant teardrops, dandelions, florals and more to add wonderful depth and design to your spring or bunny-themed crafts. Your friends and family members will love opening a stenciled, handmade card with this year's Easter baskets!
2. Authentique - Cottontail Collection
Here comes Peter Cottontail...and he's bringing with him a truly classic papercrafting collection from Authentique! Feel the vintage vibes of your childhood Easters with these pretty pastel patterns and throwback images of cheeky rabbits. The Cottontail Collection is truly a basket full of joy for welcoming spring and spreading Easter blessings!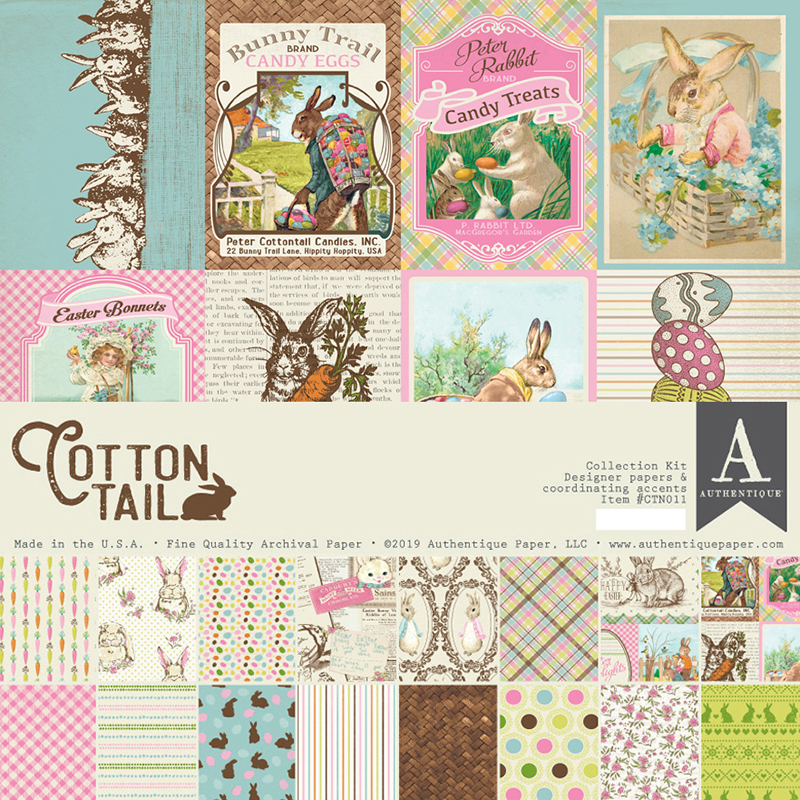 The delicate patterns of plaid and polka dots go beautifully with the detailed images of Easter bonnets, bunnies in baskets, and colorful painted eggs. This collection would also be a wonderful way to showcase vintage photographs of the family at Easter service year after year in a cherished album.
3. Tim Holtz for Sizzix - Easter Dies
It's just not a celebration without Tim Holtz and this time he and his creativity are hopping into Easter! Do the Bunny Hop with Tim this spring as you die cut and arrange these happy hoppy friends on your cards, layouts, journal pages, and more.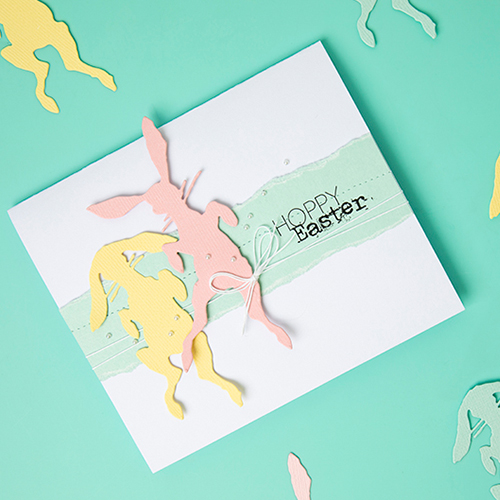 The possibilities are endless with this trio of bouncing bunnies that can't wait to hop onto your next project. Just think about the amazing Easter basket projects you can assemble with a band of bunnies all around the weave of the basket. These cheeky little critters are just too adorable to pass up this Easter crafting season.
4. Foundations Decor - Home Board
Get your home Easter-ready with a decor piece that truly makes your space come alive! The Home Board from Foundations Decor is not only a shabby chic beauty for any room in your house, but you can also customize it based on the seasons. For springtime, the 'O' is transformed by the beautiful buttercup yellow Spring Wreath.
You'll get so many compliments as you welcome relatives through your door on Easter Sunday. That warmth and feeling of family will echo through the halls of your home with just this one touch of bright, springy decor.
5. Waffle Flower - Rejoice Rabbit
This sweet little rabbit is ready to wish all your favorite people wonderful Easter blessings! The Rejoice Rabbit set from Waffle Flower is the perfect way to send beautiful religious cards as you gather to celebrate the wonderful Easter holiday.
This chubby bunny stamp and die set will be a hit as you arrive at Easter service with handmade blessings for all your church family. The bunny and floral spray give you endless opportunities for creating colorful designs, or even distributing fun coloring cards to the little ones!
6. Echo Park - Easter Wishes Collection
Happy Easter, Happy Spring, Happy Everything! The Easter Wishes Collection from Echo Park is filled with pastel pink eggs, buttercup yellow chicks, and yummy dark chocolate bunnies for all of your fun Easter projects.
There are dies, stencils, washi tape, stamps, paper and so much more that makes this collection a must-have for your cards, baskets, decor, and layouts all about Easter. You're definitely going to shake your fluffy bunny tail creating Easter memories with these cute products.
7. Sizzix - Easter Die Cutting Supplies
Trade in those chocolate bunnies for Spring Hares from Sizzix! This sweet pair of hares are the perfect dies for creating your fabric Easter projects. Just like you, these two love Easter and can't wait to make your quilting project, layout, or Easter craft a masterpiece.
Or you can send someone something spectacular this Easter when you create a 3-D Card in a Box! This wonderful project that folds flat for mailing and pops up into an amazing dimensional paper box bursting with Spring florals makes an amazing Easter card or table centerpiece for Sunday dinner. Send Easter baskets to all your loved ones when you die cut amazing pop-up flowers with Sizzix!
8. Nuvo - Dream Drops
They may not be Easter-themed but these dreamy-colored Nuvo Dream Drops in brilliant, pearlescent pastels will make any Easter project shine! Their delicate hues will match just about any Easter-themed cards, envelopes, baskets, home decor project, traveler's notebook layout, and more!
In shades like Love Potion coral, Dragon Scales green, and Indigo Eclipse blue, your cards, layouts, and mixed media Easter projects will be shining like the sunrise on Easter Sunday morning! We can't wait to see some painted eggs in these dreamy shades!
9. We R Memory Keepers - Crafter's Backpack
Year after year you fill Easter baskets with fake grass, jelly beans, chocolate bunnies, and other sugary treats. Well this year, you're going to want to ditch that tradition and instead fill your Crafter's Backpack with 12 x 12 papers, fabulous tools, fun ephemera, and more!
You won't believe how much you can fit in this specialty backpack for crafters. Not only is it a great fit for your 12 x 12 paper and projects, but it's chock-full of surprise compartments for your scissors, adhesives, chocolate eggs, embellishments, and more. You will feel like the trendiest, coolest crafter ever with this slung over your shoulder!
10. Doodlebug Design - Hoppy Easter Collection
If you love adorable Easter critters like bunnies, chicks, lambs, and more barnyard pals in a rainbow of fun papers, stickers, cut-aparts, and more, Doodlebug's Hoppy Easter Collection is for you!
These super sweet products are absolutely perfect for your grandkids' Easter baskets, and making cute cards for your neighbors, church friends, and relatives. You can also create a layout showcasing the little ones at a petting zoo, searching for hidden eggs, and even sitting in the lap of the Easter Bunny!
11. Lawn Fawn - Easter
We added one Lawn Fawn collection to this list, and then another, and then another, until we decided to highlight all of Lawn Fawn's Easter-themed products! Their adorable stamps with bunnies, chicks, eggs, baskets, jelly beans, carrots, and meadows, along with coordinating dies and some fun patterned papers are so much fun to stamp, cut, and create with!
With so many fun sets to choose from, and the ability to mix and match for unique cards and layouts, you'll have endless fun creating Easter crafts and cards for the whole fam!
12. LDRS Creative - Up and Down the Rabbit Hole
You can't have Easter without fun little rabbits! The creative designers at Little Darlings Rubber Stamps have come out with something amazing just in time for Easter - stamp and die sets full of feisty rabbits for building interactive scenes. Just look at the array of silly rabbits sleeping, leaping, carrying carrots, dancing, prancing, and more!
You can also pick up their Bunny Fun Card Kit that includes 15 cards bases, envelopes, and a bunch of precut rabbits, sentiments, and designs for sending out a bunch of rambunctious rabbit cheer for Easter!
13. Picket Fence Studios - Stamp Scrubber
Why use fake plastic grass in your crafty friends' Easter baskets when you can line them with the NEW Picket Fence Studios Stamp Scrubber instead? This little square may look like a freshly mowed patch of springtime grass, but it's really your new best friend for cleaning your stamps, acrylic blocks, and stamp positioning tools.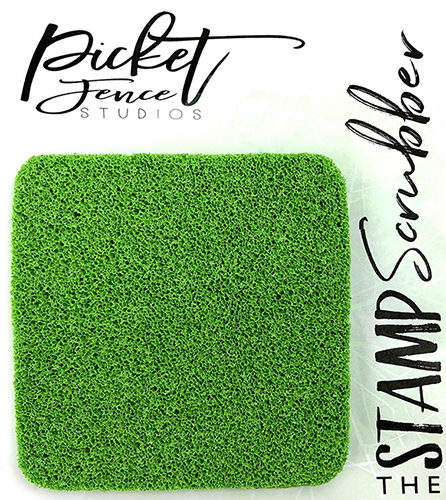 This little green square expands as you wet it with water or your favorite liquid stamp cleaner and gets to work on scrubbing ink from your stamps. The spongey weave texture of the scrubber allows it to get in all the nooks and crannies of even the most intricate of Easter bunnies and joyous blessing sentiments after all your Easter crafts have been completed!
14. Simple Stories - Hip Hop Hooray
Follow the bunny trail this Easter for some bright pastel papers, plaid patterned stickers, fun cut-aparts, and stamps to help you create unforgettable Spring crafts. Let your friends and family know that they're your favorite "peeps" with a handmade card or project using the Simple Stories Hip Hop Hooray Collection!
Tones of bubblegum pink, lemon curd yellow, and basil green are sprinkled like spring treats throughout this must-have Easter collection. There's just so much to love about this adorable collection that you'll find plenty of ways to showcase it during Easter festivities!
15. Scrapbook.com - Exclusive Storage Systems
Do you know what shouldn't be an Easter-egg hunt? Finding your craft supplies and ink pads! But don't worry, Scrapbook.com is here to help! Once the Easter festivities are over, get your spring cleaning off to a fantastic start with the 360 Craft Tower and the Ink Pad Storage System - both exclusive to Scrapbook.com!
These fabulous and functional storage systems are what your crafting space has been missing. You'll be absolutely amazed at how much the 360 Craft Tower holds while only taking up a 10" footprint on your desk, table, or shelf. And the sturdy Ink Pad Storage tower holds 12 standard-sized ink pads in a stylish, trendy manner that you won't be able to resist. Both of these are available in clear or white versions to align with the artistic vision of your crafting space!
---
We hope you have a wonderful Easter holiday filled with family, friends, food and fun! Give those Easter baskets and chocolate bunnies an accompanying homemade card, give wonderful Easter blessings at your church service with a handmade treat box filled with jelly beans, or create fantastic memories in a beautiful pastel-colored layout with photos of everyone in their Sunday best! Happy Easter, everyone!
Can't get enough Easter crafts? Be sure to check out these Inspirational Easter Projects!
---