Hippity, hoppity, Easter's on its way and we have everything you need to get your Easter crafts started!
Make sure you're ready for the Easter Bunny this year with the top products and collections filled with chocolate bunnies, pastels, Easter eggs, flowers, chicks, baskets, and so much more!
1. Scrapbook.com Hybrid Ink - Easter Group
When the Easter Bunny is on his way, you need to get ready by preparing baskets with jelly beans, dyeing colorful eggs, and making Easter crafts! Pastel colors are perfect for this Spring holiday filled with blooming flowers and patterned eggs, and this Easter Group of Scrapbook.com's exclusive Hybrid Ink Pads are perfect for all your stamping, shading, and blending on Easter projects!
2. Doodlebug Design - Hoppy Easter Collection
If you love adorable Easter critters like bunnies, chicks, lambs, and more barnyard pals in a rainbow of fun papers, stickers, cut-aparts, and more, Doodlebug's Hoppy Easter Collection is for you! These super sweet products are absolutely perfect for your grandkids' Easter baskets, and making cute cards for your neighbors, church friends, and relatives. You can also create a layout showcasing the little ones at a petting zoo, searching for hidden eggs, and even sitting in the lap of the Easter Bunny!
3. Tim Holtz for Ranger Ink - Distress Crayons
Tim Holtz and Ranger Ink have your back when it comes to Spring tones and lovely pastels for your projects. The Distress Crayons in Set 8 and Set 5 are the perfect soft tones for your beautiful Easter creations. Make a mixed media masterpiece to be displayed at your church during the annual Easter Pageant, or blend and smudge your way to an Easter-themed faux stained glass background for your layout featuring the whole fam at Sunday brunch.
4. Sunny Studio Stamps - Chubby Bunny Stamps and Dies
What's cuter than an adorable little bunny nibbling on a sweet little chocolate bunny? Almost nothing. The Sunny Studio Stamps Chubby Bunny set of clear stamps and coordinating dies ensure your Easter cards to family and friends are the cutest they possibly could be! Add some Easter pals popping out of eggs, bunnies in baskets, and some little chicky friends under a sweet little banner that says HAPPY EASTER and you'll be EGG-stra excited about the cards you make!
5. Reminisce - Springtime Collection
Reminisce is known for their absolutely beautiful themed scrapbooking paper and stickers for many specific events, holidays, and destinations. Their Springtime Collection is definitely no exception to this! It's everything you love about Easter and Spring with vibrant, colorful scenes of a meadow, a blanket of daisies, painted eggs, beautiful blue skies, and some truly inspirational messages about faith and religion.
Create beautiful layouts showcasing the family at church service or Easter Sunday albums with sunsets set against uplifting messages and reminders for the meaning of Easter.
6. Echo Park - Easter Wishes Collection
Happy Easter, Happy Spring, Happy Everything! The Easter Wishes Collection from Echo Park is filled with pastel pink eggs, buttercup yellow chicks, and yummy dark chocolate bunnies for all of your fun Easter projects.
There are dies, stencils, washi tape, stamps, paper and so much more that makes this collection a must-have for your cards, baskets, decor, and layouts all about Easter. You're definitely going to shake your fluffy bunny tail creating Easter memories with these cute products.
7. Sizzix - Spring Hares Die Set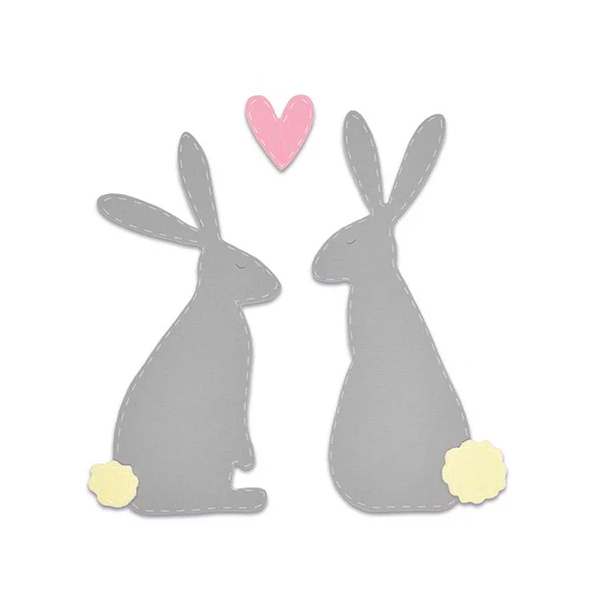 Trade in those chocolate bunnies for Spring Hares from Sizzix! This sweet pair of hares are the perfect dies for creating your fabric Easter projects. Just like you, these two love Easter and can't wait to make your quilting project, layout, or Easter craft a masterpiece.
Sizzix also has this handsome cottontail fellow, who would make the perfect fabric or paper chocolate bunny with the right hues of yummy chocolate brown! Or you could go with a vibrant pastel scheme and surround him with Easter grass, colorful eggs, and beautiful flowers for an unbelievable centerpiece on your table!
8. Photo Play Paper - Easter Joy Collection
Photo Play is spreading Easter blessings with their beautiful Easter Joy Collection filled with wonderful inspirational sentiments, stained glass windows, crosses, and florals. Create some amazing stained glass windows with their photopolymer stamps and coordinating die set, or pass on Easter inspiration with some color-in cut-aparts that allow you to rejoice and be creative during this wonderful holiday.
9. Tonic - Luxury Embossed 6 x 6 Paper
Take some of the hard work out of your projects with these patterned and embossed double-sided 6" x 6" papers from Tonic Studios. These little Dream in Colour sheets are an awesome starter for your layout backgrounds, die cut shapes for cards, and 3-D craft projects.
Think how amazing your Easter egg shapes will be when you cut and layer these stripes, dots, and swirls to make "painted" patterned eggs!
10. Foundations Decor - Easter Set
Foundations Decor has combined your love of papercrafting with some wooden home decor pieces that make every season wonderful! For Easter, they have an adorable Picture Holder Easter Set kit that would make any Sunday dinner table or sideboard festive for springtime Easter adventures.
Grab some awesome Easter-themed patterned paper and pastel-colored paint and create a unique, one-of-a-kind Easter project to proudly hold your photos of the whole family in their Sunday best! You can even make it a fun family project to do together!
11. Nuvo - Dream Drops
They may not be Easter-themed but these dreamy-colored Nuvo Dream Drops in brilliant, pearlescent pastels will make any Easter project shine! In shades like Love Potion coral, Dragon Scales green, and Indigo Eclipse blue, your cards, layouts, and mixed media Easter projects will be shining like the sunrise on Easter Sunday morning! We can't wait to see some painted eggs in these dreamy shades!
12. Heffy Doodle - Honey Bunny Boo Stamps and Dies
Do you have a honey bunny or somebunny special in your life? Then this stamp set says all the right things for your Easter sweeties! Craft an EGG-ceptional Easter project filled with silly rabbits, little carrots, and cute coordinating sentiments to make people hop with joy over your creativity and thoughtful gestures.
Heffy Doodle also designed a coordinating die set that goes along with these stamps for creating perfectly cut characters to layer and create an amazing Easter scene! Just look at the wonderfully layered sentiments and fun pile of critters, eggs, carrots and flowers to wish your loved ones a truly happy Easter!
13. Lawn Fawn - Easter
We added one Lawn Fawn collection to this list, and then another, and then another, until we decided to highlight all of Lawn Fawn's Easter-themed products! Their adorable stamps with bunnies, chicks, eggs, baskets, jelly beans, carrots, and meadows, along with coordinating dies and some fun patterned papers are so much fun to stamp, cut, and create with!
With so many fun sets to choose from, and the ability to mix and match for unique cards and layouts, you'll have endless fun creating Easter crafts and cards for the whole fam!
14. Art Impressions - Sweet Easter Stamps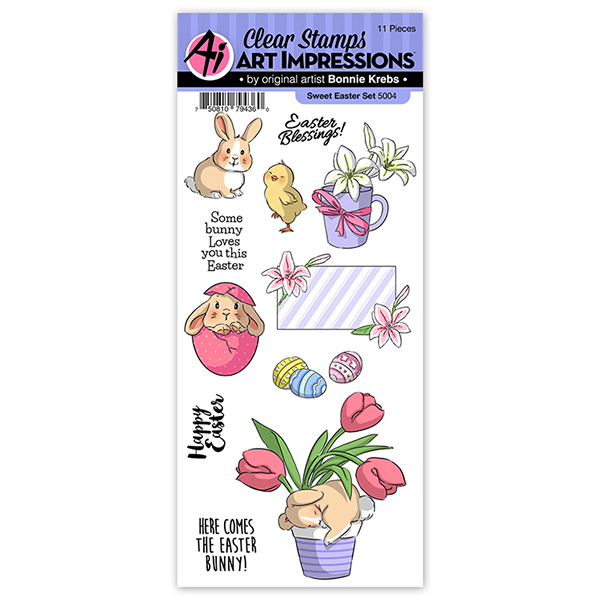 Create sweet and snuggly bunnies for your Easter projects with the Easter stamp sets by Art Impressions. Stamp a cheeky chick or tired little bunny with the Sweet Easter set or get creative with the Blessings set that features a mischievous little rabbit hopping through the flower patch. These fluffy-tailed creatures can't wait to make your Easter crafts outstanding!
Combine layers of pastel patterns and solid colors with fun Easter-themed papers for cards that pop! These cute cards feature a rainbow of amazing colors with some fussy cut bunnies, chicks, and eggs scattered throughout for that perfect adorable touch!
15. Echo Park - Hello Easter Collection
It's never too early to take a nibble from some chocolate bunnies in the Hello Easter Collection! Echo Park has all your Easter crafts covered with funny bunnies, cool chicks, pretty pastel plaids and so much more Easter-themed fun in this definite fan-favorite for springtime crafts! You can stamp, die cut, stencil, fussy cut, and accent your way to memorable Easter layouts, home decor projects, and fantastic homemade cards with wonderful Easter blessings!
16. Sunny Studio Stamps - Easter Wishes Stamps and Dies
Create wonderfully inspirational Easter blessings with the Sunny Studio Stamps Easter Wishes stamp and coordinating die set. Use the beautifully intricate cross as your centerpiece, with several sentiments to choose from, surrounded by gorgeous stamped lilies, tulips, and fun farm animals. These die cut animals and sentiments will make beautiful accents when they frame your lovely family photos at Easter service and brunch!
17. BoBunny - Cottontail Collection
We can't have Easter without Peter Cottontail hopping down the bunny trail! BoBunny helps you celebrate Easter with the classic and vintage-inspired beauty in their Cottontail Collection. Add a touch of Easter elegance to your home decor projects, cards, and Easter Sunday family photo layouts with gorgeous painted eggs, lifelike rabbits, and gardens full of blooming florals.
18. Waffle Flower - Spring Time Stamps and Dies
Make a curious little rabbit the center of your Spring or Easter layout to highlight photos from your Easter egg hunt, basket unwrapping, chocolate bunny eating, and more! With this stamp and die set, you're all set to create wonderful scenes, and beautiful Easter cards that put smiles on everyone's faces!
19. Photo Play Paper - Bunny Trail Collection
Follow the Bunny Trail this Easter for some bright pastel papers, stickers, fun cut-aparts, and stamps to help you create unforgettable Spring crafts. Let your friends and family know that they're your favorite "peeps" with a handmade card or project showcasing all the fun Easter photos you took and combined into an amazing piece of artwork.
20. Sizzix - Card in a Box Flower Basket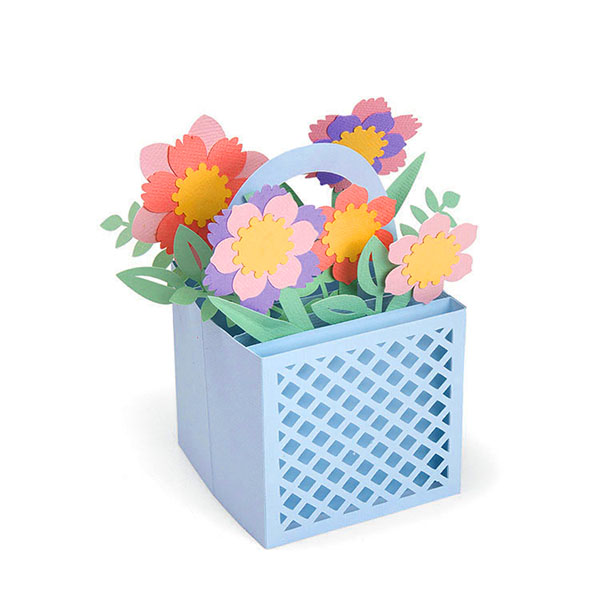 Send someone something spectacular this Easter when you create a 3-D Card in a Box with help from Sizzix! This wonderful project that folds flat for mailing and pops up into an amazing dimensional paper box bursting with Spring florals makes an amazing Easter card or table centerpiece for Sunday dinner. Send Easter baskets to all your loved ones when you die cut amazing pop-up flowers with Sizzix!
---
We hope you have a wonderful Easter holiday filled with family, friends, food and fun! Give those Easter baskets and chocolate bunnies an accompanying homemade card, give wonderful Easter blessings at your church service with a handmade treat box filled with jelly beans, or create fantastic memories in a beautiful pastel-colored layout with photos of everyone in their Sunday best! Happy Easter, everyone!
Can't get enough Easter crafts? Be sure to check out these Inspirational Easter Projects!
---