The birth of a beautiful baby boy or girl is an absolutely amazing time in a parent and grandparent's life. It's an exciting, whirlwind experience from the moment they're born to their first days at home, and all the magical little moments thereafter as they start their unique journey in this world.
Along the way, you take photos and make memories with that angelic little baby and try to remember every special little moment. Create something stunning and meaningful that will preserve photos, stories, and keepsakes of your precious little one that will last a lifetime! Make an unforgettable baby book with Scrapbook.com's exclusive Easy Albums!
Easy Albums - Baby's First Photo Album
Our Easy Albums are the must-have all-in-one kits for you to preserve memories, tell moving stories, remember each wonderful moment, and create something special with your hands.
We have seven baby-themed kits to choose from!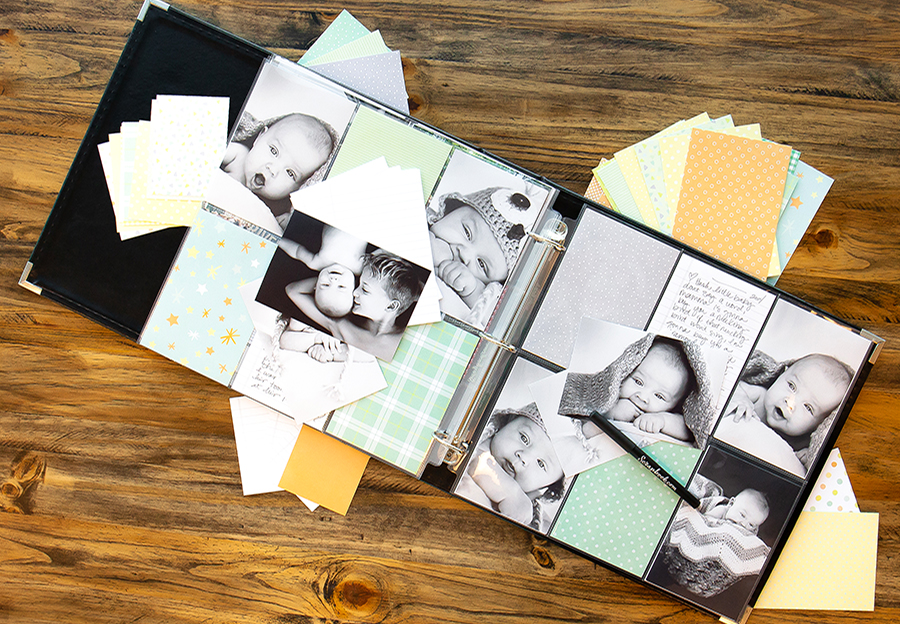 Capture every adorable smile, baby milestone, and unforgettable moment with your precious little one, available in a variety of color schemes.
Each kit comes with everything you need to complete a stunning 30-page baby book in no time at all. No scissors, tape, glue, or experience needed!
The pre-cut cards fit neatly into the photo sleeves and all match in style and design, leaving you with a long-lasting heirloom no matter how you choose to put it together.
A full-sized album, theme cards, journal cards, page protectors, a pen, and instructions all included!
Each kit comes with a full-sized scrapbook album, dozens of themed cards for baby girl or baby boy, tons of lined journaling cards for documenting baby's milestones, page protector sleeves, a pen, and a handy instruction booklet.
Capture all of the stories: The car ride home from the hospital, fun feeding shenanigans, baby's first tooth, steps, and haircut, growth charts from visits to the pediatrician, and every routine daily activity with mommy and daddy.
Don't let these memories fade with time or get lost in your phone forever.
How Do I Put It Together?
Scrapbook.com designed Easy Albums to be as simple as possible. You'll be amazed at just how easy it is to sit down in less than an hour to create an entire 30-page scrapbook album with photos and memories.
Here's how it's done:
Get your standard 4" x 6" photos ready. If you need to print your photos, Persnickety Prints is a high-quality favorite among scrapbookers!
Take out the theme cards, lined journaling cards, pen, and pocket sleeves, along with the album (all included in the kit!).
Choose a pocket sleeve and start slipping your favorite photos into the pockets alongside some of the theme cards.
Fill out your journaling cards with fun stories, facts, memories, and anecdotes, and slide them into the pockets as well.
Insert your completed page into the 3-ring album.
Repeat until you have all your pages completed for a stunning, unforgettable album.
You can even change up each of the pages, insert new photos and cards, and move the inserts around as much as you desire - the choice is yours!
See how easy it is in this video below:
We know you have adorable, unforgettable photos that document every cute moment from that little boy or girl. You're going to need an amazing place to showcase all of them, and this is the perfect way to get pictures and memorable stories in a wonderful album to share with friends and family.
You can even share all the pictures and stories with your little one when he or she grows up!
Create lasting memories that will be looked back on fondly years later!
With
Easy Albums
, you have the perfect place to document all of baby's firsts, favorite moments, and unforgettable memories. The options for journaling and memory keeping on the note cards are endless, and we even include a bonus journaling prompt section in the instruction booklet.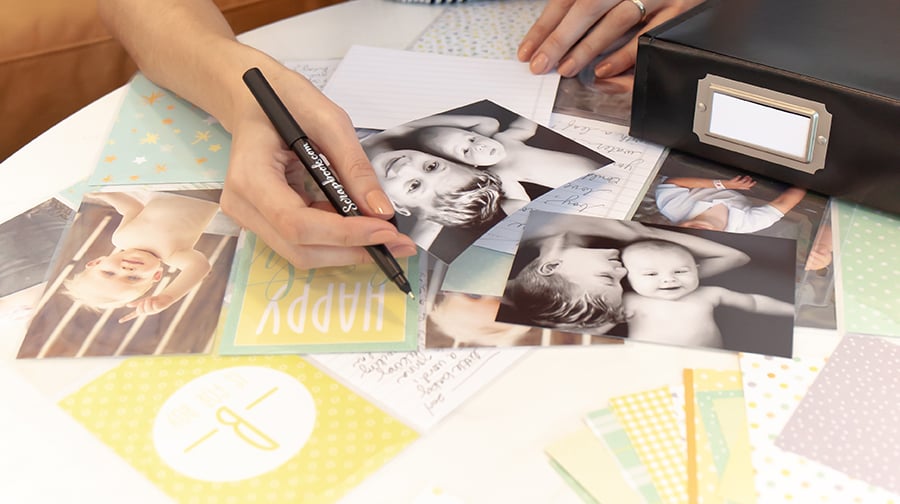 Write about your baby's growth, adventures, and silly stories you never want to forget!
Relive the happiness of your baby's first moments and joyful milestones as you create and cherish your handmade baby album! Remember every special detail in photos and stories so that those memories can be treasured forever!
---