Everyone has a special someone in their life who loves to escape the 9 to 5, see the world, experience the sights, or go off on a wonderful vacation getaway.
When it's time to celebrate a birthday, holiday, milestone, or another momentous gift-giving event for that person, the age-old question arises of "what should I buy them as a present?" When a gift card is just too predictable, and they have every travel accessory available, what's the perfect gift?
Give your traveling friend or family member a gift they won't just use, but also cherish for the rest of their life with the unique and thoughtful Easy Albums Kit from Scrapbook.com!
Capture every sunny beach day and unforgettable landmark visited, available in a variety of album colors.
Easy Albums - The Perfect Gift for Travelers
Our Easy Albums are the must-have all-in-one scrapbooking kits for travelers or vacationers to tell unforgettable travel stories, remember each unbelievable experience, and create something special with their hands.
Every unbelievable photo has a story behind it - tell those stories to remember them for a lifetime!
Each kit comes with everything needed to complete an unbelievable 30-page travel or vacation album in no time at all.
There's a full-sized scrapbook album, dozens of travel and adventure-themed cards, tons of lined journaling cards for documenting all the destinations and experiences, page protector sleeves, a pen, and a handy instruction booklet. There are no supplies needed and no crafting experience required!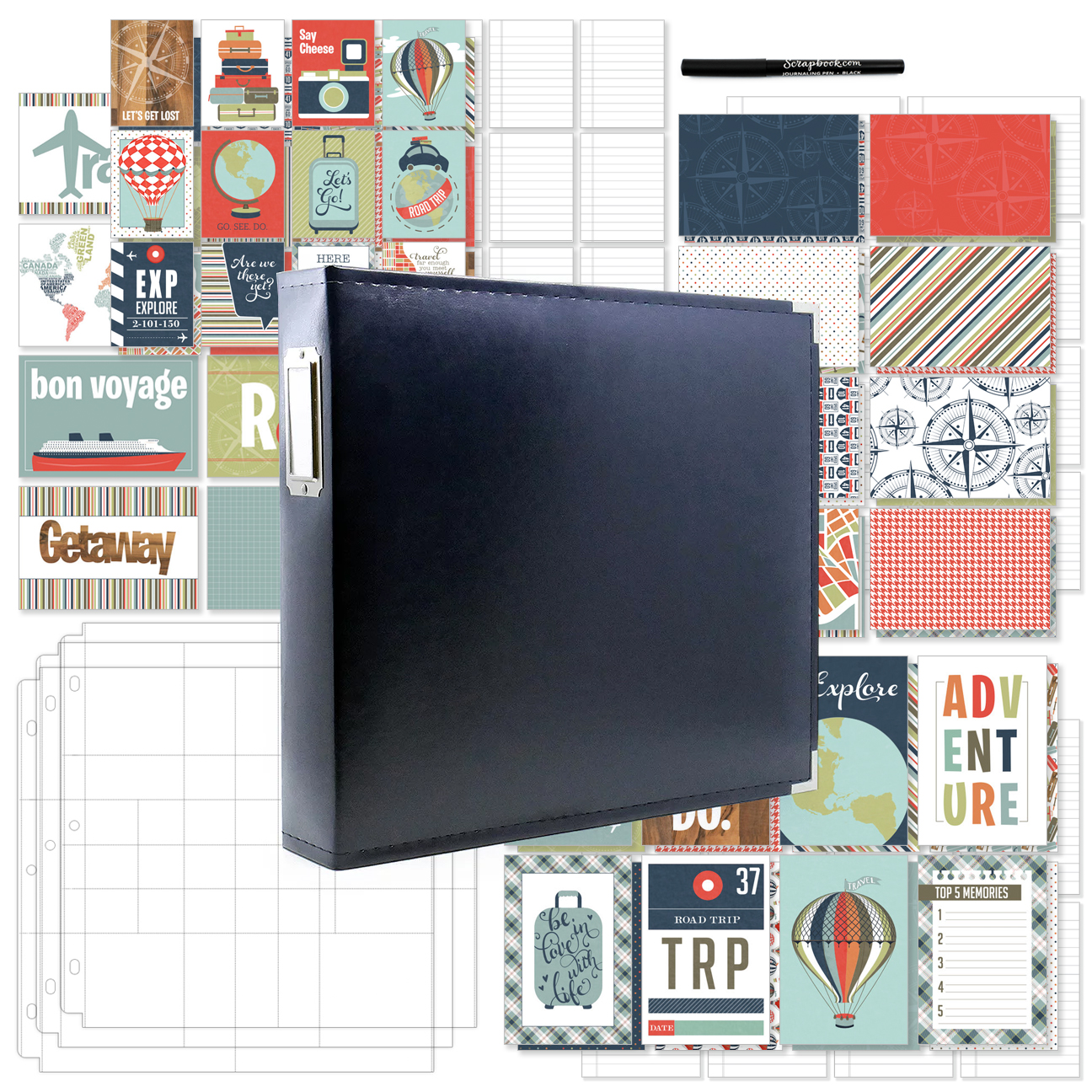 A full-sized album, theme cards, journal cards, page protectors, a pen, and instructions all included!
This is a fast, easy way to make a spectacular, customized vacation or travel album. It's perfect for the busy traveler who can't wait to get their photos printed and in an album to show off to friends, family, neighbors and coworkers. It can be finished by the adventurer in as little as an hour on the couch, the floor, or the kitchen table.
The world traveler or road tripper can complete a handmade vacation album in as little as an hour just sitting on the living room floor!
Plus, think of all the absolutely unforgettable photos that were taken on the road to adventure, flying the friendly skies, or seeing a destination that was only previously dreamed about. They're going to need an amazing place to showcase all those photos, and this is the perfect way to get pictures and memorable stories in a wonderful album to share with friends and family.
After a big trip or a once-in-a-lifetime cruise across the ocean, this affordable option for creating a customized adventure scrapbook is perfect for anyone with a trip documented in their passport or camera. They only need to print out their favorite photos in standard 4" x 6" size to put in the album - that's it!
The hardest part might be choosing which fantastic photos to include - that's why there are 30 pages to fill with the amazing adventures!
With a gift of Easy Albums, a family vacation or backpacking adventure can be remembered forever. The options for journaling, storytelling, and memory keeping on the note cards are endless, and we even include a bonus journaling prompt section in the instruction booklet.
Any trip, adventure, or getaway, no matter how big or small should be documented and cherished forever. This all-in-one kit was created so that every experience and destination captured in photos and stories can be treasured for a lifetime.
---
See how easy our Easy Albums are to put together:
---