Do you have stamps stashed everywhere in your crafty space? Are they coming out of every drawer, bin, or box? Or maybe they're just stacking up on your work surface. Great news - we have five fan-favorite storage solutions for you!
Read on to discover 5 smart & sensible solutions for storing all your stamp sets...and an additional bonus item at the end!
5. Storage Envelopes
A handmade card without an envelope isn't going to get very far in the mail. And a crafter without reusable storage envelopes is going to have stamps stashed everywhere! Give your stamps a sturdy, reliable home in our exclusive Storage Envelopes.
These frosted plastic envelopes come in a variety of handy sizes for all your stamp sets and so much more.
The smallest size envelopes measure in at 4.75" x 4.75" for some of those absolutely adorable itty bitty stamp sets that are positively irresistible. Just think about all those cute 2" x 3" or 3" x 4" sets that need a place to call home.
Our medium-sized envelopes are 6" x 8.75" for all your standard-sized stamp sets. This will definitely be your go-to size for the majority of your 4" x 6" stamp sets. And the two largest sizes, measuring in at 7" x 10" and 7" x 13", are absolutely perfect for those prized 6" x 8" stamp sets.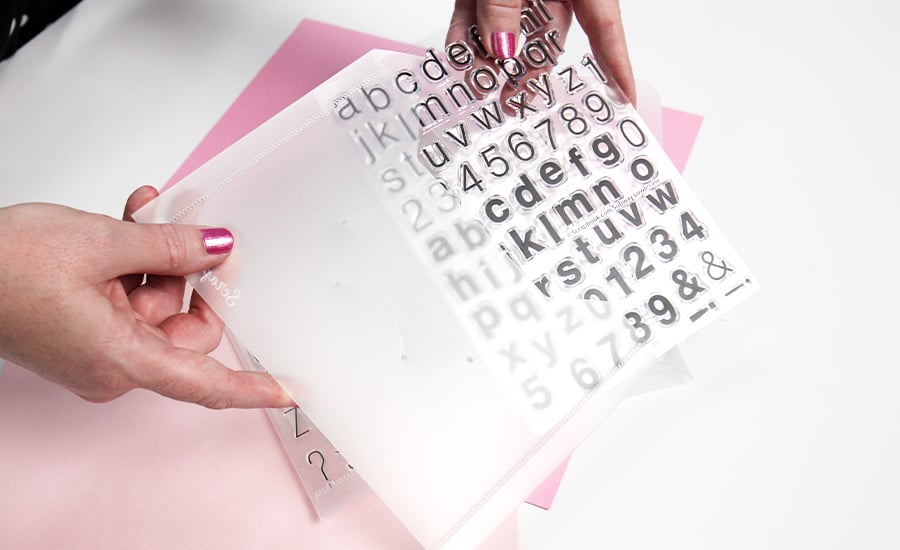 If you've jumped on the slimline card making craze, we have something you're going to love for slimline-sized stamps, dies, card fronts, and completed cards. We're talking about Slimline Storage Envelopes. These are so incredibly versatile for all your slimline needs. The only thing they can't do is be sent through the mail containing your gorgeous handmade slimline cards!
For larger storage needs, we have 9" x 11.5" and big, beautiful, extra-large 13" x 13". While we don't think there are any stamp sets nearly this big, you can certainly store papers, stencils, and projects in progress in these jumbo sturdy envelopes.
Mix, match, and bundle the various sizes to complement your stamp set collection. Not only will they hold your treasured stamps and protect them from getting lost or damaged, but the frosted plastic makes it easy to see your collection at a glance. So whether you store them in a drawer, flip-through bin, basket, crate, or tote, you will always know what you have to create with.
4. Tabbed Storage Box
Do you love organization systems that practically organize themselves? Then you will love the Tabbed Divider Storage Box from Scrapbook.com. It's a crafter's dream come true filing system with built in sturdy plastic dividers to separate and categorize your beloved stamp sets.
The clear plastic allows you to easily see the contents contained within your storage boxes so you can quickly flip through each of your stamp sets.
You'll also love the tabbed dividers for a variety of reasons. The tall tabs allow you to label the contents inside your box by theme, brand, or type so you can have a complete filing system for your stash. The tabbed dividers are also removable to accommodate more contents in one section over another.
Bonus Storage Tip

For added protection, you can double-up on your storage solutions and place your medium or small plastic storage envelopes within the tabbed storage box. You'll never worry about the protection of your stamp sets with Scrapbook.com's fan-favorite storage solutions to hold all your favorite supplies.
3. Craft Room Basics
The Scrapbook.com Craft Room Basics are storage essentials that check all the boxes. Affordable - check! Versatile - check! Stylish - check! These are definitely must-have solutions for stamp storage and so much more.
Each of the tiers on our stadium organizer holds a different size of product. The front two compartments were designed for holding two columns of 3" x 4" mini stamp sets from some of your favorite brands like Lawn Fawn, Sunny Studio Stamps, and Scrapbook.com.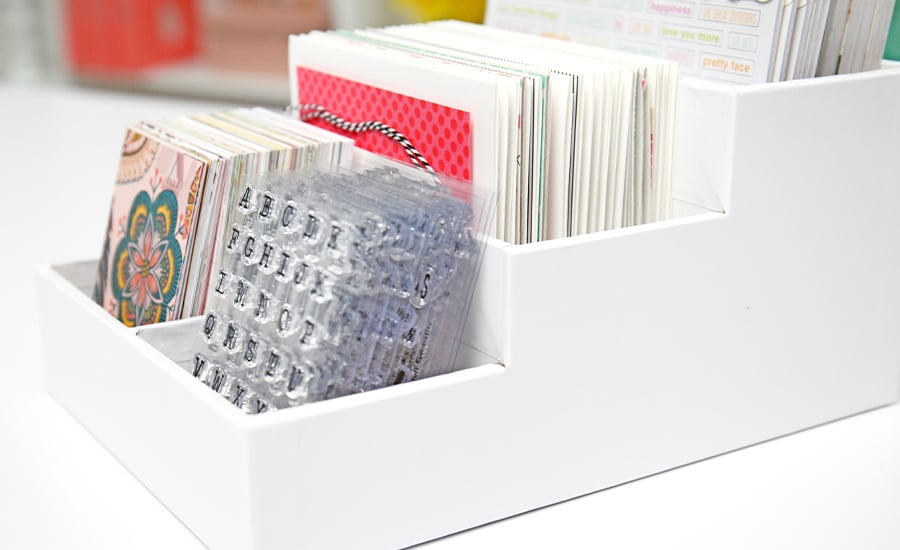 The center tier is perfect for 4" x 6" standard-sized stamp sets. The back, top tier is great for big, beautiful 6" x 8" stamp sets. The stadium design allows you to see the tiers of your stamps and flip through them to create at a moment's notice.
Another great, affordable option for storage is our tall sticker organizer. If you love 6x12 stickers as much as we do, then this is an absolute must-have in your crafty space! The sloped design makes it easy to organize your sticker stash and is made of an ultra-thick greyboard wrapped in sturdy white glossy paper! You are going to be amazed at how many stickers you can store with the tall sticker organizer!
2. Clear Craft Storage Boxes and Cases
Our Clear Craft Storage Collection has been a customer-favorite for years now. They're versatile, come in a variety of shapes & sizes, and can be stylishly displayed or stored away with ease.
The sturdy yet clear polypropylene plastic stores your stamps with ease and ensures that they are protected from bending and warping since they're ultra-protected.
If you pick up one of our 17-piece Clear Craft Storage Box Sets, you'll have 16 different mini storage cases inside that are perfect for categorizing your 3" x 4" and 4" x 6" stamp sets by theme or brand. Plus, with a locking lid and sturdy handle, you can take this tote packed full of stamps with you to a friend's house or just from room to room.
You can also pick up a set of our 5x7 Clear Craft Storage Boxes that give your stamp sets a perfect place to call home. You can line up these clear plastic boxes on your desk, in your closet, or in your cube furniture system - and they stack beautifully.
1. Storage Bins with Tabbed Dividers
Do you know what your stamps have bin missing? It's our Storage Bins with Tabbed Dividers. These are certainly a marriage of form and function for your stamp sets.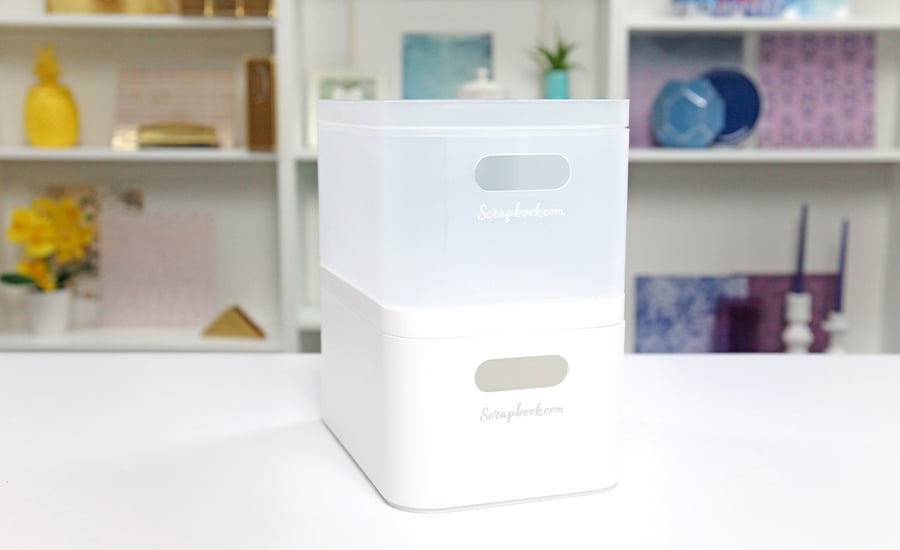 If you're a fan of keeping your stamp sets in thin clear plastic pockets or sleeves, this storage solution is ideal for you. For standard-sized & mini stamp sets, you can easily store them vertically (upright) and use the tabbed dividers to label your categories. An easy flip through your birthday stamps, sentiment stamps, or floral stamps will have you finding just the right set for your project.
These bins also come with lids and can be used for storing stamp sets in a handy stack with the lids in place to protect them.
Bonus - 6 x 8 Album Stamp Storage
Our new albums in 9 x 12 and 6 x 8 options are becoming fast favorites with crafters for storing stamps as well as stencils, dies, and swatches. The coordinating pocket page protectors are ideal for storing stamps since the sets just slip right into the conveniently-sized slots. They are sturdy and perfectly clear, so you can always see your stamp collection with a simple flip-through.
---
Your stamps will thank you after they have a beautiful, functional storage system to call home. For more can't-miss advice on craft storage and organization, check out these must-reads below:
The Definitive Guide to Organizing Craft Supplies
The Affordable & Stylish Craft Room Basics
Are You Storing Your Stickles & Nuvo Bottles Correctly?
---