Hi everyone! Welcome to the blog, where we'll be sharing everything from today's Facebook Live! Miss it? That's ok! You can still see it here: watch Facebook Live with Scrapbook.com. If you'd like to watch future Facebook Live videos when they air, "like" us on Facebook to stay in the loop and be Facebook friends!
(Offer ended) Speaking of Facebook friends... here's the coupon code we promised you! Keep in mind, it's only valid from March 10-March 12. Use the coupon code FBFRIEND at checkout in order to save 10% on your entire order! Thanks for being our friend! (coupon offer ended)
First, Sarah shared Heidi Swapp's new Magnolia Jane collection with us, as well as some cards that she and her Scrapbook.com friends created with the same papers and stamps!
Next, we got a little messy with Andy as she guided us through creating a stunning DIY Home Decor project. She let us know all the must have mixed-media information about creating memorable wall art - even if it's your first experience with mixed-media! Can we say: perfect gift idea!?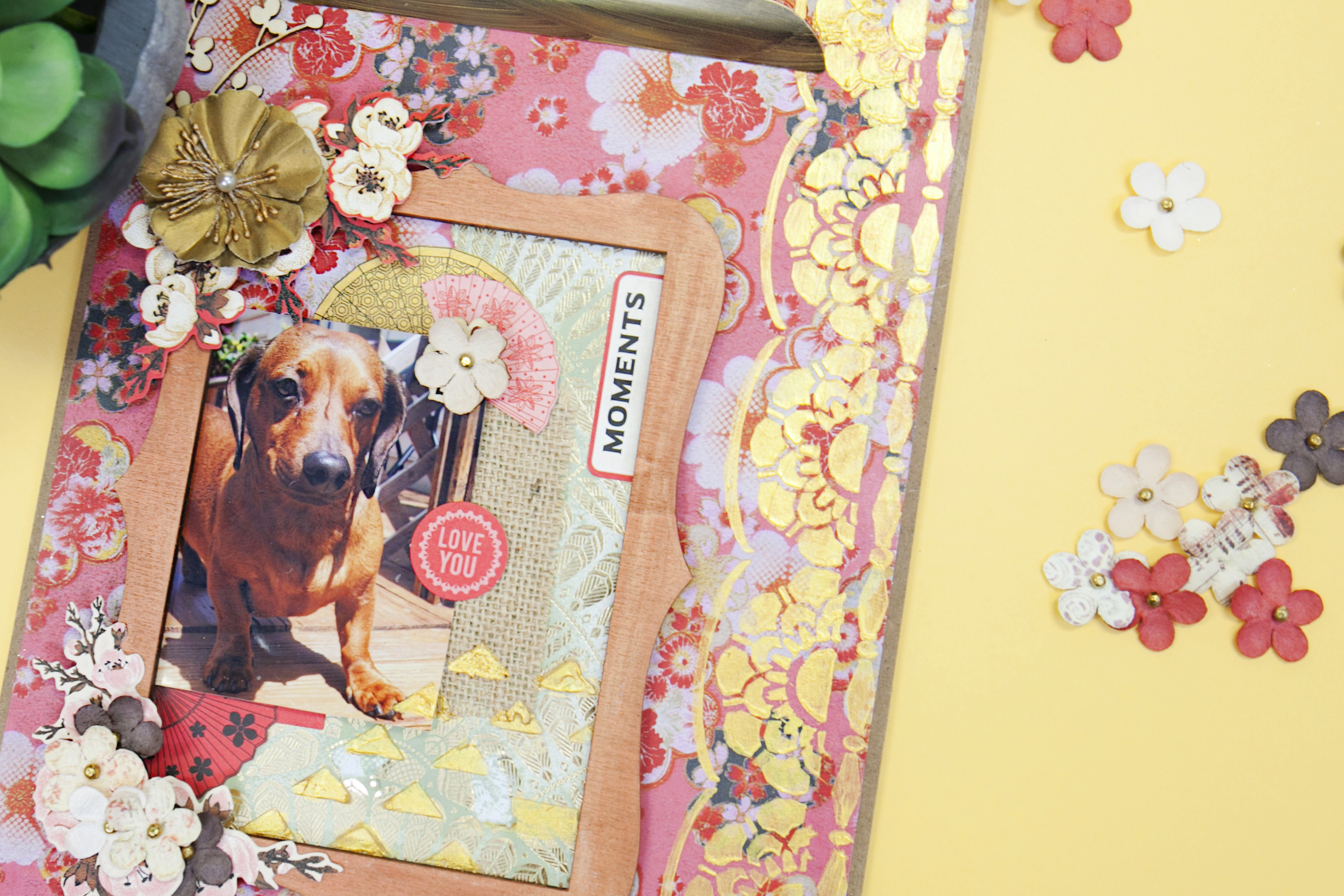 Andy made her example with a picture of her parents' sweet pet, Mickey!
Andy's Mixed Media Clipboard created on-air!
Next, we showed you a few favorites from Scrapbook.com employees, as well as our favorite new releases too! Check out what some of our employees had to say about their faves.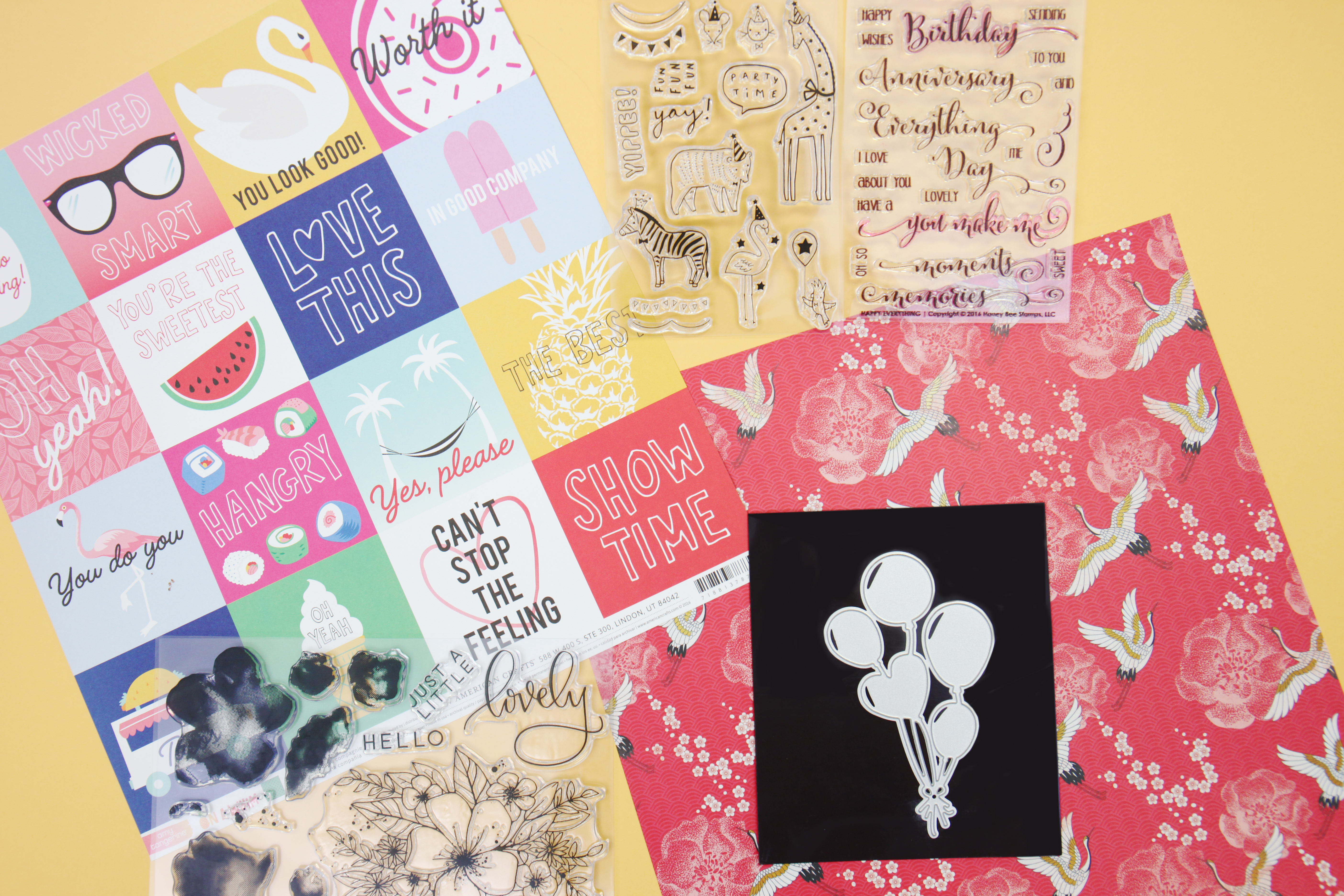 There are so many amazing new releases this year! Here are some Scrapbook.com employees' favorites!
The Hanami Garden Collection by Kaisercraft

"So beautifully designed and diverse. What better way to Scrapbook the onset of spring than with Japanese cherry blossoms?"

🖤 Andy Edwards, Marketing
"I love sending cards for any occasion, so when I invest in stamps and dies, I try to choose sets that can be used for birthdays, anniversaries, weddings, thinking of you, or just a quick hello. When I discovered Sunny Studio stamps and matching dies, it was a perfect fit for the kind of stamping I enjoy. I am having fun creating with some of the wonderful products in the Creativation 2017 release."
🖤 Amy Sonnemann, Marketing
Honey Bee Stamps, "Happy Everything" Clear Acrylic Stamps

"I LOVE the endless amount of cards I will be creating with this 23 piece stamp set! Happy Birthday, Happy Anniversary, Sweet Memories, and much more!"

🖤 Shelly Klein, Purchasing
"The balloon die is such a perfect die that will be used again and again! Love the die detail without having to fussy cut!"
🖤 Shelly Klein, Purchasing
Amy Tangerine's On A Whim Collection

"This collection has my heart with its pops of color and modern design! I have both a son and a daughter, and I especially love that this collection works perfectly for photos of both of them. I love the inflated ephemera and the humorous sayings are too much fun! It's an added bonus that I'm transported to summer when I use this flamingo and pineapple-filled collection!"

🖤 Laura Winslow, Marketing
"The Prima Color Philosophy Ink Pads are nesting and magnetic. That's right, MAGNETIC!! I have SO many ink pads and I have to say, I dread touching the stack of ink pads that I currently have because they will fall everywhere. I don't have a fancy storage unit for my ink pads and now I don't need one. They stack and nest magnetically. No more falling, lids popping off, etc. Oh, and, no more labeling, so you know which ink pad is a particular color. These ink pads are labeled on the side! Stamping with them is a dream. They are a dye ink, not pigment. The stamped image is always crisp and colorful. Would recommend to all my friends!"
🖤 Dedra Long, Purchasing/Merchandising
"I just discovered Honey Bee Stamps, along with Concord & 9th. The stamp sets from both of these up and coming, soon-to-be beloved brands are high quality and oh-so-easy to use. The stamps provide clean, crisp images and peel on and off acrylic blocks like butter. Each company has a unique style, all their own, and each stamp set is versatile enough to use in my planners, travelers notebooks, journaling bible, and cards. Highly, highly, highly recommend!!"

🖤 Dedra Long, Purchasing/Merchandising

You MUST check out her Bible Journaling and Planners. She's so inspirational!
"Don't let the size scare you away! This is a must have adhesive tool for any serious crafter! Trust me, it does live up to the hype! This will quickly become your FAVORITE adhesive. Please note, there is a slight learning curve when loading the refills, but I guarantee you will be hooked (I mean stuck)!
🖤 Jessica Harrington, CMO
"I am new to stamping and am obsessed with these stamps from PinkFresh. I can't get over how cute their little hats are! They're perfect for birthdays, New Years, New Baby... pretty much any celebration or reason to party! ALSO, because I'm new to stamping, The Top Stamping Questions and Answers article gave me everything I needed to know - the difference between acrylic and rubber stamps, how to clean them, how to use stamping presses... the whole shebang. Now I feel like I know what I am doing and can just enjoy the creative process!"

🖤 Sarah Richards, Marketing
---
Next, Andy shared our newest giveaways with you! We're so excited about them! You can check them out in more detail by clicking below, but if you love Tim Holtz and/or are crazy for paper (I mean, who isn't), then you definitely are going to want to enter.
The $1000 Tim Holtz Treasure Trove Giveaway
The $2,500 Year's Supply of Paper
Finally, to finish off a fun Facebook Live, Amy showed us a beautiful card tutorial with her "favorite thing", just in time for Spring! Learn how to do some stamp layering and die cutting to create flowers-everlasting.
🖤
FREEBIE ALERT
: Here's a
free printable
. It's Amy's key to getting perfect flowers
every
time
(CONTEST ENDED) Lastly - did you think we forgot? We're giving away two sets of Sunny Studio stamps so you can make one of these cards in time for Easter! One will win the Daffodil set, one will win the Tulip set! Here's what you need to do to enter:
1. COMMENT on and SHARE our March 10, 2017 Facebook Live video
2. LIKE our Scrapbook.com Facebook page
3. COMMENT on this blog post (scroll down to the bottom) about your favorite part of the video! If you have a preference for daffodil or tulip, please mention that too!
Enter by Sunday, March 12th at 11:59 p.m. PST for your chance to win. Make sure to do all three tasks to qualify. Winners (2) will be notified via email on March 13th!
Click here to see the contest fine print. (CONTEST ENDED)
Thanks for joining us for live! Is there something you'd like to see on Live? Let us know in the comments! We'll see you next time on Facebook Live!
CONTEST WINNERS HAVE BEEN NOTIFIED! :)
---