You have an interest. You have images you'd like to scrapbook. You have some supplies that you like and you know you want to make something. There's one little problem. Ok- it feels like an overwhelmingly large problem. You have no idea what your "style" is. This article will help you find your artistic style when it comes to scrapbooking and card making so that you can have the most fun and get the most joy out of your projects.
Knowing your own style is important as you try to balance your time, your money, and your artistic energy for scrapbooking. It can be really difficult to clarify personal tastes when you don't even know where to start- but doing so will help you remain focused on your layout goals and give you a cohesive artistic style, even through the fads, the hype, and the promotions that are all part of such a diverse and creative industry. Knowing what you want your layouts to look like and what items you like to work with helps you to focus on creating the way you want to, versus the way you think others want you to.
Find Your Style by Replicating
One fantastic way to learn and hone your style is by looking at what other people are creating and trying it out for yourself. This might seem like "the easy way out" or cheating, but this is a staple in Art School to learn and evolve. In the crafting world, this is referred to as scraplifting- taking ideas, methods, and techniques that you've seen and replicating them on your own layouts. Many scrapbookers started out as "scraplifters." If you're looking for layouts to inspire you, look at the Scrapbook.com Layout Gallery.
So how exactly do you scraplift? You browse through others' layouts and look for techniques or designs that stand out to you. You then copy the design using your own materials and photos. An interesting thing happens when this approach is taken. You admire a layout, mimic a layout, and end up learning from completing the layout. The more you do this, the more your confidence will grow and the more apt you are to break out and find your own style.

When I was a student in Art School, one of our first assignments in Painting 101 was to choose a painting- any painting- that was really beautiful to us. Once we chose a painting, we were then instructed to create an abstract painting by using only the colors that were in the initial painting we chose. Our assignment became a painting inspired by a painting. In this project, I ended up using a lot of muted tones that I wouldn't have normally used- cool greys, tinted whites, and muted olives. After that project, I added those hues to my repertoire and I still find them coming up in my artwork today. It's not only a great self-discovery tool, to copy and be inspired, but it's also really fun because it takes some of the fear out of branching out!

When you do scraplift, if you decide to post your creations online or share them, don't forget to give credit where credit is due- mention your inspiration and post a picture of it or share a link!
The layout above was inspired by Yellow, Red and Blue by Rothko.
Find Your Style by Mood Boarding

"You don't even have to understand why a certain picture appeals to you. If it makes an impression or elicits a positive response, tear it out. "
Before introducing a new clothing line, many fashion designers give their buyers and suppliers an overall impression of the image that they want to portray. They often do this through a collage method called a mood board. A fashion mood board may contain cutouts from books and magazines with stand-out words, phrases, fabric swatches, colors, textures, and much more. Any sensory item that gives the viewer an idea of the designer's direction is attached to the mood board. Pinterest is used as an online mood board- when you pin items to boards for inspiration.
In scrapbooking, and creating art or projects in general, you can use the same image-collage technique to unleash your own style. This will help you design and construct your own layouts in the future, as you'll have a better (and faster) understanding as to what inspires you.
How to Make a Mood Board
Supply List
Magazines to cut up
Adhesive or Pins
Cardboard/Poster Board or a Bulletin Board
There are many ways to go about creating a mood board. In Art School, aspiring artists will keep their mood boards inside sketchbooks that they carry at all times. This allows the students to constantly document inspiration and be thinking about the creative processes. This kind of commitment isn't necessary for all scrapbookers, but that's a fun thing to do if you either have a lot of spare time or you are really looking into what inspires you on a very intimate level of self-discovery.
There are two main types of mood boards: First, a mood board on a poster board, where elements are attached with adhesive. Second, a mood board on a bulletin board- attaching elements with pins and tacks. You can choose which method you'd prefer. If you'd like to create one mood board at a time, or perhaps save your mood boards for lengthier amounts of time, you will want to create the first- on poster board. If you want a "living" mood board, so to speak, one that is always changing or hanging up in your home, the second choice of a bulletin board might be more your cup of tea. You could also try both and see which appeals to you!
Step 1. To begin, flip through some of your favorite magazines- or any magazines really. Find pictures that appeal to you or represent your personal taste. This initial step is not for editing. Don't second guess yourself. If you like the image, word, color, pattern, whatever it is that you see, cut or tear it out- regardless of your second thoughts. These images do not have to make sense or fit together- and they probably won't. You don't even have to understand why a certain picture appeals to you. If it makes an impression or elicits a positive response, tear it out.

Step 2. Next, look through magazines as well as your own collection of embellishments. Look for colors, fonts, phrases, textures, shapes, or any other sensory items that please you. You may also want to play your favorite song or write a few lyrics from a song that really moves you. Feel free to go online to find inspirational material too, to print out for your mood boards. We have a really fun section of our website devoted to poetry, quotes, and more. You can check it out here.
Step 3. After collecting your inspiring materials, adhere each item onto either the poster board or bulletin board in a collage form. Because all of these items inspire you, it isn't important to create a masterpiece here- this is just a board so you can see all of the items that inspire you, together. Go with your gut here and attach the items where you see fit. Feel free to move them around until you're happy with where everything is.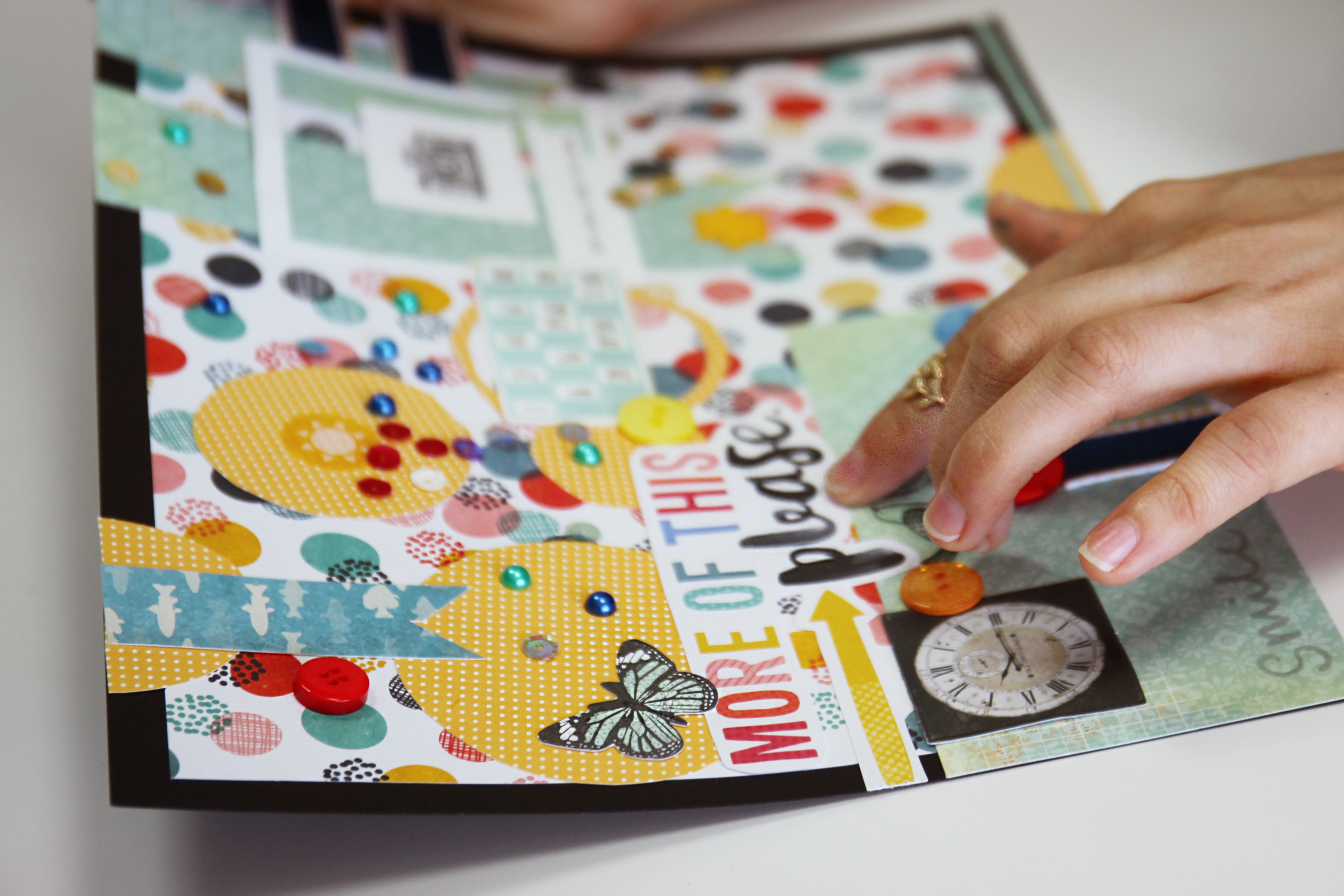 Step 4. Take a break from your board- don't look at it for a little while. Get up for a few minutes and do something else to take your mind away from your project for a little while. This is surprisingly effective. In Art School, we would have three hour studio blocks. Halfway through a block, we'd almost always have a mandatory break, where we were forced to exit the studio for 10-15 minutes. The door locked behind us. When we came back in, we were refreshed and our minds had a chance to "reset," if you will. We approached our projects with a much more unbiased and refreshed perspective, which didn't always help in huge ways, but it certainly never ever did harm- like not taking a break would often do.
Step 5. After taking your break, come back to your mood board. Take a look at it. It's ok if your mood board doesn't feel quite complete yet. Study what you have. Ask yourself a few questions. What impressions or moods do the grouped items give you? Is there a general theme to your style? Can you narrow down or even pinpoint your idea of beauty? What colors do you prefer, based on your selections? Figure out what your mood board is telling you about yourself.
Your mood board will become an individually tailored reference point when choosing from the many artistic aspects of layout and album creation. You might be surprised at the affect your mood board will have your scrapbooking decisions. I'd highly recommend using your mood board as a "Personal Shopping Guide." Have it nearby as you're purchasing crafting items. You might end up buying things you never thought you'd buy or that you didn't know would speak to you- but these items might end up becoming design staples to you! I recently had an experience with We R Memory Keepers Self-Adhering Sequins. I kept cutting out shiny, gold shapes for my mood board. I decided to give them a go the next time I bought card making supplies. And now, I always have them in my studio space, and I go through them like candy (which is fast)!
Find Your Style by Keeping an Idea Journal

An idea journal is a binder, sketchbook, or planner that has a collection of layout/crafting/art ideas, gathered together as reference points to use in future projects.
How to Make an Idea Journal
Supply List
- Binder with sheets/paper or a sketchbook with thick paper
- Scrapbooking Magazines (Scrapbooks & Cards Today is an excellent one)
- Pen (I suggest one that you love to write with- a fun color or you like the feeling)
- Adhesive
- Scissors
Step 1. To begin, flip through some of your favorite scrapbooking magazines. Tear or cut out layouts and articles that appeal to you the most, just like you did with the collecting part of your mood board, above. Since there are many excellent layouts posted on-line, you can also search for and print out layouts you like. We post Layout Inspiration in our articles section too- to check there for inspiring layouts!
Step 2. When you have a collection of 50 or more ideas, lay them all on the floor or a table and study them. Look for what the layouts have in common, if anything. Consider shapes, colors, products, textures, themes- whether the layouts are complex and layered, simply, neutral, soft, or strong. List your observations with pen for future reference on a page in your sketchbook or binder. Keep this list in your journal so it can be ever-evolving.
Step 3. When looking for layout inspiration, or an opportunity to learn a new crafting skill, pull out your notebook and select an idea to focus on from layouts you've added to it.
Step 4: Once an idea is used in a layout, I suggest throwing it away. Alternatively, for those layouts and articles that you want to hold on to, you can file them away in the back of your journal.
By trying one, two, or all of the ideas above, you're sure to improve and learn in many different areas of crafting. Through these processes, you are certain to find an approach to scrapbooking as individual as you are.
Designing a layout is all about preserving stories and moments through your own creativity, taste, and style. Once you discover the comfort of knowing your own scrapbooking preferences, you will easily put layouts together. Save yourself the frustration and clarify what you like- be it asymmetrical or symmetrical design, detailed or minimalist layouts, or bold or subdued color.
Summing it Up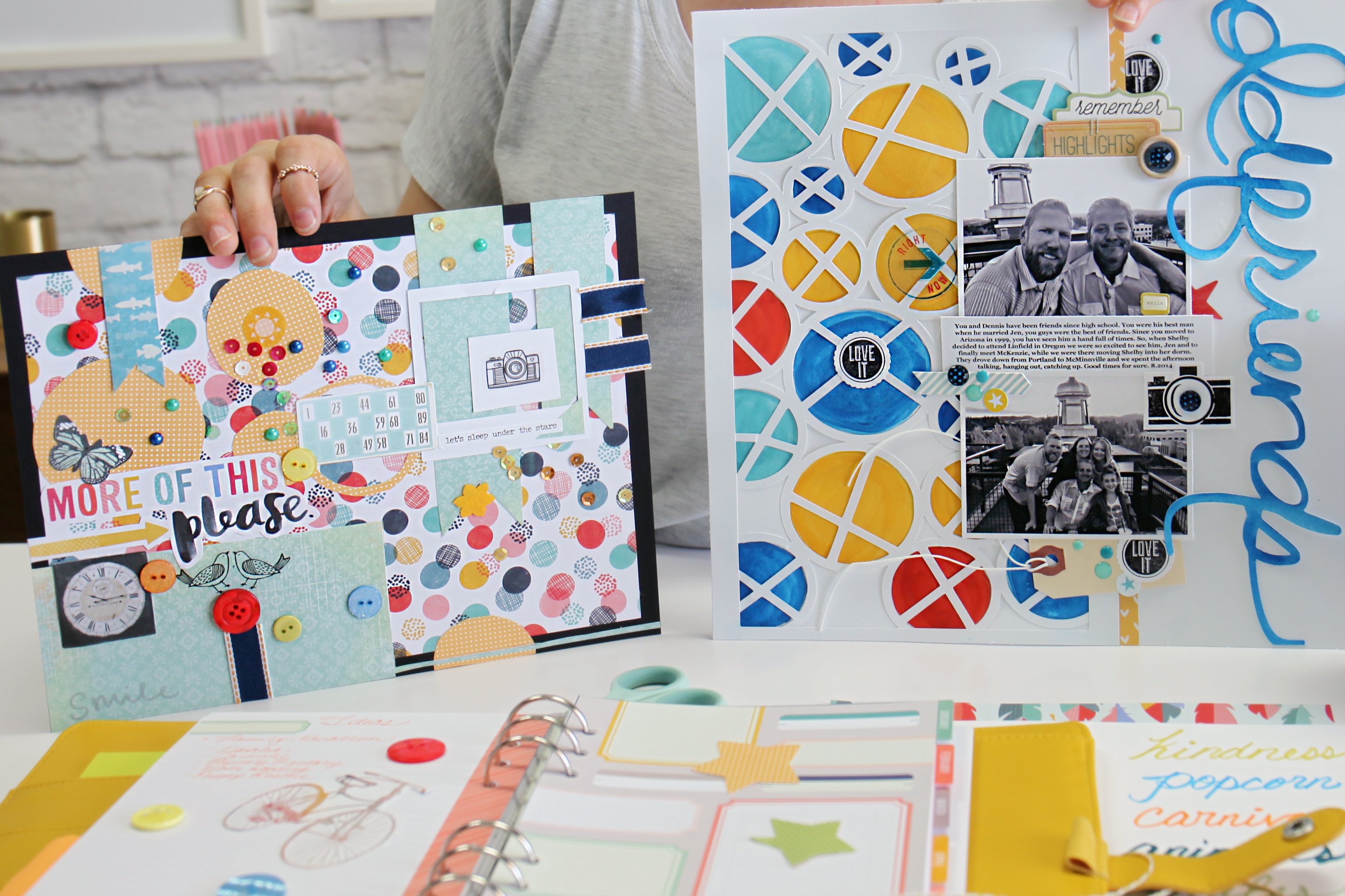 Knowing your own style is a key to placing you among successful, well-seasoned scrapbooking pros. To discover your style, scraplifting, mood boarding, and idea journal-keeping are going to be amazing assets. It can be difficult to get started when you don't know where to start- or to love your layouts when you find yourself struggling for ideas the entire time- so if you find yourself in that position, these activities are the perfect place to start.
One last tip is to continuously talk to others and immerse yourself in a community of fellow creatives. Our Scrapbook.com Gallery is the perfect place to talk to other paper crafters, find inspiration, and share your work.
Like this article? We are constantly posting inspirational content here (so check back often) and our social media platforms. Check us out on Facebook and Instagram so you can see what we're up to on the daily.
Want to keep reading? Check out our article "Can Crafting Really Make You Happy and Healthier?" where we delve into how crafting alters the way we think and the way we feel (hint: it can)!
Thanks for stopping by and happy crafting!
---