You're the APPLE of our eye! We love you a LATTE! You've stolen a PIZZA our heart! Let's TACO 'bout some of our favorite salty, sweet, and savory craft creations all about food!
Here's a buffet of delectable inspiration for you to drool over - some of the best food-themed craft projects in the Scrapbook.com gallery. Check out what's on the menu below and get inspired to make your own food-themed craft projects!
Cupcake Friendship Card
This card looks good enough to eat! Pretty please with a cherry (or strawberry) on top, can we have a friend send us a delicious card like this one made by Ilovedoingallthingscrafty? Ilda used some fun patterned paper for the cupcake wrappers and variety of adorable stamps and dies from Honey Bee Stamps.
The background was made by stamping a gingham pattern on a strip of paper and perfectly blending some blue Distress Oxide ink to look like an outdoor picnic table!
Sweet Tooth Tip: Did you know Scrapbook.com has an entire theme dedicated to Sweet Treats? Yum! Get your crafty sugar fix by browsing some of the sweetest supplies around.
Watermelon Thank You Card
When you want to send someone your sincerest thanks, send a juicy watermelon to do the job for you! Rachel Alvarado created this delicious sweet treat using paper, stamps, and metal dies from Sunny Studio Stamps.
With some of the brightest paper packs around, this gingham red and green combo is the perfect way to offset the tasty summer melon. Send a melon thanks to your favorite sweetie today!
Daily Grind Coffee Layout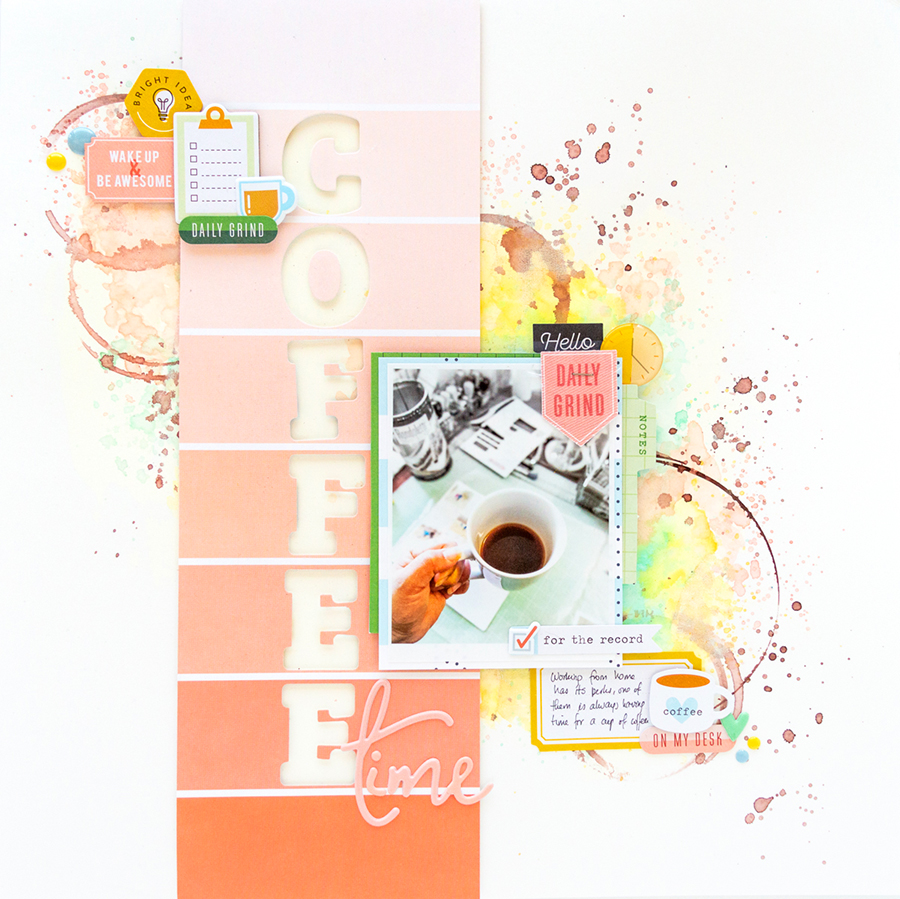 If you're a coffee lover, you're going to quickly identify with this daily grind layout from Tachita55. Using a fun variety of supplies from Pinkfresh Studio, including liquid watercolors and the Office Hours Collection, she created this dedication to morning caffeine.
Take a page from her book and dedicate yourself to waking up and being awesome each and every day...after your coffee of course!
Bun in the Oven Card
What soon-to-be-mommy wouldn't be tickled pink to receive this adorable happy oven and cinnamon bun to celebrate her baby? Kathy Skou created this super sweet masterpiece using a cut file and Doodlebug Design supplies. The tiny oven door even opens and closes!
There's just something irresistible about the So Much Pun Collection for cute food-themed craft projects.
Taco Birthday Card
Every day can be Taco Tuesday when you're crafting tasty taco-themed cards for every occasion! Queeniooos created this bright fiesta using a variety of Lawn Fawn stamps and dies. You simply can't have a taco party without a piñata, llama, and a pitcher of margaritas surrounded by some must-have party supplies!
This interactive card made using the Magic Picture Changer die set is such a fun way to wish someone a happy birthday!
Smoothie Smile Layout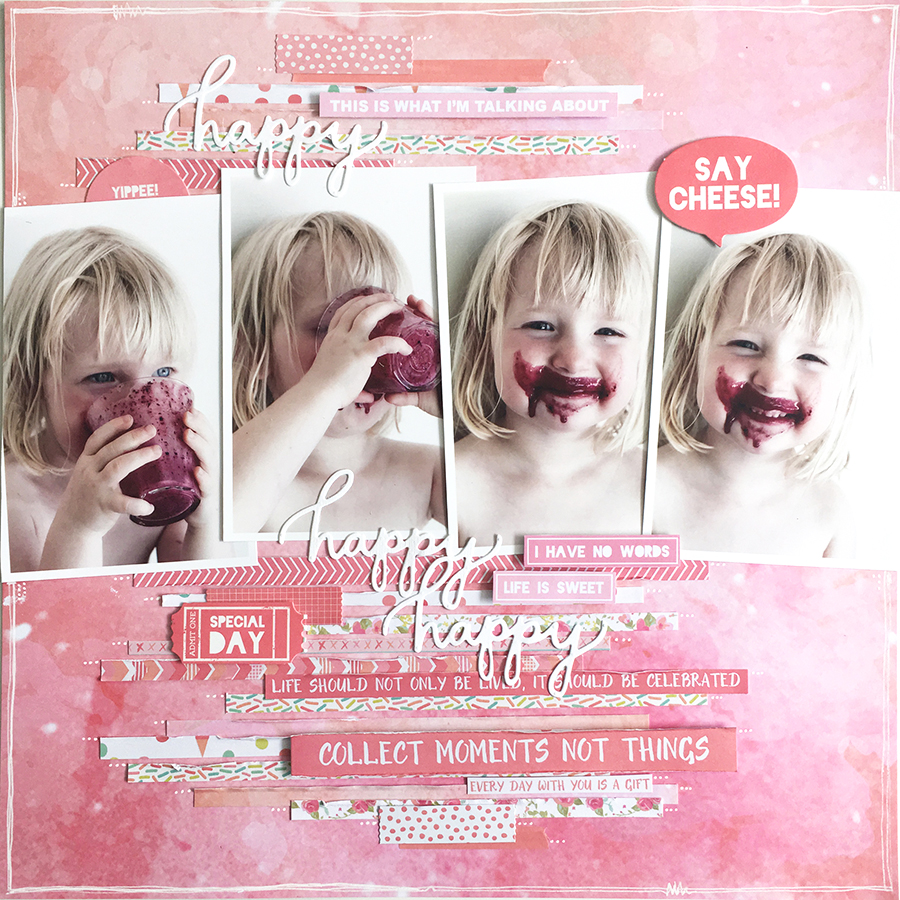 Life can be so sweet when you take time to enjoy a cold treat! This super cute layout by Inkpapercloth is filled with delectable berry pinks, joyous sentiments, and four great photos of a smoothie-loving cutie. This icy blueberry beverage was good enough to wear for an adorable purple-faced smile!
We are loving all the paper strip layering effects and all the perfect ephemera sentiments that accent this silly and sweet layout!
Breakfast Planner Spread
It may be called So Punny, but it might as well be called So Yummy! This breakfast buffet of deliciousness was created by Jomelle Gomez using supplies from Doodlebug Design. Everywhere you look, there's a tasty and adorable breakfast item that catches your eye.
The pocket pages hold cute patterned paper cut to size, with cardstock pieces and stickers popping up from every planner pocket. If the plan is to eat breakfast, we can definitely add that to our calendar as well!
Pizza Project Layout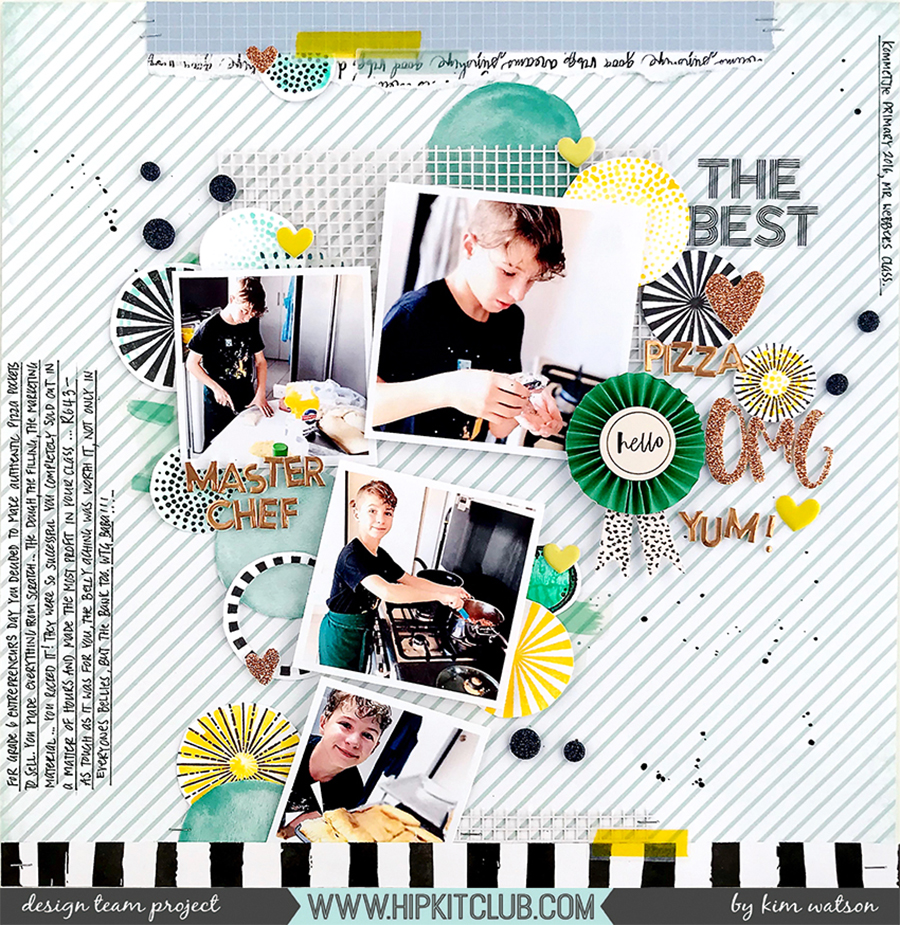 This project by Kim Watson of her master chef in the making is getting us hungry and inspired. Using a variety of fun products including Thickers from American Crafts, paints from Vicki Boutin and patterned paper from Heidi Swapp, Kim documented Entrepreneurship Day for her son's 6th-grade class.
The head chef made homemade pizza pockets from scratch and sold out within hours - such a proud experience to document in a trendy scrapbook layout! We love the non-traditional yellow, teal, and black color scheme with fun coppery accents and multiple action shots of the chef at work!
Fast Food Combo Card
We could sure go for a burger, fries, and cola combo right about now, how about you? This adorable combo card by Wanda Guess combines the classic red and yellow color combo with delicious-looking foods from Sunny Studio Stamps.
Nothing goes together better than a burger and fries, and this adorable sentiment paired with the smiling culinary characters is a great way to show the love on Valentine's Day or a special anniversary.
Ice Cream Truck Celebration Card
I scream, you scream, we all scream for ice cream when the ice cream truck rolls on by! Juliana Michaels created this yummy celebration card using a variety of Catherine Pooler inks, paper, stamps, and dies, as well as Scrapbook.com's exclusive daubers!
We would love to celebrate our birthday with a couple delicious ice cream cones! Just tell us where the truck is going to be and we'll be there! One scoop or two?
Wedding Cake Layout
How about a scrapbook layout for the most scrumptious part of the wedding? This romantic wedded bliss layout featuring a decadent three-tiered cake was made by Mari Clarke using supplies from My Mind's Eye. Like the cake itself, this page has delicious layers everywhere you look: sparkly gold matting, delicate stitching, whimsical swans and roses, and some barely-there stenciled florals in the background.
This page may not taste as good as the cake itself, but it's the perfect way to think back on the flavor of each special bite!
Ketchup Card
We're sure there are some special people in your life you need to KETCHUP with! This happy chef with his kitchen filled with delicious Lawn Fawn barbeque foods is sure to do the trick. Melissa Ann Papercraft stamped and colored all of these fun foods and condiment bottles along with the perfect punny sentiment.
If you have a foodie, chef, or grillmaster in your life that you need to ketchup with, then you'll truly relish how well done this card is!
Cupcake Birthday Mini Album
AnyaL really knows how to celebrate with this super fun birthday cupcake mini album! Using a variety of supplies from Echo Park's Let's Party Collection, she created a cupcake-shaped album for capturing all the wonderful birthday moments and memories!
No matter what age you're celebrating, be it 6 or 60, this is an adorably sweet way to remember the day!
Veggie Love Card
After so many sweet treats, we are loving this healthy card by Mona Tóth veggie much! Using adorable veggie stamps from Heffy Doodle and Scrapbook.com's exclusive hybrid inks, she created a very ap-PEEL-ing veggie card filled with love!
Send the perfect patch of veggies to a friend, family member, or coworker who prefers healthy vegetables over sweet treats. Tell that special someone that they A-MAIZE you or wish them CORN-GRATULATIONS on a momentous accomplishment!
Perfect Combo Fast Food Layout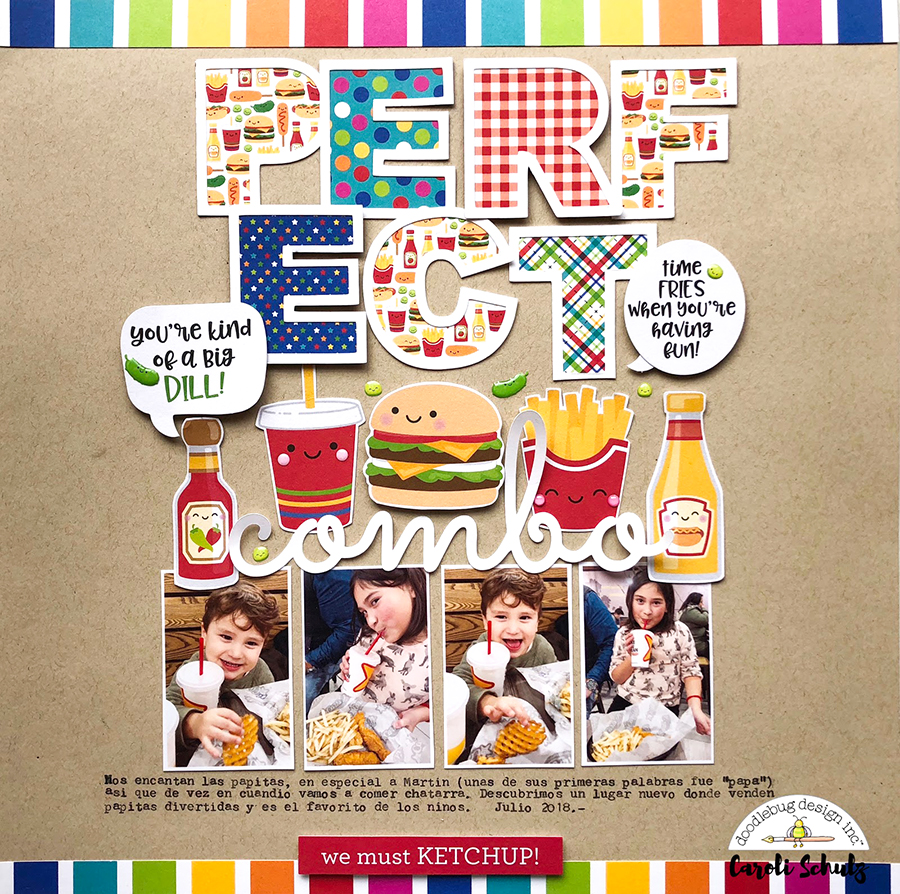 Even a quick trip to your favorite fast-food hangout for chicken fingers and waffle fries can create wonderful memories worth capturing. This colorful combo layout from Caroli Schulz combines a rainbow of colors, smiling faces, and perfect supplies from Doodlebug Design to create a memorable moment.
A positively perfect cut file helped create the title for a scrapbook page that truly shows that time FRIES when you're having fun!
S'more Friendship Card
Laura Volpes may need s'more wonderful friends but we need s'more gorgeous, tasty cards like this one! Using Tim Holtz Distress Inks on some specialized watercolor cardstock, she achieved a fun rainbow background for her adorable Lawn Fawn smiling s'mores.
The delicate die cut stitching on the borders of the card gives it a classicly simple but gorgeous finishing touch. We can't wait to sink our teeth into this sweet, melty, and crunchy campfire treat!
---
Feeling inspired? Or maybe just hungry? Grab yourself a snack, browse all the food-themed craft supplies, and then check out how to make a fun Interactive Slider Card or learn about 3 fun, new background stamping techniques to use in your next project.
---