The air is getting crisper and the leaves are starting to fade from energetic green to calming, quiet orange. This means one very important thing to us crafters: Halloween projects. Okay, okay - it means much more than that, like the Holiday season is finally underway, school is back in session, and all sorts of new Halloween scrapbooking supplies have just been released. But what to do with all of these fun new Halloween treats?
We hunted the Scrapbook.com Gallery and found 12 projects that we had to share. We hope that these spooky scrapbook layouts, cards, and gift giving ideas spark some creative inspiration in you!
Sit back, relax, and as you dream of pumpkin patch promenades and freshly baked apple cobbler, carve out some time for creative inspiration that will leave you spellbound.
1. Halloween Card with Watercolor Background
Created with Art Impressions stamps and dies, we love what Dana has done with this spooky-cute pumpkin card! In traditional Halloween colors of bewitching purple and harvest moon orange, this card is totally fit for the fall season and perfect for that friend who wishes Halloween were year-round!
2. Halloween Scrapbook Layout with Pumpkins
This country-chic Halloween layout is absolutely precious! Created using Simple Stories Halloween papers and stickers, this layout is a wonderful example of how to scrap a single Halloween costume photograph! Whether your child (or grandchild) is playing a pumpkin for Halloween, a princess, or a superhero, scrapping with the colors found in the costume is a great way to tie the entire layout together!
3. Halloween Home Decor Project with Paper
If you love decorating your house for Halloween, you're going to love this! This mini house was created using acrylic paints, inks, and a die set - all from Tim Holtz! Whether you need a centerpiece for a Halloween themed dinner or you just want to create some fun little villages for your friends to ooh and ahh over when they visit, the Halloween Dies from Tim Holtz can make your dreams a reality.
4. Scrapbook Layout of Halloween Home Decor
If you are among the many of us who can't help but go all-out for Halloween, this is a great layout idea! This year, consider creating a Halloween scrapbook layout featuring your house decorations - that way all of that hard work of putting up the spooky decor will be immortalized - and you can have fun doing it! This layout was created using the Fright Night collection from Paper House.
Tip: Edit your photograph so it's in black and white or sepia. This will give your decor a haunted feel to it - and, it will go with whatever colors you'd like to use in the layout!
5. Funny Halloween Card with Distress Inks
There's something special about a Halloween card that incites laughter - and this one is cute, clean, and funny! "Witching you a happy Halloween" is a play on words that will make adults and children alike smile. Not only is this card clever, it's colorful as can be! The background on this card was created using vibrant Distress Inks- a must in every card maker's repertoire.
6. Halloween Mini Album
If your love for Halloween goes deeper than 31 days, we're with you there! Why not create a mini album brimful with all of your favorite Halloween supplies?! This gives you a chance to enjoy and use all of those Halloween supplies - heck, you'll even make room for more (not that we need encouragement for that)! This mini album was created using Doodlebug papers, stickers, and embellishments from Boos and Brews!
7. Carved Pumpkins Scrapbook Layout
This is a fun way to capture detailed memories from Octobers present and past! Create a layout featuring your and your family's pumpkins! Light the candles in your pumpkins at nightfall and take a photograph - then center your layout around the printed photo. This gorgeous layout was created using Bo Bunny's Wonderfully Wicked collection - a Halloween line with a timeless vintage feel.
Tip: For extra fun, have the pumpkin carvers name their pumpkins, then incorporate the names into your layout, like the one above.
8. Halloween Pillow Boxes for Treats
Why not take advantage of the season to give cute, handmade treats in a Halloween theme? Pillow Boxes are a fun and easy way to create goodie bags with any theme you'd like. Easily personalized and loved by all recipients, consider creating some little goodies to share with family and friends? These would also make an adorable take-home gift if you're hosting a Halloween-themed dinner party!
9. Unique Halloween Layout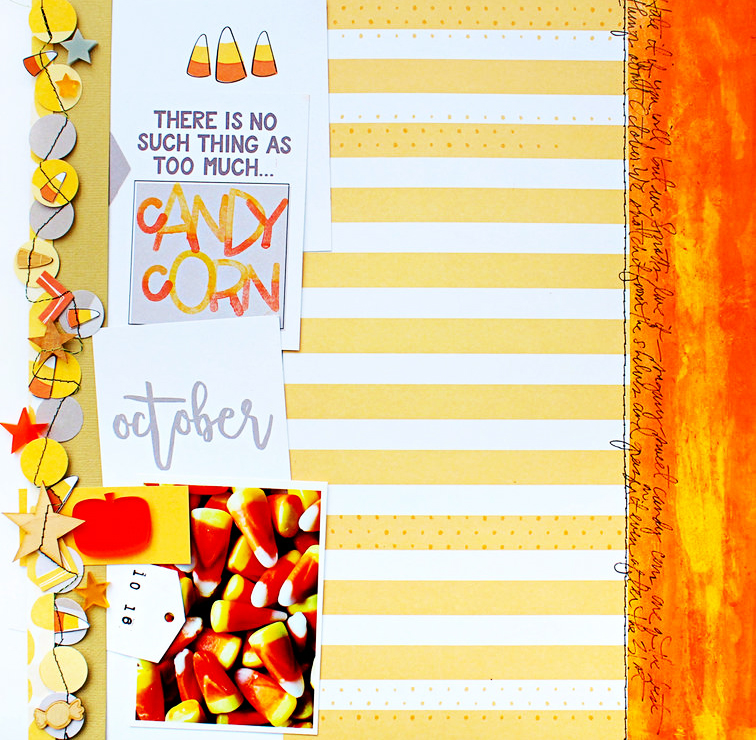 We LOVE this idea. Looking for something Halloween-themed to scrapbook, but that's also unique? Scrap your favorite Halloween candy! By using Halloween-themed scrapbook supplies and colors, the layout will scream October 31st, but will be all about something you love and will tell your family and other album-viewers a little bit about YOU! So much fun. Plus - it gives you an excuse to buy your favorite candy... it's to photograph, right?!
10. Halloween Card for Husband with Distress Oxides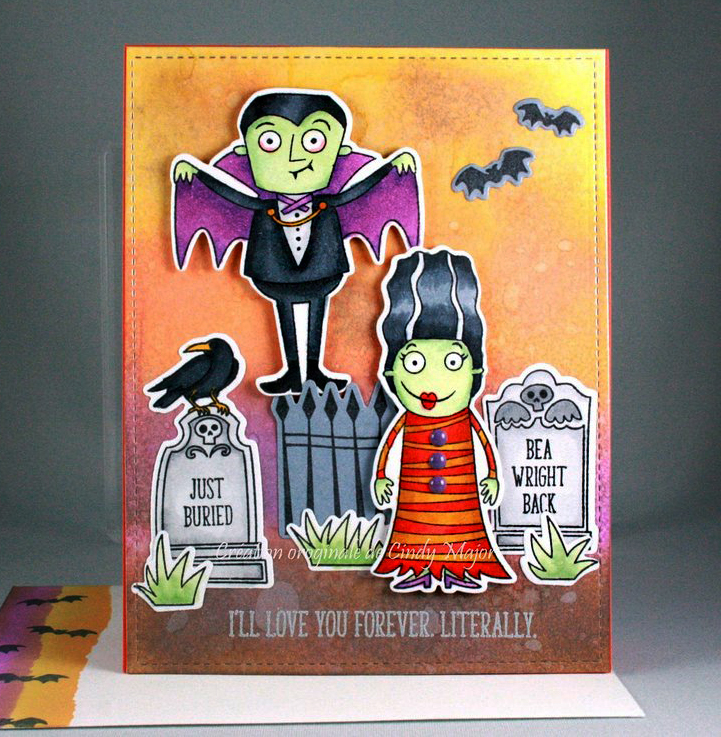 Why not use the hair-raising holiday as an excuse to give that special someone a funny, seasonal card? We love this one that we spotted in our gallery. Created with the perpetually popular Distress Oxides, this card is Halloween-themed and romantic - the perfect combination for your sweetie pie!
Tip: This article will give you 5 simple tips to get better blended backgrounds. It's definitely worth taking a look at. Read it here.
11. Halloween Layout of Your Pet
We can turn any holiday into one to scrap your pet - and why not? Halloween is another time to document your precious kitty, pup, bird, or whatever type of pet you have! Whether you have a dog who is going to wear a cute costume, a hamster, or a black cat (how fitting), share your pet's Halloween activities!
12. Just Because Card for Halloween
At the end of the day, Halloween is the perfect occasion to send a hello or "just because" card. With fun colors and motifs (like pumpkins and witches) not seen year round, a Halloween card is a great way to say hello to a friend or surprise family members with a little happy mail to brighten their day!
---
We hope that you took some inspiration from these 12 creative and beautiful Halloween projects. Remember to share your creations in our Scrapbook.com Gallery, so other people can like, comment, and also be inspired!
Shop all Halloween items at Scrapbook.com here!
---