Article Courtesy Scrapjazz.com: by Christine Ousley
I love my Copic markers to color in stamped images but there is so much more that they can do as well. Copic markers come in so many different colors you won't have any problems creating the perfectly matched embellishment for your next scrapbook project. I've got a few suggestions on how you can get the most out of your Copic marker while creating embellishments.
Gems - Clear gems can easily be colored. Just adhere the gems where you want them and then color away. You really only have to color the top of the gem for it to look colored all the way through. Be sure to pick a darker color as they work better than the lighter colors.




Fabric - Have you ever wanted to add something extra to a fabric embellishment? Copic markers work fantastically on fabric. In fact, it is colorfast and won't wash out if washed.



Note: If you get Copic marker on your clothes, just rub hand sanitizer or rubbing alcohol on the spot and wash. This seems to take it out. For this embellishment I diecut some heavy canvas and then used my marker to create the yellow polka dots.


Chipboard - Another way to use your Copic marker is to color chipboard. White chipboard works best. Don't forget those white gift boxes left over from birthday parties. Just cut and color.


Don't forget about those white chipboard letters too. Now you can have the perfectly matched title in no time.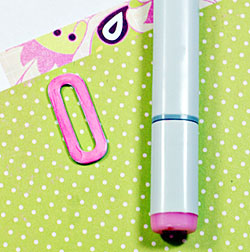 Ribbon - How about ribbon? Just grab some white ribbon and start coloring. The ink will seep right into the ribbon and color it all the way through. Be sure to put something underneath your ribbon as it will bleed through.




Can you tell which ribbons have been colored with the Copic markers?
I hope you can see that Copic markers are not just for coloring in stamped images. They can be used for so much more. So if you are into scrapbooking more than card making, you might want to check those Copic markers out. You might just find the perfect color to make your embellishments match perfectly.
Shop all Copic Markers at Scrapbook.com
---