Sunny Gilbert, Arizona is a friendly, blossoming community of over 250,000 residents that stands for kindness, thoughtfulness, and friendly neighborly values. As a company, Scrapbook.com could not be prouder to call this beautiful town our home.
A few months ago, Scrapbook.com became aware of a local effort happening called Gilbert Kindness and we couldn't wait to get involved!
What is Gilbert Kindness?
In May of 2017, the Town of Gilbert, Arizona launched a campaign known as Gilbert Kindness. It is a wonderful initiative focused on celebrating thoughtfulness and community values in our town. This year, April 22, 2019 through April 28, 2019 was Gilbert Kindness Week where residents were encouraged to display random acts of kindness for friends, family, neighbors, coworkers, and even complete strangers.
While Gilbert is already a community of giving, caring individuals, this week allowed everyone to go above and beyond with their generous nature. Scrapbook.com employees were beyond excited to participate in this effort, and dug deep to find a way to show some kindness.
Getting involved with #GilbertKindness Week
As a papercrafting company, we really wanted to show some love and support to local cancer patients by making them handmade, heartfelt cards. We were looking to lift their spirits, offer words of encouragement and congratulations, put smiles on their faces, and help them celebrate their birthdays.
At the beginning of April, well in advance of Gilbert Kindness Week, Scrapbook.com put out a message to local residents, customers, and those visiting the beautiful Valley of the Sun. We needed the community's assistance. We asked for donations of handmade cards to brighten a patient's day.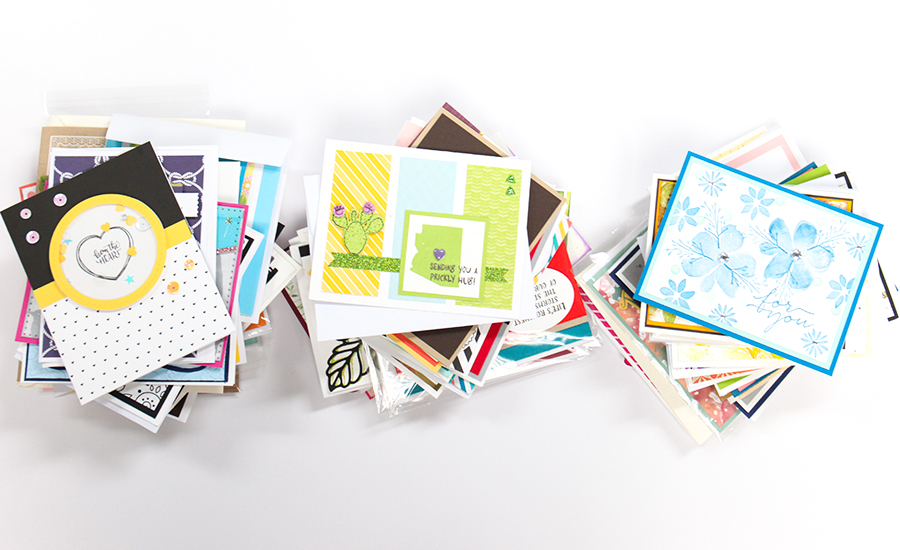 We had just a few weeks to get all of the cards in for patients of the Ironwood Cancer and Research Centers and Banner Desert Medical Center. The outpouring of community support and involvement that we experienced was so moving, we had to share it.
Love From the Community
We thought it would be amazing to have the community involved in our act of kindness and collect a few cards for cancer patients. We never expected the level of unmatched support that we received from people looking to share handmade kindness.
All day, every day, since we put out our call to action in the beginning of April, cards were flooding in. Customers coming to pick up their Scrapbook.com orders were bringing in cards to donate to our efforts. But it wasn't just our customers! Members of the community were coming in just to hand deliver their handmade cards to the quickly-growing pile.
Scrapbook.com was over the moon to see so many giving, caring, smiling faces walking through our door with cards. They provided us feedback about how much they loved the idea of donating handmade cards to patients, and couldn't be more excited to be a part of the effort. Some even told us stories about holding crafting circles with friends so they could all make cards together!
Before we knew it, we had over 1,200 cards donated by local residents, customers, and visitors to Gilbert, Arizona.
Scrapbook.com Employees Get Involved
To show our support for Gilbert Kindness Week, Scrapbook.com held an event for employees to make cards and show their kindness to others. We got out some of our favorite exclusive Scrapbook.com products and let employees get creative in their kindness!
An in-house employee with decades of crafting experience led a step-by-step walkthrough to team members of all skill levels in every department. We were using inks, adhesive, stamps, paper, and more in our card making adventure. Everyone was overjoyed to be partipating in an effort to put smiles on the faces of local cancer patients.
After collecting all the community's cards, and the ones that Scrapbook.com employees made, we had 5 boxes filled with over 1,500 cards!
Donating Cards to Cancer Patients
To close out such a kindness-filled week, and end our handmade card collection, we only had one thing left to do: deliver the cards.
These very special cards made with love by the Scrapbook.com team and our community of amazing individuals were delivered to the Ironwood Cancer and Research Center locations in Chandler, Arizona as well as Gilbert, Arizona, and to Banner Desert Medical Center in Mesa, Arizona.
Each card was filled with a message for someone special at each of these facilities. They held words of inspiration, a little bit of cheer and sunshine, well wishes for a wonderful birthday, and sincere congratulations for milestones they've achieved.
It is our hope that these handmade cards bring smiles to their faces, and warmth to their hearts.
Thank You from Scrapbook.com!
Everyone at Scrapbook.com would like to extend our heartfelt thanks to such an outpouring of community support for a wonderful cause. Each card we donated helps to show kindness to someone who could use a smile, and for that we are grateful.
Thank you especially to the Town of Gilbert for recognizing and celebrating Gilbert Kindness Week. We couldn't have done it without you! We look forward to continuing our efforts of spreading kindness, love, and support throughout the community all year long!
We will be sure to notify our wonderful customers and the community of any future card donation opportunities with Scrapbook.com!
If your card is in any of the photos above, please leave us a comment or
contact us
so that we may give credit where it's due.
---