It's that special time of year where we celebrate handmade cards in all their beauty - World Card Making Day 2020!
This year, our favorite card making holiday is on October 3rd. Keep your eyes on our Deals and Promotions page for upcoming surprises you don't want to miss!
We're kicking off the celebration early by featuring 20 of the best cards of 2020 (though we truly could pick over 2,020 cards from our 3,000,000-project gallery).
Check them out below to spark your card making creativity!
Sunshine Hello Card
Say hello to the first card on our list that you're bound to be obsessed with. This bright and shiny creation by Krystal Becker combines a variety of Scrapbook.com's exclusive products with Ranger's fan-favorite Distress Oxides for a look that would brighten anyone's day. Using the Reversible 6x8 Sun Ray Stencil in two different directions along with our brand new Decorative Die sentiments, she achieved a brilliant and bold hello card!
Tropical Birthday Card
We simply cannot stop staring at this creation from Carol Hintermeier for Honey Bee Stamps. Using stamps featured in their Paradise Collection and some positively gorgeous no-line coloring techniques, Carol has managed to immerse us in a daydream featuring a much-needed island getaway.
Floral Leaf Card
Virginia Lu combined the beauty of Ranger's Distress Oxides with fabulous Penny Black stamps and dies for a true stunner of a card. Explore the Secret Garden Collection by Penny Black for some of the most poignant sentiments and beautiful floral stamps and dies to recreate this birthday card for someone special in your life!
Sending Hugs Card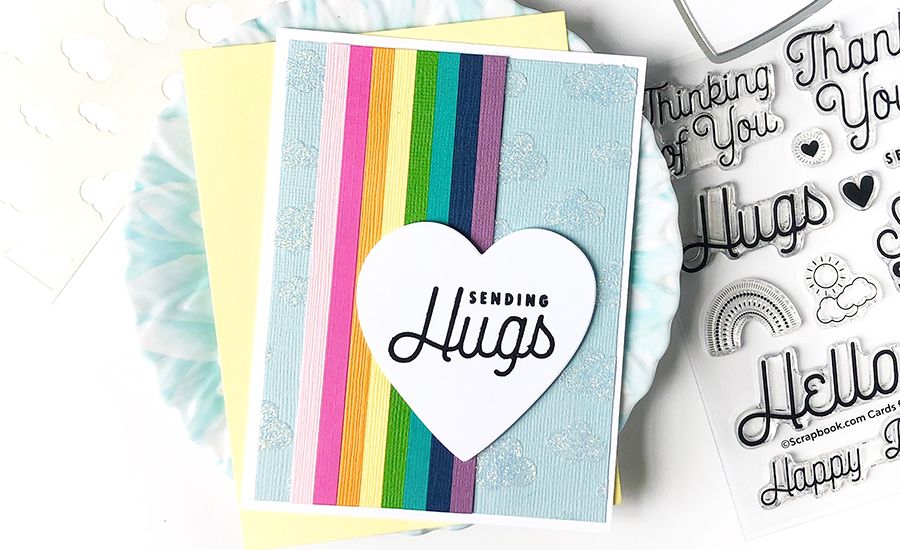 Send hugs to everyone you miss with the Scrapbook.com Cards For Kindness stamp set. Krystal Becker made this beautiful rainbow and sparkle cloud creation with a variety of exclusive products only found here. Pick up some must-have essentials like nested dies, stamps, and reusable 6x8 stencils when you shop our exclusive section here.
Snowflake Foil Card
Each snowflake that falls from the sky is unique and this glimmering card from Laura Volpes is a one-of-a-kind beauty! She used Spellbinders' Glimmer Hot Foil System and their huge selection of Christmas-themed Glimmer Foil Plates for this silver foiled creation.
Rainbow Hello Card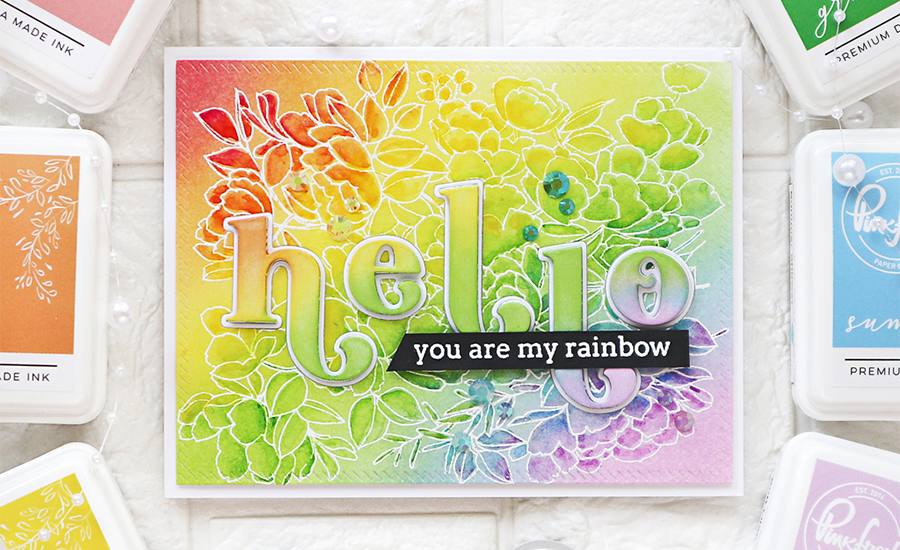 Now here's a fresh, funky, and fabulous card to add to your must-make list! TaeEun used a variety of Pinkfresh Studio supplies for this rainbow-themed happy hello. Taking center stage are the ornate lowercase alphabet dies, brought out by the beautiful blended rainbow of premium dye inks. We simply cannot take our eyes off this card!
Magical Castle Card
Everyone could use a little bit of magic in their lives and this card makes us believe in the magic that exists in creativity! Marie Nicole created this card filled with fireworks and amazing layering techniques. Who would have thought the Scrapbook.com Mums Stencil could create magical fireworks like this?
Alcohol Ink Lift Birthday Cards
Two amazing cards with one technique? Yes, please! These swirling, stylish cards made by the very talented Justine Hovey use a combination of Tim Holtz's vibrant Alcohol Inks with a pretty peony stamp from Picket Fence Studios. The key product for this look - the Alcohol Lift-Ink Pad - takes ink from one creation and adds it to the other. Brilliant!
Distress Oxide Butterfly Card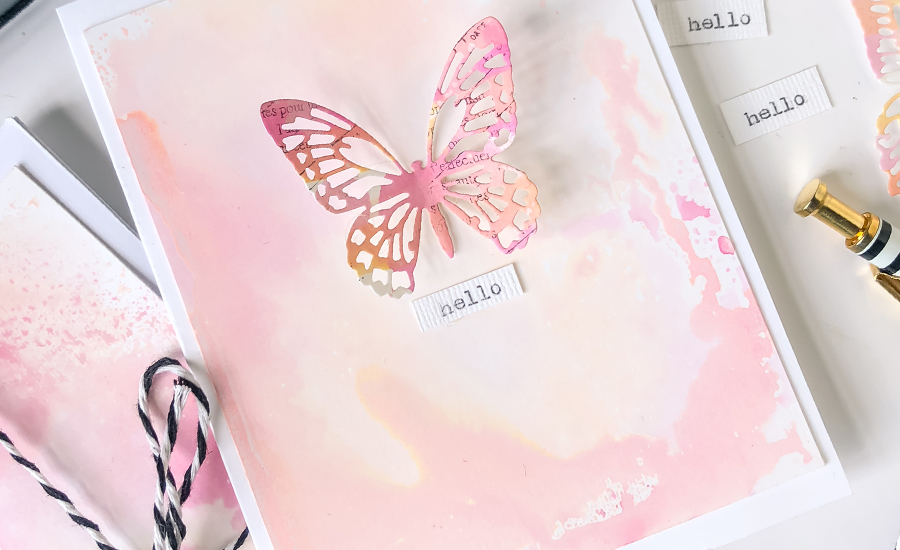 This simple and gorgeous hello would make anyone's day brighter. The creative Jamie Pate used Tim Holtz's Distress Sprays and a delicate butterfly die cut from Sizzix to put together a swirling, delicate handmade card. The background looks so whimsical and professional, your recipient will think it's a store-bought card!
Bestie Bow Card
Show your bestie just how much you love and miss them with this absolutely stunning multi-dimensional card from Anett Gelencser. A little ink blending paired with some fabulous die cutting makes this card a true keeper. Anett utilized Scrapbook.com's new Alphabet Die sets to create the fun, festive message on the front alongside Pinkfresh Studio inks & dies to literally put a bow on top of a true gift of a card.
Doodlebug Birthday Cards
Say happy birthday to the little Doodle Dudes in your life with Shellye McDaniel and Doodlebug Designs. Using picture-perfect patterned papers, ephemera, and a 3-D Doodlepop or two from the Party Time Collection, she created folded easel cards that are just so much fun!
Skeleton Halloween Card
The incredibly talented Juliana Michaels is taking our breath away with this frightful Halloween card made using Tim Holtz supplies. She used rubber stamps from Stampers Anonymous and Alcohol Inks from Ranger to achieve this haunted Halloween creation. How did she achieve that ghost-like x-ray look? Alcohol Lift-Ink. So cool, it's creepy!
Rainbow Christmas Card
When you want to make the holidays merry and bright, make sure you add just a little bit of rainbow to your Christmas crafts. Anita Bownds is the creative artist behind this simple and striking holiday card. She used bright cardstock from the Simple Stories Color Vibe Collection along with Scrapbook.com's exclusive Tall Skinny Alphabet dies that come with both upper & lowercase letters all in one set!
Pet Hugs Card
Who wouldn't want to hug on a fabulous feline or crazy canine to make their day better? We certainly would! Send some wet nose and wagging tail hugs to your favorite people with this Catherine Pooler card made by Marcia Dehn-Nix. The stamps, dies, and accessories for these perfect pets are from the Let's Party Collection - have yourself a crafting party with these must-haves!
Happy Birthday Balloon Card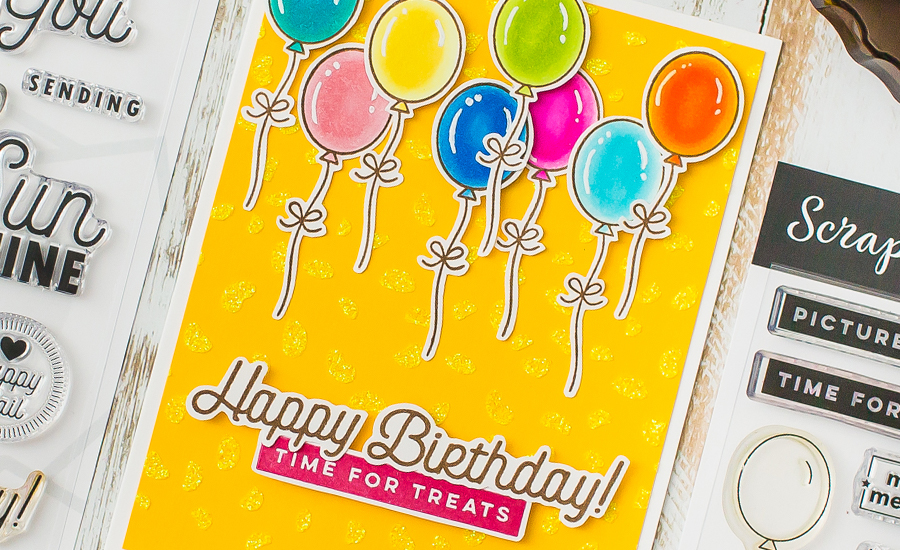 Blow up the balloons and get ready to toss the confetti - it's birthday time! This bright and colorful creation from the oh-so-talented Mona Toth is a treat for any birthday boy or girl. Using Scrapbook.com stamps and stencils alongside a special sunflower yellow background, this fabulous card is a birthday gift all by itself!
Halloween Gnome Card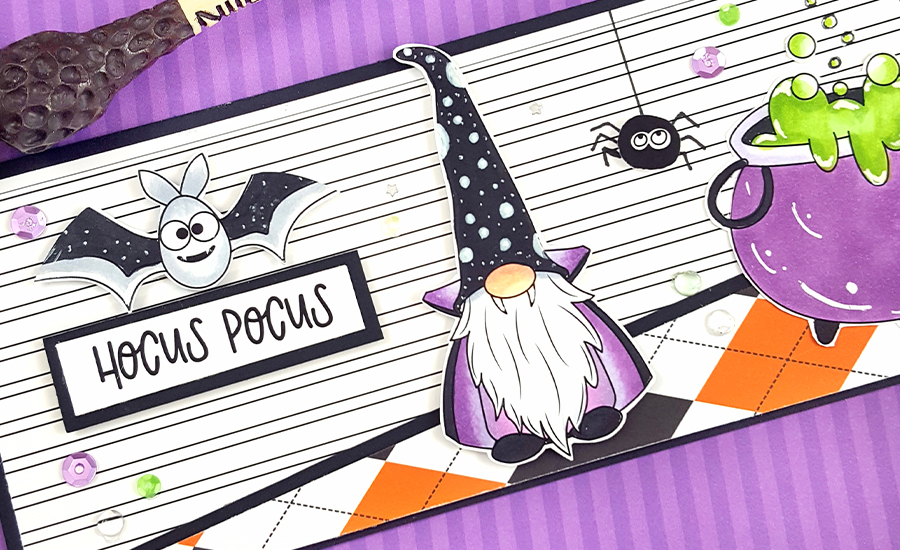 Trick or treat! Gnome-body home! Terri Burson created a fabulously spooky card for Halloween filled with creepy crawly friends. The ever popular Photo Play gnomes you love are all dressed up for the fright night festivities in their Gnome For Halloween Collection. Send a little Halloween happiness to your friends and neighbors with these costumed cuties!
Elegant Wishes Card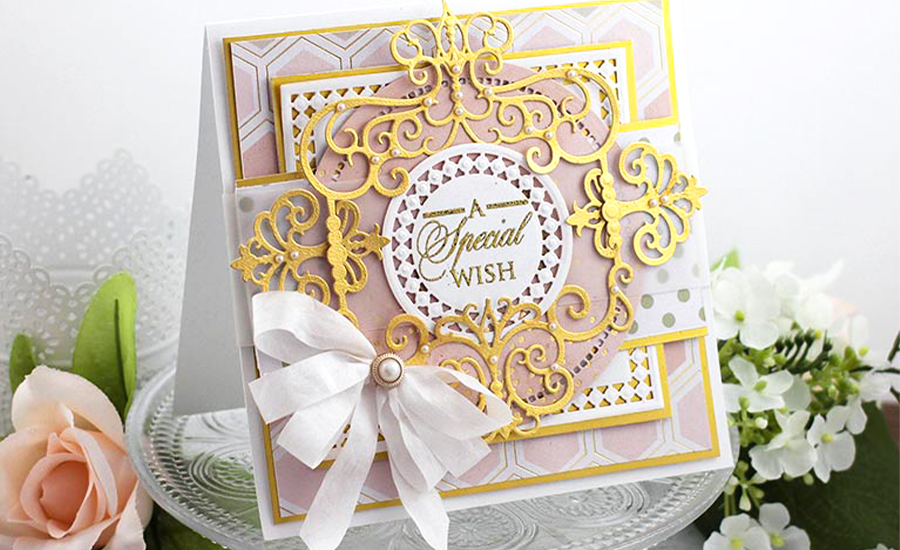 Teresa Horner has certainly captured our attention with this unbelievably elegant handmade card. She used a fabulous layering technique to combine several intricate Spellbinders Candlewick dies into one fabulous look. This special, gilded creation would be perfect for a birthday, wedding, engagement, or other momentous celebration.
Stamping Village Rainbow Cards
The Stamping Village is a community of your favorite stamping brands and designers that come together to release brilliant, innovative stamp sets. These fabulously colorful cards were created using stamps from their newest release, We Stand With You, which embodies kindness, inclusitivity, and acceptance. We are loving the way these cards used one swoosh stamp to create rainbows of happiness!
Stitched Heart Thank You Cards
Everything that the brilliant Paige Evans creates has a way of capturing our hearts and these stitched heart thank you cards are no exception. She used a patchwork technique to combine pieces of her Bloom Street Collection into gorgeous stitched hearts on these adorable thank you notes. Wouldn't you love to have these on hands to thank all your beautiful friends and family members?
Altenew Winter Florals Card
Is a poinsettia the official flower of Christmastime? It certainly should be. The bursting deep red petals and festive pine green leaves make it a gorgeous addition to any Christmas crafts. Virginia Lu used the Altenew Winter Florals layering stamp set to create these two beautifully stamped and heat embossed cards. This stamp is only available at Scrapbook.com for a limited time so make sure you grab one up to start your holiday cards!
---
Believe us when we say we could have filled this World Card Making Day feature with hundreds of our favorite cards of the year. Which card was your favorite?
We hope you have a creative, fun, craft-filled World Card Making Day!
---