Today, the act of sending Christmas cards is one of those fun traditions around the holiday season to show friends & family we're thinking of them. But where and when did this tradition originate?
In this festive article, you'll learn about:
The man credited with creating the first Christmas card
Who the first person was to send a photo holiday greeting card
The rise of the handmade Christmas card
What the most popular Christmas card of all time looks like
The Penny Post
Back before Christmas cards were a holiday must, the tradition in 19th century England was sending letters to family and friends for the new year.
Sir Henry Cole was a senior civil servant in England in 1843. In his role in the UK government, Cole was credited as helping to establish the Public Record Office, which today is known as the Post Office.
The British postal system had recently expanded its availability to the common public when it introduced the "Penny Post," which allowed correspondence to be mailed for just a single penny stamp!
Letters were piling up, and unanswered correspondence was a major faux pas in the mid-1800s!
This came about from the construction of new railways that replaced the old horse and carriage delivery system. Trains could carry far more post than the old carriages, and therefore they could charge less overall.
Before he knew it, the post became wildly successful, with immense amounts of letters flowing through the postal system - including a ton for himself. Letters were piling up, and unanswered correspondence was a major faux pas in the mid-1800s. He needed a way to answer all of his admirers.
Luckily he had a friend and an idea.
J.C. Horsley's Illustration
Sir Henry Cole had an idea in his mind and brought it to his friend John Horsley, an artist. Together they constructed a 3-design panel, also known as a triptych. Two panels had images of people engaging in charity work and assisting the poor, while the third, a center panel, had a large family sitting down to holiday dinner.
Using a London printing press, they had 1,000 copies produced on cardboard panels that measured 5 1/8 x 3 1/4. They used lithographic printing, which employs hand-colored plates and gave the illustration a monochromatic, etched effect aesthetic.
Two panels had images of people engaging in charity work and assisting the poor, while the third, a center panel, had a large family sitting down to holiday dinner.
Cole had the ingenious idea to have a salutation line printed at the top that had "TO:" and a line to fill in for the recipient, as well as a "FROM:" line at the very bottom. He also had a generic greeting of "A Merry Christmas and A Happy New Year To You" printed on each one.
Horsley & Cole sold their creations to the community for 1 shilling apiece.
The cardboard cards, however, were not without controversy. Within the illustration of the big happy family sitting down to celebrate Christmas dinner were children drinking glasses of wine alongside their parents! This clashed horribly with the temperance movement in England at the time and received criticism for promoting underage drinking.
Though the backlash was not severe enough to overshadow the momentous nature of Cole's creation as an immense timesaver in the world of correspondence. In the following years & decades, prominent English citizens had copied the success of Cole & Horsley.
The First Christmas Cards in America
It took many decades for the Christmas card phenomenon to increase in popularity throughout the UK and the U.S. The first holiday greeting card in America can be traced back to 1875. Louis Prang was a Prussian immigrant that owned a print shop near Boston, Massachusetts. Unlike the design and format established by Cole, Prang's design didn't depict the Christmas holiday celebration but instead flowers.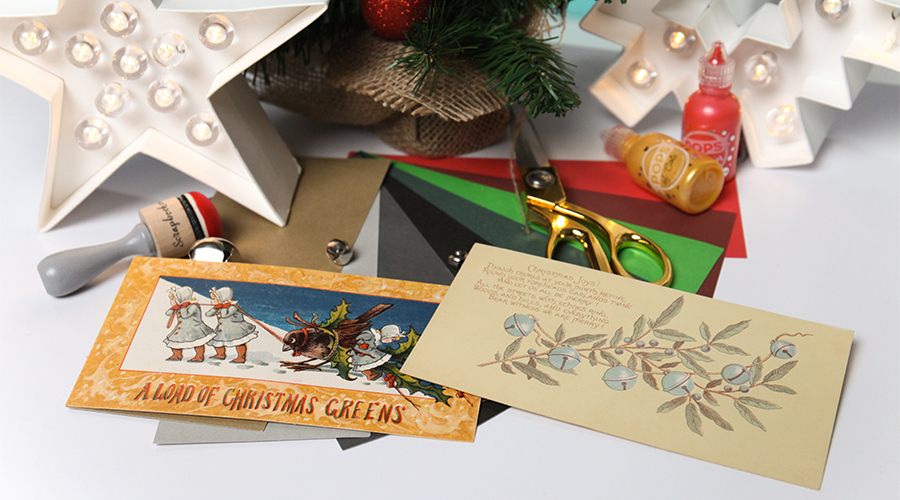 His first batch of cards was printed and shipped to the UK, where the holiday was more widely celebrated than in America. The following year he started selling them in the northeastern part of the country.
In just a few years, he was printing more than 5 million Christmas cards a year for sale in America.
By the 1880s, industrialization was taking hold, which meant the phasing out of the family farm structure and families living further apart geographically. Women were tasked with keeping kinship alive through extended familial connections - including holiday well-wishes. This effort caused Christmas cards to grow rapidly in popularity as families kept in contact around the festive season.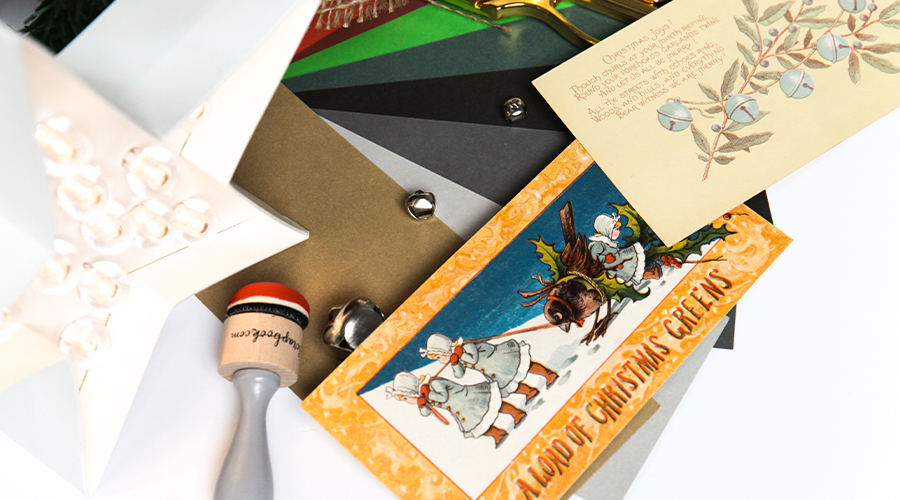 Prang's designs are collector's items to this day, especially given the high quality and detail involved in their printing. He often used as many as 30 unique colors on each print, with some utilizing embossing, varnish, or fringed embellishments.
The Modern Christmas Card
You may not recognize the name Joyce Hall, but in the early 1900s, he started a revolution that resulted in the creation of the modern-day Christmas card.
In 1905, Hall and his two brothers spent $540 to buy picture postcards to sell to store owners and retailers in their community. A few years later, they moved to Kansas City, Missouri, with two shoeboxes of postcards and a dream.
They opened their own little store selling the postcards and other greeting cards, but the store sadly burned down just a little while later. After that, The Hall Brothers purchased an engraving business and began printing their own cards.
They discovered that their customers wanted to write more than what a postcard would fit but less than a whole letter. This resulted in a format change - a card that was 4 inches wide and 6 inches tall, folded once, and inserted into an envelope.
By 1928, the cards were being produced under the brand we all know today as Hallmark.
The First Personalized Photo Christmas Card
How many cards do you receive each holiday season depicting a collage of photos or a beautifully photographed family with a happy Christmas greeting? This tradition has been a standard for quite a few decades, but the very first one can be traced back to famous sharpshooter Annie Oakley - star of Buffalo Bill's Wild West Show.
The very first photo Christmas card can be traced back to famous sharpshooter Annie Oakley - star of Buffalo Bill's Wild West Show!
The year was 1891, and Annie Oakley was traveling in Glasgow but wanted to send a Christmas card to friends & family in America. She had a photo of herself taken in traditional Scottish tartan that was made especially for a performance of the show overseas.
She loved the photo so much that she had a local printer assist her in getting the Christmas cards printed with this festive photograph that was sent to family, friends, and her adoring fans.
Handmade Christmas Cards
At the turn of the 20th century, handmade Christmas greeting cards began to grow in popularity. Early creative crafters constructed the cards themselves, oftentimes using non-traditional shapes and adding accents such as foil and ribbon.
People turned to homemade for one of several reasons - either they couldn't afford to purchase printed cards, they wanted to embark on an artistic endeavor, or they were avoiding the commercialism associated with mass-produced Christmas cards.
Oftentimes these handmade creations were too delicate or intricately designed for the postal system and necessitated hand-delivery - which heightened the personal connections around Christmastime.
A revival of interest in memory keeping, scrapbooking, and papercrafts in the early 2000s made handmade cards (and all the supplies needed to make them) popular again.
Advancements in digital photography around the same time made it easy for families to shoot, design, and print their own customized cards as well. Using a combination of software, fun fonts, clipart, and specialty photo printers, families could print their own designs right at home.
Or, they could use an online service (we LOVE Persnickety Prints) to drag & drop photos and text and have them print as many high-quality customized Christmas cards as they wanted.
At Scrapbook.com, we will always be fans of the handmade Christmas card tradition and strive to provide you with the supplies and inspiration to keep this tradition alive and well for years to come!
The Most Popular Christmas Card of All Time
Debuting in 1977, one particular greeting card quickly took hold as the bestselling Christmas card design of all time.
Hallmark artist Ruth Morehead designed the angelic Three Little Angels artwork that depicts a trio of adorable cherubs, two of which have their heads bowed in prayer, with the third looking up with breathtaking blue eyes. The last in the row has her little bare feet crossed and her golden halo adorably askew.
Barbara Burrow composed the accompanying text for this card that reads, "God bless you, love you, keep you…at Christmastime and always." Ruth was inspired to create the design based on a photograph of herself & her two twin sisters posed in a similar fashion.
Unlike seasonal cards that come and go with each passing year, 'Three Little Angels' was so popular that it was sent over 36 million times in its first two decades of production.
In 2019, the popular Three Little Angels design was updated for the Mahogany Collection. The redesign captured all the cuteness and religious notes with three adorable African American angels.
According to Hallmark's director of creative writing, Kristin Riott, "Cuteness and God together are unbeatable."
Christmas Cards Today
Technology advancements in recent decades are making Christmas cards a little less popular. Social media platforms make it easier to stay connected with friends and family all over the world, and face-to-face video conferencing helps form meaningful connections, especially around the holidays.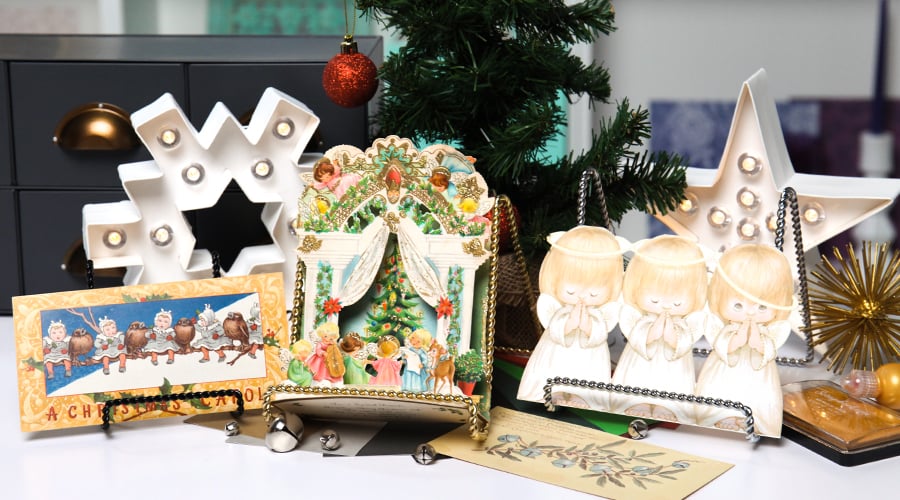 Christmas cards are still the most popular season for card-buying, card making, & sending, with over 1.5 billion individual & boxed cards purchased every year.
What's your holiday Christmas card tradition? Let us know in the comments below. If you love Christmastime, you won't want to miss these wonderful articles as well:
How To Make Easy Christmas Cards FAST!
Everything You Need To Know About Daily December Albums
A Simple Technique For Unique Christmas Cards
---