It's that special time of year where you start making out your Christmas list and checking off the fabulous items you've bought for friends and family.
During this busy season, Scrapbook.com is the place to be for holiday happiness, seasonal surprises, Christmas crafting, and more.
A Note From Santa

To Crafters Around the Globe:

Boy, am I happy to see you! Another year has gone by, and what a year it has been! (wink...double wink...)

As this holiday season approaches, I hope you have found many moments to breathe, smile, and create. I hope you have found moments of joy, moments of hope, and moments to be with the ones you love, even if virtually.

This year, I thought about you a lot. You are crafters. What a special gift you are to the world, and what an important role you play. You document the stories of yourselves and others. You make cards of kindness and encouragement. You make every situation, even challenging ones, more beautiful and heartfelt.

With Love and Hope,

Santa
Make sure you sign up for our exclusive newsletter, keep an eye on the Deals and Promotions page, and check out all the top crafty gifts for 2020!
1. Heidi Swapp Blush Memorydex
Keep your memories, photos, and inspirational reminders spinning in the most gorgeous way possible with the Heidi Swapp Memorydex in Blush Pink. This feisty and flirty makeover for a fan-favorite desktop tool is a must-have in almost any room that needs a fresh pop of pink.
The Blush Pink Rolodex Spinner is ready to be filled with all the things that make your heart happy. Whether you're a traditionalist who keeps contact info close at hand, or a budding culinary artist amassing recipes for kitchen adventures, the Memorydex is poised and ready for action.
Using your creativity along with the tools found in Heidi's Memorydex Collection, you can clip in photographs, inspirational quotes, project ideas, birthday reminders, and anything else you can think of.
2. Scrapbook.com Sticker Books
If you were a sticker-collecting kid that grew up into a sticker loving adult, you're in the right place. Scrapbook.com loves stickers just as much as you do and our exclusive Sticker Books are designed to satisfy your sticker obsession. The sticker tablets come in five different theme shades and are filled with matte and foil alphanumerics, frames, and adorable little phrases.
The variety of stickers make them perfect for planners, journals, notebooks, cards, scrapbooks, and DIY gifts. The possibilities are truly endless - you'll never be stuck for inspiration again when you're using our fun and fabulous stickers.
3. Pinkfresh Studio Thin Words Everyday Dies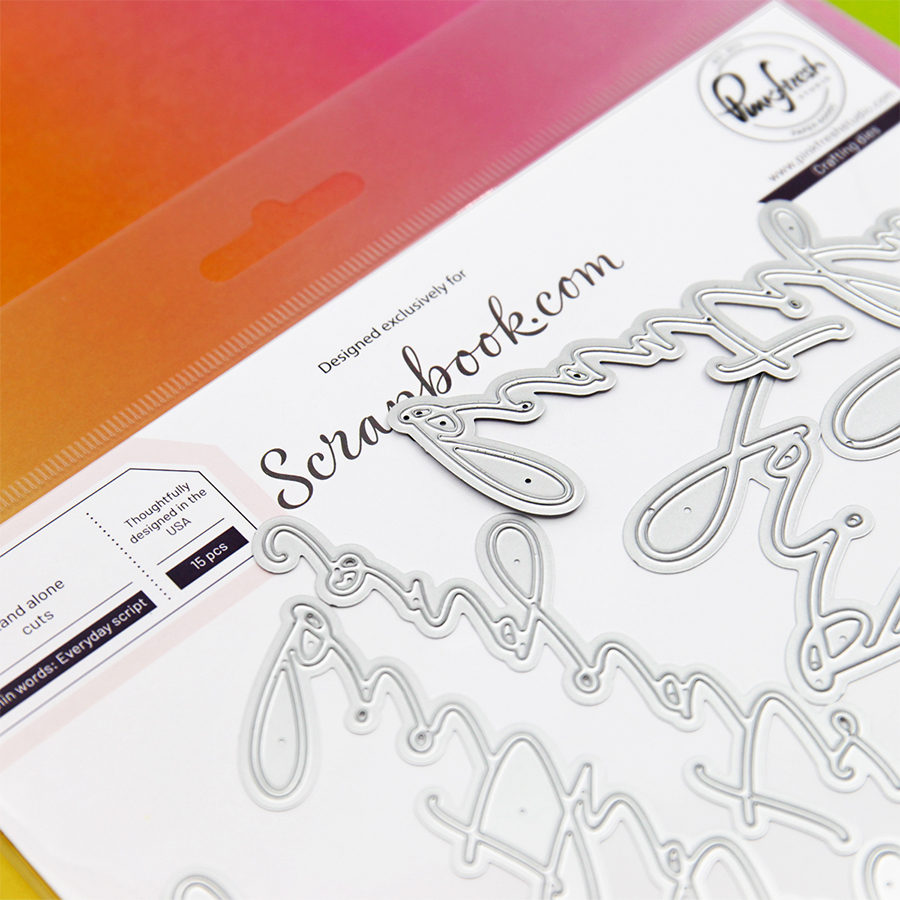 Find the perfect words for every project throughout the year with the Thin Words Everyday Script die set from Pinkfresh Studio! This elegant, classic set will add so much beauty to your pages and handmade cards.
Each word or phrase included was chosen specifically for its versatility and usability on a wide range of projects. And you will love the delicate, fresh script that will leave a definite lasting impression. This set is only available at Scrapbook.com, which makes it a must-have in our Gift Guide.
4. Scrapbook.com Mint Tape
Keeping thin metal dies and reusable stencils in place has never been easier than with Scrapbook.com's Mint Tape! This fresh and fabulous find is an affordable staple for crafters who love stencils, manual die cutting, ink blending, and masking.
With it's low-tack stickiness, you can easily place down strips or pieces of Mint Tape and remove them without tearing your paper. It can also be repositioned if it's not quite straight when you're ink blending amazing designs. It's also really easy to tear when you just need a small piece - no scissors required.
For stamp & die fans, Mint Tape is a must-have. Get your images stamped out and then use a small piece of tape to hold your dies exactly where they need to be as they roll through your die cutting machine. And with its small size, it's a super stocking stuffer!
5. Sizzix Ballet Slipper Cutting Pads
Add a pop of precious pink to your project-making when you're die cutting with these exclusive Ballet Slipper Pink Glitter Cutting Pads from Sizzix. These sugary sweet pink plastic pads are just what you need to make die cutting exciting and visually stimulating. Sprinkled with flecks of silvery glitter, you'll never lose these pads amongst all the sheets and cuts of paper on your table.
You can also make them last much longer when you're only using one alongside the game-changer Magic Mat. Make sure to grab a pair today since they're only available here!
6. Scrapbook.com Smart Glue
Make a smart choice in selecting your new favorite liquid adhesive and choose Scrapbook.com's Smart Glue! This is the versatile, all-purpose glue of your crafty dreams.
It works wonders on paper, cardstock, photos, embellishments, accents, and more. And did we mention that it even works with heat-reactive transfer foil?
It goes on easily, dries quickly, has a matte finish, and will be a staple in your craft room.
7. Spellbinders Quick Trimmer
If you're looking for a true winner in a trimmer, then you will definitely need the Quick Trimmer from Spellbinders. For fans of foil and crafters who specialize in sentiment strips, this is a handy dandy addition to your craft room.
Consisting of a cutting mat, notched top plate, and two different little slicing blades, you'll be reaching for this versatile cutting system time and time again. Say goodbye to jagged, unusable foil leftovers when you cut off precisely the size and shape you need for your design. No waste, no muss, no fuss.
You can even prepare a pile of stamped or foiled sentiment strips to have on hand for a simple handmade card in no time at all.
8. Scrapbook.com Decorative Die Sets
Isn't it about time to get in shape? Oh, we're not talking about calorie cutting - we're talking about die cutting! Find a fabulous shape to create something one-of-a-kind with Scrapbook.com's exclusive Shape Dies!
These versatile, unique, and oh-so-cute thin metal dies are the perfect addition to scrapbooking, card making, gift making, and more. In fun themes of rainbows, hearts, and snowflakes with customizable sentiment banners, you'll have endless fun creating page accents and card fronts. Find some classic must-haves and unique new favorites - only available at Scrapbook.com
9. Hero Arts Original MISTI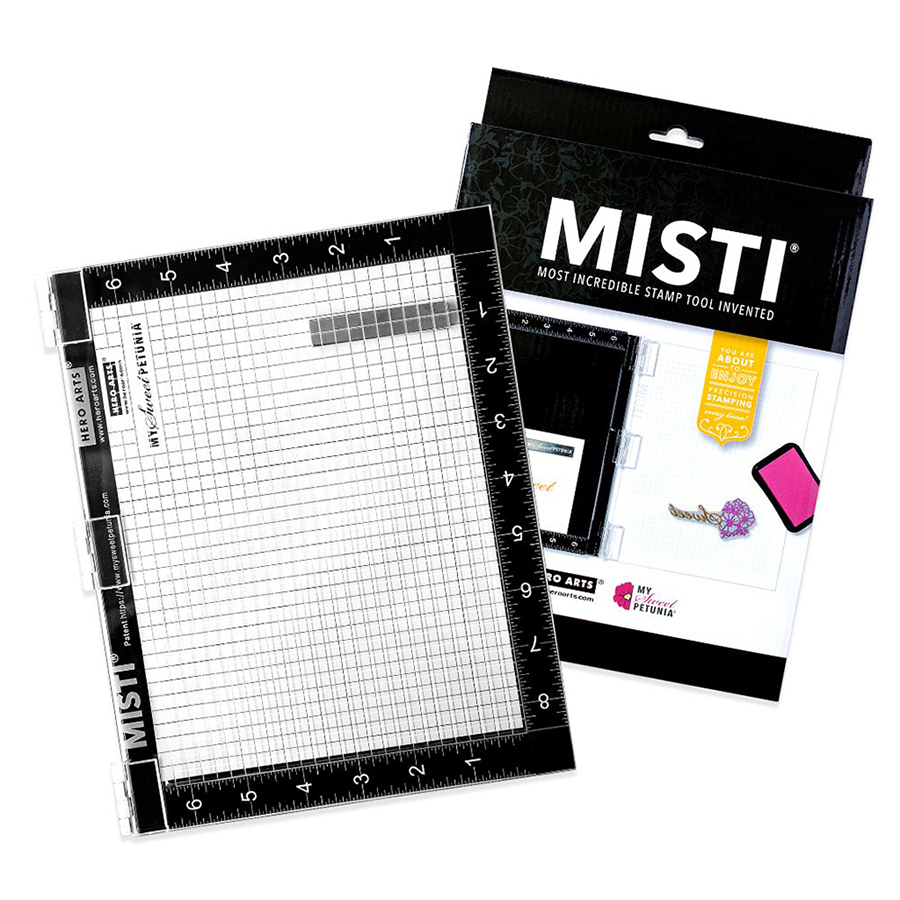 The MISTI stamping tool is named the Most Incredible Stamp Tool Invented and it definitely lives up to its name - especially when it's paired with a sleek black Hero Arts color scheme. Make stamping and card making easier than it's ever been with the Hero Arts & My Sweet Petunia Black MISTI.
The Black Hero Arts MISTI is a tool you will treasure and enjoy for years to come. Use it for your personal scrapbook pages, cards, and other paper crafting projects. It is also instrumental in completing stamping or heat embossing projects in an assembly line fashion. Each MISTI is laser etched, saw cut, and hand-assembled to stand the test of time.
Even if you were on the naughty list this year, don't ask for a big lump of coal - ask for a Black Hero Arts MISTI!
10. Scrapbook.com Ink Pad Storage
Get all your favorite ink pads organized in a stylish, functional way with the Scrapbook.com Ink Pad Storage Tower Collection. This is truly the storage solution you've been waiting for! No longer will you be tossing your ink pads in drawers, tote bags, and randomly stacking them on your desk.
You'll be so excited to gently place your ink pads into these sturdy, beautiful towers that are perfect for your desktop, table, or shelf. You'll wonder how you went so long without this genius Ink Pad Storage in your life!
11. Tim Holtz + Ranger Distress Inks
These bright, richly pigmented, and impressively blendable ink pads, sprays and more are the medium of your dreams! Distress Oxides designed by Tim Holtz are a dye and pigment ink fusion blend that are water-reactive and produce a unique oxidized look you won't see elsewhere!
Whether you're using them to stencil, create mixed media pieces, get colorful blends of color on your journal pages, or any other application, you'll have a blast creating rainbows of milky hues.
And have we mentioned the two newest colors of Speckled Egg & Cracking Campfire - they are the must have shades of the season! Check out singles, bundles, and various mediums of Tim Holtz's inks right here.
12. Scrapbook.com Magic Mats
The Magic Mat is the innovative, game-changing product your die cutting has been missing. Simply swap out one of your plastic cutting pads for this sturdy self-healing pad and you'll be amazed by the cleanest cuts you've ever achieved. Say goodbye to warped, cracked, or etched cutting pads hindering your die cutting abilities and hello to your new favorite tool!
If you're a fan of intricate dies but not a fan of picking tiny pieces of paper out of the cuts, the Magic Mat is your dream come true. The sturdy yet soft self-healing cutting mat material allows for cleaner cuts and less time picking out excess paper bits.
The affordable, long-lasting Magic Mat is available in multiple sizes and can only be found at Scrapbook.com!
13. Heidi Swapp MINC Toner Stamping Kit
If you're a fan of foil, and your MINC is a must-have in your creative process, then you're going to flip for the MINC Toner Ink Stamping Kit! It gives your MINC a whole new way to make absolutely breathtaking projects.
This amazing little bundle of products lets you use your favorite stamps & foils along with the specialized Heidi Swapp Toner Ink to get a rainbow of fabulously foiled designs on your projects! And you can use any and all stamps you already have in your stash. The specialty toner ink is the key to fabulous foil images, sentiments, and designs.
14. Scrapbook.com Storage Envelopes
Organize your stamp sets, metal dies, sticker tablets, notecards, pocket page cards, and so much more with our exclusive Storage Envelopes. This genius and versatile storage solution comes in a variety of sizes and bundles for all your craft storage needs.
This is the perfect way to reorganize (or get organized for the first time!) your favorite supplies. Start a filing system for your stamps, easily categorize your die sets, and get all your categories or themes of photographs safely stored until you're ready to create something amazing.
15. Tim Holtz Alcohol Ink Air Blower
Get fabulous flow and natural movement on your inky projects with the Tim Holtz Alcohol Ink Air Blower by Ranger.
Do you have a stash of Alcohol Inks and need some new ideas for having fun with them? Just add air! A simple squeeze is all you need to blend your Alcohol Inks and send them streaming across your paper to create something uniquely one-of-a-kind.
16. Scrapbook.com Albums and Page Protectors
If you've been searching for the perfect place to store your photos, memories, scrapbook pages, and more, your search is officially over! The exclusive Scrapbook.com Album System has a variety of page protectors alongside a rainbow of beautifully-constructed albums in an assortment of styles and sizes for any theme or project you have in mind!
Picking an album color might be the hardest part of your project. Will you go with classic black, bright red, or gorgeous gold polka dots?
Our universal, fan-favorite page protectors also come in an assortment of designs and bundles so that you can fit full-page scrapbook layouts, 4 x 6 photos, pocket page cards, and more.
17. Photo Play Paper Maker's Series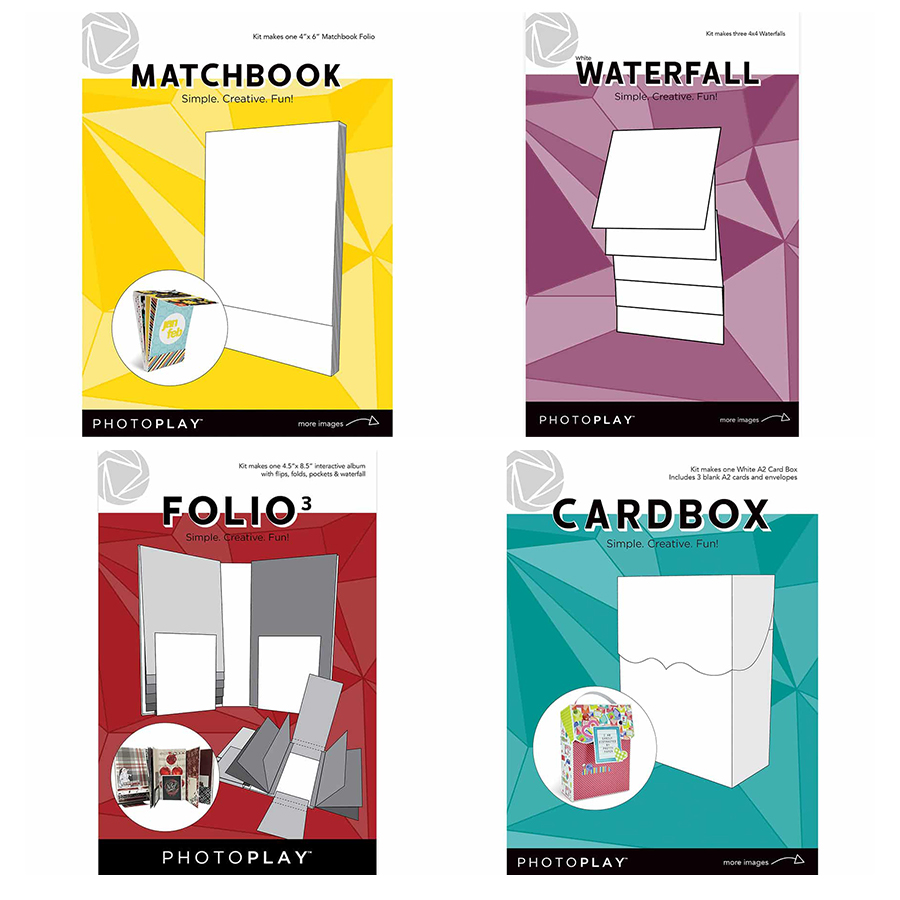 Make unbelievable cards that will wow your recipients with the Photo Play Paper Maker's Series. Mix things up in your card making with a dimensional card base that is just waiting to be covered in colorful, patterned papers, ephemera, accents, and more.
These card bases allow you to create interactive, 3D cards with flipping panels, moving parts, and multiple dimensions of creative possibilities. What will you create?
18. Exclusive Sizzix Big Shot Bundles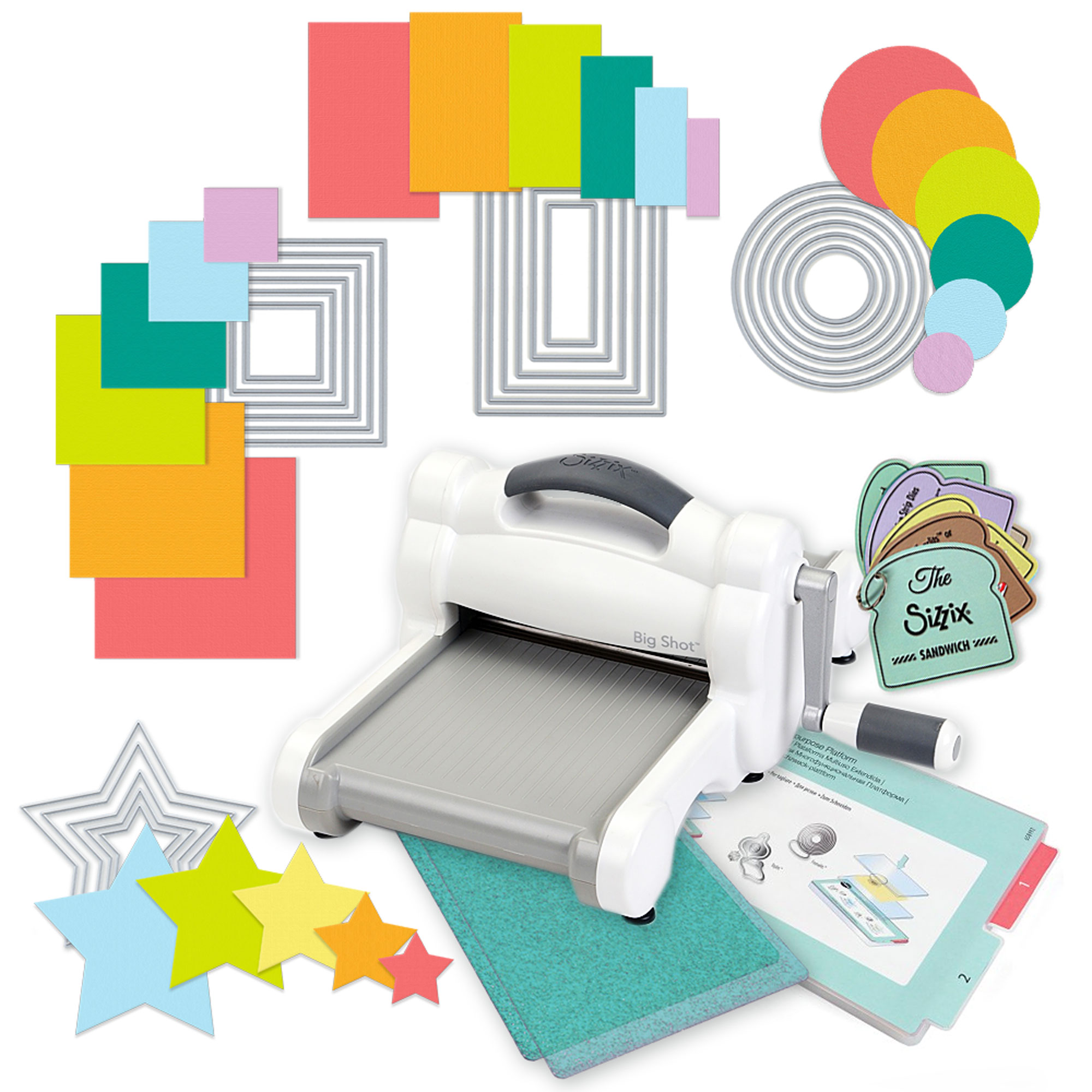 Here's another fabulous option for upgrading or getting into die cutting. Just imagine all of the projects you can check off your list with this exclusive bundle (available in a variety of options).
Start off right with literally everything you need to die cut: a Sizzix Big Shot machine, a pair of gorgeous exclusive Ocean Sparkle Cutting Pads, an extended multipurpose platform, and a variety of classic nested die shapes.
This versatile bundle will make all of your DIY, scrapbooking, card making, and other projects easy, fast, and fun!
19. Prima Re-Design Snowflake Mould
Make something as unique as a snowflake itself with Re-Design's Snowflake Decor Mould. This reusable heat resistant and food-safe silicone mould can be used to create unforgettable clay, resin, clay, wax, and even candy or chocolate creations.
It's the perfect way to DIY your way for handmade holiday gifts. Will you make scented wax melts or adorable little hand soaps? Or maybe some gummy snowflakes or molded chocolates. So many options!
You will absolutely love the versatility and endless possibilities available to your creative mind when you get crafty with this exclusive snowflake mould. You'll be reaching for it again and again!
20. Scrapbook.com Gift Certificates
The last gift choice on our list is an oldie but a goodie - and it might be the perfect present for you and all your crafty loved ones.
Give the creative crafter in your life the gift that keeps on giving - a Scrapbook.com Gift Certificate! Available for immediate email delivery to the recipient or printing at home for inclusion in a greeting card, these are great for last-minute gifts and stocking stuffers. Amounts start at $10 for a little something special and go all the way up to $200 for the best Christmas gift ever!
---
Which present are you most excited to see underneath your Christmas tree this year?
---