It's that special time of year where you start making out your Christmas list and checking off the fabulous items you've bought for friends and family.
During the busy holiday season, Scrapbook.com is the place to be for amazing sales, promotions, and all the new must-have crafting tools and supplies.
A Note From Santa:

Ho Ho Ho and Happy Holidays, crafters! This year, every creative person on my nice list is asking for amazing new crafting tools and supplies!

If you're as busy as I am during this holly jolly time of year, then you'll want to make Scrapbook.com your one-stop-shop for checking gifts off of your family and friends' Christmas lists. They have something for everyone - card makers, scrapbookers, mixed media artists, album makers, DIYers and so much more!

Scrapbook.com is also well known for North-Pole-quality customer service, faster-than-Reindeer shipping, and smiles all around when the packages arrive. Skip the crowded malls this year and get your holiday shopping done at Scrapbook.com - I know I will! You should see Mrs. Claus's Wish List!

Love,

Santa

P.S. You're on the Nice List this year. Get yourself something too!
You heard it from Santa himself - he's doing all his shopping this year at Scrapbook.com. So sign up for our exclusive newsletter, keep an eye on the Deals and Promotions page, and check out all the top crafty gifts for 2019!
1. Freestyle Pens All-in-One Kit
During the cold winter months, your crafting could use a little heat! Turn up the heat and turn on the shine with this 4-pen bundle of absolutely amazing Freestyle Pens from We R Memory Keepers.
These USB-powered pens give you the ability to add fun foiled accents, shiny handwritten sentiments, and intricate glimmering details to all your projects.
Choose from four different pens (standard, fine, bold, or calligraphy) to transfer a rainbow of foil colors onto your cardstock, wood, fabric, leather, plastic, and many other materials. You'll be instantly inspired to add foil to all your holiday projects. Check out the entire Foil Quill Collection for pens, accessories, foils and more!
2. Foil Quill Magnetic Mat
If you've been getting fancy with craft foil (or are planning to really soon!) the Foil Quill Magnetic Mat from We R Memory Keepers is an absolute must-have accessory. With the use of four thin, flexible magnets, you can easily keep your foil sheets and material smooth and in place.
Use the mat with your electronic die cutting machine, or with the Freestyle Pens to apply gorgeous swirls of shimmering foil to your projects - no washi tape required.
You'll be amazed at just how simple foiling can be with this gorgeous gold tool.
3. Glass Media Mat
Your crafty workspace will never be the same when you introduce the Glass Media Mat into the mix. Designed by Tim Holtz for Tonic this tool is the perfect foundation for all of your creative projects.
Let out your inner artist with an easy to clean glass surface, a perfect white area for mixing color and blending inks, and a permanent ruler grid for precision alignment every time. Compatible with a wide array of mediums, you'll be inspired to create true beauty and creative brilliance.
Available in original and left-handed versions, as well as new Travel Media Mats that are all the fun at a fraction of the size for superior portability!
4. Water Media Mat
If you've been looking to transform how you stamp, watercolor, paint, and create, look no further than the Waffle Flower Water Media Mat.
This brilliant white silicone surface is waterproof for handling all your liquid mediums, heat resistant for embossing and hot gluing, and non-stick for super easy clean-up.
It's also designed with social media snapshots and filming in mind - the perfect size, color, and matte finish for perfect uploads every time. Treat yourself to an upgrade for a standard craft sheet and get yourself a Water Media Mat today!
5. Purple Adhesive Bundle
You'll be instantly stuck on this dynamic duo of sticky products! Therm-O-Web's Purple Tape and Pixie Spray products are a dream for holding materials in place while you achieve brilliant results. Use them with stencils, inks, stamp and die sets, electronic die cutting machines and more! And the best part is - no damage to your project!
The Purple Tape ensures a strong hold with no torn paper or sticky residue left behind, and the Pixie Spray holds your stencil flush against your material, ensuring no slippage or medium bleed-through to ruin your works of art.
Pick up this pack of purple products today!
6. Glitter and Glimmer Trio
They glimmer, shimmer, and shine - this sparkling white set of Nuvo products is ready to be your new favorite trio for bedazzling all your blustery, wintery projects! Feel the snowflakes dusting your face with the Glitter and Glimmer White 3-pack set.
Create your very own winter wonderland with the White Blizzard Glitter Drops, Fresh Snowfall Glitter Accents, and Gloss White Crystal Drops that shine like an ice rink. Add single drops on your snowflakes or a whole blanket of snowy sparkles to your project. Make mixed media magic or add unbelievable glittering accents with this brilliant set of white Nuvo products.
Looking for candy cane red, Douglas fir green, or glistening midnight snowflake blue? There's a Nuvo product for that! Check out all the shimmering, sparkling Nuvo products right here!
7. Stack and Nest Paper Trays

It's the most wonderful time of year...to get organized! This set of 4 paper trays is sleek, slim and holds up to 100 sheets of cardstock for easily organizing and cataloging your stash.
Get inspired in your creative space with your paper neatly organized and beautifully awaiting your next project. Easily set up your new trays and place them snugly into popular cube storage options or on your desktop.
You'll be truly amazed at just how easy it is to stay organized when you have these helpful and handy trays in your craft space. Have a ton of paper? Check out the 12-pack!
8. Make Art STAY-tion
Get your hands on the crafting work surface that transforms how you stencil, align, color, stamp, blend, emboss, and get creative for all your projects.
The Make Art STAY-tion by Wendy Vecchi for Ranger Ink is a handy, lightweight 12" x 12" magnetic board that includes 4 super strong magnets and a handy magnetic centering ruler. It's built for crafting on-the-go, on the couch, or in your craft space with ease.
Already have a STAY-tion? Then you'll definitely want to check out the extra magnets and special craft sheet designed especially for use with your new favorite toy!
9. Distress Oxide Sprays
These bright, richly pigmented, and impressively blendable inks are the spray medium of your dreams! Distress Oxides designed by Tim Holtz are a dye and pigment ink fusion blend that are water-reactive and produce a unique oxidized look you won't see elsewhere!
Whether you're using them to stencil, create mixed media pieces, get colorful spritzes of color on your journal pages, or any other application, you'll have a blast creating rainbows of sprayed hues.
Available in singles and bundles that coordinate with the entire Distress line, you're sure to be inspired to create with these colorful sprays.
10. Big Shot Foldaway Machine
You'll see all the die cutting possibilities unfold before your very eyes! For small crafting spaces or crafters constantly on-the-go, the Sizzix Big Shot Foldaway is a die cutter's dream come true.
Its compact space-saving design allows for easy storage without compromising any of the features of a standard die cutting machine. And did we mention that it has handy storage compartments for small tools and wafer-thin dies?
When the holidays roll around and you still have some crafting to get done, rely on the Foldaway to quickly cut your gift tags, greeting card sentiments, and more in between Christmas parties and cookie exchanges!
11. Exclusive Platinum 6 Bundles with Dies
Have you been waiting to upgrade your die cutting machine or are looking to add die cutting to your crafty repertoire? Well then you need to check out the Platinum 6 Bundles, available in a variety of fun options to choose from.
These kits include staple die shapes in a multitude of designs, a brilliant die cutting machine, and a handy Tool N One to get you going in the world of die cutting. These are the true essentials for getting started or upgrading your crafting game.
Get ready to create some fun DIY projects with this popular bundle.
12. Exclusive Sizzix Big Shot Bundles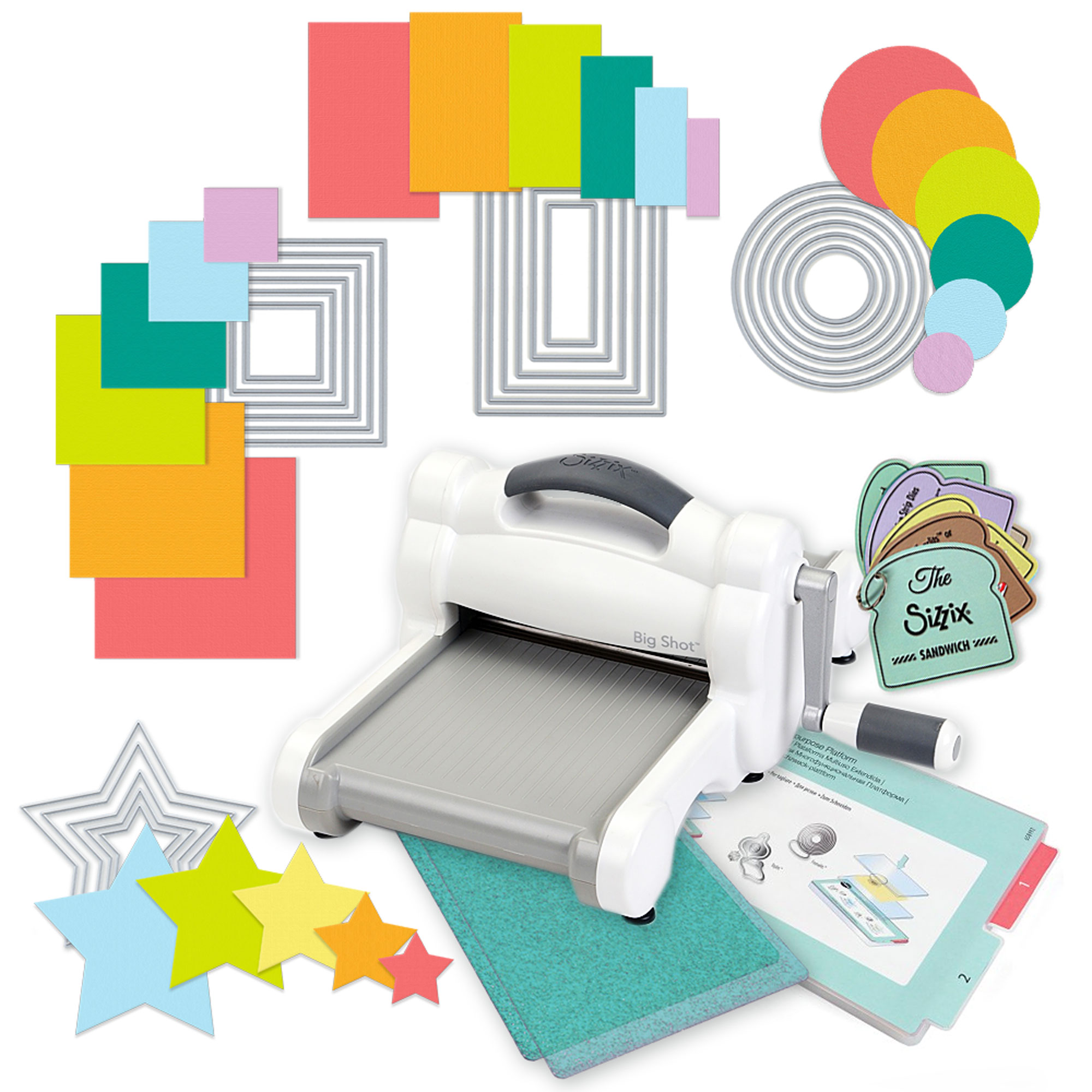 Here's another fabulous option for upgrading or getting into die cutting. Just imagine all of the projects you can conjure up with this exclusive bundle (available in a variety of options).
Start off right with literally everything you need to die cut: a Sizzix Big Shot machine, a pair of gorgeous exclusive Ocean Sparkle Cutting Pads, an extended multipurpose platform, and a variety of classic nested die shapes.
This versatile bundle will make all of your DIY, scrapbooking, card making, and other projects easy, fast, and fun!
13. Glimmer Hot Foil System
Are you seeing tons of fabulously foiled projects everywhere and want to add some shine to your projects too? Then this fantastic foiling accessory for your die cutting machine is the one for you!
Add elegant foil to all your projects with the Glimmer Hot Foil System. Using heat, metal plates, heat reactive foil, and your die cutting machine, you too can transfer shimmering, glimmering foil designs to a variety of materials.
You'll be amazed at the absolutely stunning results when you peel away the foil to reveal your glamorous designs and sentiments.
14. Domed Foam Ink Blending Tool
Say goodbye to harsh inky lines on your projects when you're blending with Scrapbook.com's game-changing Ink Blending Tool and revolutionary Domed Foam Applicators.
These affordable, reusable tools make ink blending, stenciling, and creating masterpieces an absolute breeze. The unique dome shape of the foam ensures smooth, easy blending and fabulous results every time. Have some other blending tools laying around your craft area? The domed foams fit beautifully on blending tools from Sizzix, Nuvo, Ranger, and more!
Try the domed difference once and you'll be hooked!
15. Stencil Blending Brushes
Create gorgeous blended effects and soft airbrushed looks on all your projects with our Stencil Blending Brushes.
These large, sturdy brushes are amazing at blending out strokes of ink or paint in a different fashion than typical blending tools. The super-fine synthetic bristles create soft, delicate blends with no harsh lines or inky streaks. And they're reusable for project after project of fabulously blended fun!
All types of crafters, painters, mixed media artists, scrapbookers, and DIYers will love these amazing brushes.
16. 6x8 Stencils
Scrapbook.com's new 6" x 8" stencils are a huge hit with all types of crafters. They come in a variety of gorgeous designs and amazing patterns for creating inspiring projects.
The size and shape of the reusable laser-etched stencils allows for different variations of the designs, as well as seamless crafting on scrapbook layouts, cards, notebook entries, Bible pages, and so much more. They are ready to be inked, painted, misted, moussed, and more to create unbelievable works of art.
They're also super easy to clean and made in the USA!
17. Hybrid Ink Pads
If you're ready to stamp and create in a colorful rainbow of hues, then our hybrid ink pads are the ones you're been waiting for.
Available in a kaleidoscope of singles and color layering groups, our hybrid inks are the ideal blend of dye and pigment ink, giving you vibrant, rich, waterproof impressions.
Plus, with correlating reinkers available, you'll never run out of your favorite color!
18. Photopolymer Stamps
Find the perfect sentiment for every occasion with our extensive variety of exclusive, premium quality photopolymer stamps. You'll get clear, crisp, beautiful ink transfers every time when crafting with our exclusive line of Designer Stamps.
Explore stamps for the fall holidays, Christmas, encouragement, friendship, sympathy, birthdays, and so many more.
These stamps are a great way to add staple sentiments to your collection or start your stamping adventures the right way! Plus, they're made in the USA!
19. Double Sided Adhesives
We're absolutely stuck on these super sticky adhesive rolls and sheets! Our clear double-sided adhesives come in sizes ranging from ⅛" for super small borders and tiny accents all the way up to 8.5" x 11" sheets for larger projects.
We even have sheets sized perfectly for use in your tiny die cutting machine like the Sizzix Sidekick and standard-sized machines like the Big Shot. They're easy to use, affordable, heat resistant, and archival.
Perfect for any and all crafters, and even helpful for having around the house!
20. Double Sided Foam Adhesive
Add depth, dimension, and fun detail to your projects with our exclusive Double-Sided Adhesive Foam Shapes. These sticky dimensional adhesives in various shapes and sizes let you get the perfect pop on photos, ephemera, die cuts, and so much more.
Add one piece for a little bump off the page, or stack them for an extra boost. Each sheet comes with a ton of individual shapes to last you through a variety of fun projects. Pick up one sheet or a whole bundle of circles and squares.
Once you pop, you won't want to stop!
---
Which present are you most excited to see underneath your Christmas tree?
---