From the bottles to the bedtime stories, and tucking us in at night to helping us get ready in the morning - we love our mothers and all that they have done for us. The time spent teaching us some of life's most valuable lessons to the time spent just in each other's company, we appreciate every beloved moment of it.
We've found some beautiful layouts straight from our Scrapbook.com Gallery - and they're all about moms. These pages were all made with moms in mind! Peruse our findings below to get some inspiration for your very own layouts honoring your mom!
1. Vintage Mother's Day Layout
What better way to create a layout of your mother than by using timeless old photographs and vintage inspired scrapbooking supplies?! By utilizing neutral colors, vintage-inspired prints, and correlating embellishments, creating retro layouts can be a beautiful way to showcase your cherished photographs of your mother, timelessly.
Tip: Make sure you have copies of the photographs you are scrapbooking - even if those copies are digital. That way if there is an accident while crafting, you have back-ups!
2. Bright and Cheery Mother's Day Layout
With positively positive text all over this layout: "Life is a party!" and "Celebrate!", this layout makes us smile! Using happy words with equally as cheery colors makes this layout not only exude happiness, but also coordinate perfectly. This layout was made using Fancy Pants scrapbook products.
Tip: To get an eclectic and vibrant feeling, try using a variety of fonts and alpha stickers!
3. Retro Mother's Day Layout
With faux newspaper print, cat eye glasses, and absolute style, this sweet layout is perfect if you're scrapbooking about you and your mom! Created with a variety of American Crafts and Bella Blvd items, this page illustrates an irreplaceable relationship - in vogue!
Tip: Choose an embellishment or patterned paper featuring an item from your photograph, like the cat eye glasses above! Look for a stand-out object in your photo, such as high heels or a fedora hat, then search for scrapbooking supplies that correlate! This is an easy way to create unity in your layout.
4. Mom Life Grid Layout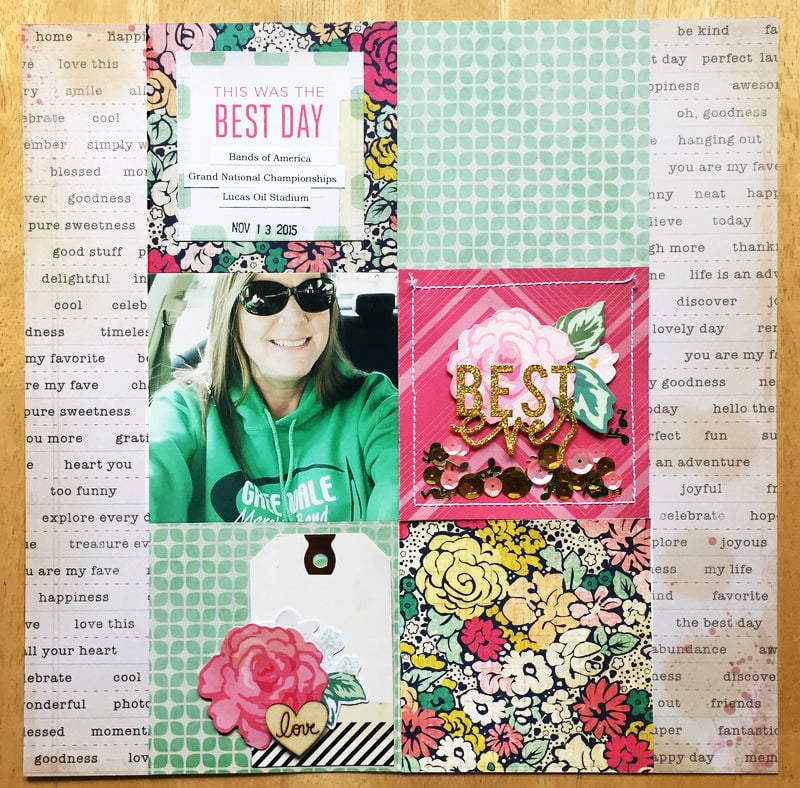 If you're a mom, treat yourself and create a layout all about YOU! Choose your favorite colors, patterns, and styles, and focus on yourself. The layout above was created with the ever-stylish and popular Crate Paper! Moms are superstars and you deserve it!
Tip: When creating a grid layout, choose repeating patterns to use in the square shapes, like the layout above. Notice that the top right square and the bottom left square coordinate, then the top left and bottom right square also coordinate!
5. Dog Mom Layout
Mothers come in all shapes and forms and maybe you are a dog or cat mom! Whether you're a mom to human children, four-legged friends, or both, creating a layout to celebrate your children, no matter the form they come, is a precious and smile-inducing way to celebrate Mother's Day in your scrapbooks and albums! This layout was created with American Crafts supplies.
Tip: Using a hashtag in your layout is a super fun way to make your page trendy and less "serious"! If you want to share a layout about a silly event, adventure, or moment that incites laughter, use a hashtag in your title!
6. Mixed Media Mother's Day Layout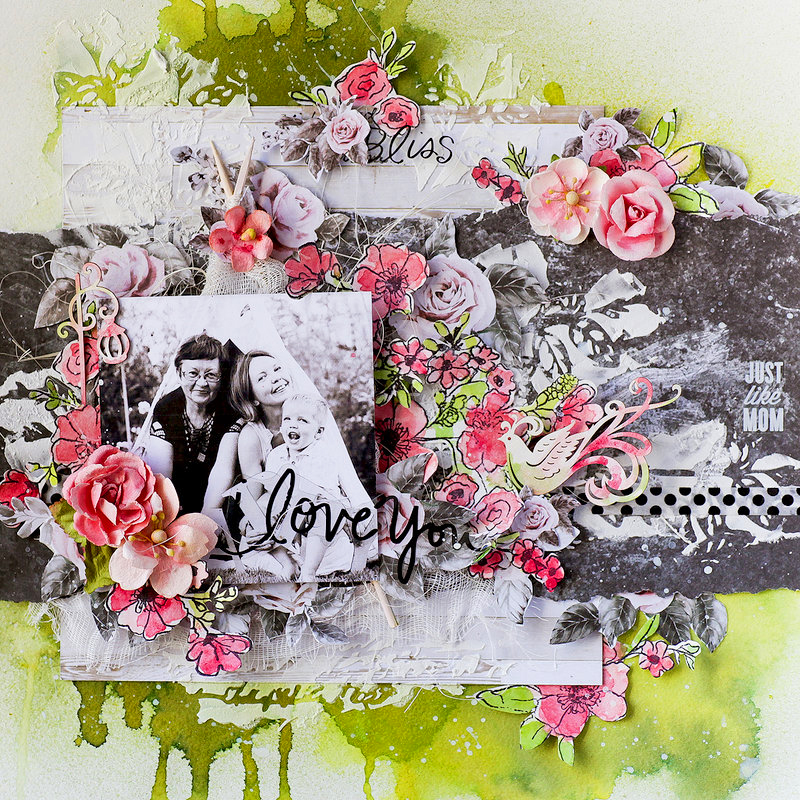 We love this layout that features two generations of moms in one photo! What a sweet idea for your Mother's Day layout and a great way to honor your mother and your history of motherhood as well! This lavish layout was created with a variety of supplies, including Prima Watercolors and Prima's Rose Quartz Collection.
Tip: When creating pieces of artwork like this, don't be afraid to keep adding! Sometimes the more elements you add, the better it looks. Check out these embellishments to encourage your creative juices to start flowing!
7. Mirror Pic Mother's Day Layout
We love this casual layout, featuring a mirror pic! This Mother's Day, scrapbook a casual photo of you and your mom in your element - whether that's shopping, playing sports, cooking, hiking, or dancing! Find a mirror and snap a photo to forever remember that precious moment. This colorful layout was created with Paper House Scrapbook Supplies.
8. Floral Mother's Day Layout with Antique Photo
Celebrate your mother by scrapbooking your favorite photograph of her. Choose stunning flower embellishments, coordinating papers, and die cut pieces to created a work of art that embodies your mother's essence and shares her story! This layout was created using Sizzix dies, the Big Shot Die Cutting Machine, and flower embellishments!
Tip: Look closely at the photo strip embellishment peeking out from behind the photograph... it has tiny versions of the featured photo!
9. Fabulous Mother's Day Layout
This simple, yet totally fabulous layout has our hearts! With natural elements, a touch of bling, and a sentiment we can all get behind ("Fabulous!"), this layout is all about mom - on her day (whether that's her birthday or Mother's Day!)! This page was created with Pebbles papers.

Tip: If your layout features one photo, instead of centering it perfectly, off-center it and tilt it slightly to create a fun vibe!
10. Working Mom Mother's Day Layout
Honor your mother by spotlighting her in her element, such as her career! This layout is all about this amazing mother's teaching career! With scholastic elements and colors that coordinate with the chosen photograph, this layout is spot on!
Tip: Search quotes and add them to your layout to help manifest a specific feeling or idea. Pinterest is a great place to find quotes.
11. Butterfly Mother's Day Layout
Created with butterfly themed supplies, this layout is a wonderful tribute to mom! We love the heart shape that was created by using stickers, die cuts, and embellishments. With flowers, rhinestones, feathers, and more, this layout is beautiful to look at and emits beautiful feelings.
Tip: Create a heart shape using smaller embellishments, like in the layout above. It adds a lot of dimension to your layout and is also a fun excuse to use lots of stickers and embellishments!
12. Happy Heart Mother's Day Layout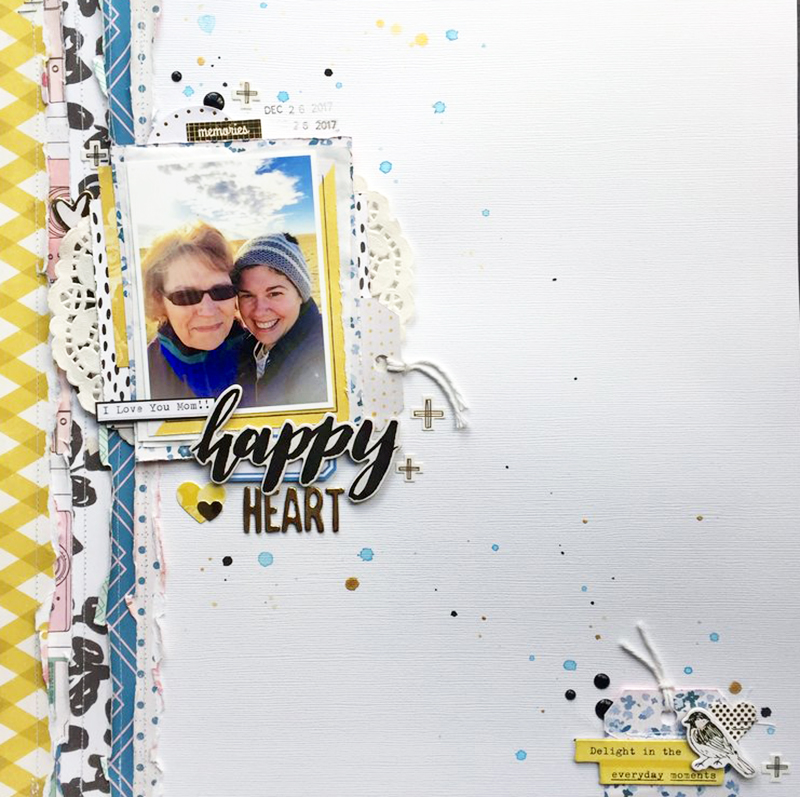 We all know: it's the little moments. Celebrate your mom by sharing a spontaneous photo of you two together and decorate the page with elements that make you smile, like this layout utilizing Maggie Holmes supplies. You'll be able to look at this layout for years to come and allow your heart to be warmed time and time again.
---
Happy Mother's Day to all!
Like this article? You're going to want to read...
How to Create a Vintage Mini-Album
Handmade Cards for Special Occasions
Research: Handmade Creativity Actually DOES Make You Happier and Healthier...
---