Valentine's Day is an entire day dedicated to love and the second biggest card-giving holiday of the year! We're showcasing all the wonderful things about romance, relationships, hearts, flowers, and everything in between with 15 Valentine's Day Cards to fall in love with and inspire you and give you some ideas on how to use your Valentine's Day craft supplies!
Take a look at all the love behind these homemade Valentine's Day cards that will fill your heart with love and fill your imagination with wonderful ideas!
1. Love Shaker Card
Who doesn't love receiving something special on Valentine's Day? Give your someone special a surprise when you use exclusive supplies from Scrapbook.com to create something unforgettable. This card combines a bunch of fun techniques like a delicate blended stencil background, fun shaker confetti, fabulous florals, and a lovely sentiment. Put them all together for a card that truly stuns!
2. Simple Heart Card
If you have more valentines to distribute than Cupid, simple is the way to go. Keep it easy this February with some colorful popped up hearts cascading down a stark white card base and a bold, black sentiment. There's something unique and beautiful about this no-fuss design that has stolen our hearts this Valentine's Day. You can even make miniature versions of this card for your little ones to give out at school!
What you need to get the look:
3. Black Rose Card
4. Love You A Latte
5. Digital Cut File Calendar Card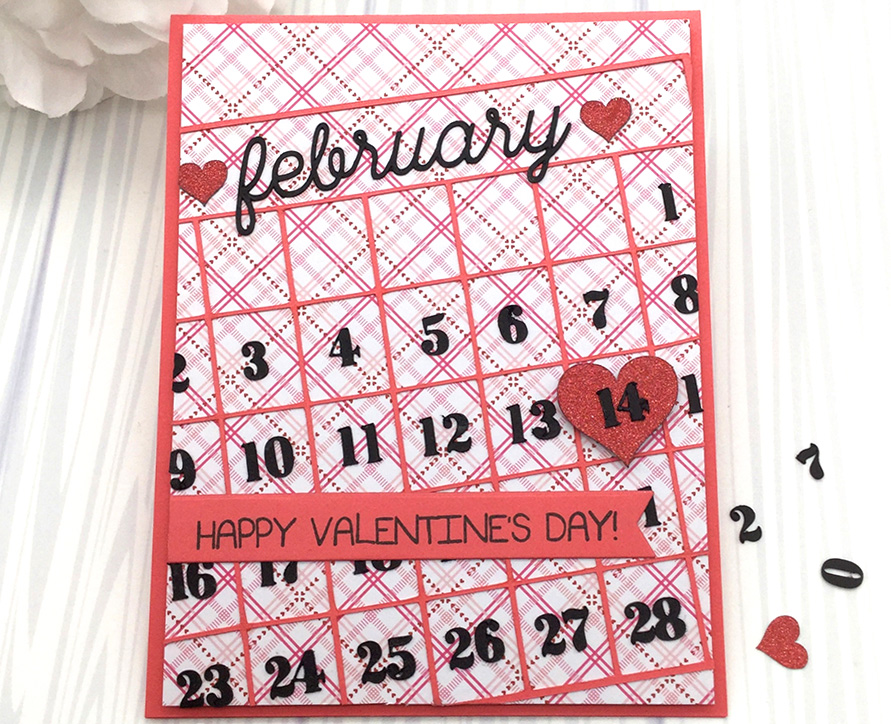 6. Candy Heart Valentine
This fun card by Cassie Berger shows that a fun Valentine's Day card can be created from a number of patterned papers that aren't necessarily V-day themed. The base layer of blue and white polka dots is non-traditional but works beautifully with the one blue candy heart at the center of the card. The hand-drawn loving sentiment on the front banner affixed with brads gives this romantic card a truly personal touch that we love!
Loving the layered look? Us too! For fabulous layers and precise measurements (nobody likes crooked layers!) make sure that you invest in a stellar

paper trimmer

to make your card making quick, easy, and accurate. Some of the options, like the bestselling

Tim Holtz Comfort Trimmer

or the

Fiskars 12 Inch Trimmer

have measurement guidelines for easy alignment every time!
7. Floral Love Letter Cards
8. Macaroni To My Cheese Card
Some Valentines can be a little cheesy but this one is exceptionally cheesy! Heffy Doodle just came out with an impossibly addicting pasta stamp and coordinating die set that Tallie Clewley used in this unforgettable card. This would be perfect to present to the cheesiest guy or gal you know as you share a romantic Italian dinner on February 14th! We just can't get enough of this card...just like we can't get enough actual macaroni and cheese!
Get the look!
9. Truck Full of Love Card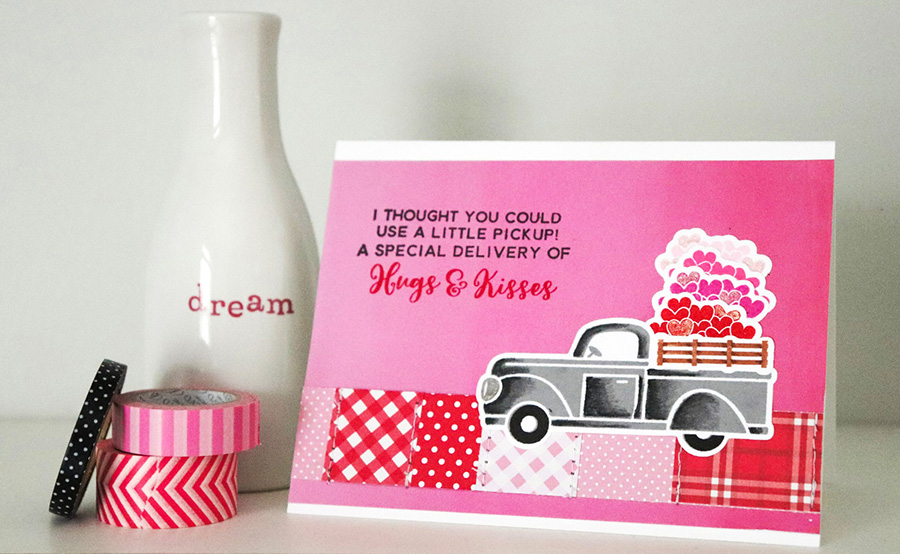 Send your special someone a special delivery this Valentine's Day with this little pick-up truck filled with hearts! This rustic, vintage look with fun patterns and stitched effects is a great little Valentine for your favorite guy or even your gal pals. This is a great way to use up some of your pink, red, and white leftover scraps in a truly unique way!
10. Pink Bokeh Card
This simple yet beautiful card makes us think of blowing bubbles, brilliant chandelier lights, or even a bubbly champagne toast to the one you love. Bokeh is a visual effect that comes from photography where there are certain parts of a photo out of focus. This translates beautifully into a fun and fabulous card base. The ombre blush to bubblegum pink blend is truly stunning, with just a simple sentiment banner and three adorable puffy hearts to finish off the look.
For a step-by-step tutorial on how to achieve these beautiful bokeh bubbles on your card, head over to the Scrapbook.com blog and let Mona Tóth show you how it's done!
11. Heart Scallop Ruffle Card
12. Love Monkey Card
There's no monkeying around with this absolutely adorable creation from Creative Pixie Designs. Perfect for your own little "love monkey", this perfect pink card combines die cutting, ink blending, alcohol ink markers, and two sweet little critters. This is a fabulously creative way to show the love monkey in your life exactly how much they mean to you!
13. Super Simple Stamped Valentines
Give your Valentine a good laugh this February with a super simple card and a silly stamped sentiment. We all know that cards and chocolate are required for the iconic hearts and flowers holiday, so why not joke about it? Laurie W. used each of the sentiments from a silly Scrapbook.com stamp set on simple white card bases for handmade Valentines that say everything you're not supposed to on this lovey-dovey holiday!
Get the look!

You only need a few key supplies to recreate these funny Valentines and give every one of your loved ones a laugh for this love-filled holiday.
14. Valentine Mailbox Card
15. Stinkin' Cute Valentine
If your Valentine is a little stinker, then this cute creation is the way to go! In a traditional red and white color scheme, this simple design combines a few different stamping, die cutting, and coloring techniques for a memorable Valentine's Day card. The diagonal use of a border pattern die really makes the framed critter pop off the card. Smells like love to us!
---
We hope that your Valentine's Day is filled with hearts, flowers, and positively bursting with love! What is your favorite handmade way to show the special people in your life how much you love them? Let us know in the comments below!
---
Want to know more about the history of Valentine's Day as you get crafting? Read up on the exciting backstory starting from the ancient Romans, all the way up to modern day here.
Ready to make your own love-filled Valentine's Day creations? Check out all of our Valentine's Day Card Making Supplies here!
---