Jill Davis, founder of Scrapbook.com, has expert experience in properly organizing crafting spaces. Alongside organizational master Stacy Boatman, Jill brings to you valuable tips and key insight into getting your craft space into an organized dream. Shop Scrapbook.com's huge selection of templates and craft storage and organization to help you get back on track in your studio!
Materials Needed for Organizing Templates and Masks
Containers or Notebooks
Label Maker
The Challenge of Organizing Templates and Masks
You will be deciding on an organizational system and choosing containers to hold your templates. Knowing how you find and use your templates and masks will help you in deciding on the right system.
"This is a journey, not a destination, and what you think is best is best!"
Templates (stencils and masks), don't come in too many shapes or sizes, which is a relief as far as storage options go. You may already have a system that works for you, but if you need some ideas, help is on the way. Masks (unlike templates and stencils) are VERY thin adhesive backed templates that carefully stick to the surface being inked, misted, or painted. They can be a challenge to store because of their thinness and the adhesive backing.
HOW to organize your templates, stencils, and masks (there are really only two ways):
By type: brass with brass, plastic with plastic, etc.
By theme: e.g. Journaling, Baby, Winter, etc.


Once you've decided on a method of storage, it's time to find a good location in your studio and a container for these newly organized tools. Following are some possible container ideas:
Brass Templates, small:
Clear Standard CD Cases
Clear Plastic Shoe Containers or Photo Boxes (stacked by theme)
Hanging Zip-Style Bags
Multi-Drawer Chest
Mini Photo Album (Templates in page protectors. You may need to reinforce the bottom of the pages with tape)
Baseball Card Sleeves
Plastic Templates and Masks, large:
Magazine Holders
Hanging Zip-Style Bags
12" x 12" Expandable Organizer
Multi-Drawer Chest
Paper Holder (for 12" x 12" templates)
Stacy decided to organize her templates by type first, then into categories. Her small brass templates are in page protectors in a 3-ring binder. Her larger templates are also in 3-ring binders.
Carmen of Carmen Whitehead Designs shares her insight on organizing her stencils like Stacy does, using page protectors and 3-ring albums, in her post called Easy Storage for Your Stencils.
More Organizing Insight
Templates and masks are tools that, if aren't in sight, tend to be out of mind. We want to see them within our system so we'll remember to use them. Both templates and masks help us create amazing backgrounds!

I treat all of my templates and masks as primary tools. I want to limit as many steps as possible in the process of finding the templates and/or masks that I want, so I store them in an open bin instead of a notebook. I don't want a notebook sitting on my workspace or my desk while I'm using the template.
My masks were disorganized and located in various places in my studio (some with mists, others with rub-ons) until I incorporated them all together in my template storage system. All are organized in a Cropper Hopper paper holder that sits on a shelf by the misting glass on my work space. The glass top (a large piece of tempered glass) makes for easy spreading of ink and quick clean up - without staining. Templates and masks are in this 12" x 12" container because most of my templates and masks are 12" x 12", and the 6" x 6" and 8.5" x 11" can fit inside too. I keep most in original packaging (the top of the plastic and/or the paper header are carefully cut off) so I can see the complete design, and the delicate template cut-outs stay protected from bending or tearing when being removed or replaced in the bin.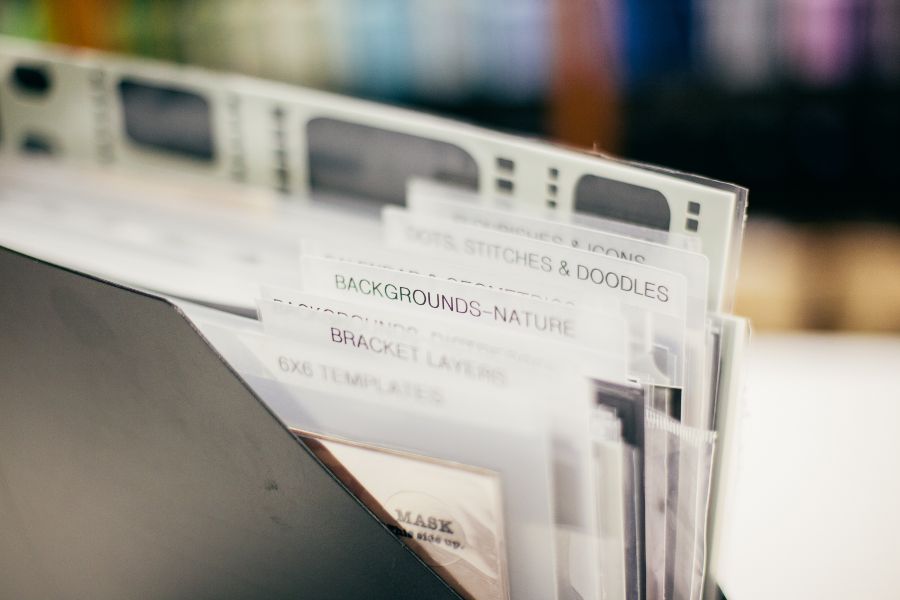 Below are my organizational categories. I use a Cropper Hopper organizer for each category.
6" x 6" Templates (in an 8.5" x 11" labeled page protector)
Bracket Layers (big templates with bracket sides and a design in the center)
Backgrounds - Distressed
Backgrounds - Nature
Calendar and Geometrics
Dots, Stitches, and Doodles
Flourishes and Icons
Journaling, Letters, and Project Life
Summary on Organizing Templates and Masks
When templates are stored in one place and organized by type and/or theme, you will be more likely to use them to create interesting layouts and projects. You'll know what you have, and one bin or notebook can be easily moved within your studio.
This is a journey, not a destination, and what you think is best is best!
---
Explore these other great craft space organizational article options...
How to Organize Chipboard, Albums, and Page Protectors
How to Organize Alphas and Numbers
If you enjoyed this article, then you will love our free class, Get Organized! Discover organizing ins and outs from trusted organizational experts. Sign up for Get Organized now and you'll be the organized master of your studio in no time!
---