Whether you are brand new to the creative hobby or have already started exploring, scrapbooking is an art form that is deeply personal, meaningful, fun, and that anyone can do with a few helpful tips, tricks and starting points.
In this article, we'll tell you everything you need to know about about it - what supplies you need to get started scrapbooking, simple how-to's you can try today, and priceless insight that will have you ready to create a scrapbook album that you will cherish, love, and be able to pass down to family members with pride.
What is a Scrapbook?
By dictionary definition, a scrapbook is "a blank book in which various items (such as newspaper clippings or pictures) are collected and preserved."
Though that is literally what it is, today the word "scrapbook" means different things to different people. Some people use scrapbooks as a place to document specific stories of their lives (a baby shower or a wedding). Some people use scrapbooks to share their lives in a general way, creating annual scrapbooks that encompass more than just special events, but instead day-to-day events. With these types of scrapbooks, oftentimes each layout within the album is a different story, versus each album being a different story. Others create scrapbooks that chronicle ancestry and genealogy to document their lineage. Some people do all three types or even combinations.
Though these are the most common forms of scrapbooks, the possibilities can be endless.
"At Scrapbook.com, we won't define what a scrapbook should be for you, but we will show you what it is to others, hoping to help you develop your own purpose and style and best tell your stories." - Jill Davis, Founder of Scrapbook.com
Most scrapbooks are like books - aesthetically as well as functionally. They have a front and back cover and pages inside, filled with everything from photographs and ticket stubs to hand journaling and decorations (referred to as embellishments by the paper crafting community). The decorated pages inside are most commonly referred to as layouts.
Whether you've only seen scrapbook layouts and thought you might enjoy making your own or you've already bought some supplies, but don't know where to start, we have advice that should help you begin.
What Types of Scrapbooks Are There?
Along with different ways to organize or put together scrapbooks, there are different types of scrapbooks you can make.
Traditional 12" x 12" Scrapbooks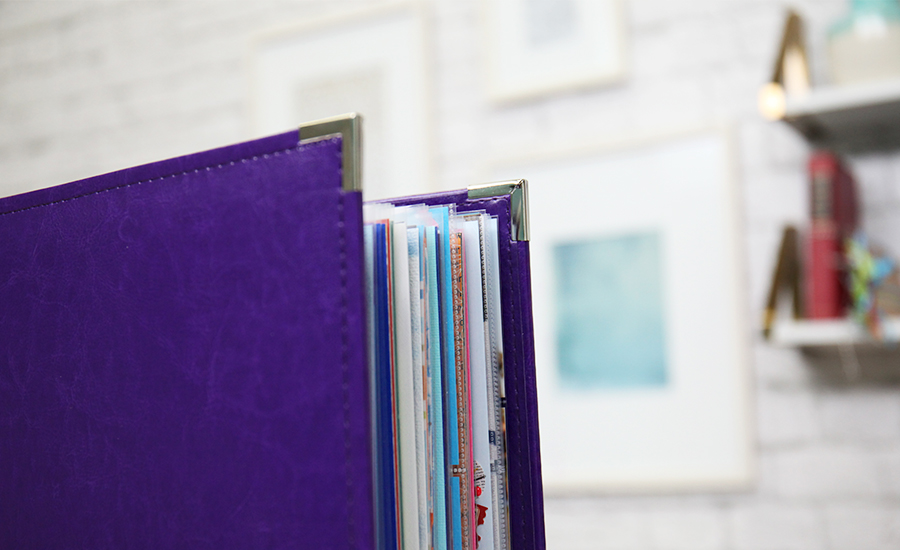 Traditionally, scrapbooks are 12" x 12". You may have noticed that many patterned paper pads are available in 12" x 12" sizes and that many albums are also those sizes. With 12" x 12" traditional scrapbooks, scrapbookers typically use 12" x 12" scrapbook paper, 12" x 12" page protectors, and 12" x 12" albums. These are large albums and generally safe from wear-and-tear, making them more archival than some modern options.
Pocket-Page Scrapbooks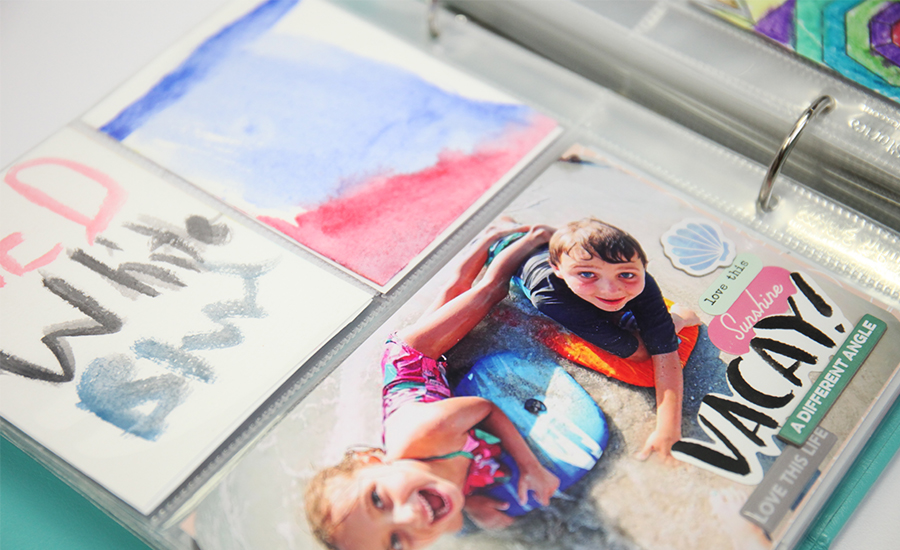 A more modern evolution of the traditional scrapbook, pocket page scrapbooks feature page protectors with a variety of different built-in pockets to hold smaller photos, memorabilia, and more in their individual pockets. This type of scrapbooking is oftentimes found to be faster than traditional layout creating, as there is no base layer you build on, but instead individual pockets to place your memorabilia in. Though pocket page scrapbooks are sometimes created in 12" x 12" sizes, there are also smaller options available, such as 6" x 8". Two of the most popular options for pocket-page scrapbooking are Project Life from Becky Higgins and the SNAP studios series from Simple Stories.
Mini-Album Scrapbooks
Mini-albums are a fun way to create quick albums that highlight specific events or series of photos. There are a ton of ways to create mini-albums and a huge variety of sizes, materials, and styles. From upcycling old books to utilizing acrylic albums, chipboard albums, and more, mini-albums are a fun way to get creative without facing the sometimes daunting task of creating a full-size scrapbook.
There is no right or wrong scrapbook form to choose. Many scrapbookers choose one primary focus, but many also dabble in all three, depending on what their scrapbook is about, how much time they have, and what inspires them!
What is a Scrapbook Layout?
We mentioned layouts before, but here we'll take a closer look at them. Scrapbook layouts are the pages inside a scrapbook. Though this explanation sways toward traditional layouts, the ideas can also be applied to pocket-page "layouts" (each page of pockets in its entirety) and mini-album's smaller pages.
When it comes to how to make a scrapbook layout, every single person has his or her individual approach to creating one, but all good layouts usually contain these common elements:
Pictures - Specifically chosen photos for your layout.
A Theme or Concept - The theme can be anything you'd like and is essentially related to the photographs you choose. This is the overall subject of your page. Examples: Easter Egg Hunt, Best Friends Forever, or High School Graduation.
A Color Scheme - The color scheme can be whatever speaks to you. It can be one color, five colors, or even 15!
Embellishments - Decorative items such as stickers, ephemera, souvenirs, ribbon, charms, and more that help you unify your photos, paper, and journaling. Think of these like sprinkles and piping on a cake!
At Scrapbook.com, we won't define what a scrapbook should be for you, but we will show you what it is to others, hoping to help you develop your own purpose and style and best tell your stories.
Where to Get Started Scrapbooking
It's important to decide what kind of scrapbook you'd like to make. Do you want to create a scrapbook about a specific event, like the birth of your daughter? Do you have a ton of antique family photos you'd like to preserve in one place? Or, do you have many events you'd like to detail, in which case each layout could tell its own story, combined in a single scrapbook?
Once you decide the type of album you'd like to make, you'll best know which pictures to print, make copies of, and which scrapbooking supplies would best suit your vision.
Regardless, it helps to start with a game plan. Eventually, you may find you best create in spontaneous moments, but most people find a plan very helpful, especially for their first few scrapbooks. After you've chosen which event, memory, person, or otherwise you'd like to create a scrapbook about, you'll need to start honing in on your vision. Focus on one layout at a time.
Choose and Print Your Pictures - You do not need to use every single photograph you've taken of an event or of a person in your scrapbook, just because you took the photo. Try to choose the photographs that best embody the feeling and memory of your story. Depending on the type of scrapbook you're creating, you may choose many photos from a single event, or 1-3 photos that capture the feeling of a wide variety of events. Note: Make sure you have copies of your photographs, be it digital copies or printed ones. If you need to print your photos, Persnickety Prints is a high-quality favorite among scrapbookers!
A Theme or Concept - Second, look at your pictures and see what theme or concept you want your layout to be. Some popular themes among scrapbookers are: Christmas, New Baby, Love, Friendship, School, Wedding, and Ancestry. Think about the story you want to tell.
A Color Scheme - Third, picking the right paper colors and patterns can at first seem daunting, but with a few tricks, this process simplifies. The easiest way is to pull colors right from the photographs you've selected by using our free "Scrap By Color" tool. This online tool will help you pick your color scheme and will also recommend supplies that will work cohesively with those colors! In addition to choosing colors based on the hues in your photos, some people like to choose their color schemes based on their theme (such as white for wedding layouts or brown and green for camping themes).
Embellishments - Your layout decorations can be simple or elaborate. Once again, look to your chosen photos for inspiration. For example, you may want to use fabric flower embellishments that mimic a child's dress in the focal photograph of your layout.
After you have a game plan, it's time to make sure you have the supplies you'll need to get the job done!
What Supplies Do You Need to Get Started Scrapbooking?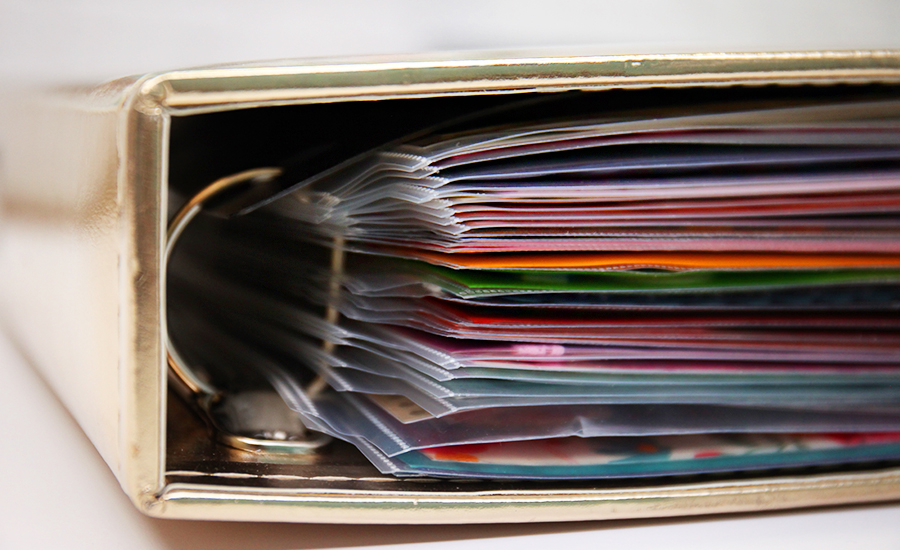 Peeking inside a scrapbook store or a seasoned scrapbooker's craft area can be an overwhelming experience. However, once you understand the basic supplies you need, you can then more easily focus on your style and preferences. Some people like to work with mixed media supplies, such as paints and mousses, while others prefer to use paper and stickers. It's a unique experience for everyone, and you don't have to marry any single type of creating!
"Remember. These are your memories, and your scrap projects can be as simple or as elaborate as you'd like." - Jill Davis, Founder of Scrapbook.com
The Essential Scrapbooking Supply List
There are thousands of options for scrapbookers. The list below is a list of essentials that any veteran scrapbooker would say are "musts." Along with the musts, you'll find there are also a ton of "nice to haves" and "upgrades" as well!
Creating an initial stock of scrapbooking supplies can be a bit expensive, but it's a worthwhile investment. Once you purchase the essentials, you'll only have to worry about smaller purchases in the future. At the end of the day, scrapbooking will only cost you what you choose to spend.
Note: You may see the terms acid-free and archival often. Long story short, paper naturally contains acid due to its structure in plant form (trees!). Over time, that acid will destroy photographs and memorabilia, unless it has been taken out of the paper when it's being developed. We highly recommend that you read these two articles as to keep your photos and memorabilia safe for years to come.

14 Facts You Must Know to Protect Your Photos & Memorabilia
How to Create a Scrapbook Layout
Now that you have your scrapbook type selected, photos chosen, a theme, and the supplies needed, it's finally time to create your a scrapbook layout.
"You can choose whichever one speaks to you and for whatever reason!"
Though there are countless ways to create layouts, there are two great schools of methodology to start with when it comes to traditional layouts - and you can choose whichever one speaks to you and for whatever reason!
1. Cardstock + Photo + Journaling
This layout method is plainly put: simple and effective! Center your photo in the middle of your page, spell out a title or relevant word (using alphabet stickers can be a fun and easy way to do this!), and journal about the photograph directly underneath.
2. Background Layers + Photos + Embellishments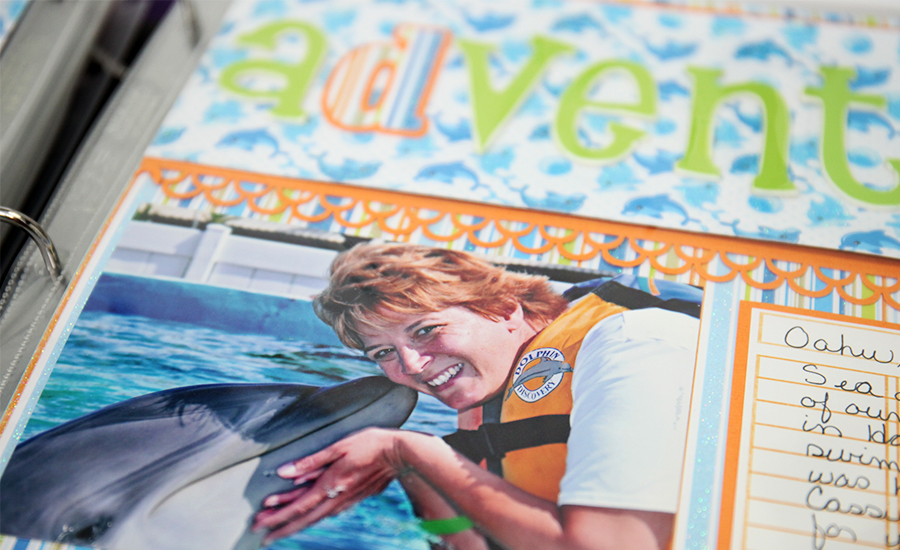 Start with a background layer (patterned paper) and layer photos and other papers from there. You may want to choose one photograph to feature, by creating a small frame around it. To create a frame, cut a piece of paper to slightly larger than the size of your photograph (a couple millimeters is fine) to leave a nice edge around your photo.
We recommend playing with your design before adhering anything together. Move photos around, take background pieces in and out, etc. until you are happy with how it looks. Then, take your elements (one at a time, starting from the bottom) and adhere them down with your adhesive.
Initially, it helps to look at what others are doing for layout inspiration. Some layouts you see will be intricately ornate, while others are simple and clean. Your style is your style and you can like whichever ones you want! Eventually, you'll find yourself getting more and more comfortable in your designs!
Journaling Tips for Scrapbooking
Oftentimes, telling the story behind your photos is the most meaningful part of your layouts and pages. However, for many scrapbookers this also means that journaling can be the most intimidating part, so sadly it's often left undone.
For one reason or another, such as not liking your handwriting or not knowing quite what to say, memories can be lost and not passed down.
There's a secret here: not every page requires a detailed narrative, a literary masterpiece, or calligraphy-worthy penmanship. Your friends and family members who read your journaling care much more about the memories than what your A's, B's, and C's look like!
Like scrapbook and layout types, there are many different methods of journaling you can employ. Here are some journaling tips and ideas to try:
Lists: Make lists instead of writing in complete sentences. For example, if you're journaling about a pool party, you could make a list such as: "Grilled hamburgers. Cherry popsicles. Pink innertubes. Cannonballs. 97 Degrees. Laughter. Family."
Use Journaling Prompts: Having a question ready to answer can give journaling a starting point. Some people create Journaling Jars to help them have prompts ready at a moment's notice.
Repetition: Repeat important phrases for emphasis.
Time & Place Recap: Include the date, approximate time or time of day, season, and what the weather was like. This can be in a list format or a sentence. Adding elements such as these to your journaling will help put your readers in that moment and help you preserve your memories!
Quotes and Poems: If you're truly at a loss for words, include a quote, poem, or phrase that reminds you of whatever memory you're scrapbooking about. Pinterest is bubbling with inspiring words if you need somewhere to find them.
Phone a Friend: Quote someone who was there! If you're creating a layout for your daughter's wedding, for example, call her and her husband and ask for quotes to include in your scrapbook.
Why Scrapbook?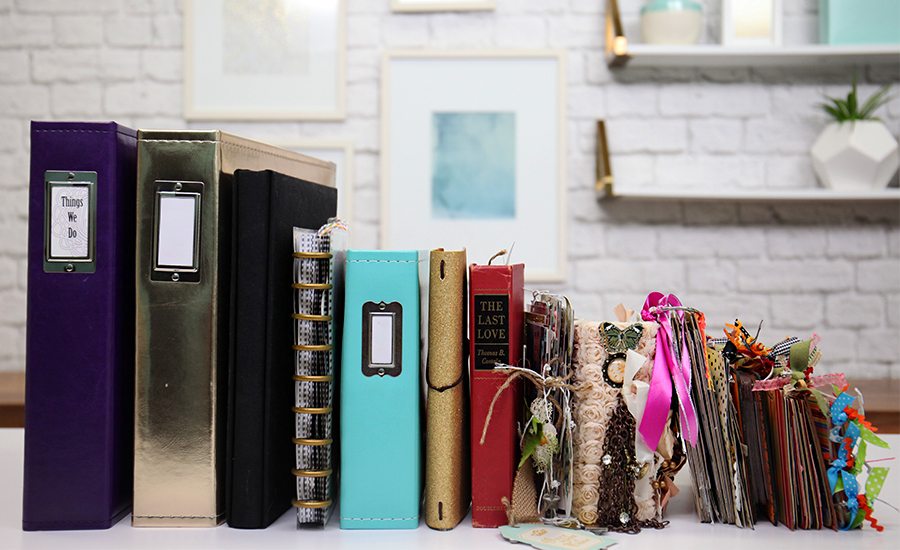 At the end of the day, scrapbooking is all about getting your memories off of your phone, computer, or out of your closet and showcasing them in a way that can be shared with others.
Preserve Your Memories: With so many photos being taken (especially in today's digital era where we constantly have cameras on us), it's as important as ever to print and preserve your favorite memories! Scrapbooking gives you a rhyme and a reason to sharing your life story.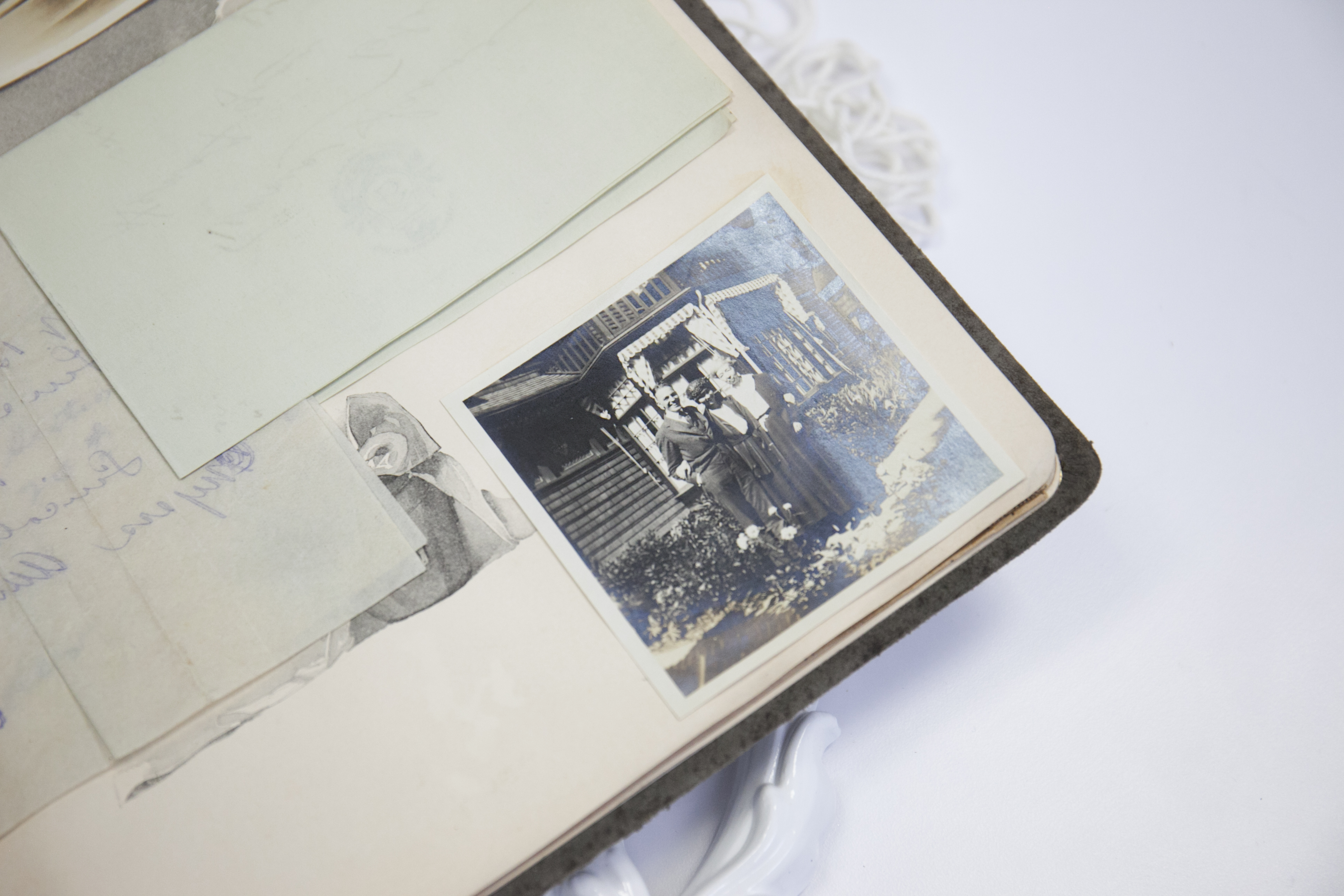 Antique scrapbook from 1911
Give Future Familial Generations Context: Wouldn't it be amazing if your Great Great Great Grandmother kept a scrapbook, journaled about her life, and it eventually got passed down to you? You'd feel an amazing connection with her, even though you never met, and would know more about how your family and you came to be. Give that gift to your future family. (Also, if your Great Great Great Grandmother did happen to keep an elaborate scrapbook - we want to know! Please contact us if you have an antique scrapbook you'd like to share with us).
Get Creative: Creative activities are scientifically proven to help relieve stress, depression, anxiety, and more. Scrapbooking can be as much about creative design as it is about preserving memories. Many scrapbookers joke that "scrapbooking is cheaper than therapy" (though there's plenty of truth to it) for the therapeutic effects they feel from taking time to get creative.
Promote Positivity, Feelings of Gratitude, and Heightened Self-Esteem: What's better than looking at pictures of events that were so much fun, then getting to create art around those events?! Bringing back all of the nostalgia surrounding your memories will help nurture positive feelings as well as give you an overwhelming sense of gratitude for the life you live. When you put them all together into an artistic expression and share your creations with others, they will be amazed!
It's Flat Out Fun!: At the end of the day, scrapbooking is flat out fun. From beautiful paper and stickers, to glitter, to photographs of people you cherish, and tools that help you get crafty, scrapbooking is a hobby that's easy to fall in love with!
Don't be afraid to get started with your scrapbooks, ask questions, and dive right in. Like anything else, you'll find scrapbooking to be an exciting learning experience that only improves with time.
---