If you're looking for the best, top secret tips and tricks to successful ink blending, well, the secret's officially out! Scrapbook.com has revolutionized ink blending with a game-changing craft tool that you will fall head over heels in love with.
Introducing the exclusive Scrapbook.com Ink Blending Tool with Domed Foam Applicators! No longer will you say, "I guess I'm just not very good at blending," when you have the right tool in your hand that makes ink blending as easy as it should be!
The Ink Blending Tool With Domed Foam Applicators
Ink blending is an extremely popular artistic trend for making card backgrounds, adding hues to mixed media projects, stamping with ombre effects, and more. Unfortunately, inks just don't blend on their own - that's why we need tools to help us get the perfect shades and blends.
Why Domed Foam is Better for Ink Blending
The biggest difference between the new Scrapbook.com Ink Blending Tool and the ones already available on the market are the blending foams. Instead of a round, flat foam applicator, Scrapbook.com designed round, domed foam applicators. So what does the dome shape bring to the craft table? Well...everything!
At roughly double the thickness of the flat applicators, Scrapbook.com's domed foam applicators have a unique shape that has been strategically designed for better blending.
Since there are no flat edges on the spongy semicircle, you don't have to worry about harsh inky lines or uneven coverage with your favorite ink or paint. You'll achieve soft, seamless, beautiful blends when you swirl and apply ink using all the round edges of the domed foam.
You'll see the difference immediately with your first swirl of ink to paper!
NOTE: The panel on the left was done with the Scrapbook.com Ink Blending Tool with Domed Foam Applicator.
The panel on the right was done with another blending tool on the market affixed with a flat applicator.
There's also more space inside the dome to hold and distribute ink, paint, or adhesive on your project. Blending becomes easier because you're distributing your medium evenly from the interior crevices of the domed foam.
Want to see the Ink Blending Tool in action? Check out this video below:
Can The Domed Applicators Be Used With Other Tools?
They sure can! If you've amassed a stash of ink blending tools from Ranger, Nuvo, Sizzix, or even your own DIY invention with wood and Velcro, you can try out the revolutionary Replacement Domed Foam Applicators to see the difference for yourself!
You can even pick up a pack of 10 Domed Foam Applicators without the Ink Blending Tool. Or 30. Or 50!
Some popular options for using the domed applicators are the pillar-shaped Nuvo Blending Daubers, the long and thin Sizzix Multi-Tool with the Blending Tool Attachment, and the Ranger Mini Ink Blending Tool. So pull out your favorite blending tool and try out the domed difference!
Ink Blending Tool Compatibility
With the Scrapbook.com hybrid inks, you can use the specific color families to help you create beautiful ombre effects with freehand and stencil designs.
While we certainly have had a blast using our rainbow of inks to test out the new Domed Foam Ink Blending Tool, you can use almost any ink to get amazing blended effects.
If you ask anyone for ink blending advice, chances are great that they will mention the Tim Holtz Distress Oxides or Distress Inks for Ranger. These two distinctive ink types that share a color palette are a wonder when it comes to blending inks together.
The Distress Oxides, in particular, are a favorite amongst ink blenders. Their creamy dye and pigment ink fusion blend makes them an exceptional choice for creating sunsets, ombre effects, starry nights, and more.
The domed foam of the Ink Blending Tool is the perfect vessel for transferring all those luscious inky hues from the pad to the paper, creating seamless blends with no harsh lines.
Ink isn't the only medium that you can use with the Ink Blending Tool to create amazing projects. There's something magical about the way heavy body acrylic paint coats the domed foam. You truly won't believe your eyes at the results.
Picture a card front or scrapbook layout filled with perfectly swirled circles of bright color in various sizes. And with the foam applicators, the tiniest drop of paint goes a long way to creating a brilliant look with just a few circular swirls.
How to Use the Ink Blending Tool with Stencils
Stencils are a fun and versatile way to add patterns in a variety of hues and designs. The Scrapbook.com Ink Blending Tool and stencils go together like, well, ink and paper! The ergonomic design of the Ink Blending Tool and the functionality of the domed foam applicator makes working with templates an absolute breeze.
Because the foam applicators are dome-shaped, they glide easily and beautifully over the stencil to leave ink in all the right places. With a gentle swirling motion, you can create outstanding patterns and blend effects without damaging your applicator or getting it snagged on your stencil.
Watch Justine Hovey use a Scrapbook.com exclusive stencil with the Domed Foam Blending Tool for an absolutely amazing card background:
How to Store Your Ink Blending Tools
How you store your blending tools is entirely up to you. You may have them in a bag or a drawer, or maybe you've designed a genius DIY solution for them (tell us more, please!). We have a couple of simple yet helpful suggestions that might assist in getting your tools and applicators beautifully organized.
The ColorCase
Scrapbook.com originally designed the ColorCase for storing all your favorite 1oz bottles of Nuvo Drops, acrylic paints, and more. But we've found a unique way to utilize the ColorCase for holding the Ink Blending Tools.
The 1oz ColorCase is the perfect holder for your ink blending tool handles with the various colors of your inked domed foam attached to them. This will ensure you have a dedicated foam for each color of ink or paint you use. This is a fabulous option if you don't want to switch out your inky foams.
Both the Ranger Mini Ink Blending Tool handles and the Scrapbook.com Ink Blending Tool handles will fit in the ColorCase. The best part is, you can keep your inky applicators attached and still have plenty of room to attach the lid on the ColorCase.
And don't forget, the 1oz ColorCases stack beautifully on top of each other, so you can have a whole stack of tools and foams at the ready for your next inky adventure!
Clear Craft Storage
Our customers love the 5-star rated Clear Craft Storage Collection that's filled with a variety of storage and organization options in sturdy clear plastic. We've also discovered that these are a wonderful option for holding the domed foam blending applicators as well as the ink blending tools themselves.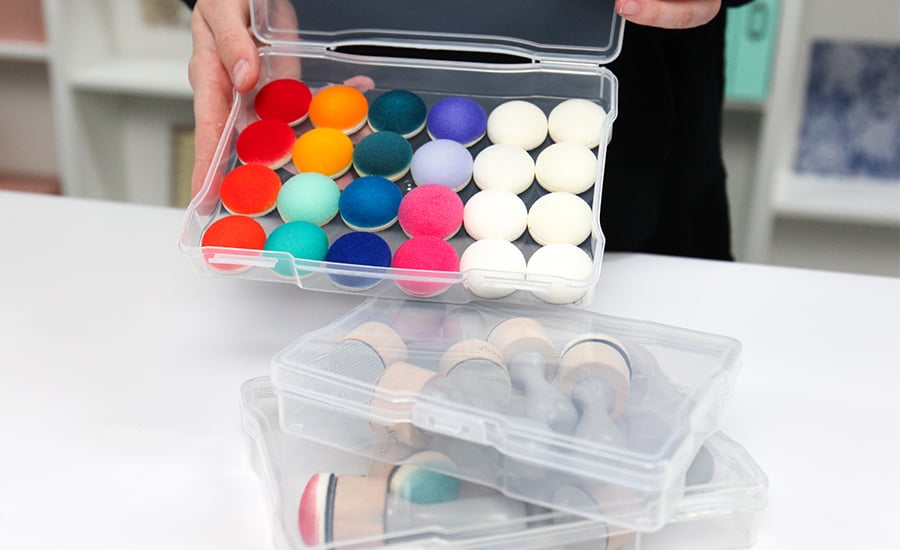 The handles and the domed applicators fit in the individual 4" x 6" or 5" x 7" Photo Storage Cases. So whether you're looking to contain a few tools and foams or want to beautifully arrange your inked and non-inked foams, these affordable clear cases are perfect!
If you go with the 5" x 7" case, you can easily fit over 48 domed foams flat (stacked 2-high) or even more if you stack them on their sides in rows.
Since the cases are so affordable, you can have a dedicated case for each type or color of ink you use in your crafting. A label maker can help you distinguish your Distress Oxide foam case from your Distress Ink foam case or your Scrapbook.com hybrid ink families.
However, you decide to organize your tools, and foams may be moot since you may not be able to put them down once you try them!
---
Gone are the days of dark inky splotches and projects that get tossed because you're just not happy with how the colors came together. Our Ink Blending Tool and Domed Foam Applicators make ink blending easier than it's ever been.
Trust us - you're going to be addicted to ink blending after just one blend with this fabulous tool!
---