With all of these must-have Easter craft supplies, we've been on the hunt for fantastic Easter cards, layouts, and other papercrafting undertakings! In our own Easter egg hunt of sorts, we've gathered a variety of inspirational Easter projects to give you fun, creative ideas for getting crafty this festive season - and the ones we found are pure 24 carrot gold! Below, we've arranged a miscellany of Easter projects from our Scrapbook.com gallery, all posted by YOU!
So sit back, relax, and as you dream of colorfully dyed eggs, blue skies, and Peter-Cottontail, enjoy the sweet egg-scape of inspiring Easter crafts! OK! Let's hop to it!
Easter Gift Box
Easter is known for so many delicious sweet treats - why not make a homemade gift box to put them all in? Aimee K used a variety of Echo Park Easter collections to make this adorable bunny and floral-themed gift box. Fill this beauty up with colorful treat-filled eggs, jelly beans, Peeps, chocolate bunnies and more for your friends, family, or little ones to enjoy!
We're absolutely loving the cute accents of enamel dots, pastel ribbon and even a twine-tied button that really gives this treat box a fun Easter vibe!
Easter Memory Log
We are absolutely in love with this paper folding mini-album and memory log idea from Sarah Richards! She used a variety of paper and ephemera products from brands like American Crafts, as well as Scrapbook.com's exclusive double-sided adhesives to create an adorable memory-filled Easter book.
You too can fold 12 x 12 scrapbook paper into a super-cute mini-album to add your Easter egg hunt photos and the whole family in their Sunday best around ephemera, washi tape, and other fun pastel-colored accents!
Precious Easter Crafts with Paper
We love the idea of using paper in creative ways, and Ekskou did just that with her Easter projects photographed above. In three different styles, she created unique and imaginative Easter goodies that would be perfect for DIY Easter gifts for a friend, Easter projects for kids, or even just as Easter centerpieces for your upcoming Easter events! So cute - we're feeling totally inspired to make our own three-dimensional papercrafting projects! But which one to choose...
Tip: When creating DIY Centerpieces for festive events, use the same patterned paper on each, like the bunny rabbits above. This will keep every piece unique, but tie the whole social event together!
Silly Spring Card
When it comes to adorable Easter and Spring-themed stamps, Lawn Fawn has an extensive collection of cute critters, scenes, and fun characters to create whimsical cards. This silly scene created by CRAFTbyMona is a bright, cheerful, and colorful way to make someone smile for the Easter holiday, or just to say 'Happy Spring'! We just can't help but smile at the sweet little chick who has his head caught in a cracked egg.
Tip: Get this amazing ombre effect in the background by blending several shades of blue inks. Mona chose the Ranger Distress Oxides that created a vibrant, highly-pigmented backdrop for her brightly-colored fairies, happy yellow chicks and fuschia tulips!
Colorful Easter Day Layout
Easter is a colorful time of year, from jellybeans and Easter grass, to richly dyed eggs, this is a special day saturated in joy and light! This layout, Easter Blessing, is just as decorative and ornate as an Easter basket full of goodies and treasures. Like an Easter egg hunt, no matter where you look, there's something lovely to find. We're totally feeling the jubilant vibe in this design!
Tip: When you're putting together your layouts, think about the event that you're scrapping in a creative way. Use this layout as an example: Scrappy Grace was commemorating an Easter Egg hunt. What do Easter Egg hunts entail? A sprinkling of brilliant colors! So what did she use in her layout? A sprinkling of vibrant colors! This is a great way to help your layouts emote the feeling you'd like them to.
Clean and Simple Handmade Easter Card
Because the festive Easter season is full of blossoming color, sometimes a muted card or layout makes a big impact. This card is airy and fresh like a crisp, spring morning. The watercolor effects and soft pastels give a calming feel, which is the perfect feeling to emote during Easter. Also, we love the repeating motif of circles, from the eggs and the embossed background, to the sequins accents, and the punches in the notecard that holds the sentiment. The whole thing comes full circle!
Tip: Try repeating motifs in your cards for a consistent look. Are you using a swirl shape? try using embellishments that have a swirling characteristic - like twine or ribbon. If anything else, it's a fun exercise in thought.
Easter Layout with Glitz, Glam, and Butterflies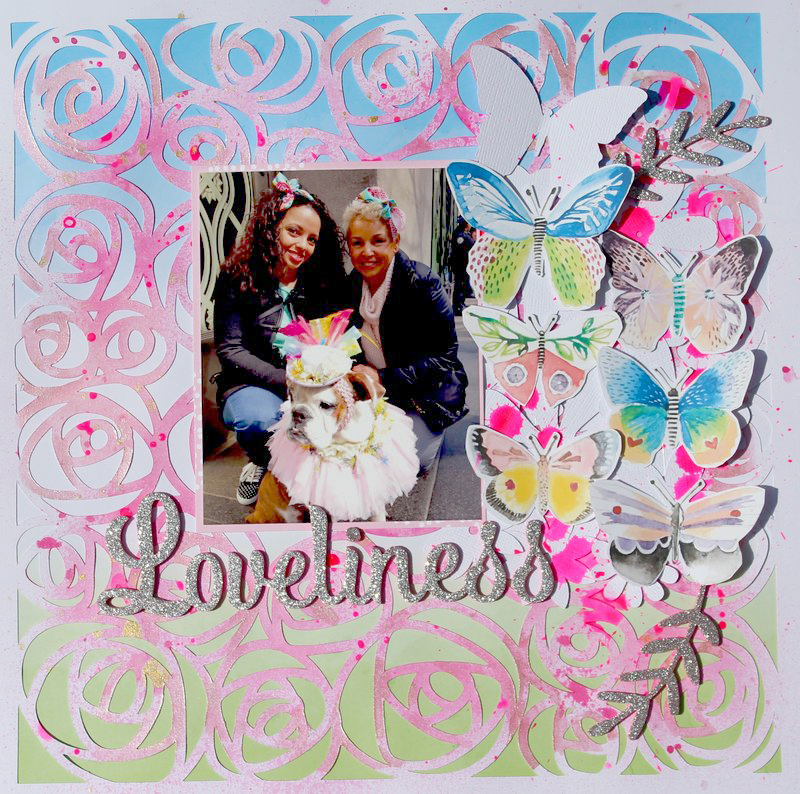 Butterflies are in vogue, and this layout, appropriately named 'Loveliness,' is a garden of rainbow splendor full of them! This unique Easter layout is colorful and ritzy with paint splatters, glitter, and thoughtful use of color. Plus, the dog in the photograph is absolutely darling! We scrap our egg-dyeing, egg hunts, and church services, but sometimes it's fun to scrap the candid Easter photos too.
Tip: Notice that she mirrored her background colors (underneath the die cut) with the biggest butterfly - a soft, pastel blue on top and a soft, pastel green at bottom. Take a second look at the layout; it's very effective! Have a favorite embellishment? Use its color palette or pattern as your layout background!
Happy Easter Card for a Friend
It's always fun receiving happy mail from a friend, and this Easter card would make anybody's day! With its happy die cut and stamped Easter critters, tulips, and soft, daubed background, this is an Easter card to put a smile on the face of a loved one. Plus, the use of white is so fitting for Easter, like pure, lamb's wool, or an open window full of flooding daylight... this card evokes all of our favorite Easter feels.
Tip: Each holiday is an opportunity to send friends and family happy mail, but this card is a refreshing reminder that every day is an opportunity to put a smile on a friend's face. We love that - whether it's Easter, or it's just because, we love sharing the warm-fuzzies!
Easter Layout with the Family Pet
If you have a pet bunny, Easter is the perfect time to capture a sweet photograph and document it! This layout has all of our favorite springtime pastels and florals, plus the cute bunny rabbit to boot! Need we say more?
Religious Easter Card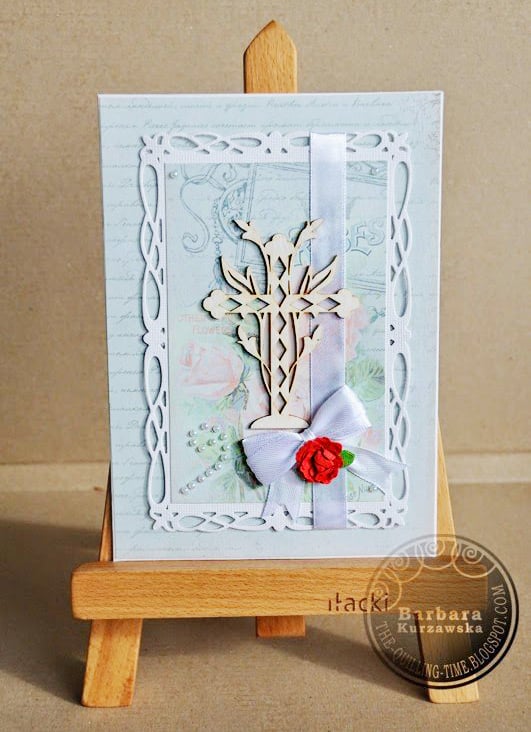 Pastel, in serene shades of blue, this card is the epitome of a traditional Easter. We love the pearls, white ribbon, and ornate die cut frame on this work of art. With all of the soft, delicate embellishments and patterns, the wooden cross is the real focus on this Easter card, which makes it that much more sentimental and touching. If you're looking to make a handmade religious Easter card, this is a great example to pull ideas from and remember the spirit behind Easter.
Tip: When you want the focus of your card or layout to really standout, choosing an embellishment that is unlike any other on the card, like the wooden cross, will do the trick!
Easter Layout of the Children
Easter is a time to gather together as a family. That's what this chic layout is all about! With beautiful pastels, confetti-like patterns, and metallic accents, this playful design, called Easter Smile, makes us smile. Also, we love that HappyGRL used pops of aqua and teal in her choice of paper and embellishments, just like the pops of aqua in the photograph of her children and their "Easter smiles." It ties the whole layout together! This is a terrific Easter photo layout idea!
Tip: Try a layout where you put all of the items - embellishments, papers, borders, photos, etc. - on the center of a solid color or white page. It has a unique look to it and gives you the opportunity to explore layering!
Easter Dessert Layout
Easter is full of goodies, so why not document the culinary process!? This Easter dessert layout is all about making and baking a delicious Easter cake... and the outcome is totally sweet. With hues of pinks, dove-tail banners, and fun surprises like red buttons and stars, this layout takes the cake. Also, we love the addition of "coffee rings" on the layout - it goes perfectly with a slice of cake!
Cute and Girly Easter Card
This card, called "Pâques" (which is pronounced pock and French for Easter), is sparkly, sweet, and full of soft, romantic pastels. Elodie, the crafter who created this card, used a baby collection to make it! This is a wonderful reminder that collections can be very versatile when used creatively! Full of layers, patterns, texture, and shapes, her Easter card would be joyously received as happy mail or even as a decorative tag or wall art.
Tip: Elodie used hand drawn, fussy-cut letters as borders around her focal point (the rabbit). Free-handing alphabet letters with correlating papers, then fussy cutting them, is a great way to add a little bit of eclecticism and variety to your projects, but maintain a homemade, fresh touch.
Easter Mini Album
If your Easter season is full of activities, from Easter brunches, to egg dyeing, hunts, church events and more, collecting and displaying your memories in a mini album might be the perfect way to document your festivities! We love this mini album because it's full of delightful Easter imagery, like bunnies, carrots, flowers... even a very happy sun. Plus, its white, scalloped edges and correlating twine are like the icing atop an Easter cake.
Tip: If you have yet to attempt creating a mini album, do not fear! Scrapbook.com has a fun video tutorial full of tips and ideas for making your very own minis! Plus, did we mention it is free!? Score!
Cute Easter Card for a Loved One
Whether you're looking to make a touching card for your son or daughter, grandchild, or significant other, this card is perfect for any person in your life. With its adorable rabbit, colorful Easter eggs, and cutesy sentiment, this card embodies the Easter season's happy colors and is sure to be cherished by whomever you give it to!
Egg Shaped Easter Card
There's something really fun about receiving an Easter card, or any card for that matter, that's in a unique shape. Chelemom71 did that with her card, entitled "Spring!" This Easter egg shaped card is as pretty as a dyed egg, but can be cherished for years to come. She used bright, happy yellows and soft, blushing pinks, to create a springtime card that we cannot stop ooing and awing over! If you're looking for a unique handmade Easter card idea or aren't sure which Easter card to make, an egg shaped one in pastel hues is a safe bet!
Tip: Creating cards that aren't the typical rectangle or square can be very memorable, plus it gives you more uses for your larger dies! Don't be afraid to go out of the box and create cards of all shapes and sizes!
---
We hope that you got some great ideas for your upcoming Easter cards and projects. Don't forget to post your creations in our Scrapbook.com gallery (it's easy & free) so we can see and maybe even share in an upcoming article!
Also, don't forget to follow us on Instagram, where we love to post inspiration and share tips, ideas, and more, every day!
Like This Article? You Might Also Like...
---