At Scrapbook.com, we want every single day of the year to be filled with crafting and memory-making. Our hearts are filled with joy when it's time to celebrate National Scrapbook Day.
Even though we never need a reason to celebrate the timeless art of scrapbooking, National Scrapbook Day is a fantastic time to take part in some creative challenges and showcase the papercrafting creations that you've all made.
What is (Inter)National Scrapbook Day?
Mark your calendar for the first Saturday in May, because that's the special day that scrapbookers all over the globe look forward to.
National Scrapbook Day (or International Scrapbook Day as we call it around here to include crafters from all over the world) began in 1994 and is now celebrated by crafters everywhere!
Whichever way you say it, or wherever you celebrate it, National Scrapbook Day or NSD is about scrapbookers and the memories they create.
2021 National Scrapbook Day Events
This year, it's important to us to inspire crafters all over the globe for National Scrapbook Day. Here's how you can take part in NSD 2021:
Follow our Instagram for posts from crafters in the community
Check out our awesome NSD insider events from some of your favorite crafters

Join the viewing party for our special Scrapbook.com livestream event (more info soon!)

Find special deals & promos all week long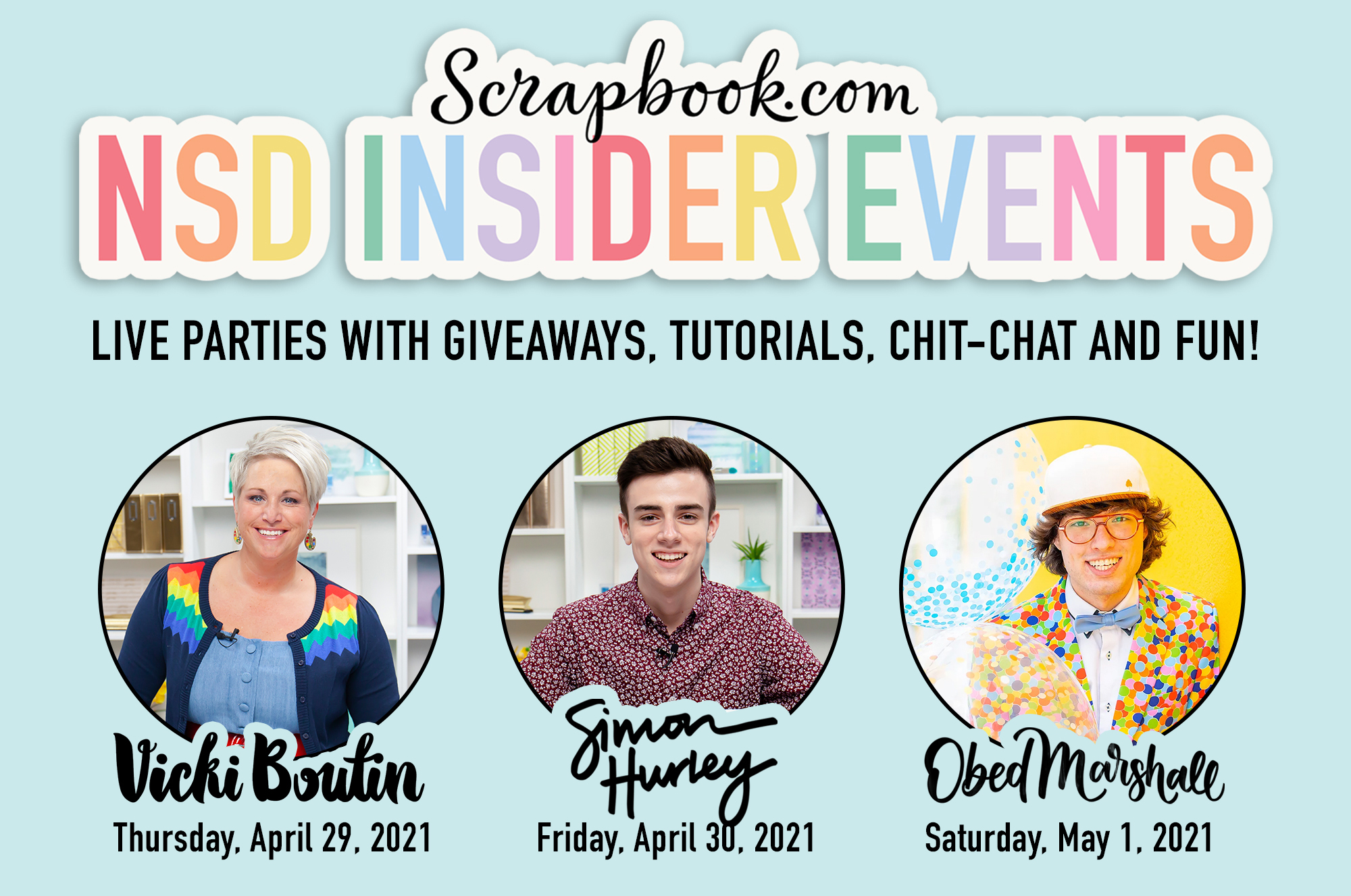 Join some of your favorite crafters for crafty fun during our weeklong NSD festivities!
Thursday, April 29, 2021 - Vicki Boutin will be live on YouTube and Facebook (5pm PT / 8pm EST)
Friday, April 30, 2021 - Simon Hurley will be live on YouTube (10am PT / 12pm CT / 1pm EST)
Saturday, May 1, 2021 - Obed Marshall will be live on Instagram (10am PT / 11am MST / 1pm EST / 6pm Madrid)
How do I Get Involved in the Challenge?
We're having a challenge for scrapbookers and everyone is virtually invited. Find everything you need to know about this fun event here.
NSD Challenges are an annual tradition here at Scrapbook.com. This year's challenge will have 20 winners with each winner receiving a $100 Scrapbook.com gift certificate. Join the Scrapbooker's Choice Challenge
here
and find entry deadlines, rules, and more.
Announcing our NSD Challenge Winners:
AliceScrapsWonderland
Donnia
Kaye222
SJ Luvscrappin
Doreena
KVRLVN
Goaldriven1
Gilbert2mandy
Giorgia Rossini
Rebeca Ruiz
Maya Yang
Bildgurkan
Ashley Smith
Tena E.
Jennifer Mariposa
LauralsAttic
Binty
Snazzy JJ
Scrappytoki
Mareecrozier
NOTE: Our NSD Challenges are open to everyone, including international customers.

National Scrapbook Day would not be the same without our amazing brands & designers. Show our spotlight brands some love.
Scrapbook Layout Inspiration
Nothing says International Scrapbook Day like our community of scrapbookers and the works of art they create. Find inspiration in everything you do as well as in these layouts from the gallery made by some of your favorite crafters.
Soaking Up The Sun
Beautiful Birthdays
Cute Critters
Crafty Creativity
Adorable Kiddos
Fabulous Families
Happy Homes
Positivity and Cheer
Beautiful Babies
Cute Couples
Super Cool Scholars
National Scrapbook Day Inspiration
Blog Posts
Get in the NSD spirit and head on over to the Scrapbook Blog. We have over 300 how-to tutorials, guest pieces, inspirational articles, news updates, guides, and more. You're sure to find something that inspires you and sparks creativity to celebrate National Scrapbook Day. Here are a couple of our recent posts to get you started:
21 New Products For Crafting in 2021
10 Ways to Use A Scrapbook Album (Without Scrapbooking)
5 Smart & Stylish Stamp Storage Solutions
Scrapbook Classes
At Scrapbook.com, we offer over 50 classes so you can learn, grow, and be inspired. We're talking full-length, multiple-lesson, uninterrupted classes - all available to take virtually on Scrapbook.com's site, and all free of charge. You can even watch them while you create an amazing layout on NSD.
Gesso Shouldn't Be Complicated with Vicki Boutin
Papercrafting Projects for All Seasons with Jana Eubank
Creative Layout Design with Paige Evans
Life Handmade Podcast
Scrapbook.com recently launched a podcast all about creativity, papercrafting, and living a life handmade. Either at Scrapbook.com, or wherever you enjoy downloading and listening to podcasts, you'll hear some heartwarming interviews with some of your favorite designers and crafty people. Here are a few fan-favorite episodes:
Story-Driven Scrapbooking and Embracing Self Love with Tazhiana Gordon
Ali Edwards: The Stories We Choose To Tell
Inclusion in Crafting with Dana Joy & Pocono Pam
---