She's a bestselling book author, mixed media artist, art journaler, and utterly fabulous imaginative designer of some of your favorite tools and supplies. We're talking about Jane Davenport - the "artomologist" designer for Spellbinders!
Her affliction of "rainbow-itis" or, the love of art supplies, has allowed her to develop unbelievably creative products that entrance us with their bright colors, unique designs, and totally original ideas.
Here are some of the must-have products designed by Jane Davenport, and a few amazing new products from her brand new Making Faces Collection you don't want to miss!
The Deep Sea Die Cutter
There's only one manual die cutting machine with hot pink cutting plates, and that's Jane Davenport's Deep Sea Die Cutting and Embossing Machine by Spellbinders. This recolored Platinum 6 machine is adorned with a tropical 'Bali blue' paint job and has Jane's own fanciful mermaid drawings swimming all around on it.
But of course, the real pop of color on this fantastic die cutting machine is the hot pink plates. When Jane is getting lost in the creative genius zone, her hot pink cutting plates never get lost in the nest of scattered papers and supplies all over her craft area.
Spellbinders Dies by Jane Davenport
These whimsical and imaginative metal dies in signature 'Bali blue' embody all the creativity of Jane herself. Mermaids, feathers, unicorns, and dancing girls can adorn your scrapbook layouts, art journal pages, card fronts, planner, and so much more.
Spellbinders is known for their intricate, high-quality metal dies that add beauty to every project you're working on. These dies by Jane are extra special and unique in that they are converted from her very own hand-drawn watercolor artwork designs and transformed into these metal shapes for die cutting.
They truly contain the energy and essence of Jane's handiwork in each and every one!
Clear Stamps
Just like her collection of beautiful metal dies, Jane's lovely clear stamps are the embodiment of all the creativity and brilliance in her head. Each of them has a hand-drawn quality that adds to the look and feel of your project when you stamp with ink, markers, watercolors, or art crayons.
Washi Sheets
Do you love washi tape but sometimes wish it were bigger? Way bigger? That's exactly how Jane felt and designed colorful full-page washi sheets! These huge 8.5" x 11" sheets are filled with fanciful girls, whimsical mermaids, and endless possibilities.
You can use the whole sheet as-is to cover one of the pages in your art journal, notebook, or planner, or go even further. Use them as pieces for card making backgrounds, rip them up for an edgy look on your project, or even create new shapes when you run them through your Deep Sea Die Cutter and make stickers!
The Washi Sheets make amazing card fronts, like this card by the oh-so-talented Mona Toth. Using a combination of Jane's Artomology products, she added colorful embellishments and stickers to take this bright card to the next level.
Stencils of Beautiful Faces
Jane's stencils are the training wheels you need to get you started on drawing faces. Jane herself, who drew the original faces for these stencils still uses them to get her work done quicker.
When it comes to art journaling, stencils make a huge difference in the creative process. They allow you to build on ideas, images, and scenes to create brilliant, unique pages. Jane's stencils are perfectly clear so you can see the possibilities on your pages before you get out your ink, paint or markers to start creating!
They also have precise punched holes so you can store them in a 3-ring binder!
Tip: Stencils are a fantastic and quick way to get some of the important base shapes and images for your project or the pages of your art journal.
Jane Davenport Artwork Stickers
Add a little glimmer and shine to your project with the Colorist Cardstock Stickers. These stickers are another fun way to add a bit of imagination and creativity to whatever you're working on. They are Jane's own designs in black and white outlines that have foil accents in silver, gold, and pink. Use them as a blank canvas for writing, coloring, or just adding a fun little pop on your project.
Collection Binder For All Your Art Supplies
With so many amazing products designed by Jane, you need an equally fabulous place to put them all. With gorgeous mermaid images set on the Bali blue background, this
album
is poised and ready to hold all of your favorite stamps, dies, stencils, and more!
With the ten specialized storage sheets included, you can organize your metal dies and your stamps to always be ready when inspiration strikes.
The four-pocket design of the sheets could not be more perfect for holding your small dies and stamp sets. There's also a couple of full-page protector sleeves for your washi sheets, stickers, notes, or anything else you want to protect and store in between crafting.
The binder even has handy pockets at the front and the back, as well as a sturdy metal clip on the front cover. It's truly everything you need and more in a beautiful, functional art binder.
And did we mention that this beautiful binder comes with a handy purple elastic band for extra added protection and another hint of fabulousness? While Jane believes it can be used as a belt or a headband (you can if you want to!) we think it looks just perfect on the binder!
Jane Davenport Ink
No, we're not talking about ink from an actual squid, we're talking about Jane's mermaid scale-shaped Squid Ink pads. These hybrid inks are as gorgeous as they are fun to look at. They are multi-purpose, multi-surface inks that can be used in a variety of ways and on a bunch of different materials for fantastic tones and images.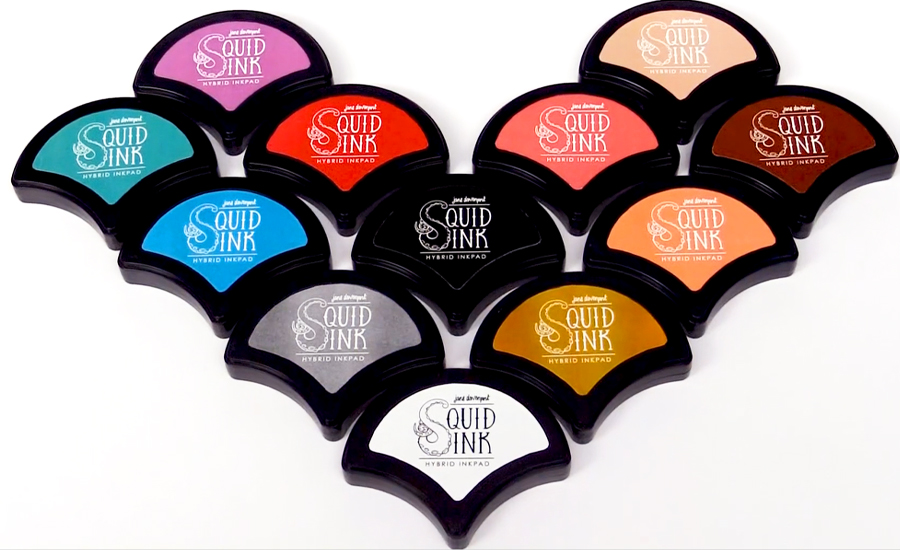 The metallic silver and gold inks have special foam ink pads and even come with a spare reinker (because you can never have enough gold and silver).
Have some fun and arrange them all next to each other like a mermaid's tail, or stack them up all together for easy storage. They also all have an outside label on the edge so you can see the name and color when they're stacked.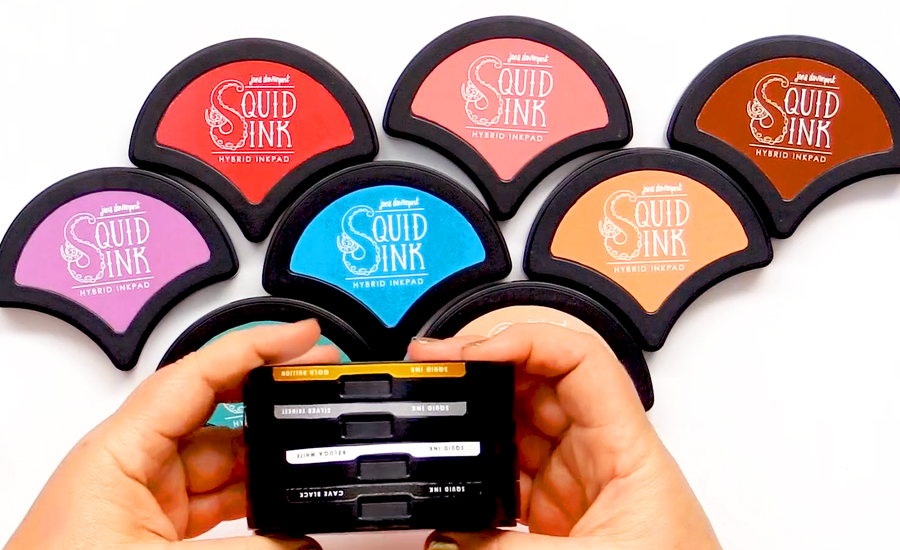 Stamp Tins
Put your Squid Ink to use when you have some fun with a Tin of Glances and a Tin of Mermaids. These wood-mounted red rubber stamps are created with immense amounts of detail to get that hand-drawn feeling when you're stamping all the things.
The gorgeous eyes and perfectly shaped brows are fun to use with Jane's face shape stencils, and can create the most beautiful mermaids you've only ever imagined. And we love the sea-themed little wooden stamps for creating exciting accents on card fronts, journal pages and more.
Smooth Markers
After you've stamped, stenciled, and die cut with Jane's amazing line of products, there's just one thing left to do...color! As a former illustrator, Jane first started experimenting in her drawings with markers, and now you can too!
These vibrant dual-tipped alcohol markers come in two different sets: Mermesmerizing (cool tones) and Feathered Friends (warm tones).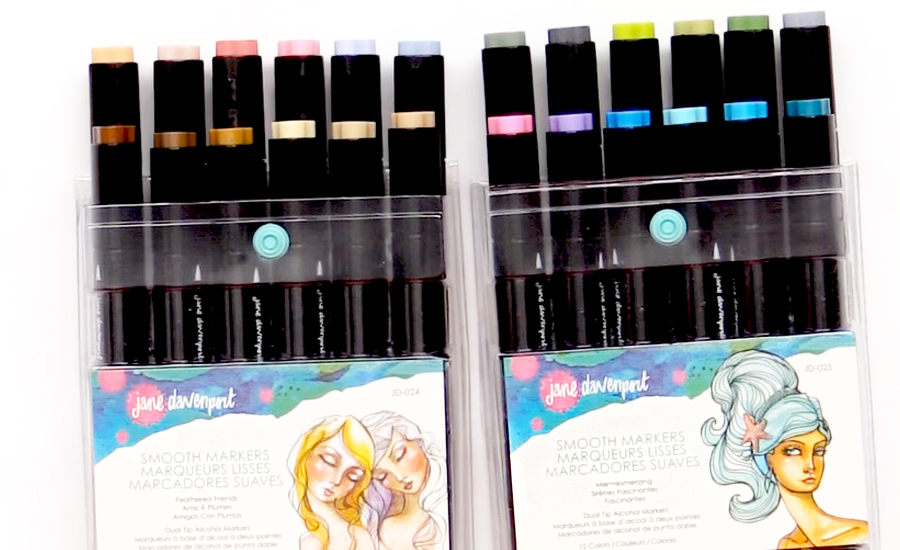 The tips were designed specifically to ensure you have a brilliant writing, drawing, and painting experience with a generous amount of ink on each stroke. There's a thick end for larger projects, and a small tip end for lettering projects and detail work.
Another helpful addition to the Smooth Markers is that they come with their own little swatch charts for you to fill out. Once you see the exact colors on the swatches, you'll know precisely what colors you'll be picking for use on your art journal, stamped images, and more!
Here is a project by Mona Toth using a variety of Jane's products from the Artomology Collection. We are positively mesmerized by the gorgeous blues and fuschia pinks along with the amazing stamps and dies.
Glimmer Foil Plates
For those who can't get enough shiny, sparkling things on their projects, the Spellbinders Glimmer Hot Foil System is an absolute necessity. It adds a shimmering rainbow of foil onto a variety of different materials using a heated metal plate system.
Jane is turning up the heat with her Glimmer Foil Plates in the Artomology Collection. These glittering accents, including a girl's face, seahorses in love, a masquerade mask, and more, are sure to be the shining star of your artwork.
With all the bright, whimsical products in Jane Davenport's Artomology Collection, it's impossible to resist them! Die cut using Bali blue dies with a fun mermaid-adorned machine that has hot pink cutting plates, and then stamp with Squid Ink or color with markers in mermaid tones. Doesn't that just sound like the crafting adventure you've always dreamed of?
Making Faces Collection
Jane has done it again by mixing fashion models, make-up trends and techniques, and mixed media magic to create the Making Faces Collection for Spellbinders. If you are a lover of sketching, drawing, make-up, beautiful faces and flowing hair, then Jane has a wide range of products that you will want to get your hands on immediately.
Starter Pages
Many of Jane's products are designed to inspire and get your creative juices flowing to create absolute brilliance. Her new paper pad and pages are no exception to this. With Jane's own handiwork as the starting point, these pages were designed for you to quickly get colorful and creative!
Just think of all the amazing vibrancy and glamor you can bring to these designs and faces, especially when using some of the inks, markers, paints, and palettes from Jane's Artomology and Making Faces collections for Spellbinders.
Create waves of fuschia mermaid hair and designer eyeliner worthy of the catwalk when you start on these not quite blank slates by Jane.
Tools and Instruments
Why use ordinary tools in your creative process when you can use amazing, fun ones? To go along with the Making Faces theme, Jane's new tools are designed with fun, fashion, and faces in mind.
These faux make-up brushes and blending devices all look like they belong in the beauty aisle, but they're actually from the craft aisle!
Paint, Pastels, Pens & More!
The range of colors and mediums in the Making Faces Collection is quite extensive. Everything from acrylic paint to gel crayons, shimmer pastels, matte gels, waterproof pens, and smudging pencil crayons.
All these amazing implements were designed to help you create true beauty on layouts, cards, journal pages, planner pages, and in your notebook. And just like the tools in the collection, these colorful mediums look just like make-up!
For those that are always looking to make the perfect skin tones, Jane has a matte finish acrylic paint kit that you've been dreaming of! This 3-bottle set is designed especially for those who love to draw, stamp, stencil, and color beautiful faces and figures but never quite find the right shades for those girls or mermaids.
It includes a base flesh-toned color and two smaller bottles of paint for getting the lighter and darker shades you're looking to create.
We absolutely love every minute of getting lost in the imaginative mind of Jane Davenport and her wonderful, whimsical supplies for Spellbinders. The Artomology and Making Faces Collections take all of your beautiful dreams and make them into vivid reality for every project you can imagine.
We can't wait to see all of the amazing artwork you come up with using Jane's inspiration and guidance!
Check out this awesome video of Jane Davenport giving you a hands-on preview of some of the fabulous new Making Faces products:
A big, glorious thank you to the one and only Jane Davenport for her creativity, wisdom, and artistic brilliance. For more fun with Jane, be sure to check out our free class, Die Cutting Artistry with Jane Davenport.
---