Join a few jolly little elves, some festive reindeer, and Saint Nick himself as you merrily sing Christmas carols through a neighborhood filled with happy little holiday houses.
Your favorite creators have truly outdone themselves to bring you Christmas village inspiration using Scrapbook.com's exclusive Little Houses Digital Cut File Bundle.
Grab your warm winter coats and caroling books, and let's head out to our Little Holiday Houses!
Buffalo Plaid Paper House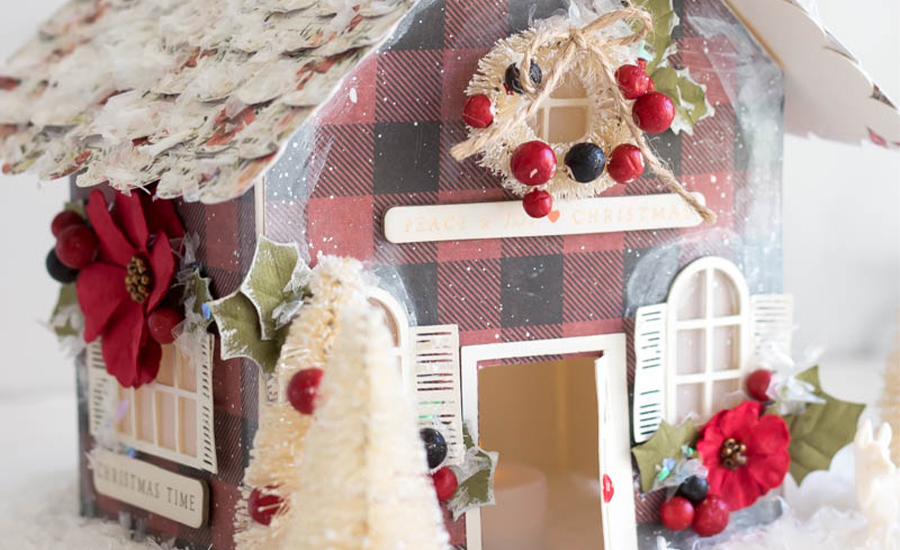 There's just something jolly and festive about the holly berry red and Christmas Eve midnight black of buffalo plaid. Marie Heiderscheit is the talented and creative mind behind this beautifully decorated little house. Using Prima Christmas papers and accents, this sweet country cabin will make you dream about an old-fashioned holiday.
Everywhere you look are delicate, fun little details. Above the door and below the peek-a-boo windows are fabulously festive chipboard sentiments alongside berries and poinsettia leaf accents. And who could miss those bottlebrush trees and a wreath lining the attic window? Absolute winter perfection.
Paper Garland Little House
You've decked the halls and trimmed your tree, so now it's time to deck the halls of your tiny holiday house! This cute little house by Berina Febin has a simple beauty with all the right wintery accents. Die cut bows of holly in festive pine tree green line the front entryway and the top attic window with delicious red berries created out of liquid embellishment.
And for even more fun, the inside of the house is glowing with the warmth of the holiday spirit with a string of battery-operated Christmas lights.
Get The Look!

This house came together with just a couple simple supplies. After you've used your Cricut or Silhouette to cut out the house frame, Berina used the Mini Holiday Greens die set by Tim Holtz to form the Christmas foliage. Stickles in Golden Rod and Cranberry make the holly berries and Chrismtas lights lining the rooftop!
2-Story Paper Holiday House
Adding a second story onto your house is quick, easy, & inexpensive...when it's made out of paper! Adrienne Boese is the talented architect behind this adorable little 2-story cabin in the snowy woods. Decorated to the nines with festive paper Christmas wreaths in the windows and tiny battery-operated twinkle lights along the roof, even the reindeer are in awe of this sight.
Let it snow, let it snow, let it snow, even if that snow isn't real!
Gingerbread Paper House
While this little house may look good enough to eat, we don't recommend it! Natasha Davies found the perfect balance of cute and sweet in this toasted gingerbread brown colored paper house with adorable accents.
Everywhere you look are delicious little surprises like happy gingerbread people, cotton candy & cupcake shrubbery, milk chocolate trees, and a slathering of vanilla frosting across the roof tiles.
Blue Christmas House
You'll have a blue Christmas without this adorable frosty blue paper house made by Jessa Plant. There's just a little bit of magic sprinkled throughout this snowy scene. The exterior walls and roof sparkle with freshly-fallen snow (or is that Stickles Glitter Gel?) that really makes this house light up!
Delicate details are added just outside the house, like adorable little white reindeer frolicking through the snow alongside snow-tipped die cut Christmas trees. The best thing about this blustery blue house? It can stay up all winter long!
Crate Paper House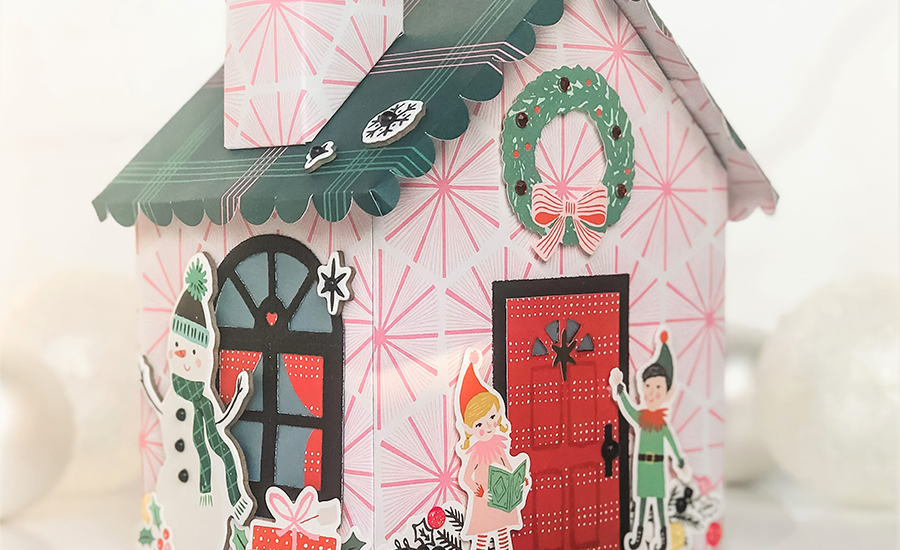 Here's a pink and plaid holiday house that we wish we lived in! The talented Laura Evangeline used Crate Paper supplies to design this picture perfect little pink house. All the little pieces of chipboard ephemera really make this house complete. There are even caroling elves out front and a frosty snowman in the side yard.
Hopefully, you're asleep because here comes Santa Claus sneaking around the back with his big sack of toys (and craft supplies!) to leave under the tree. You're on the Nice List, right? Because he'll make quick work of that chimney on top of the house any minute now.
---
What will your house look like this happy holiday season? The Scrapbook.com Little Houses Digital Cut File bundle will have you ready for seasonal houses all year round!
If you love these little houses, there's another holiday house series you won't want to miss! Find our Halloween Houses Hop here!
---