Gather your ghouls, goblins, and ghostie besties as we trick or treat through a neighborhood filled with happy little haunted houses.
Your favorite creators have truly outdone themselves to bring you Halloween inspiration using Scrapbook.com's exclusive Little Houses Digital Cut File Bundle.
Grab your pillowcase to stuff full of candy, and let's head out to our Little Halloween Houses!
Poe Crow House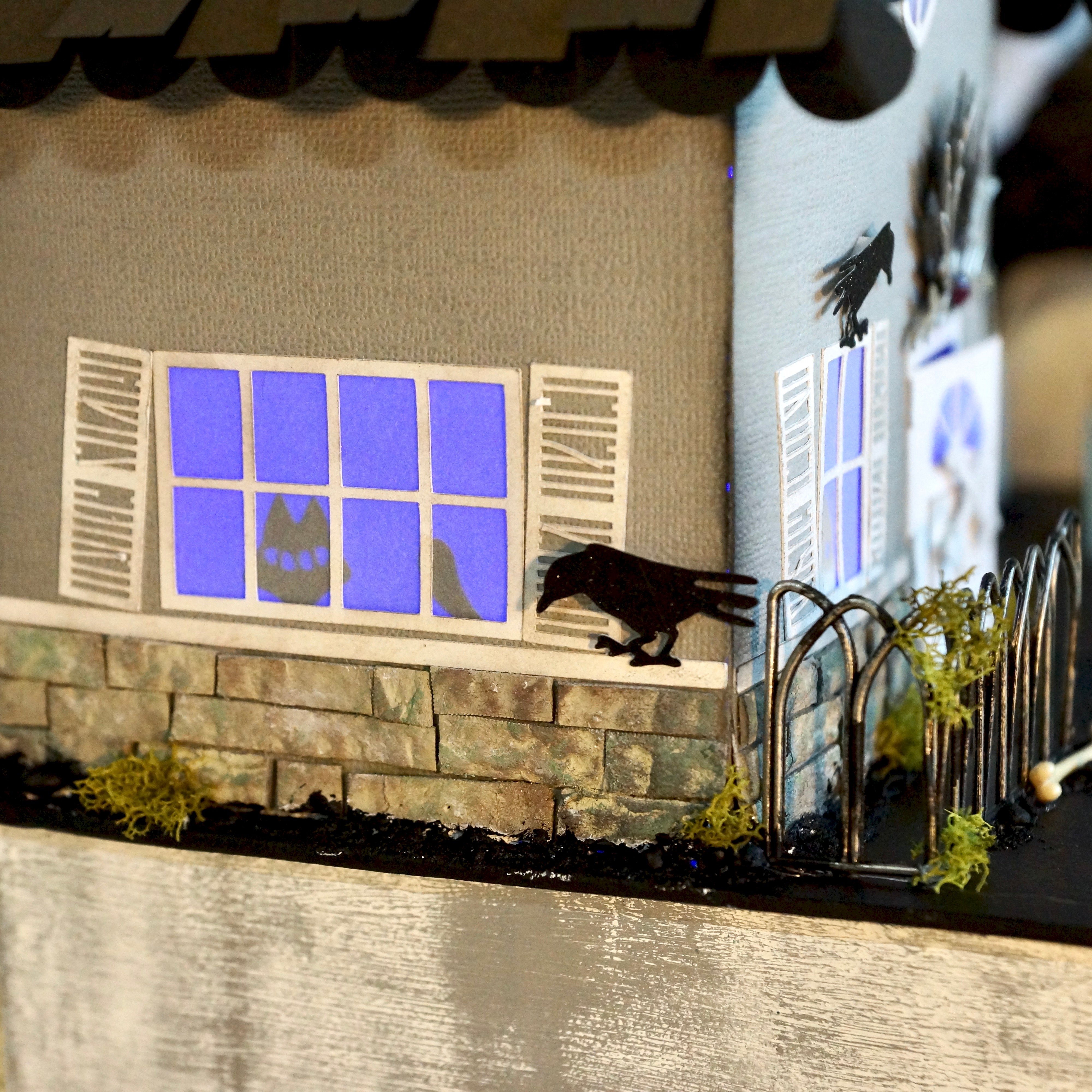 The talented Adrienne Boese evoked the tales of Edgar Allan Poe in this cobblestoned house surrounded by mysterious black crows. Lose yourself in the macabre of the shadows within the windows and distressed shutters in this haunting adaptation of Scrapbook.com's Little Houses digital cut file.
Hocus Pocus House
This orange and black creation crawling with creativity was made by the fabulous Anna Komenda. Everywhere you look on this little house, a new spooky surprise awaits. Ephemera is sprinkled like candy around the windows and roof tiles, along with fun little trick or treaters waiting to fill up their sacks.
Bright Brick House
With cobwebs in the windows and costumed cuties at the door, this little house by Cynthia Lambert is so spooky cute. The bright orange brick walls and plaid border showcase a fun and bright house for the neighborhood children to visit for festive candies. And the addition of the shaker card element candies strewn up the front path is just too adorable not to mention!
Happy Haunted House
Ding dong! There are ghosts at the front door! And there's skeletons at the windows. Nothing but happy haunting at this happy little house made by Erin Reed. We're loving the contrasting colors of vibrant plum, neon green, and candy corn orange accenting this little creation. And what's that around back? A giant glittery silver spider!
Moss Covered House
Watch out for insects and creepy crawlies and the occasional errant eyeball with this moss-covered little house by Jessa Plant. Explore each scary little detail in this house filled with Tim Holtz Idea-ology accents and suspicious overgrowth around the roof and door. And the distressed bricks seem to just pop out from the page and look real!
Glowing Ghost House
There's a boarded up window and a gossamer ghost escaping right through the pane in this deep purple little house by Galina Filippenko. And what's that mysterious glow coming from inside? It must be a hopping monster mash! This fun little house would look perfect next to a big bowl of Halloween candy this year!
Lawn Fawn Little House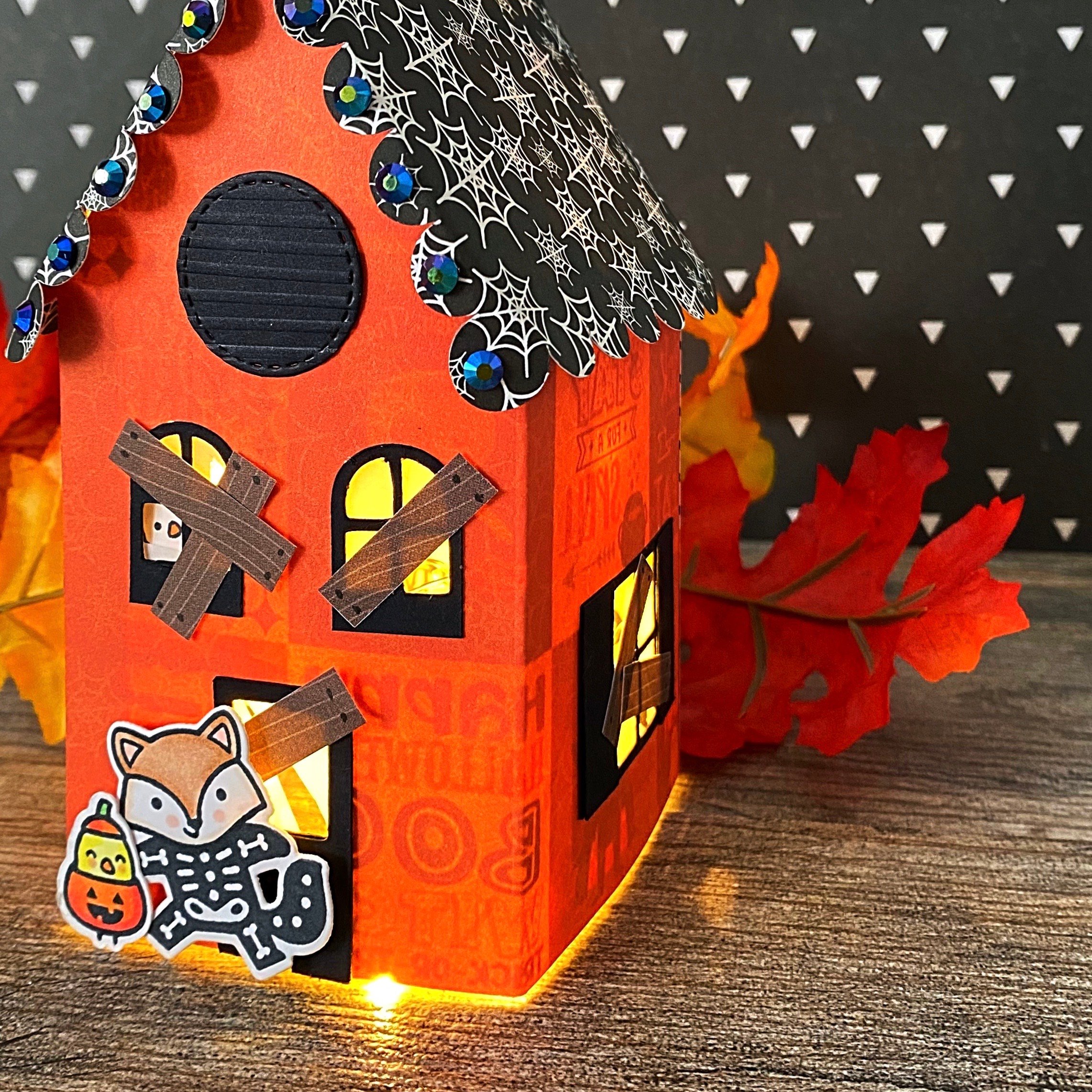 This fabulous little Lawn Fawn fox and his pumpkin chick buddy are just arriving at Jessica McAfee's little house for treats! Light up the night with this cute little house that has a cobwebbed roof and blingy blue bejeweled accents.
Haunted House in the Woods
Are you scared of the woods on a dark, cold night with a full moon? You might be in this little house created by Mary Ellen Driggs. Its aged and weathered appearance looks right out of a horror movie. So grab your popcorn and turn out the lights to see what secrets are inside!
Distressed Cobweb House
Kassy Laurence is lighting up the night in orange and purple with this distressed little house. There are wispy cobwebs gathering on the roof and a looped bunting hanging down in this abandoned building filled with intrigue. What secrets lay behind the skull adornment over the door? You'll have to wait till All Hallow's Eve to find out!
Monsters & Friends House
We've seen some adorable little houses so far, but this one is just too cute to spook! Laura Evangeline used Bella Blvd's new Monsters & Friends collection to adorn this polka dotted house with sweet little ephemera monsters to make your Halloween special.
Distressed Ghost House
There are so many unique techniques used in this distressed little house from Laura Volpes. All the bricks and roof tiles have a haunted, aged look, while the windows look yellowed and cracked with creepy precision. But the happy little ghosts all round the outside make this tiny house approachable for tricks and treats!
---
What will your house look like this haunted Halloween season? The Scrapbook.com Little Houses Digital Cut File bundle will have you ready for seasonal houses all year round!
---