They're glittery, shimmery, colorful, helpful, dimensional, and oh so much fun to play with. We're talking, of course, about all liquid mixed media mediums - gels, pastes, glazes, polishes, and all the other fabulous products that crafters can't get enough of.
In this article, we'll showcase 5 magical mixed media mediums, inspire you with how they can be used, and provide you with some top tips & tools for using them.
Pops of Color
Scrapbookers, card makers, mixed media artists, and every other kind of crafter will love the Scrapbook.com Pops of Color. They're a versatile, easy-to-use introduction into mixed media projects since they come in a 1oz squeeze bottle with a precision application tip.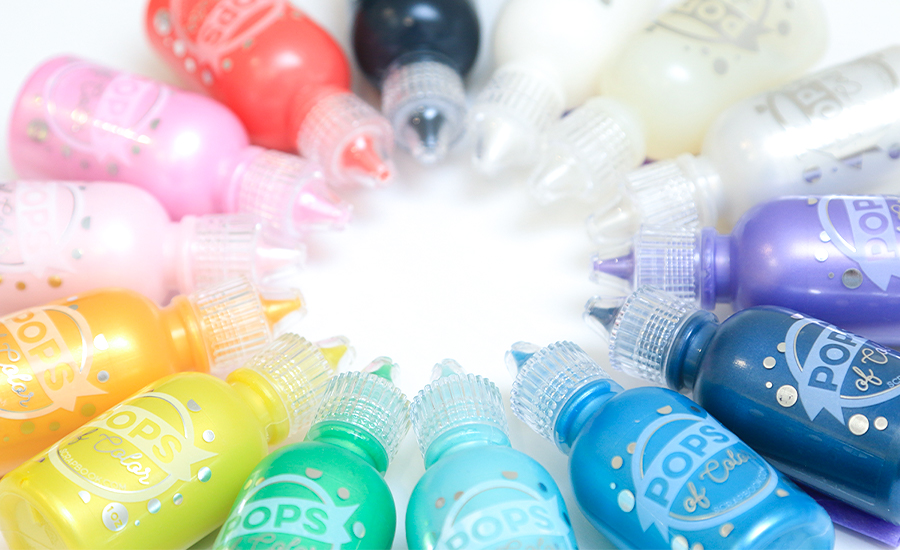 Available in a rainbow of hues with either a pearlescent or gloss finish, the Pops of Color open a world of creative possibilities to every crafter. Use them to add perfect dots and drops, lines, swirls, or get even more creative than that.
This project from the talented Marie Nicole demonstrates a few fun, fabulous techniques with coordinating shades of Pops of Color. To create the background, she paired our big 6 x 8 Mod Circles Stencil with 4 beautiful shades of Pops of Color. It's all about the blend of Bubblegum, Soft Lilac, Ocean Waves, and Deep Sea spread vertically to create a mesmerizing card front.
But that's not the only technique Marie has for us in this amazing creation. Take a closer look at the 'hello' sentiment, and you'll see that this too is a piece of Pops of Color artwork. She blended a slathering of the liquid medium on a piece of cardstock, let it dry, then die cut the word out of it. Voila - a faux acrylic sentiment to take center stage on your handmade cards!
We just added 7 NEW Gloss colors and 6 NEW Glitter colors to the Pops of Color Collection! Whether you are looking for a gorgeous dusty rose or a glitter red that makes you want to click your heels three times, we are always adding the next fun and exciting color to the Pops family! See how we created this dandelion card on our Youtube Channel!
The Crafter's Workshop Stencil Butter
It's delicious, it's spreadable, it's creamy - but it's not edible! We're talking about the new Stencil Butter Collection from The Crafter's Workshop. Each little jar of Stencil Butter is a shimmering, mesmerizing pot filled with possibilities. These pigmented modeling pastes offer a variety of unique uses, including dimensional crafting and faux watercolor creations.
In a variety of eye-popping colors like Crimson Red, Marigold Orange, & Fuchsia Pink, these shimmery pastes are just waiting to be your next obsession in crafting. The unique properties of these spreadable butters allow them to glide like a dream over stencils and dry smooth but keep depth and dimension as well in other techniques.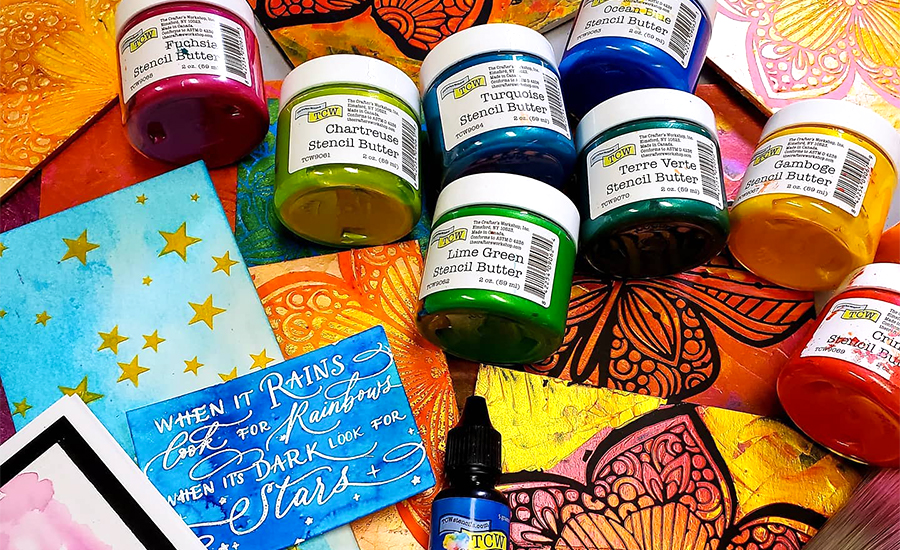 These vibrant hues can also be mixed with other texture pastes, gessos, and glitter gels for a combination effect on your project. Just think how beautiful they'd look with an opaque white base or mixed with a glittery gel for color and sparkle all in one!
Glitter Gel
If you have stars in your eyes and you want to recreate that certain sparkle on your next project, glitter gel is your new best friend. Available in a variety of fabulous shades and finishes, these fun gel mediums are just glittering with possibilities.
It won't flake, rub off, or shed precious sparkle either - once dried, glitter gel is there to stay on your shimmering project.
When paired with stencil patterns, these glitter gels really come alive! Here's just one example (OK, two!) from the talented Victoria Calvin using the Mums 6 x 8 stencil from Scrapbook.com and Glitz Glitter Gel from Gina K. She used both the silver and the gold gels to easily stencil a dimensional burst of mums on two beautifully ink blended cards - we simply cannot take our eyes off them!
For glitter and just a little bit more, the Ranger Stickles Glitter Gels capture the beauty of the entire universe in tiny little jars.
With varieties that include Nebula, Moon Dust, Supernova, and more, these glitter gels will have you seeing stars for sure. Just think of the iridescent, glittery glow of the shooting stars across your next handmade card or layout!
Gesso
A mixed media artist's best friend is a handy dandy little product called gesso. Many use it as a primer of sorts on canvas, mixed media paper, and other surfaces as a base for a crafty creation. It dries hard, creating a barrier between your surface and anything on top of it, such as paint, gels, mousse, and more.
Most gesso is opaque white, becoming a neutral base for your project. The benefit to gesso being white is that you can also mix it with other products such as pigmented powders, glitter, and acrylic paint. But you can also find colorful gessos from Prima & The Crafter's Workshop in gold, clear, black, and more.
Gesso is a go-to product that helps you build layers of color & texture on just about any project. Canvas is a popular place to start with a layer of gesso for some artistic brilliance, but it can also be used on scrapbook layouts, intricate handmade cards, DIY gifts or projects, and so much more.
Ranger Ink Texture Pastes
For adding a variety of textures to your project, turn to the collection of texture pastes available from Ranger Ink & Tim Holtz.
These fun mediums offer endless inspiration and a variety of options for creating visual and textural interest on your artwork. Choose from pastes that have a shiny gloss finish, a distressed crackle finish, a chalky matte finish, and a gritty sandpaper-like finish.
The texture pastes come in clear & white finishes, which allows them to be mixed and mingled with your favorite colorful inks for even more fun. When used as a base, these texture pastes can also act as a resist to other techniques, ink blends, and designs.
Your Go-To Mixed Media Tools
The Scrapbook.com All Purpose Craft Scraper is everything you're looking for when it comes to applying your mixed media products.
Not only is it an unbelievably affordable little tool, but it has a wide area for application, measuring a full 6" across - perfect for cards, journal spreads, Bible pages, and even scrapbook layouts.
Made of durable yet thin plastic, the Craft Scraper holds up to gel, mousse, paste, and more, with just enough give to spread your medium, scrape up the excess, and give you the perfect coat every time.
It also washes off easily (a crafter's dream come true, right?), so you easily mix and match your mixed media products or have it ready to go for next time.
And don't forget about the Domed Foam Blender Tool that you can pop washable foam applicators on and off as you switch from gesso to glitter gel to texture paste. They glide easily over stencils and can help you blend creamy shades of pastes & gels like a dream!
Mixed Media Storage & Organization
If you've got a big collection of jars, bottles, and tools for creating mixed media magic, you certainly need a storage solution that makes sense for it all. Luckily, Scrapbook.com has you covered!
Since mixed media products vary in shape and size, you need something that's got a lot of space for storage. Our 360 Craft Tower has endless combinations for storing and stacking your materials, as well as customizable shelves for a variety of height quadrants.
Another absolutely fabulous option is in our Craft Room Basics collection - the Stadium Organizer. It can be used laying down or flipped vertically to showcase your favorite jars of glitter gel, texture paste, and little squeezy bottles of fun.
The best feature about both of these storage solutions - all your mixed media fun is always within arm's reach whenever creative inspiration hits!
---
For more inspiration & product features, be sure to check out these amazing articles:
Your Guide to Cutting Mats, Glass Mats, and Other Crafty Work Surfaces
Read This Before You Clean Your Craft Supplies!
The Definitive Guide to Organizing Craft Supplies
See All of Scrapbook.com's Pops of Color!
---