All year long, mothers, grandmothers, and lots of other special ladies make a difference in our lives. They spread love, happiness, support, and make our lives beautiful. But there's one day out of the year that all those wonderful women especially deserve the royal treatment - Mother's Day.
While you get started on whatever you're planning for Mom, Grandma, and all the other lovely ladies in your life, let us get you started on Mother's Day card inspiration.
Here are some trendy, adorable, and gorgeous Mother's Day cards from our gallery to celebrate all the moms in your life.
Colorful Tulip Cards
April showers bring May flowers. And Mother's Day is one of the most popular days to send fabulous flowers or hand-deliver a beautiful bouquet to a lovely lady. Send mom, grandma, and other special ladies in your life some lovely springtime tulips made with a picture-perfect stamp set from Waffle Flower.
These versatile flowers can be colored in with your favorite watercolors, alcohol markers, crayons, colored pencils, or inks. Color code the blooms or the background with yellow for Grandma, pink for Mom, and red for your mother-in-law. The best thing about these flowers? They don't need water and will never wilt!
Dandy Day Cards
How cute are these mice and little dandelions? So cute that we had a hard time picking just two to showcase for Mother's Day inspiration. The Dandy Day Collection from Lawn Fawn is an adorable way to send Mom some love on her big day. There are delicate pastel papers with flowers blowing in the wind and a coordinating stamp and die set with mice that you'll want to use for every occasion.
Create a unique scene filled with dandelion wishes and baby mouse kisses that your mom or step-mom will want to frame!
Simple Ephemera Card
Brand new packs of ephemera are simply irresistible. They are filled with gorgeous shapes, designs, phrases, and accents that give any project a finishing touch. But have you ever built a whole card with just a few key matching pieces?
This simple card employs a stark white background and a few delicate floral ephemera pieces from Jillibean Soup for a genuinely striking finished card. It's a classic and elegant no muss, no fuss card - just like Mom.
Dog Mom Cards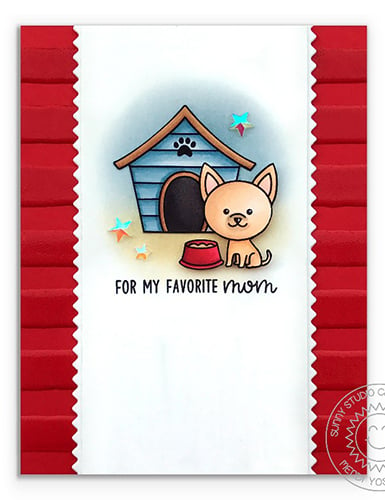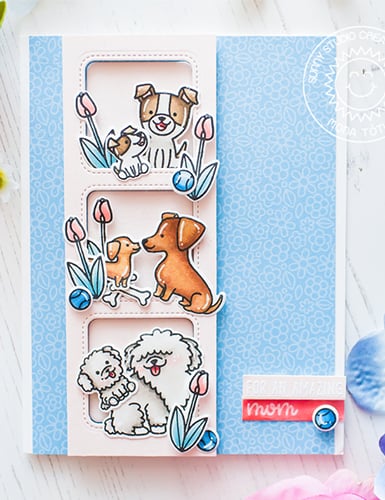 Dog moms need some love on Mother's Day too. Or pet moms who have a household full of fur babies. Sunny Studio Stamps has several fun stamp sets devoted to dogs, puppies, and the special bond between parents and kids. Show mom some love with a card filled with wet noses, happy paws, and wagging tails.
Washi Tape Card
For an easy card with a simple message, this washi tape card is a solid choice. Using two different patterns of thick washi tape from Altenew, the Gilded Ombre* die cut letters spell out three little letters that mean so much.
The gold and deep amethyst purple look like precious gems - and there's nothing more rare or precious than the relationship you have with your mom!
*Please note this product has been discontinued
Vintage Kitchen Card
Do you remember the days of avocado-colored kitchen appliances and big Pyrex mixing bowls overflowing with creamy batter? We know mothers and grandmothers everywhere do. That's what makes Catherine Pooler's In The Kitchen collection an essential ingredient in your Mother's Day cards.
Throwback colors of tangerine and avocado green, along with stamped images of mixers, batter bowls, whisks, tools, and more, will have Mom thinking about good old kitchen memories. Tell Grandma she's the "gratest" with a fun baking-themed card...and maybe she'll give you the secret ingredient to her famous cookies.
Cup of Happiness Card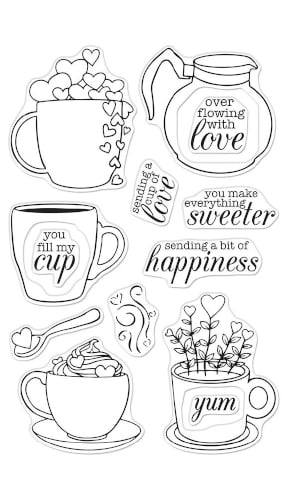 If your mom or grandmother is a tea fanatic or a coffee addict, then a cup of happiness is exactly what she needs for Mother's Day. This card and stamp set from Hero Arts has cups filled with hearts, flowers, whipped cream, and an extra sprinkling of love.
You can even include a nice gift card to your special lady's favorite java joint or teahouse to make this the perfect Venti-sized present!
Heat Embossed Vellum Card
This card is simple, elegant, and absolutely gorgeous. If you have a long list of moms to celebrate, this card featuring a fabulous Pinkfresh Studio stamp and die is a quick and easy way to make every one of them feel special.
The star of this card is the heat embossed bouquet on delicate vellum. The large, detailed image takes up the majority of the card, which means you don't need too much else to make this card come together. You can even choose different colors of card fronts and enamel dots when you give these to the ladies you love this Mother's Day.
Cute 3D Cards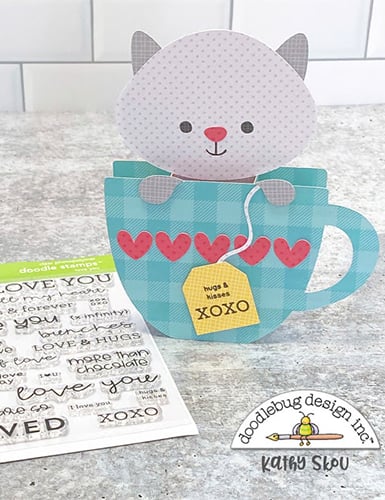 What's better than a one-dimensional card for all the moms on your list? How about interactive or pop-up 3D cards? These masterpieces are sure to be placed on Mom's mantle or Grandma's side table to be shown own all year long. An adorable kitten in a teacup or watering can filled with fabulous flowers will make any mom's day.
Using fun Doodlebug Design patterned papers and their new photopolymer stamps, along with a digital die cutting machine, you too can make something incredibly memorable for Mother's Day.
Colored Pencil Card
Here's another striking card to wow Mom this Mother's Day. A deep and whimsical forest green card was heat embossed with gold and then colored in with brightly-colored pencils. Altenew's signature floral stamps are all beautiful choices to make any kind of card, but Mother's Day is the perfect time to show them off.
Hedge Hug Cards
One Heffy Doodle stamp set can make a bunch of fun Mother's Day cards featuring a prickly pair of hedgehogs hedge-hugging. And don't forget about the wonderful woman who's your soul mate and the mother of your children. She's one important mom that deserves an adorable card this Mother's Day too. Any mom would be overjoyed to get a happy little handmade card filled with hugs and hedgehogs.
---
We hope you've found some fun ideas to make all the moms and ladies in your life feel special. Did you know we have a section of the store for all our mom-themed items? Find it here!
Happy Mother's Day from Scrapbook.com!
---