The NEW and IMPROVED Scrapbook.com Gallery is now live, and we are so happy to share some of the exciting features with you! We are still actively working on continued updates and additional features, and we would love to hear from you. Please email [email protected] with any questions or suggestions you might have. The new gallery is designed to be easier to use, more beautiful, and even more inspirational than ever! With over 3 million projects added to date, from holiday cards to scrapbook layouts, from scraproom storage to templates and sketches, there is something for every crafter. Let's dive into some of the features below:
Fresh design and styling
The new gallery is fun, fresh, and modern with plenty of clean white space, a brighter color palette, and a new visual layout making it easier for you to browse and find handmade inspiration. Each project page has also been updated with a new beautiful display to easily shop the products used right from the project page. Crafting has never been easier!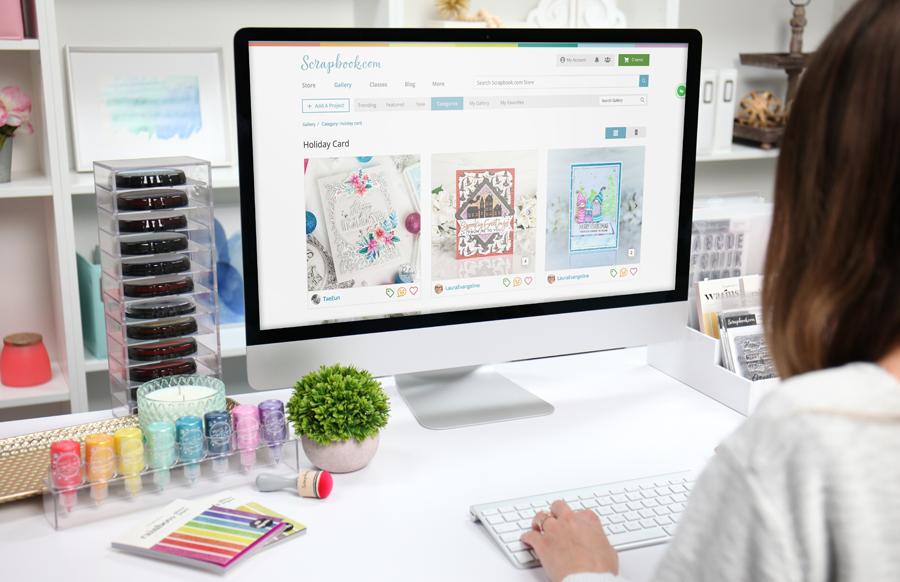 Updated interface that works great on desktop, tablet, and mobile devices
With the updated interface, you can easily browse the inspirational gallery wherever you are and however, you'd like! Whether you are in your home office on your desktop computer, cozying up on the couch with your tablet, or on-the-go with your mobile device, you can easily access, browse, and share with others directly from the Scrapbook.com Gallery.
"Does this mean I can upload projects to the gallery from my phone, too?" The answer is YES! You can now easily upload and share your projects directly from your phone! Uploading projects and tagging products has never been easier, even from your mobile device. You can now scroll the gallery to your heart's content and continue to be inspired (and inspire others) from anywhere in the world.
Beautiful (and LARGER) high resolution images while browsing
You asked, we listened... Project images are now larger with higher resolution! This means each gallery image is bigger, bolder, and even more beautiful on both desktop and mobile. Images are crisp and clear with an easy to use 'zoom' button to see finer and more intricate details.
With the new interface, you now have the option to browse the gallery how you'd like! You can choose to browse single rows of projects with linked products easily displayed, or you can view projects in a grid format where images are large and easy to interact with. What's not to love? Bigger images = better inspiration!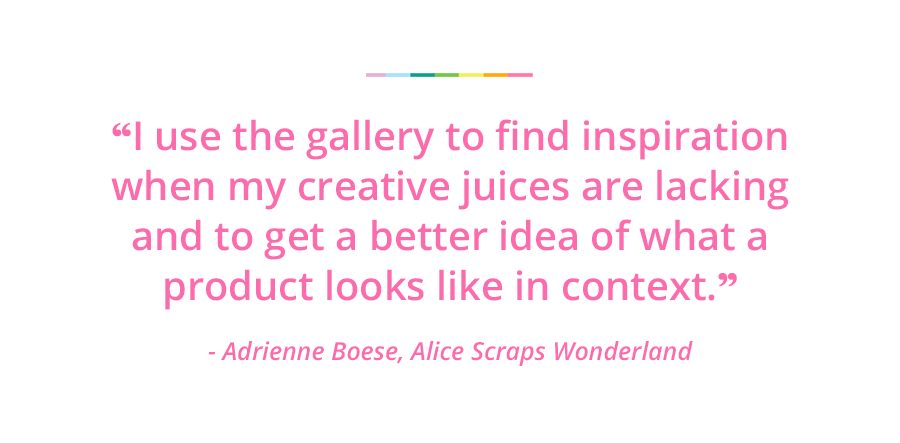 Interactive icons right at your fingertips
You now have the ability to interact with new beautiful icons, directly from the gallery page! With these interactive icons right at your fingertips, it makes it easier and faster to interact and encourage everyone in the gallery, shop your favorite projects, and keep track of everything that inspires you.
The green tag allows you to easily 'toggle on' the product view, where you can see what products have been tagged in each project. To make shopping even easier, you can add products to your cart directly from the gallery page.
The orange smiley face allows you to easily send a cheer directly from a project! You can share an emoji, customize your comment with fun colors, and leave an encouraging message to users!
Finally, the pink heart icon allows you to instantly favorite and save projects so you can easily browse, shop, and be inspired by your favorite projects in one place, at any time.
New, easy to navigate top bar with categories, featured, favorites, trending, and more.
The new and improved top bar is designed to get you exactly where you need to go as quickly as possible. Let's explore what you can find by navigating this top bar, starting from left to right.
'Add a Project' Inspire others by sharing your project with the 'Add a Project' button. Easy to use and extremely convenient, this button allows you to upload your latest creation at any time.
'Trending' Looking for fun, fresh, and trendy inspiration? Check out the 'Trending' button to see a collection of projects that are inspiring crafters all over the world.
'Featured' Find specially featured projects from a wide variety of users and brands that are sure to get your creative juices flowing.
'New' Be the first to see new projects uploaded to the gallery! You'll be surprised to see all of the projects being uploaded, even by the minute, from crafters all over the world.
'Categories' From scrapbooking to cards, organization to stamping, you'll easily find all of the categories that you love to browse by selecting the 'Categories' button.
'My Gallery' Easy access to your personal gallery where you can see your latest uploads, as well as any albums you have created.
'My Favorites' Remember the interactive pink heart icon? All of the projects you 'favorite' by clicking that icon will live here, making it easier than ever to keep all of your inspiration in one place!
'Search Gallery' Discover your next inspiration by using the 'Search Gallery' bar, which allows you to search for anything your heart desires by typing in words that relate to the type of project or product you're looking for.
'Shop this project' is beautiful and frictionless.

'Shop this Project' is even more beautiful and frictionless than ever before! The new design makes it easier for you to find what you are looking for from anywhere in the gallery.
Shop directly from a project page by hovering over the image. Once you've clicked on a gallery image that inspires you, you can hover over the image to reveal circle tags (kind of like a hidden treasure map!). These tags allow you to see where each project was used in the project and add any item directly to your cart.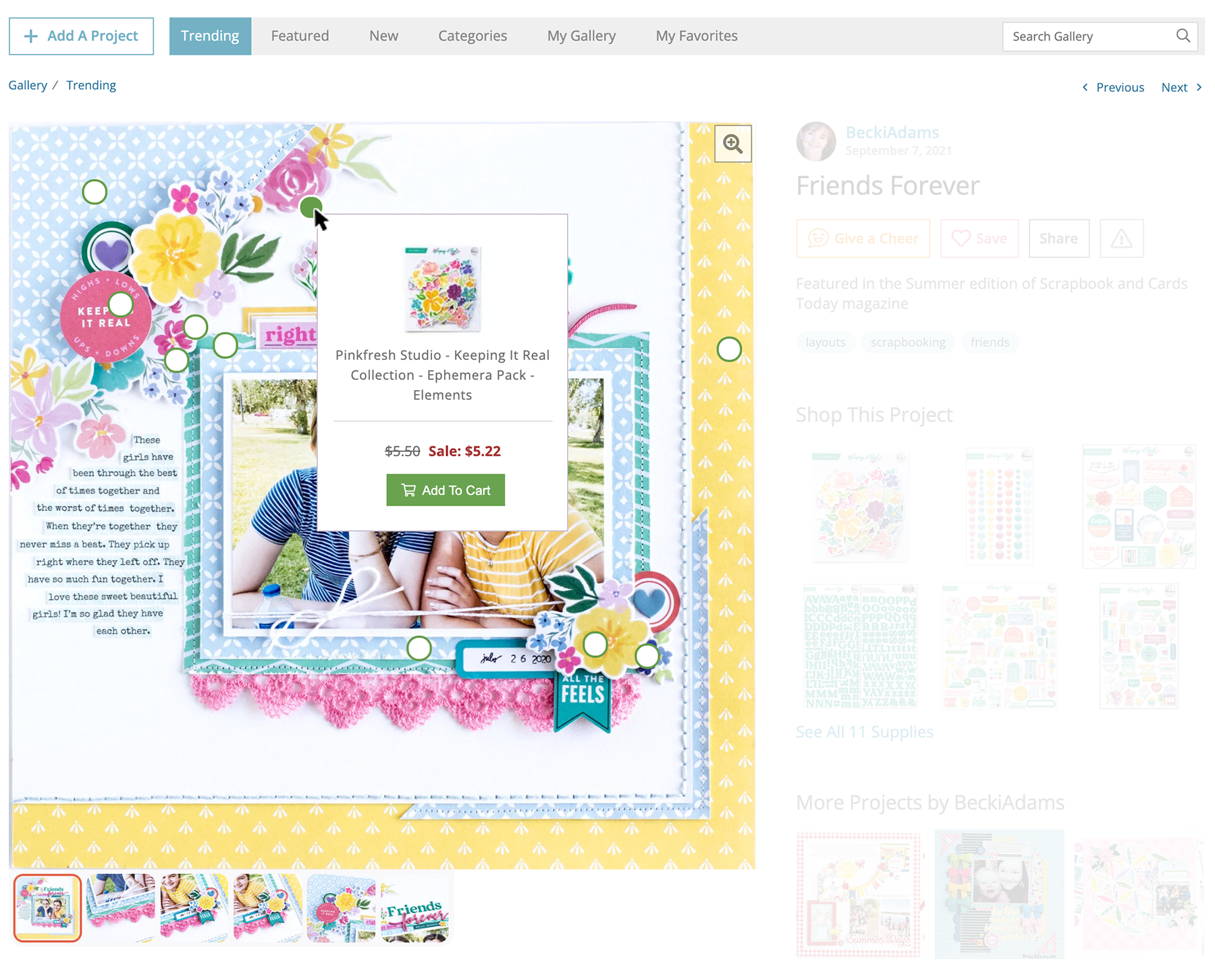 Shop directly from a project page by viewing the 'Shop This Project' section on the right hand side of the page. Want to quickly glance at all of the products used in your favorite projects? Once you've clicked on a gallery image that inspires you, the 'Shop This Project' section allows you to quickly see all of the products used in the project without any effort on your end! Just like the option above, you can easily add any item directly to your cart.
Whether on a desktop, tablet, or your mobile device, you will love how easy it is to shop directly from projects that inspire you!
Simple 1, 2, 3 upload process for sharing your project
Sharing your project and adding it to the gallery is better than ever! Whether on your mobile device, desktop, or tablet, you can start to inspire others quickly and easily. Let's walk through how it works.
Step 1 | 'Add A Project': Click on 'Add A Project' in the upper left hand corner.
Step 2 | Upload Images: It is so simple to grab a file from your computer or mobile device to share with others! Click on 'Upload Images' to select the images you'd like to upload to the gallery or drag and drop your images into the upload area. (Exciting news! You can now upload up to 10 images at a time! Acceptable file types include: png, jpeg, jpg, webp, heic, heif.) Once you have all of your images ready to upload, select 'Continue.'
Step 3 | Reorder and Rotate: During this step, you can easily reorder your images (if uploading multiple images at once) or rotate your image(s) if any are uploaded sideways or upside down. Once you have made any changes and are ready to continue, select 'Next Step.'
Step 4 | Describe Your Project: After your image(s) have been processed, it's time to describe your project!

Add a title and description to your project to let others know what your project is and how you made it.
Add your project to an existing album within your own gallery, or create a new album, so you can keep your projects organized and easily look through them later.
Choose 1-10 categories to place your projects in so that others can easily find it! You can choose from existing categories like scrapbooking, cards, organization, stamping, clean and simple, Christmas, and more, or create your own!

Tip: Use custom categories for challenges! Users who participate in challenges within our forums can now use custom categories to help organize the projects entered into a challenge. Use the same custom category when uploading, and you will be able to see all challenge projects in a single view! Please note: we are continuing to enhance this functionality to make it easier to find custom category links. Stay tuned for more!

Once you've completed describing your project, select 'Next Step.'

Step 5 | Tag Your Products: With this new and improved interface, you can easily and quickly tag any products used to create your project!

Search for your products by typing the product name into the 'Search Products' bar.
Once you've found the correct product, 'Select' the item. This will add the item to your 'Tagged Products.' During this time, you can also click anywhere on the project to tag exactly where the product was used. (You can even tag products on multiple images inside of your project!) Repeat this process until you've tagged all of your products.

Step 6 | Publish: Once you've tagged all of your products, the final step is to publish your new gallery image! In the bottom right corner, click 'Publish.' That's it! Your project is now live in the gallery, where others are immediately able to see it, leave a cheer, and encourage you along the way!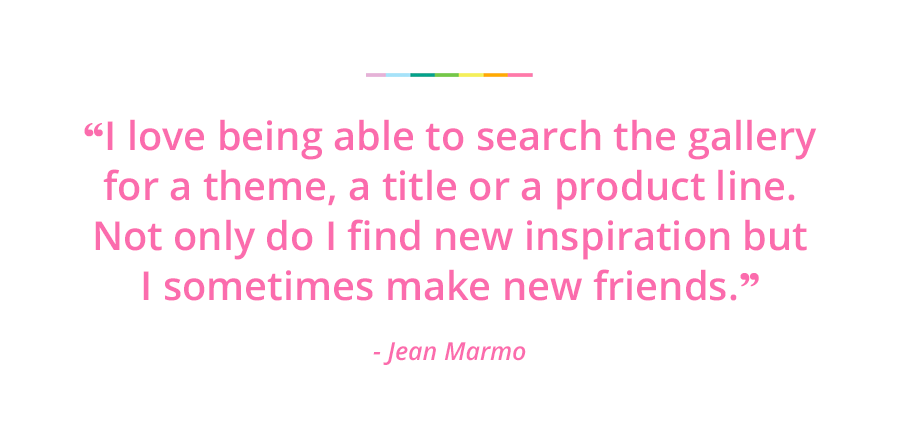 Emphasis on positivity and encouragement for both uploaders and commenters
The world needs more positivity, and the Scrapbook.com Gallery is the perfect place to share encouragement and lift others up! This new gallery has a huge focus and emphasis on positivity and encouragement for both you as an uploader and you as a commenter with the 'Give a Cheer' functionality.
Choose a reaction to show how you feel about a project in the gallery with a simple, fun emoji.
Personalize your cheer with a colored background for your comment or reaction. How fun is that!
Write a compliment that encourages the crafter, and let them know just how much you loved their share.
It's so fast and easy to spread cheer throughout the gallery, whether you are on desktop or mobile. Giving a cheer, instead of commenting or adding up votes, really focuses on positivity and allows everyone to feel encouraged and included in the wonderful crafting community that Scrapbook.com has enjoyed since 1999!
Now, it's time for you to explore the inspiring Scrapbook.com Gallery. Please remember, we are still implementing certain features and updating some functionality.
A few features we are currently working on include:
Updating how 'Trending' is currently sorting and refreshing
Adding the ability to categorize/group and sort your favorites/hearts.
Additional updates to the categories page to make it easier to find the categories you are looking for.
Much more!
If you have any questions or suggestions for our new and improved gallery - please email [email protected]. We are listening and want to hear from you! Happiness is Life Handmade!
-The Scrapbook.com Team
---