This article was written by Scrapbook.com's founder, Jill Davis. She shares her vast craft room organizational knowledge with you as well as lending key organizational insight from a true organization professional, Stacy Boatman. Shop the entire Scrapbook.com store for all of your craft storage and organization needs!
Materials Needed for Organizing Alphas and Numbers
Containers
File Folders (optional)
Label Maker
The Challenge of Getting Your Alphas and Numbers Organized
You may find the task of organizing your alphabets, punctuation, and numbers into one place in your studio a challenge. To get all alphabets, punctuation, and numbers into one place, you'll need to create an organizational system that will help you see what you have so you can use them with ease.
This article's focus is on alphanumerics (referred to as "alphas" in this article) which are letters, numbers, and punctuation in the form of stickers, rub-ons, metal, chipboard, acrylic, felt, etc.
four different forms of alphas we might find in our studios
Flat - Stickers and Rub-Ons
3-D - Metals, Chipboard, Foam, Fabrics, etc., and "Booklets" of Flat Rub-Ons
Digital - Fonts
Stamps - Clear, Foam, and Rubber
Flat alphas and stamps are often stored differently than three-dimensional alphas and fonts. I suggest you purchase some font sorting software to help aid in the process. If you're content with how you use fonts, then a visual cue of typography showcased in your alpha center might be all you need to remind you to consider a font when choosing an alpha for layouts.
Where to Locate Your Alphas
If you keep all of your alphas in the same location, you'll have an alphanumeric center - and we know that centers are a productive use of space. There can be separate systems and boundaries within your overall alpha system too. Systems might be flat alphas sorted by color, some organized by size, others by a manufacturer, etc. To limit yourself, consider not purchasing any more alphas until you've made ten layouts with that you already have, and then purge once a year. So where to store your alphas is a decision based on your needs, space, and preferences.
How to Organize Alphas
Alphas can be sorted and organized by the following categories:
Color
Material (What are the letters and numbers made of?)
Manufacturer (Who made them?)
A combination of color and material
The way you use alphas when scrapbooking is the best determining factor for how you organize your collection. Try to think back to your last layout with alphas: do you remember how you chose the letters you used for the title? Was it one of the ways mentioned above, or a combination of both? Stacy stores stickers and rub-on alphas by color. Her sets of 3-D alphas are sorted by color also, and the remaining loose 3-D alphas are sorted by letter. This approach and system works for me, too!
First, let's look at how flat stickers and rub-ons fit into a system. To me, any alpha set that is attached to a flat backing sheet )via adhesive) is a sticker. So that means chipboard alphas in sheets are stickers even though they're made of chipboard. If alphas can't be easily broken apart from the backing they are probably adhesive backed, which prevents them from being stored on their own. They are then also considered to be a sticker. Since rub-ons have a protective backing and are flat, they are considered a sticker for organizational purposes as well.
Organizational Storage Options for Storing flat alphas and rub-ons
Totally Tiffany/ScrapRack System (This is a complete storage system that works well for studio organization.)
3-Ring Notebook
Hooks in Pegboard
12" x 12" Multi-Drawer Storage Chests
Expandable Files (Great for crops!)
Hanging File Folders (Hanging on a rolling cart or a file drawer.)
Bin, Basket, or Box (This works great for boxed alpha sets or "books" with pages of rub on alphas and numbers.)
Paper Holders (Ideal for 12" x 12" sheets of adhesive-backed or perforated alphas ready to "punch out.")
Organizational Storage Options For Storing 3-D Alphas
For 3-D alpha storage, you'll need to first figure out the method you want to sort by. For example, by color, set, letter, or material. Once you make your decision, you'll be able to focus on what kind of storage and size you'll need. 3-D storage options might include:
Totally Tiffany/ScrapRack System
Small Jars in 3-Drawer Chests
Bags in Photo Boxes
Multi-Compartment Organizers
Muffin Tins
Spice Jars or Open Bowls
Zip-n-Flips
Tackle Boxes
Labeled Envelopes - I've seen large envelopes hole punched and placed into a notebook alphabetically, as well as envelopes placed in a photo box in alphabetical order.
File Cabinet Drawers
Altered and Repurposed Cigar Boxes
Storage Systems for Alphas
Stacy is passionate about alpha stickers. To contain her collection, she has two file drawers dedicated to stickers and rub-on letters. These drawers hold all of her non-book-style alphas. She has them behind plastic divider tabs, sorted by color.
My flat stickers and rub-ons are organized by color and I have categories of vintage and specialty. Labeled dividers separate each group of colored or categorized stickers. Larger 12" x 12" sheets of alpha stickers that are adhesive backed or perforated are stored safely on a shelf near my Alpha Center in Storage Studios paper containers.
Multi-Colored Alphabets and Monogram Stickers
Alphabets and numbers with multiple colors on each letter or sheets of letters in different colors can be stacked in baskets on a shelf, or filed under a "Multi" divider in a file cabinet. Stacy stores hers in a basket on a shelf with large monogram stickers, and I file my multi-colored alphas in my file drawer. Large monograms go into alphabetical bags with my jumbo chipboard alphas.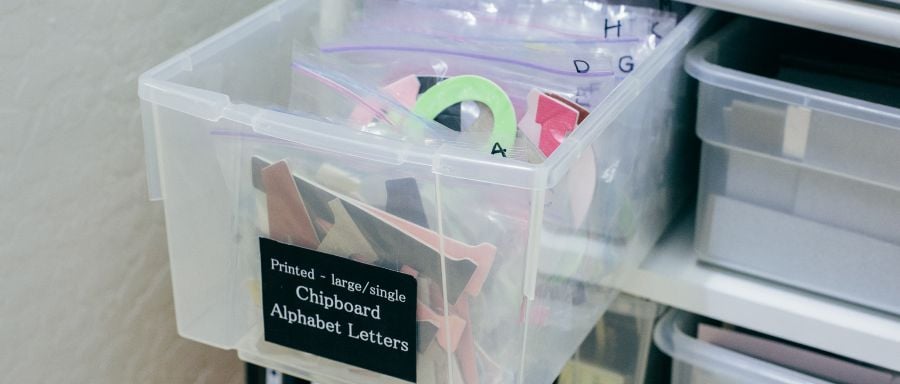 Rub-on Packs and Booklets
To contain packs and booklets of rub-ons, Stacy uses a carved wooden planter she found in the garden section of a local store. My rub-on booklets share a bin with foam alphabet stamp sets in my alpha file drawer.
Loose Alphas
When alphas aren't in sets or stored with naked chipboard, Stacy sorts them by letter. She started storing them in a hardware bin about 15 years ago and then moved to a drawer unit about seven years ago (I did this too). Each loose letter, punctuation, and number (no matter the material) goes into its respective drawer.
I was given several wooden cigar boxes that had been covered, but stored outside. They were quite dusty and the paper hinge on the lid and edge reinforcements were worn. I was so grateful to receive them because I knew they'd be perfect in my studio to hold loose alphas—one letter or number (and all punctuation) per box. I had space on a shelf in my Alpha Center where all of them would fit in stacks. I cleaned them and altered the outsides with different vintage-style patterned papers. The new papers reinforced the worn and weathered original paper. I added a metal label holder on the same end of each box. The label holder on the bottom box of each stack has a handle which makes it easy to pull the whole stack forward so I can get the box I need. I put labels on each label holder and fill each box with its respective group of alphas. I also found some fun alphabet blocks (also available in numbers) that could also be used to label the boxes.
Jumbo loose chipboard letters can be sorted by letter, placed into zip-style bags, and stored alphabetically and numerically in a bin. My bin is located next to my raw chipboard alpha bin in the closet - near my Alpha Center. When I've used most of the letters sets, I sort the remaining letters into these bags, or into my altered cigar boxes.
Raw chipboard letters are in a bin in my closet. I wanted to keep all chipboard together (except for those loose letters and numbers in my altered cigar boxes.)
Stacy advises against breaking up sets into loose alphas if you submit layouts for publishing, unless you have a really good memory of who made all of your letters so you can give them credit.
3-D Alphabet and Number Sets
Stacy's 3-D alphas are mainly sorted by set. If they come in a one-color set she puts the sets into zip-style bags and stores them by color in photo boxes. Each photo box holds one color, so she can find what she needs quickly. Alpha sets (in boxes and bags) fit into an alpha bin in my closet.
My mini 3-D alpha sets have their own altered cigar box. I have a limit to how many sets fit into this box so I must keep the purchase of small sets to a minimum and/or use them often to make room for new.
See how mini alphas can be easily organized by checking out Scrapmaster's Paradise article called How to Organize Mini Alphas (Alpha Stickers).
More Alpha Organizational Insight
Alphabet stamps are generally grouped with image stamps in Stamping Centers. Because my alphabets, numbers, and punctuation are located in my Stamping Center, it worked out wonderfully for me to store my alpha stamps in with my alphanumeric system. When I need a letter or number on a layout, I can go to this center and see alpha options I may not have considered.
Alphanumeric Stamp Sets
My alphanumeric stamp sets are grouped in numbered file folders and in numbered boxes. They are stored in my alpha file drawer. If the set is made of rubber, I trim it down as close to the stamp image as possible using serrated scissors. I add the fuzzy side of adhesive-backed Velcro to each stamp back. Strips of the hook side of the Velcro are placed in rows inside the laminated file folders. The strips are strategically placed so when the folder is closed, the rows on one side fit between the rows on the other. Stamps don't get stacked on top of each other but rather, between one another, saving space. Depending on the size of the stamp set, I may be able to fit several sets into one file folder.
I attached hook-sided Velcro to several different sized wooden stamping blocks. When I need to stamp a word or date with a rubber stamp set, I remove the letters from their laminated folder and place them how I want them on the Velcro-covered wood block.
Clear acrylic stamps generally stay on the acetate sheets they come attached to. I number each set and place them in a laminated file folder. When Velcro wasn't added to my rubber stamps, I used EZ Mount, which turns them into a cling stamp. To gain a better understanding of how EZ Mount is added to rubber stamps, give Top Tools for Stampers a read. It's easy to use and can revolutionize the way you use your rubber stamps, as well as the way you store them.
I also have some clear plastic inserts I cut from clear file folders to add stamp sets to. The file folders could be used as they are, but I wanted them to fit into my laminated folders as a heavy duty insert. I store additional sets on them and I can fit several sets into one file folder. I sometimes stick some of these stamps directly onto the lamination of a folder if I need to.
A sample "A" and the number "5" from each stamp set are stamped onto a Rolodex card and placed in my Rolodex system; divided by letter style or type. When I want to use stamps for my titles, I can quickly look through my Rolodex to find a set that will work based on style and size. I can pull the card out and place it on my layout to check proportion. If it will work, I check the file folder number that's on the Rolodex card and go to my file drawer to locate the file folder with the set I need.
For further craft space/studio organizing tips, take some time to read the Arts Business Institute's article called 10 Quick Tips to Organizing Your Studio.
Summary
Knowing where all of your alphabets and numbers are makes it fun and easy to use them. Your alphas and numbers will be tidy and neat in no time!
---
If this article was helpful, give these a try...
How to Organize Embellishments
Decluttering and Organizing Your Craft Space
How to Organize Paper and Chipboard Die Cuts.
If this article spoke to you, then you'll love Get Organized, our free organizational class that this article was inspired by! Learn how to organize your craft space in a way that works for you by learning tips and tricks from organizational experts. Sign up for Get Organized today!
---