If you've ever wondered what thickness paper or cardstock you need for what project, you're not alone! Crafters all over the world refer to paper weight and GSM to know the thickness of their paper crafting materials and how they can best be used.
We're going to explain everything you need to know about paper weights!
No, we're not talking about a super heavy desk ornament meant to secure a sheaf of papers from flying out the window - this article is all about the different thicknesses of paper & cardstock for crafting.
In this article, you'll learn:
What the term 'paper weight' means
All the types of paper weights for crafting
What paper weights are recommended for your particular project/use
What Does Paper Weight Mean?
The paper weight of a single sheet of paper signifies how heavy that particular paper is. Lower weight papers are usually thinner, and heavier weight papers are usually thicker. Easy enough, right?
So how much does a single sheet of paper really weigh? No need to bust out the bathroom or kitchen scale for this one. In the United States, paper is measured in pounds, while internationally, it is standard to measure in grams per square meter (GSM).
U.S. & International Paper Weights
U.S. paper weight is determined by weighing 500 sheets of paper (also known as a ream) and stating how much it weighs in pounds. In the U.S., this can get a tad tricky since not all papers are the same size in length and width when they're measured.
International paper weight is determined by taking the weight in grams of exactly one square meter of paper and stating how much it weighs. Weighing paper in grams per square meter (GSM) literally gives you the weight in grams of just one single square meter of paper.
Is Thin Paper Lower Quality?
A paper's actual paper weight does not necessarily indicate the overall quality of the paper. Just because a piece of paper has a low paper weight does not mean it isn't of high quality, just that it doesn't need to be thick. Conversely, just because a piece of paper has a very high paper weight doesn't indicate that it is the best of the best.
Equal Weight = Equal Thickness?
Paper weight or GSM is not always a measurement of the actual thickness of a single sheet. If you compare two sheets of paper made with different materials, both could measure the same weight but be two different thicknesses. It all comes down to cardstock composition. It's important to remember this with all the wonderful brands and designers that produce paper & cardstock for crafting.
Just because you love the thickness of one brand's 110lb cardstock does not mean it will be exactly the same as a different brand's 110lb cardstock.
Just because you love the thickness of one brand's 110lb cardstock does not mean it will be exactly the same as a different brand's 110lb cardstock. Especially since all manufacturers do their own measuring.
Types of Paper Weights
Light Weight Paper
Anywhere from 10-55lb paper weight
Thin pages often found in bound books or regular printer/copier paper
Very flexible & easy to manipulate, fold, rip, etc.
Can be used in most home printers
Medium Weight Paper
Anywhere from 55-85lb paper weight
Often used in standard greeting cards
Should be scored before folding to avoid creasing / breaking
Great for layering on cards & photo mats for scrapbook layouts
Can be used in most home printers based on specifications / settings
Heavy Weight Paper
Anywhere from 85-120lb paper weight
Often used in thick greeting cards as card bases
Must be scored before folding
Perfect for a scrapbook layout background
May be incompatible with most home printers
Extra-Heavy Weight Paper
120lb and up paper weight
Typically used in gift boxes & book covers (also called chipboard)
Preferred for watercolor & mixed media
Can only be used in commercial packaging printers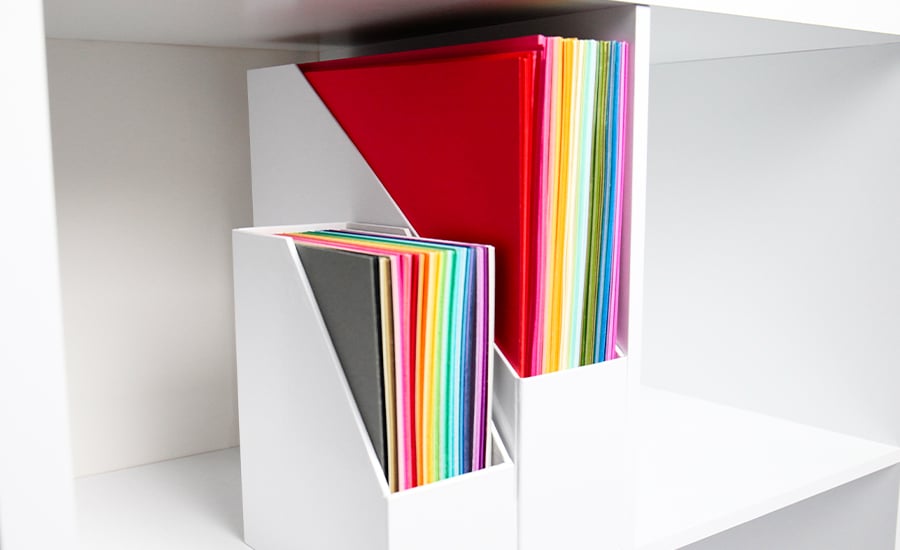 Store every paper weight in your stash in our Craft Room Basics Paper Holders. We have several options available for organizing your collection of paper, cardstock, chipboard, and more!
What Paper Weight Do I Need?
20lb / 75gsm
This weight of paper is thin, light, and pretty standard in everyday printing projects at home or at the office. You can find it in standard notepads for jotting down a quick reminder or grocery list. It's also a good, thin material for layering as well as origami!
35lb / 132gsm
Only slightly thicker than your standard copier paper, this thin paper can be printed on without showing through to the other side. Don't rely on it to hold too much weight though - this would not be ideal as a card base or 12 x 12 layout base. This is great for photo mats, card layering, and die cutting.
65lb / 245gsm
Here's where thin patterned papers come into play in the world of paper crafting. Many lightweight cardstocks, scrapbook papers, and drawing papers are typically 60-65lb in coverweight. These are still on the thinner side, so be careful with embellishments and liquid adhesive. Great for die cutting & embossing.
80lb / 300gsm
If you're looking for a solid card base or sturdy layout background, you've reached the right thickness. This paper can hold liquid adhesive, embellishments, and even some light mixed media elements. For real-world reference, this is the same weight as a business card. This is the best thickness for intricate, detailed thin metal dies.
Scrapbook.com's 5-star rated 85lb Paper Pads fall in this category and are perfect for so many projects!
90-110lb / approx. 352gsm
For high-quality invitations & momentous announcements, this is your go-to paper weight. This is thicker cardstock that can hold up to heavy embellishments, all kinds of paint, mousse, paste, ink, mixed media mediums, and more. 110lb paper is an essential go-to for card makers who love layers & embellishments or making DIY gift boxes. This thickness is not ideal for your die cutting machine and thin metal dies but would look amazing with 3D embossing folders.
140lb+ / approx. 440gsm+
Painters, mixed media artists, heavy inkers - this weight of paper is for you! Most watercolor papers and mixed media papers are this thick to avoid buckling and warping under the use of liquid mediums. So feel free to get as artistic as you feel, knowing this thickness of paper will support your creative genius!
Hopefully, we've shed some light on the topic of paper weight, so you know exactly what weight or thickness you need for your next handmade card, scrapbook layout, notebook, journal, tag, or mixed media creation.
Want to learn more about paper? Don't miss these articles:
Everything You Need To Know About Paper
5 Reasons You Need These Paper Pads
How To Organize & Store Your Scrapbook Paper
---