A trip to Disneyland can be of time full of magical wonderment! For the scrapbooker, it is a great place for recording memories. Any trip to Disneyland must include photographs – and lots of them. There are many things to photograph at Disneyland! Here are some ideas to get you started.
Candid Shots
Some of my favorite Disneyland shots are not the park itself but the people in the park. Keep your camera handy for candid shots of the people in your group. Consider photographs of your group doing ordinary things such as standing in line, eating a snack, running to an attraction, talking to a character or just hanging out on a bench. Each of these can capture their natural reactions to Disneyland.
Characters
Whether you are old or young, photographs with Disneyland characters should be fun photographic subject. Take them as candid photographs if possible, but you can ask your subject to look at the camera or do something active to achieve a nice photograph as well.
Attractions
Attractions at Disneyland are fun to photograph. From the lines to the rides themselves, they are full of photographic opportunities. There's no need to be bored in line as you can take photographs of so many things while waiting. If you can stand in an area near the ride or behind your companions, you can take photographs of them on the ride. If that is not possible you can take a photograph of another group of people and use it in your layout. For example, I couldn't get a photograph of our boat in the Jungle Cruise, so I used my time in line to take photographs of another group on a boat. While it is not my group, it does show the ride better than if I had taken photos of the boat while being on the ride.
Portraits
Alternatively, you can arrange people in front of an attraction or a site and take their photograph. Portraits in front of the castle, Rivers of America or the entrance to a favorite ride make good shots. Remember to arrange people so everyone is visible, create a triangle shape if possible and keep them smiling. If you frequent Disneyland often, repeat the photograph over the years for a great comparison.
Entertainment
Don't keep your camera hidden during the shows. There is usually enough light to get some good shots. To get the best photographs, find an unobstructed view. This may require finding a spot quite early. If you have a favorite show, then take lots of photographs of it. If you want to compare shows such as Fantasmic! and World of Color, then take a few photographs from each one. The parades, especially at night, can be particularly colorful!
Food and Drink
No matter where you eat at Disneyland, take photographs of the food as a way to remember your meals. Don't forget the snacks! If any of the food or drinks were memorable, do a layout about your experiences. On our last Disneyland trip, our friends had the hardest time getting a Dole Whip. Stories like this along with a photograph can make a memorable scrapbook page.
Details
One of the fun things about Disneyland is the architectural detail around the park. It is different from the typical amusement parks. Even the lines of some rides are full of detail to take in. At California Adventure I noticed some benches that had sea horses on them, so I photographed them. At Disneyland's Toontown, I noticed unique statues and documented them through a series of photographs. These details can be collected into a layout. During one visit, I took photographs of the various signs that you see as you enter the rides.
Atmosphere
Stand back and observe what's happening at Disneyland. If you can access a location high up or somewhere off the beaten path like Tom Sawyer's Island, then do so to take a look at the land. Notice the atmosphere around you and try to record it with your camera. Is it crowded? Are people rushed, happy, or peaceful? What are people doing? Are there lines at particular rides? What's the most popular ride/restaurant, event, etc.? Taking photographs from a farther away vantage point can give you a better idea of the overall park experience.
Evening Shots
For evening and night photographs, go without a flash if possible. If the ride lights up, you can often use a lower shutter speed than recommended. Try different speeds to get the effect you like. It can be nice to take photographs of the same ride several times throughout the evening. The effects can be different at different times and you may prefer one look to the other. Alternatively, you can use the different shots to highlight the changes over the evening. At California Adventure, I took three shots of the Sun Wheel during the evening for contrast.
Where to Print Your Photos
After the adventure of photographing your event and making the memories has concluded, there comes the task of printing your photos - which can be just as much fun, providing the prints are what you had in mind. Nowadays, there are many options for printing photos, from your own printer at home, to somewhere like Wal Mart or Walgreens up the road. At Scrapbook.com, we love the quality of Persnickety Prints prints. They are an online printing service, so the photos show up right to your door and are definitely worth checking out.
Summary
Be prepared for a day at Disneyland with your camera. Keep it safe from water and the crowds, but also have easy access to it. A great suggestion would be to bring a small camera bag that can also hold the necessary contents of a purse. That way, I don't have to carry two bags and I can access my camera easily. Keep your supplies simple with lenses and other accessories. If you see a shot that you really want to take and know you'll be returning to the park the next day, plan your photograph ahead of time so you're sure to bring the right supplies. Consider using a Disneyland locker to store some of your supplies so you don't have to carry everything all day. If you have certain shots you want to take, then make a list and refer to it throughout your day. Sometimes you can get so busy moving from attraction to attraction, you can forget to pull out your camera. Your list will help you stay focused.
A final piece of advice – when you think you have enough photographs, take more! You can always delete them or not use them, and you don't have to print them all. You don't always know what you will need in order to coordinate with your layout ideas or journaling. More is always better! Take your camera to Disneyland and enjoy the many photographic opportunities.
Like This Article? Then You May Also Like...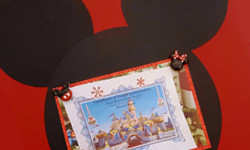 ---