It doesn't need to be January 1st for you to decide that organization is something you want to get just a little bit better at. But when it comes to deciding how to really get on track, it can sometimes seem impossible to know where to start.
Let us take the guesswork out of your organizational ambitions and get you started on a path to planning, organizing, and keeping everything running smoothly, all in one helpful place: a planner! Even the NY Times recommends putting down your phone or tablet and keeping a physical planner to stay on track.
Let's start by exploring some of the most popular brands of planners!
The Happy Planner by MAMBI
The Me and My Big Ideas brand (affectionately known as MAMBI) leads the pack when it comes to well-known planners. They believe in offering a variety of different planner options in a multitude of sizes, themes, formats, and more because every single person is unique, and so are their planning needs! They design Happy Planners to make planners happy!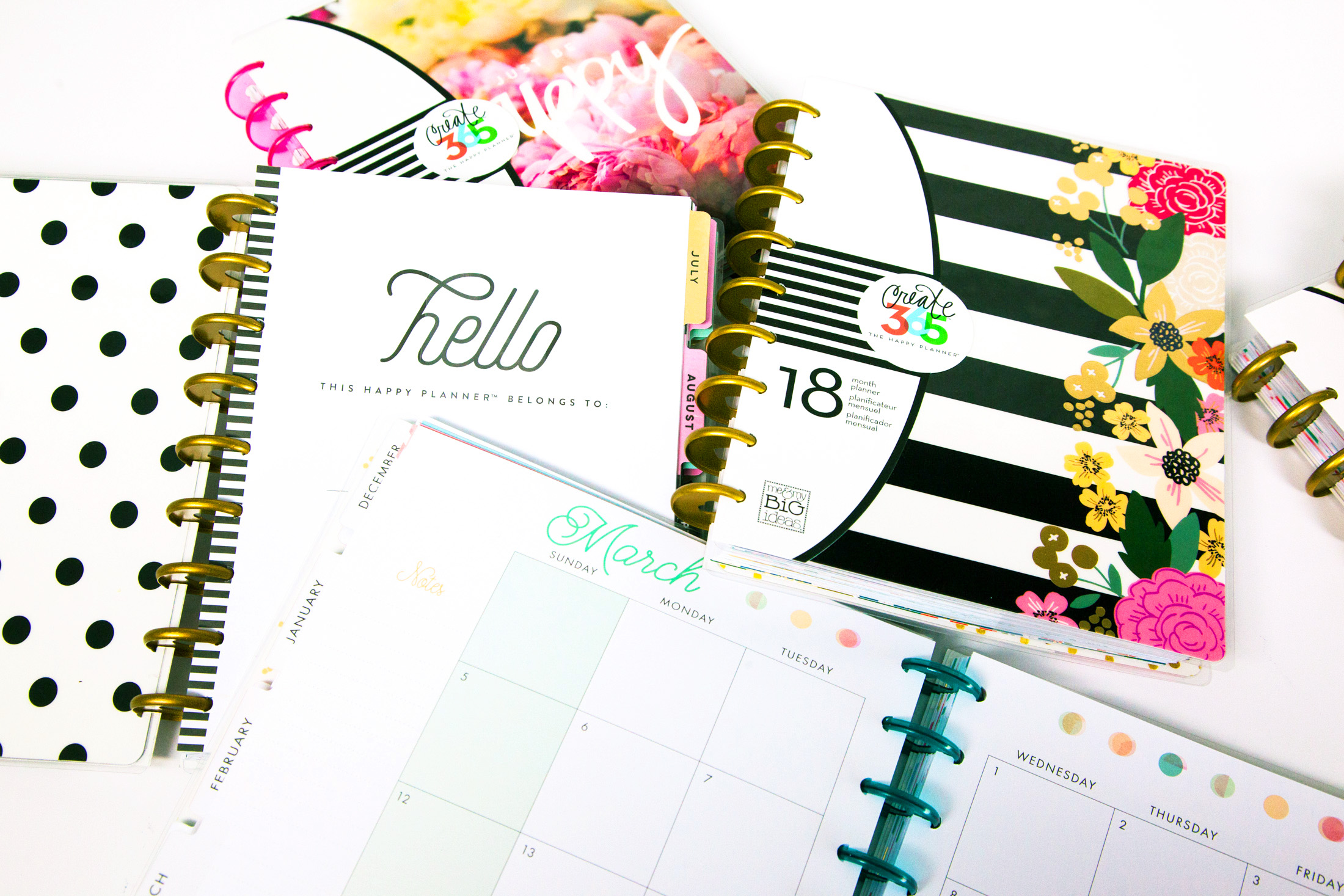 Because The Happy Planner wants to make planning as easy as possible, especially when you're first starting out, they have some wonderfully helpful videos to guide you through the process.
Step 1: How to Choose Your Planner
MAMBI planners come in three different sizes: big (9" x 11.25"), classic (7" x 9.25") and mini (5" x 7.25"). Choosing a size is entirely dependent on your planning needs and personal style or preference.
No matter what size you go with, you have two different page style options to choose from. The vertical daily layouts look more like a calendar with several boxes that you can fill in for each day. The horizontal layouts allow for more freeform or journal-style writing for each day of the week, with several lines of text given in a weekly layout.
One of the best things about The Happy Planners are how many themes, color schemes, or options are available. There is a rainbow of color options, patterns, and uplifting phrases on the front of the planners so that you feel stylish, awesome, and motivated to keep on planning!
There are even some specialized theme planners offered by The Happy Planner for budget and finances, faith, health and fitness, teacher, student, and recipes/cooking.
Check out this helpful video for an exclusive preview of each type of planner.
Step 2: How to Customize Your Planner
Once you pick out a planner, the fun doesn't end there. The unique discs or rings that hold the planner together are extremely versatile for adding and removing pages, sections, and accessories to and from your planner.
Did you start planning mid-year? No problem! The discs allow you to gently remove the sections of the year you don't need. Did you get inspired and need an additional section for journaling or planning an idea or event? Wonderful! Just slip a few new pages onto the discs in seconds and you're all ready to go!
Customization options are nearly endless. Add extension packs, dashboard dividers, new sections, notepaper, photos, pouches, notecards, and more! And if your planner is getting jam-packed full of awesome plans, you can simply slip on some larger discs and give your planner a little more wiggle room.
This video shows you exactly how simple it is to add and remove sections in your planner.
Step 3: How to Accessorize Your Planner
When it comes to planning, there are no rules! So be as creative as you want to be and allow your imagination to run free while you're accomplishing goals, making game plans, and staying on track. Grab some washi tape, stencils, stamps, stickers, sticky notes, clips, pens and more and have some fun.
MAMBI has a world of exciting accessories for you to choose from for their Happy Planner collection, but you can mix and match from anywhere inspiration strikes. Use some creativity, personality, and ingenuity to accent and create a one-of-a-kind planner that you can't wait to work in!
Check out accessorizing in action and get some wonderful ideas for your planner!
Carpe Diem
The popular patterns and color schemes you love can be found in the wonderful line of Carpe Diem planners. Their most popular line of planners are made of high quality simulated leather with a six-ring binder spine, sturdy snap button closure, pen loop and multi-pocket system inside the planner. The Carpe Diem line has some beautiful planners in two different sizes: A5 (8" x 9.4") and personal (6.5" x 7.5"). They also offer a couple spiral-bound, dated planners for those that prefer simplicity and everything all in one place, ready to go.
One of the best features of the Carpe Diem planners is that they're sold in boxed sets, which include inserts and accessories and also 'a la carte', which is just the planner by itself so you can choose what you want to put in it.
The boxed sets vary slightly in contents depending on which one you go with, but have everything you need to get started on your road to planning - all in one place! You'll have your beautifully-designed planner, dashboard dividers, your calendar inserts, monthly tab dividers, weekly inserts, and tons of stickers too! This is such a wonderful way to get everything you need and get started without wondering what inserts and accessories are needed.
If you're looking for some additional customization, Simple Stories has an extensive collection of stickers that will make your planner even more adorable. You can fill your binder with stickers of dates, months, cute accents, inspirational phrases, and so much more! Or, you can get even more creative and use their paper collections to add wonderful themes for each month!
Carpe Diem has so many beautiful planner collections that allow for seemingly infinite customizations. This ability to mix and max however you choose is the perfect way to start a fresh plan with supplies you may already have in your stash.
Check out Layle Koncar's video that walks you through the three different types of Carpe Diem planners:
Webster's Pages
With Webster's Pages, it can be easy, it can be fun, it can be both! And that's a fantastic approach to planning, especially when you're just getting started. You'll instantly be crushing on Webster's Pages' Color Crush planner collection, which is filled with colorful planner options in both A5 (7.5" x 10" x 1.75") and personal (5.5" x 8") sizes.
Their planners are 6-ring binder style, made of leather, and can have inserts, dividers, calendars, and a daily page tab marker inserted in any order you choose.
Webster's Pages has made customization easy with binders available by themselves for you to customize to your heart's content, or as kits that have everything you need to start planning your school year, next project, wedding, or daily activities.
The boxed kits make wonderful all-in-one jumping off points when you're not sure what you need to get started. It also makes a great gift for your child or grandchild going off to college!
Heidi Swapp
Heidi Swapp is a designer and a brand that you've grown to love over the years for her ingenious tools, gorgeous-patterned collections, and fantastic line of products for creating brilliant projects. Heidi infuses creativity and imagination into her line of Memory Planners, which makes it so easy to fall in love with them.
Heidi offers a wide variety of planners in different shapes, sizes, styles, and colors because everyone plans differently. Choose from spiral-bound hard-cover planners filled with undated calendar pages and tabs for different months of the year, or binder-style planners with rings that allow customization of inserts, dividers, and accessories.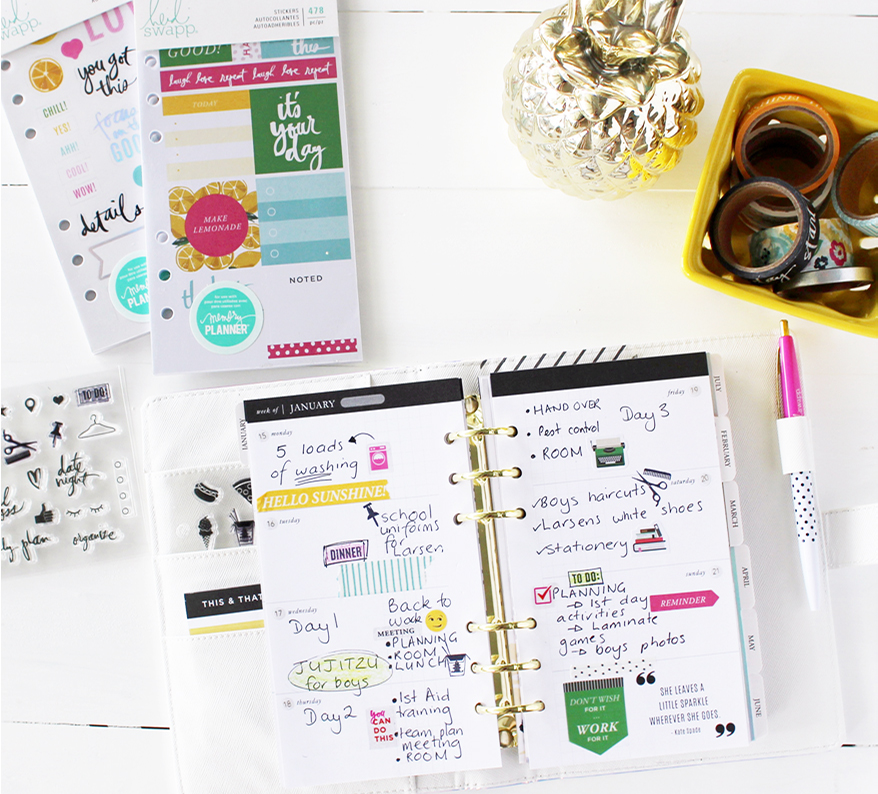 One of the best parts about Heidi's line of planners is how stylish they are. Filled with Heidi's classic black and white stripes, bright colors, fancy flourishes and blooming florals, these planners are just too fashionable to ignore. With fun cover phrases such as "okay, let's do this", "focus on the good", and "never stop dreaming" available, Heidi helps you find the motivation you've been looking for.
You'll be too in love with your new Heidi Swapp planner to stop planning once you pick one up!
Paper House Productions
The design team at Paper House Productions has over 30 years of experience in creating unique and evocative images for exceptional quality products that appeal to crafters of all ages. This is especially true when it comes to their line of Paper House planners.
From Harry Potter to unicorns and Wonder Woman to mandalas, Paper House has planners for little ones, teens, and adults to get on track. These spiral-bound notebook-style planners are constructed out of heavyweight, durable materials on the outside of the planner as well as the inside to ensure they withstand the test of time, even when thrown in a student's stuffed backpack.
The planners are known for their colorful and laminated dashboard dividers, monthly calendars, as well as a variety of weekly planning designs depending on the theme. Almost all of them also come with over 100 planner-themed stickers for you to get started on filling in the months, days, important holidays, and simple planning reminders.
Many of the Paper House planners have individual spaces for daily notes, daily goals, and other daily reminders such as gratitude and things you're thankful for. The student planners even have spaces for tasks and study goals. The teacher version has information pages for student contact information, special events, and important reminders during the school year. And for those scholarly wizards, the Harry Potter planners have a special section just for spells!
The Paper House Productions planners are an all-in-one that are bound together and won't come apart for extras, accessories, and inserts. No need to worry about finding all the right pieces to have everything you need from a planning perspective, since these notebooks are a one-and-done purchase that have you ready to plan.
These incredibly solid and whimsical planners are great for the go-getter, busy mom, studious pupil, diligent teacher, big boss lady, or anyone in between that needs some simple planning in their life.
---
Great Ideas For Your Planner
Now that you're getting familiar with the types and brands of planners, it's important that you know that there are really no rules when it comes to using a planner.
Sure, the traditional use is jotting down doctor's appointments, remembering when you have assignments due, when it's your day to bring snacks to the soccer game or have important meetings at work. But that doesn't have to be everyone's game plan.
Inviting a planner into your organizational routine is also an invitation to write your own rules. Here are just a few creative, unique ways to use a planner.
Memory Planner
Combine scrapbooking and planning into one unique concept with your photos and your memories all in one memorable place. So while you're putting down reminders for activities and life events, you're also experiencing them, living them, photographing them, and then adding those photographs and stories or anecdotes straight into your planner. Before you know it, you have a colorful, touching time capsule of sorts filled with unbelievable experiences and one-of-a-kind stories.
What makes memory planning different from scrapbooking? Well, you may be experiencing events or activities on a day-to-day basis that wouldn't necessarily fill an entire 12" x 12" layout, but it certainly made you smile and was something you wanted to remember. It's also a creative and imaginative way to leave memories for future generations to look back on a "day-in-the-life" of their relatives.
Faith Planner
Bible journaling and faith journaling are becoming increasingly popular, and so is having a planner all about your faith, religion, and God. Keep track of church events, Bible study classes, and keep track of all your prayers for the week in a beautiful, organized planner.
Brands like MAMBI, Carpe Diem, and Bella Blvd specifically design planner products like inserts, dividers, stickers, and accessories all themed on faith and inspiration. Not only can you detail the daily inspiration you've found in the world, but also what you're praying about, grateful for, and the guidance you've found in passages in the Bible. And you can accent these amazing revelations with colorful faith-themed stickers, clips, notes, and more!
Fitness Planner
Sometimes motivation is hard to come by when you're on a diet or exercise regimen. There's no reason why planning can't be fun and motivating when your ultimate goal is to be more active, go to the gym on a schedule, or eat a little healthier.
When you take the time to plan out your plan of attack for the gym or your meal schedule, you motivate yourself to act with integrity and fulfill your promise to yourself. Maybe you make a schedule to drink more water, or even just pick one day of the week where you skip the elevator or escalator and take the stairs instead. Make yourself accountable for your planned-out goals and stick to them.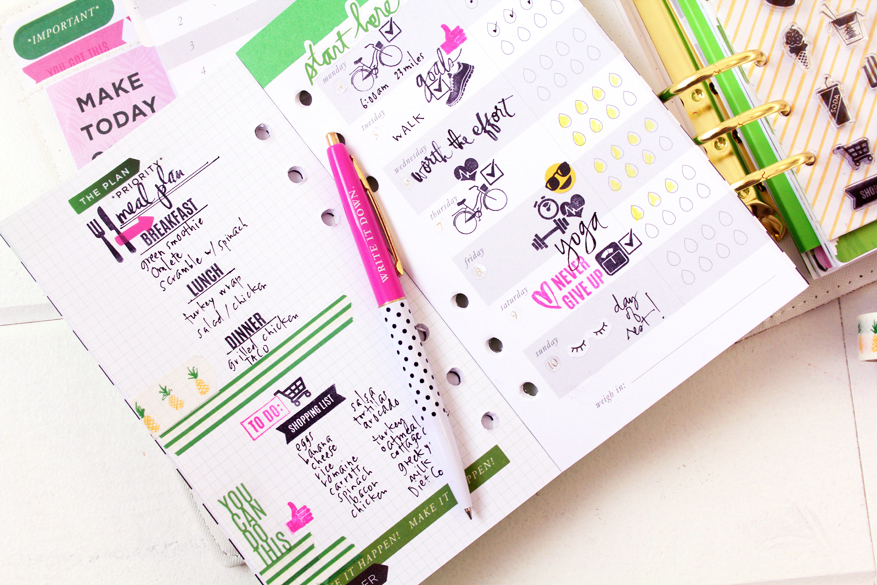 A planner is a great place to keep motivating phrases, ideal workouts or stretches, photo progress from month to month, and ways that you reward yourself for not skipping leg day or making great strides in eating healthier.
Speaking of sticking to your goals, there are loads of super fun stickers, stamps, and inserts designed specifically for fitness planning that you can add into your planner to make your fitness journey so much more exciting.
Recipe Planner
A planner doesn't have to be calendar-based and a recipe planner is a perfect example of that. How many times have you wished that you had a beautiful, organized place to put all your secret recipes, the signature dishes from your closest family and friends, and every recipe you've gotten out of your coworkers or church members? A recipe planner is the absolute perfect place!
Both MAMBI and Carpe Diem have designed special recipe planner collections for recording all those recipes for you, your family, or even as a gift for a new bride just starting her home cooking adventures. These insert sets have recipe cards, measurement conversions, pantry staples, fun section dividers, and so much more. There's even pockets in your planner for clipped coupons, shopping lists, and recipes you've cut from magazines or printed from online.
We know you're positively salivating just thinking about all the amazing recipes you can fill your recipe planner with. So get your prep work ready and the oven preheated for your main course: recipe planning!
Binge Watch Planner
With so many amazing TV shows, mini-series, documentaries and more streaming on your favorite service, it can be a little difficult to keep track of them all. Enter, the binge watch planner! Set up your weekly (and weekend!) schedule for catching up on the most popular binge-worthy shows that all of your friends, coworkers, and neighbors can't stop talking about.
Never get mad at your spouse or significant other again for watching ahead on your joint shows when you have a schedule for watching!
Don't need a whole planner for your TV-watching? This is a great section to add to a daily activity planner. Just insert a dashboard or divider and a couple pages for detailing each show, day of the week, time, and streaming service and you're good to go!
Income and Expense Planner
Nobody likes having to budget but it's one of those necessary evils when you're trying to stay on track and save up money for something fantastic in the future. Learn how to set spending and saving goals per day, week, or month, and then reap the rewards of your successes.
Having a planner makes it easy to keep track of upcoming bills and expenses (those due dates are important!) while you look forward to each exciting payday on your calendar.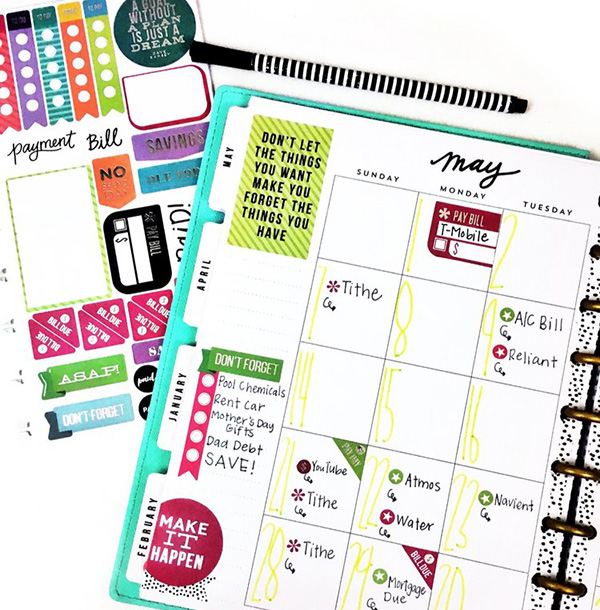 Plan out days where you pack your lunch instead of going out, and do a wonderful date night in with a home cooked meal and some streaming TV instead of heading out for a restaurant dinner and a movie. Check off each of these accomplishments as savings and they'll make you feel amazing.
And just think how fun it will be to put stickers or stamps on all your paydays!
Creative Crafting Planner
It's crazy how many holidays, momentous events, special occasions, and celebratory moments occur in a year. And when you're a card maker, it takes more than a good memory to get all your cards made and in the mail or ready to hand deliver by the special, important dates. Think about how helpful a crafting or card making planner would be for your schedule.
Got a lot of summer birthdays and don't want to get behind on your Christmas cards? A planner is a great way to stay on track through busy holidays and special occasion lulls. Want to give yourself a deadline to create a layout so you don't forget some of the great stories or moments you've captured in photos - write it down and plan out some creative time.
A crafting planner is also a great way to carve out some free time to catch up on all the projects you have running through your head. Schedule some time here and there to make cards or layouts in bulk so the next time your friend has a celebratory announcement or your family needs some well wishes, you have a project all ready to go.
A craft planner is also a great place to jot down all those wonderfully creative ideas you have for your craft projects. Color schemes, patterns, stamps, die cuts, you can work out all the fun basics or tiny details so that any time inspiration strikes, you don't lose a great idea! You can also write out what supplies you might want to pick up before you get started.
Vacation Planner
Who doesn't love going on vacation or a once-in-a-lifetime trip? Well, you can't get there without a little bit of planning. So why not devote a planner to getting all the details for that trip in order so you have the best time ever?
Get all your destination research, hotel comparisons, attraction reviews, and best restaurant suggestions down in one place so that you have the time of your life. Don't forget to keep track of important deadlines like booking flights, making reservations, renewing passports, getting travel insurance, and securing theme park tickets for the whole gang. And don't forget to order your custom matching t-shirts for the fam!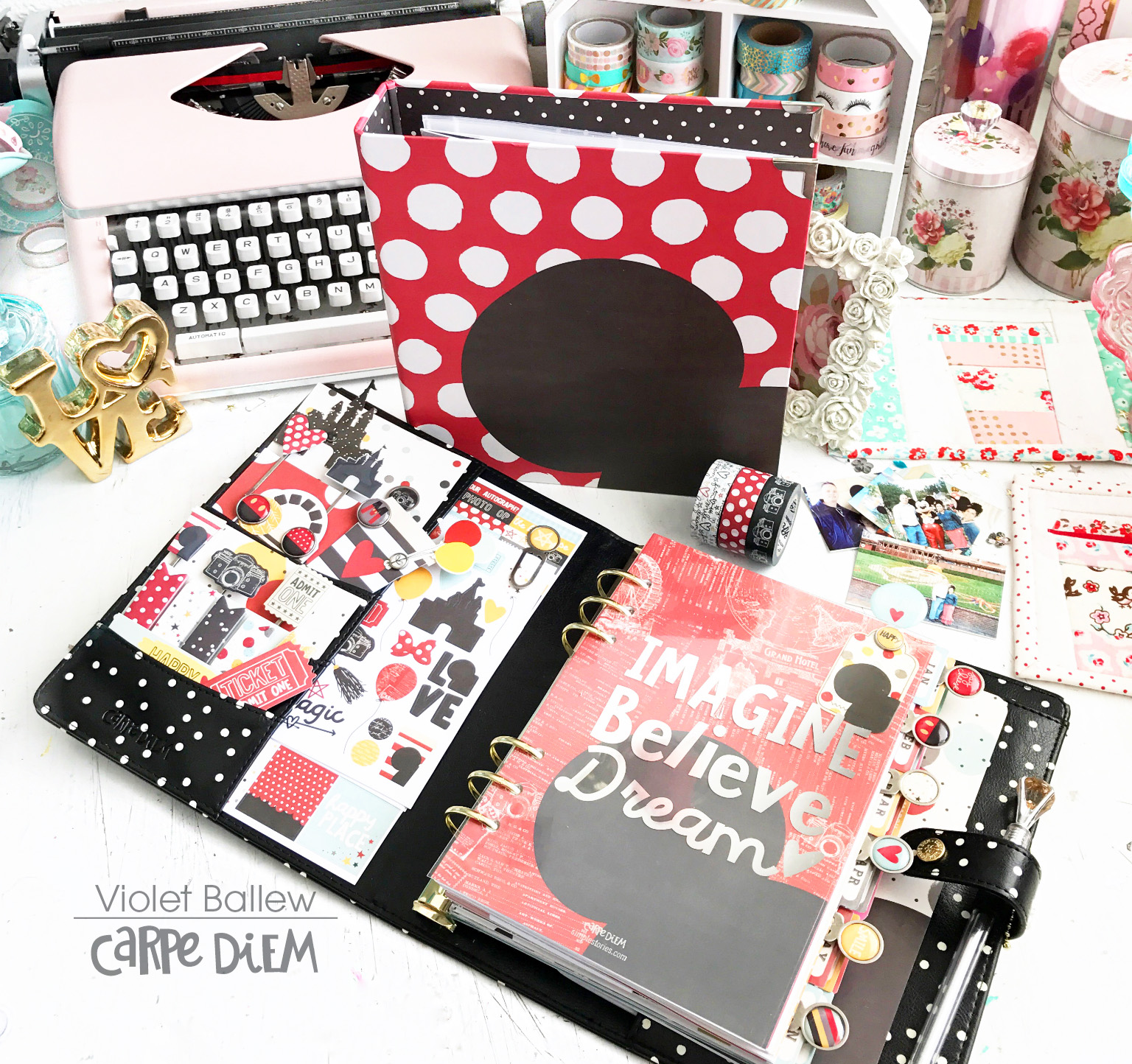 Having a vacation to trip planner is also an awesome way to both plan and journal all in one place. Record your trip memories and adventures in your planner with the right inserts and lined pages, and pop a few photographs in there as well!
Wedding Planner
Some people hire a Wedding Planner to get everything coordinated for the big day, but others like to DIY and get a wedding planner instead!
When it comes to planning a wedding, there are an immense amount of moving pieces that need to come together, boxes that need to be checked, appointments and confirmations that must be made, and all the tiny details that make a wedding the happiest day of your life.
Have everything for the big day all in one place as you list out deadlines, keep track of appointments, file business cards, insert magazine clippings for inspiration, make out the guest list and so much more. Don't leave anything to chance and get organized all the way up to saying "I do!"
To-Done Planner (Accomplishments)
Sometimes to-do lists are a little intimidating - one of our favorite designers, Dyan Reaveley is not a fan of them herself. Instead of making a list of things that need to get done and stressing out about them, flip the switch and create a to-done planner. Well, what's that? A "to-done" list is created and checked off at the same time. That way you get instant credit. You wanted to do something, you did it, so give yourself a pat on the back!
Before you know it, you'll have a whole planner or calendar filled with accomplishments that will make you feel fulfilled, successful and totally on track! It's also a fantastic way to be thankful for the little things. If you live a #goals life, then a to-done planner will make you feel totally accomplished. Achieve greatness and give yourself credit for the small things, one check mark at a time.
In no time at all, your small achievements will turn into larger ones, and then you'll have a whole year filled with greatness to keep you motivated and keep you going!
---
Now that you've learned about some of our favorite planner types and brands, and gotten some unique ideas on how to fill the blank pages in those planners, we hope you thoroughly enjoy getting organized and on track. Do you have a super creative theme for your planner? Let us know in the comments below!
Are you looking for more amazing ways to plan, journal, organize, and be creative? Be sure to check out our 10 Traveler's Notebook Uses You Need to Try Now!
---