Product Name: Silhouette America Pick Me Up Tool
Product Description:
The Pick Me Up Tool is a plastic wand complete with three handy tools - a small flat-edged scraper and a pointy micro tip (both housed on the same reversible end of the wand), and a tacky (as in sticky) nub with a cap. I wasn't able to find any "official" names for each of these tools, so we'll go with "scraper," "micro-tip" and "tacky nub" for the purposes of this review.
In Use:
It's like having tiny little elf fingers. Really! This tool was designed to be used with the Silhouette SD Cutting System to help you pick up and place rhinestones, scrape paper from your cutting mats, and perfectly place delicately-cut designs on your project. But just because you don't have a Silhouette SD (and why don't you? -- it's awesome!) doesn't mean you can't benefit from this multi-purpose tool.
Scraper - I really like this scraper edge for helping scrap extra paper off my SD cutting mat. It's sharp enough to get underneath even the thinnest paper. A flat edge like this also comes in handy when you're smoothing down tiny lettering or placing alphabet stickers on a project. I use this edge the most often.
Micro-Tip - I like this tip for poking holes in cardstock or ribbon, nudging tiny lettering for the "just right" positioning or simply smoothing down an element by using the rounded side edge (like you would a rolling pin).
Tacky Nub - You know the sticky tack that we all used to use for hanging up posters in our dorm rooms in college? That's what the substance on this nub reminds me of -- though micro-sized. When it loses its tackiness, you just peel it off and more flows through to the tip. Here's how Silhouette America describes how to use this tip:
Remove lid and twist to expose sticky tack.
Twist the other way to stop the flow of sticky tack.
Peel off old sticky tack as needed.
This little tip is perfect for picking up and placing tiny embellishments like rhinestones, dots for your "i's" and even beads. When your fingers are just too big to do the intricate work, it's the perfect solution.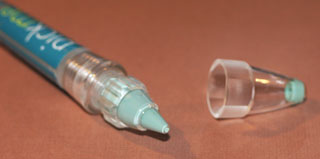 I'd like to see a little more how-to information from Silhouette America on this tool. I'm sure that the folks who designed it have all kinds of great ideas and techniques for how to use it that I'm missing out on, but without written instructions, video tutorials or a more detailed description, we're left guessing on the best ways to use it.
Tips & Techniques:
The scraper and micro tip edge can get gummed up with adhesive after lots of use. It's easy to clean, though, with a little bit of warm water and soap.
If you aren't using the tacky nub side, it might be a good idea to unscrew it and store it separately. Then you won't inadvertently tighten it over and over again, losing all that handy sticky tack inside the lid.
if you are interested in other similar products, you can shop all Silhouette America tools.
---