Sleigh bells ring - are you listening? In the warehouse, elves are whistling. Each beautiful day, we're happy to say, we're working in a crafting wonderland!
Merry Christmas and happy holidays from all of Santa's elves at Scrapbook.com. Just like jolly old Saint Nick, this is the busiest time of year for everyone at your favorite online craft store and community. But what goes on behind the scenes at Scrapbook.com?
While you're shopping, eagerly anticipating your order, crafting, baking cookies, and wrapping presents, everyone here is busy making sure your holiday is as magical as it can be. But we're also having just a little bit of fun along the way. Here's a sneak peek behind the scenes of Scrapbook.com's holiday activities!
Our Holiday Decorations
The decorating starts early at Scrapbook.com. Because we're helping everyone get ready for Christmas crafting, holiday gifts, and handmade greeting cards, we need to be in the Christmas spirit early in the season.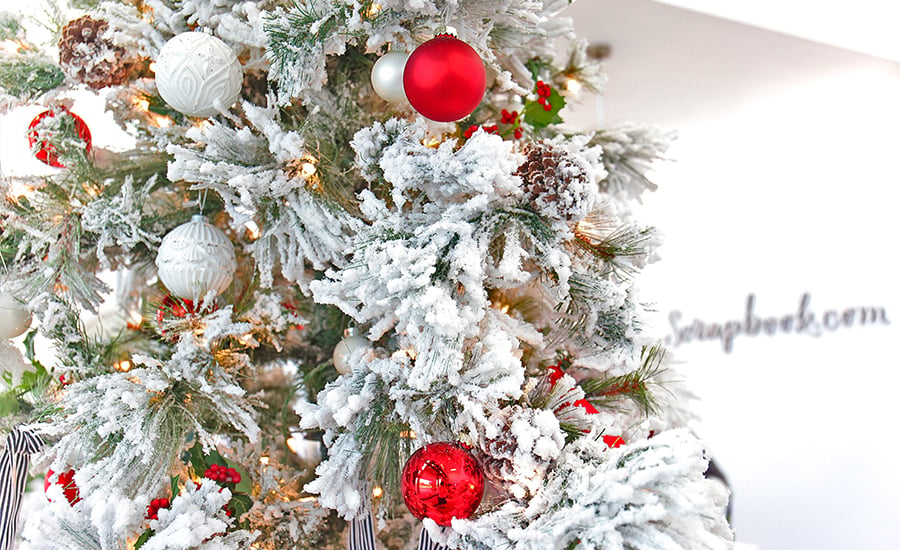 We have several gorgeous Christmas trees that adorn the breakroom and front lobby of our building, as well as lots of festive little accents through the halls.
Fun & Festivities
The best way to spread Christmas cheer is by participating in hilarious holiday games every year!
For a few minutes each day leading up to our busiest time, we like to engage in some reindeer games for laughter and togetherness. This year's festivities included games like Name That Christmas Tune, the Rudolph Races, and the Ugly Sweater Contest.
Right after Thanksgiving, while everyone was eating yam leftovers, we were playing Traffic Yam! This less-traditional treatment of holiday vegetables involved yams being flung from one end of the room to the other in an epic food-themed race.
And when everyone else was eating pumpkin pie (and even some leftover candy corn), some of our team members were playing Pie Face!
Scavenging for candy corn pumpkins in plates full of delicious whipped cream definitely made for a day full of holiday laughter and cheer.
As messy as Pie Face was, it was no match for our Cheese Heads game. In teams of two, our Scrapbook.com team members donned shower caps and tablecloth ponchos for an epic battle involving shaving cream and cheese balls.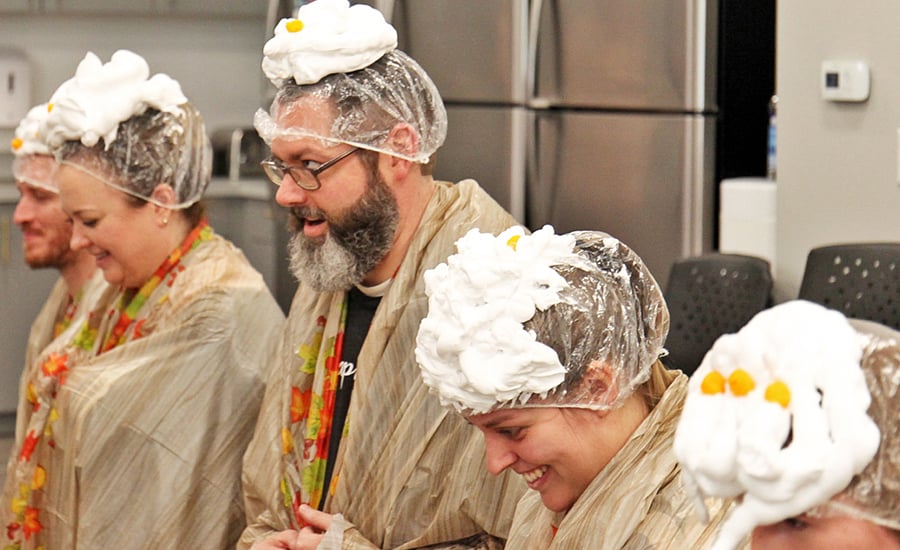 Their teammates had only one minute to toss cheeseballs and have them stick in the shaving cream on their shower caps. It was a hilariously spirited game with cheeseballs flying through the air and landing everywhere!
Fabulous Food
Everyone is holly jolly when Santa's belly jiggles like a bowl full of jelly. Well, we weren't so much eating bowls full of jelly at Scrapbook.com but we were eating practically everything else.
You just can't avoid delicious food and tasty treats during the holidays. We had some yummy lunches and treats brought in and even held a delicious potluck.
As an Arizona-based company, fantastic Mexican food is a must around the holidays. To celebrate teamwork, busy days filled with orders, and the holiday spirit, we enjoyed some delicious mini chimis, taquitos, chips, and salsa. Salsa and guacamole are red and green after all - the colors of Christmas!
The Warehouse is a Flurry of Activity
At Scrapbook.com during the holidays, the warehouse is very much like Santa's workshop. It's a hustle and bustle of busy activities. The elves are picking fabulous new crafty toys off the shelves, wrapping them up in magical boxes and envelopes, and placing them in Santa's sleigh (that looks suspiciously like a mail truck) for deliveries to all the good crafty girls and boys all over the world.
Everyone has their comfiest elf shoes on for helping out Santa, and the aisles are filled with holiday cheer. Around every corner of the warehouse, there are ugly Christmas sweaters, goofy holiday shirts, twinkling light jewelry, jingling antler headbands and more!
Holiday Memories from Scrapbook.com Team Members
At Scrapbook.com, we love to hear about all the ways our customers build traditions and memories around the holidays. Whether you're buying supplies for your greeting card making circles, family advent calendars, yearly December albums, scrapbook pages, or handmade gifts, it warms our hearts to be there to help you make each holiday season special.
Our Scrapbook.com team members shared some of their favorite Christmas memories that truly inspired us to embrace the magic of the season.
"This picture represents my very last Christmas while living in Iowa. The following summer I moved to Arizona to live in a state that offers over 300 days of sunshine to warm your soul! I love that I was able to capture the true beauty of Christmas in Iowa and the street I lived on for many years. I will always refer to Iowa as being my home state, but I've been truly blessed to call Arizona home for the last 6 years. GO HAWKEYES!" - Shelly
"These are the cookie cutters that we used every Christmas Eve of my childhood. They may not look like much, and they strangely still have bits of flour and dough clinging to them, but they bring me back to holidays like nothing else. We would make the same sugar cookie shapes every year as a family. I'd put too many sugar crystals on the candy canes, goofy hand-drawn smiley faces on the Santa, and make a glorious mess of the sprinkles and mini chocolate chips. My cookies were always too thick going into the oven and came out like strange swollen shapes of indeterminate origin. But boy were they delicious. They haven't been used in quite some time; pushed aside in favor of glamorously complex recipes or whatever fad is trending at the moment, but these cookie cutters will always be there to spark warm, delicious memories. And maybe this will be the Christmas where they make a vintage comeback." - Jenn
"A fun Christmas memory I have is when my wife and I dressed up our dog Harley as an elf. Harley is such a good sport and a good little elf too!" - Donald
"It truly is the most wonderful time of the year! Over the years, my daughters have told me how much they love the way I go all out in decorating our home for the holidays (Christmas in particular). I make our home feel magical - a special place where family traditions are kept and family and friends gather. After creating this Traveler's Notebook layout, my oldest daughter read it and said that when she has her own home and children, she is going to decorate and keep the same traditions going for her family (which meant the world to me). Time with loved ones and traditions are truly the best gifts of every holiday season!" - Dedra
"January 2019 was the first time in several years my family had been together over the holidays. Many of us live across the country and we aren't able to travel as often as we would like. This particular holiday the wonderful people in these photos cleared their schedules, traveled over 2,000 miles, and even planned around chemo appointments so we could be together. These simple family pictures are incredibly important to me. They act as a constant reminder of the importance of prioritizing family and capturing special moments." - Greg
"When I was a little kid, back in the 1970s, the TV weatherman in Huntsville, Alabama would show a flashing red dot on the weather radar on Christmas Eve to show where Santa was. When he got close, I would have to go to sleep, otherwise Santa wouldn't visit! Fast forward about 25 years - my kids would sit in front of the computer, staring at the NORAD website where they tracked Santa in a more 21st century way. As soon as Santa was in El Paso, they knew they had to go to sleep or Santa might not stop at our house! Scrapbooking is special to me because it helps me remember the little moments like this one, years and years later. These kids are adults now, and Christmas Eve is less about Santa and more about spending time together, watching funny Christmas movies, and eating tons of cookies!" - Melissa
---
Scrapbook.com would like to wish all of you a very Merry Christmas and a beautiful New Year filled with handmade happiness!
---