Summer has arrived and things are getting hot, hot, hot here at Scrapbook.com! With the sun sitting higher in the sky and the temperature consistently climbing, we wanted to offer you some scorching sales to help you beat the heat.
It's Scrapbook.com's 3rd Annual "7 Sizzling Days of Summer" event - a week long event brimming with hot sales you won't want to miss. This summer event takes place from June 21-27... mark your calendars as each day that week will include a BIG site-wide deal!
The early bird gets the worm! Want to be the first to know about our summer sales? Sign up for our Newsletter and our specials will be delivered right to your inbox (don't worry, we never give away or sell your email). PLUS... Each and shippable order during the 7 Sizzling Days of Summer will receive a FREE Faber-Castell Design-Memory-Craft Gelatos® Freebie Details here.
Stay up to date on our site with all of our sales and deals. Check out our Deals & Coupons page now.
With these sizzling steals on crafting supplies, your craft space is about to get a bit bigger and brighter. Check out some summer inspiration we found in the Scrapbook.com Gallery below, and get ready to get crafty!
Summer Layout Inspiration
Gallery member Floramfarkus used Crate Paper's Oasis Collection to make this sizzling layout! If you like flamingos, retro throwbacks, and summer themes, Oasis might be your summer-obsession.
Renee, gallery member and Pebbles Design Team member, is keeping her layout cool for the summer with the Sunshiny Days Collection by Pebbles. Bright colors? Palms? Take me there!
MrsCDJ is keeping it playful, fun, and fresh with this confetti-filled layout! There are a variety of supplies in play here, but we are loving how she used Distress Oxides* on the Bella Blvd Self Adhesive Chipboard words: Summer Memories!
Inspirational Summer Cards
For Die Cutters, nothing says "sizzling summer" like Sizzix! This patriotic card, created by Sizzix Team Designers, is bursting with pride. Get the stamp here to make your own version of this memorable summer card.
Note: Also, check out this surprising article about how Sizzix became the papercrafting powerhouse it is today! It's a third-generation, women-led company!
We R Memory Keepers Design Team Member, Kimberly, created this wave-inspired shaker card with the Fuse and the Lovely Day Collection. Live Today and More Play? Don't mind if we do.
Gallery member, Krendino1027, created this inspiring card with ADORNit's Flamingo Fever line. Positive, summery, and pink? SOLD.
Summer Planner Inspiration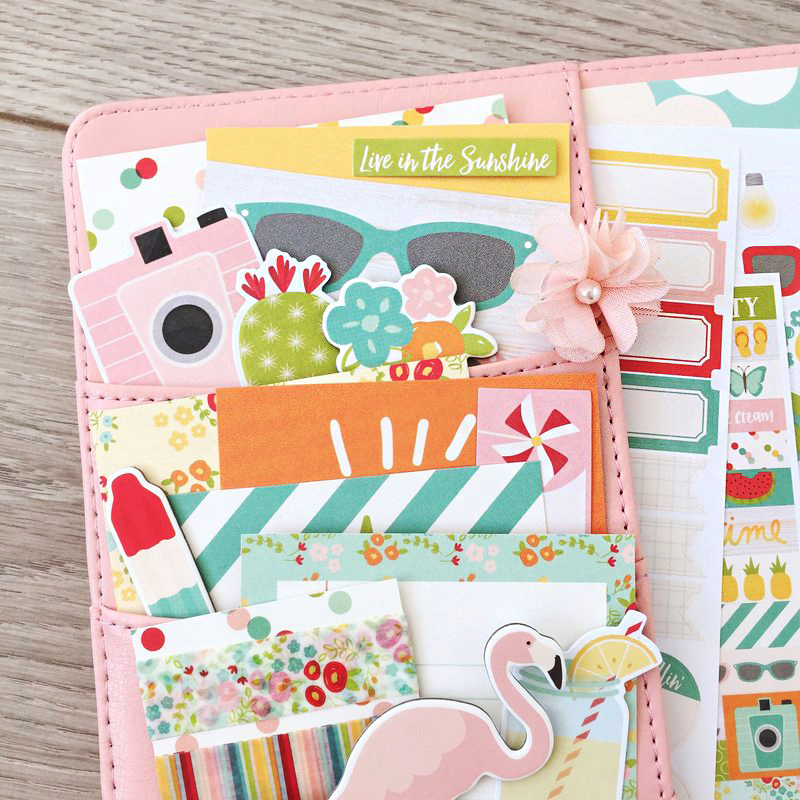 We are itching to open up our planners and get to work after seeing Createplannernl's planner pocket! She used the delightfully nostalgic Summer Days Collection by Simple Stories in her Reset Girl Ballerina Pink Planner.
Summer Pocket Page Inspiration
Scrapbook.com Team Member, Laura, is inspiring us by using the Summer Days Collection in her pocket page album!
Inspirational Art Journal
Tiffany Solorio created this inspiring page in her art journal about spreading your wings! Traveling this summer? Keep an Art Journal (we love the journal Tiffany used) and stay creative on the go. Win-win.
---
Thanks for stopping by and enjoy Scrapbook.com's Sizzling Days of Summer!
---