Experienced card makers and beginners alike are all hearing the buzz throughout the crafting community about slimline cards. This new card making craze is sure to be a fast favorite. But before you jump right in, you may have some questions, and we're here to help!
Read on as we answer all these questions and more:
Why is everyone talking about slimline cards? What are they?
What size are slimline cards?
What kind of envelopes are needed for slimline cards?
Are there special supplies needed to make slimline cards?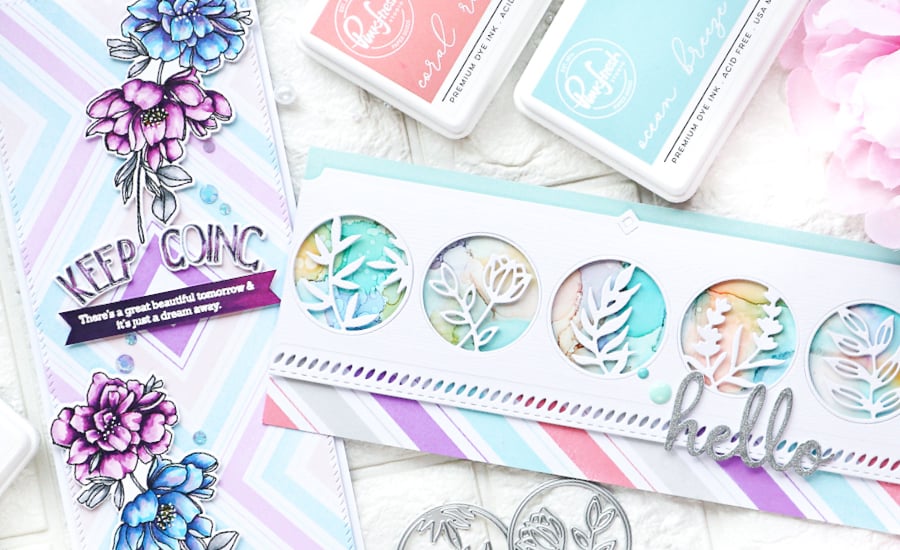 What Are Slimline Cards?
The newest card making craze is sweeping the crafting community, and it's known as slimline cards. Slimline describes the look of these cards - they are tall and slender vertically or long and skinny horizontally. Think of it this way - if A2-sized cards are wine glasses, slimline cards are champagne flutes. So let's have a toast & celebrate this fun & fabulous new style!
What Size Are Slimline Cards?
The standard size of slimline cards is typically 3.5" x 8.5" (or 8.89 x 21.59 in centimeters). This size can vary slightly from card to card but is generally meant to fit within a #10 standard envelope, which measures 4.125" x 9.5".
What Envelopes Do You Need For Slimline Cards?
Do you know that box of standard #10 business envelopes in your closet can be used for slimline cards? It's true. Your tall, skinny, beautiful slimline card slides sideways into a standard-sized business envelope, and it's ready to go out to make someone's day.
What About Postage?

We have great news! That slimline envelope, also known as a #10, only requires standard postage. So assuming you haven't used any heavy or dimensional embellishments to make your slimline card bulky, it only needs the standard stamp to get delivered to your recipient.
How Do You Make a Slimline Card Base?
Making a card base for slimline cards is super easy. All you need is a trimmer and a scoring tool. You can start with a piece of 12" x 12" cardstock or a piece of 8.5" x 11" - which makes these a very versatile card making option. Cut your piece of cardstock down to 7" x 8.5. Along the 7" side, score and fold in the middle at the 3.5" mark. This will leave you with your skinny slimline card base for tall cards or long cards in slimline size.
Why Are Slimline Cards So Popular?
There are so many reasons why people are loving this card making trend. Other than fitting in a standard-sized envelope that doesn't require extra postage, there's so much more space for getting creative. Whether you're creating a whole landscape scene filled with cute critters or a huge cloudy sky with a fabulous rainbow, there's a lot of space to fill.
Long or large sentiments can easily be displayed across a slimline card front which is great for stampers and die cutters alike. The possibilities are truly endless.
What Supplies Do I Need For Slimline Cards?
A slimline card is a new, exciting size and shape for card makers. What that really means is that your existing supplies like cardstock, stamps, dies, & embellishments can all be used to create a simply stunning slimline card.
A few specialty supplies can make your slimline card making easier and more gorgeous. Here are a few supplies made specifically for slimline-sized cards.
Top 5 Slimline Card Supplies

Pre-Scored Card Bases & Envelopes
Slimline Paper Pads
Dies
Stamps
Stencils
Pre-Scored Slimline Card Bases & Envelopes
Cut down on your trimming and scoring, and say goodbye to scouring your office closet for a years-old box of business envelopes. Pick up pre-made card bases, card fronts, and perfectly coordinated envelopes from Scrapbook.com here.
Slimline Paper Pads
When you don't feel like cutting from a large piece of 12" x 12" paper, and your adorable 6" x 6" paper pads just won't make the cut, pick up a specialized Slimline Paper Pad to get the job done. Scrapbook.com has must-have high-quality, affordable paper pads in a variety of solid color schemes that measure 8.5" x 3.5". Simply tear off a sheet in the shade of your choice, and you're ready to create a slimline masterpiece.
Slimline Dies
Dies in the shapes of critters, florals, sentiments, and alphabets are sure to work on your slimline creations, but what about borders & frames in just the right size? Your favorite brands are way ahead of you! Scrapbook.com has a fun assortment of slimline cover plate designs, borders & nested shapes for your card making pleasure. Find tons more slimline dies from brands such as Pinkfresh Studio, Catherine Pooler Designs, Honey Bee & more in a variety of fun themes here.
What Size Are Slimline Dies?
Not all slimline dies are the same size or shape. Popular sizes of standard slimline frames include 8.5" x 3.5" from Scrapbook.com, 8.75" x 3.75" from Pinkfresh Studio, and 7.5" x 3" from Creative Expressions. These variants allow for more creativity, layering, framing, and possibilities in your stunning slimline cards.
Slimline Stamp Sets
If you have stamps of adorable animals, fun foods, amazing alphas and more, you'll discover a renewed love of their look for slimline creations. Pinkfresh Studio has several slimline specific floral stamp sets that have long lines and slim designs perfect for your project. Colorado Craft Company also has a line of Big & Bold stamps that will look beautiful on your big, beautiful cards!
Check out more slimline stamps right here.
Slimline Acrylic Stamp Block
Scrapbook.com's must-have Slimline Perfect Clear Acrylic Stamp Block is a tool you need in your stamping supplies - BIG time! Thick and sturdy with easy-grip rounded edges and precision-etched grid lines, there's no better way to get big, perfect stamped images every time!
Check out the whole section of acrylic stamp blocks right here.
Slimline Stencils
Stencil lovers rejoice! Some of your favorite craft companies are jumping on the slimline card trend and creating reusable stencils in tall, skinny sizes. Find new patterns to love, and even some slimline layering stencils from Scrapbook.com, Pinkfresh, Catherine Pooler, The Crafter's Workshop & more right here.
If you loved this card making inspiration, you won't want to miss these fabulous articles as well:
5 Fresh & Fabulous Stamp Trends for 2021
5 Reasons You Need These Paper Pads
10 Ways to Use a Scrapbook Album (Without Scrapbooking)
---