We've compiled the most frequently asked questions about stamping in one place! From basic questions for beginners, to specifics for stamping-pros, we have your question answered.
Use the right hand bar on the side to find your question and go directly to it, or scroll down to read all of the answers and, perhaps, learn something you didn't know!
Have a question that we didn't answer? Ask it at the bottom of this article and we'll do our best to answer!
What's the difference between clear and rubber stamps?
Clear stamps are transparent, so you can see completely through them. There are two types: Photopolymer and Acrylic. They come attached to an acetate sheet, but without any support or backing (no woodblock like the traditional red rubber stamps have). An acrylic block or stamping press is needed in order to use acrylic stamps. To use, the clear stamp is taken off of the acetate sheet, then put onto a block or press to begin stamping. Because they are clear, you can see exactly where your stamp will be positioned on your paper or project. You can stamp or emboss with acrylic stamps.
Rubber stamps are the red stamps that are typically mounted to a woodblock and ready to use right away, without additional supports like acrylic blocks and presses. Rubber stamps are more durable and typically high-quality, making them more versatile with heavier substances. A downside to wood-mounted rubber stamps is that you cannot see through them to view the exact placement of your image. Red rubber stamps work wonderfully for stamping and embossing.
What is the difference between Photopolymer Stamps and Acrylic Stamps?
Photopolymer stamps and Acrylic stamps are both unmounted clear stamps that can be used with stamping blocks, stamping platforms and presses, and more.
Both are made out of a plastic material, which makes them easy to store, easy to clean, and more affordable than rubber varieties.
Photopolymer stamps are typically a higher quality of stamp, as the material is more flexible, created crisp stamp impressions, and is less likely to warp, crack, and lose quality over time. On the other hand, Acrylic stamps are often less expensive but are more prone to cracks, fissures, and degradation.
Why is my ink beading up on my stamp?
When you press your stamp onto your ink pad and notice that the ink clumps up a bit, it's easy to get frustrated. Sometimes there is still a residue left on the stamp from the factory production process. This ink clumping is very easy to prevent. Before you use any of your new stamps, clean it off lightly with a very, very fine-grade sandpaper to remove any leftover residue. Be sure to clean off your stamp with a stamp cleaner or a stamp chamois to remove any sandpaper particles before use.
What is a stamping press?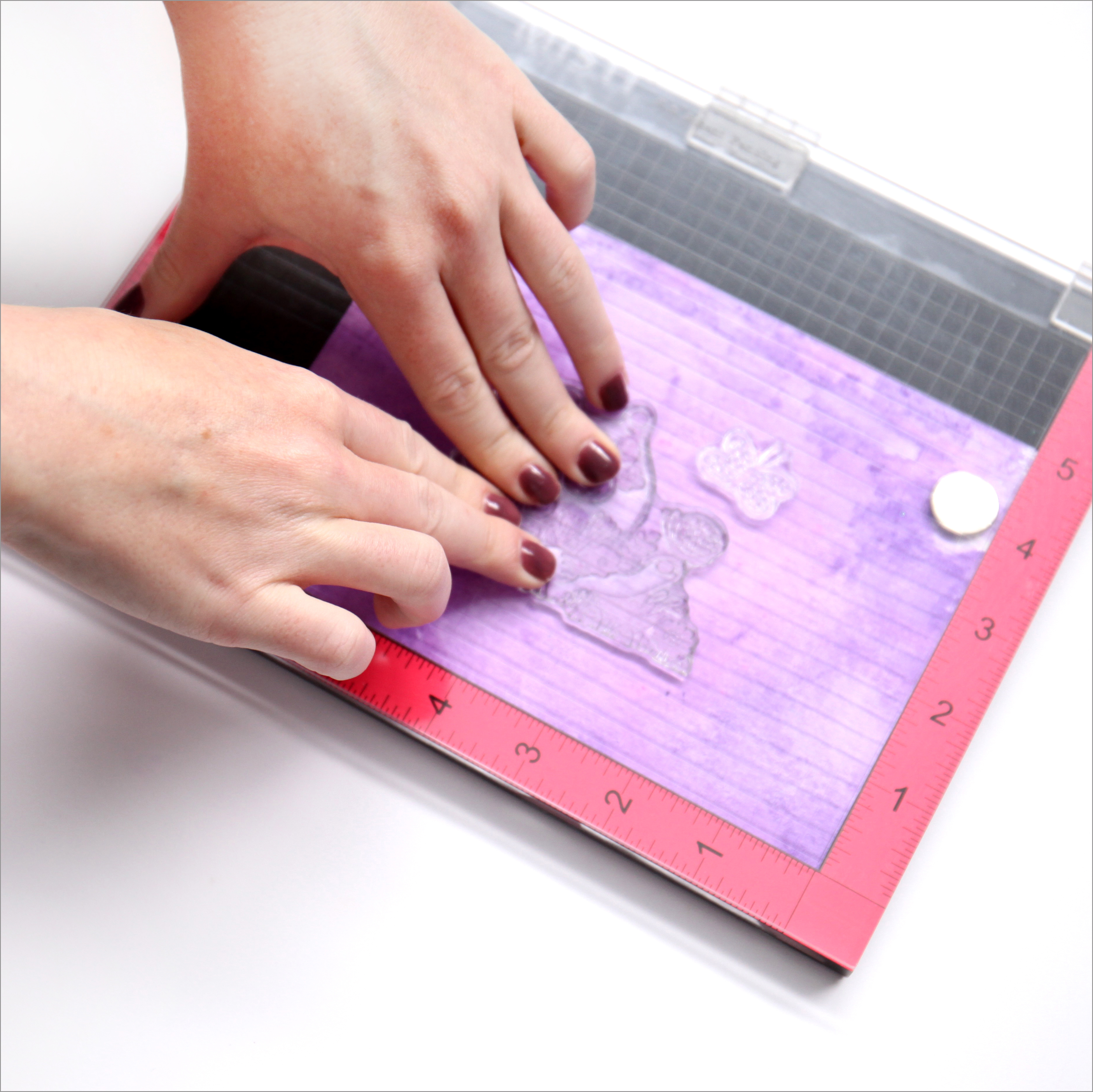 A stamping press is a tool used for creating clean, precise, aligned stamps every time. You can think of a stamping press sort of like a die cutting machine - it's a tool that makes mass production easy and consistent. Stamping presses are perfect for repeated stamp positioning, aligning letters, stamping in layers, and more.
They can be used with both acrylic stamps and red rubber stamps.
There are a couple of presses available, like the MISTI. Read the reviews to find the right one for you.
How does a stamping press work?
Every model differs, so make sure you read the directions for your specific press. In a nutshell, stamping presses have hinged lids that act as a stamping block. You open the lid and place your paper on the platform, place your stamp of choice face down on top of your piece of paper, where you would like the image to be stamped. Some stamping presses have magnets or require the use of a tape that can be repositioned to keep your paper in place (read the product specs to learn more about each specific press). Next, you close the lid and apply a slight amount of pressure. Open the lid, and your stamp should be adhered to the lid. Ink your stamp with your ink of choice and close the lid and apply gentle pressure to the stamped image, keeping your paper in the same place. Voila! You have used a stamping press!
If a part of your stamp is fuzzy or missing, you can reink your stamp (without detaching it or moving your paper) and repeat the stamping process to get a clean, precise stamp.
Keep in mind that stamping presses are all a little different and sometimes require the use of a foam pad or magnets (like the MISTI), so make sure you read through the descriptions when purchasing your stamping press to select one that best suits you.
What is a stamping block?
Stamping blocks are a tool used with acrylic stamps and are sold separately from the stamps. They are plastic, transparent blocks that come in a variety of sizes to suit different sized stamps. A clear, acrylic stamp will cling to a stamping block, then you can use the block to press the stamp onto your paper, fabric, or material of choice.
Note: With the use of EZ mount Stamp N Store, you can make your red rubber stamps compatible with stamping blocks. EZ Mount is a cling mount foam backing that adheres to your stamp, in place of the woodblock.
What is the best stamping technique?
Like all crafting methods, it depends on your goal. Some people prefer stamping blocks while others like woodblock stamps or utilizing stamping presses. The technique depends on the tools you're using. The general rule for stamping is to evenly apply ink to your stamp - not to put your stamp into your ink. The ink should be applied in an even manner - not too thin, but also not caked on (this could result in bleeding or smearing). After applying your ink, or inking, press the stamp onto your paper of choice, in the position that you'd like, and press down firmly without rocking the stamp back and forth. Firm, even pressure will usually result in a much better-stamped image than rocking, which can cause smears and uneven printing.
Do you have to use ink with your stamps?
Short answer: no! Though ink is the go-to for stamping, it's totally ok to get creative. Markers are a popular addition to stampers' supplies. You can use other materials as well.
Note: Marker ink dries very quickly, so make sure you work quickly if you choose to color your stamp with markers! If your water-based ink pad seems dry, try using a reinker to freshen it.
I keep getting lines next to my stamped image when I stamp! What do I do?
What's happening is you're getting ink on the base of your stamp - whether it's the stamping block or the woodblock. In order to prevent this, ensure that you wash your stamps after use. Also, be careful not to press down too forcefully onto your ink pad and not to rock your stamp back and forth when you're stamping your image.
How do you clean your acrylic stamps?
If you're wondering how to clean stamps, you're not alone. This is a question that stampers of all levels wonder about! There isn't one way to clean your stamps and many stampers do it differently. One way to clean your stamps is to use baby wipes and wipe your stamps clean between each use (something to keep in mind: baby wipes may leave fibers on your stamp). Advantus creates a good crafting wipe called Ink Away, specifically made for crafters. Another option is using a cleaning liquid- that will clean your stamps and keep them looking new. Some stampers swear by warm water and liquid soap, then hand drying your stamps (*don't use soap and water on your rubber stamps*). Another option is the Stamp Shammy - it's a reusable cloth that cleans without harsh chemicals - only water needed.
Here are a few tried and true stamp cleaners that we would recommend:
How do you clean rubber stamps?
On your rubber stamps, do not use soap and water. Alcohol-free wipes work well on rubber stamps, as well as the cleaners listed in the question above, for acrylic stamping!
Where can I buy stamping supplies?
Stamping supplies are usually available at any local crafting or hobby store. Make sure to call ahead of time or look online to check with them beforehand if you're unsure. Scrapbook.com's stamping section is full of stamps of all styles and a variety of top-of-the-line stamping accessories. You can see the whole stamping section of the store here: Scrapbook.com Stamping.
What are stamp and die sets and how do I use them?
Some companies create dies that correlate directly with their stamps, to create images and die cuts that go together and line-up together, seamlessly. For example, you might find a stamp of a bird and a die that is in the exact shape and size of the stamp, so you can stamp your image and run it through your die cutting machine, with the die, to cut it out perfectly. That's a simple way to explain it, but some stamp and dies sets correlate very intricately and with complex designs to create very professional, versatile projects.
Brands like Art Impressions, Lawn Fawn, and Tim Holtz are well known for their correlating stamps and dies, but you'll find that many companies produce these. You'll find stamps and dies that go together no matter your taste or preference.
Note: If you're interested in learning more about die cutting, check out this informative resource: The Ultimate Guide to Die Cutting. If you have a specific question surrounding die cutting, you might find it in these FAQ's.
Which ink is best for stamping?
The answer to this depends on what your stamping goals are. Because there are thousands of types, brands, and colors of stamping inks, the options can seem endless. There are a few main types of inks to choose from: dye inks, pigment inks, chalk inks, solvent inks, specialty inks, and hybrid inks. We've broken down the different types of stamping ink below so you can have a better sense of which ink you should purchase or try!
The most popular ink pads for stamping are:
What are Dye Inks?
Dye inks are considered the "standard ink" for stamping. They're easily the most popular and utilized. These are the ink pads that you see more often than not. Within the general dye ink category, there are a variety of different types of dye inks, like distress inks, waterproof dye inks, and water-based dye inks.
What are Distress Inks?
Distress inks are water-based dye inks, but they are a bit special because they take longer to dry than standard dye inks and create a really fun, aged effect on your paper. One of the most popular distress inks on the market is the Ranger Ink Distress Inks.
What are Waterproof Dye Inks?
Waterproof inks are dye-based and will not run or bleed if contact with water occurs. These are great for watercolor techniques, because you can stamp an image onto your watercolor paper or cardstock, wait a few moments for it to dry, then paint on top with watercolor!
A few popular waterproof dye inks are:
What are Pigment Inks?
Pigment inks are opaque and on the heavier side when it comes to ink and usually has a glycerin base. The ink tends to sit on the surface of your paper vs being absorbed into it which creates a more solid effect when stamping. The result is thicker like paint.
When is it better to use pigment inks?
Pigment inks are great for scrapbooking projects since they don't tend to fade quickly. They're also great for embossing due to their thick consistency.
Pigment Ink Pros: Pigment inks are solid in color and opacity.
Pigment Ink Cons: The pads themselves tend to dry out more quickly than dye ink pads, so reinking might be more frequent. Also, because they are thicker, they take longer to dry and sometimes need assistance in drying, like using a heat gun or tool. Such as Heidi Swapp's Heat Tool or Hero Arts'.
We carry a beautiful, exclusive pigment ink in white that's also perfect for creating faux chalkboard effects.
What is the difference between dye ink and pigment ink?
Dye ink is more transparent, thus more able to be absorbed. It dries quickly. Pigment inks are heavier and more opaque, so they tend to sit on top of your paper, versus getting absorbed down into it. Because of that, they take longer to dry.
Note: Check out this great video on the difference between dye inks and pigment inks!
What is StazOn Ink?
StazOn Ink is a permanent ink that is archival-quality. It dries very quickly and can be used on porous (cardstock) and non-porous (glossy paper, vinyl, glass, acrylic) surfaces. It's important to note that StazOn Ink may cause staining on your stamps.
Can you rubber stamp on fabric?
Yes! Make sure you are using an ink that can be used on fabric.
How do you stamp on fabric?
Use whichever stamp you'd like and an ink designed for fabric. Some that work well are:
In order for the ink to stay on your fabric permanently, it will need heat set. To heat set your freshly stamped fabric, wait for the ink to dry completely. This is very important. If your ink is not compeltely dry when heat setting, the ink will not be permanent. Use a dry iron set to medium-high and make sure to spend at least two minutes on each stamped area. Turn your fabric inside out, or around, and iron the back side as well. Wait 1-2 weeks before washing your newly stamped fabric, after heat setting it, just to ensure that your stamp stays on for many many washes.
What are craft daubers?
Craft daubers are small sponge applicators that fit neatly on your fingertip to apply ink, paint, dye, glitter glue, stain, and more to your crafting projects. They are washable and reusable and let you get hands-on without getting your fingers or hands inky and stained.
How are craft daubers used in stamping?
The options are really limitless with how you can use daubers as a stamper - your imagination is the limit! Some popular ways to use craft daubers, when it comes to stamping, is for adding multiple colors to your stamp, creating edgings, backgrounds, overlays, or applying stencils within your card making.
---
Additional Resources:
Organizational tips and tricks for your stamps
Organize your inks, pads, and mists
Stamping inspiration (user posted!)
---