It all started with one creative girl and one big dream!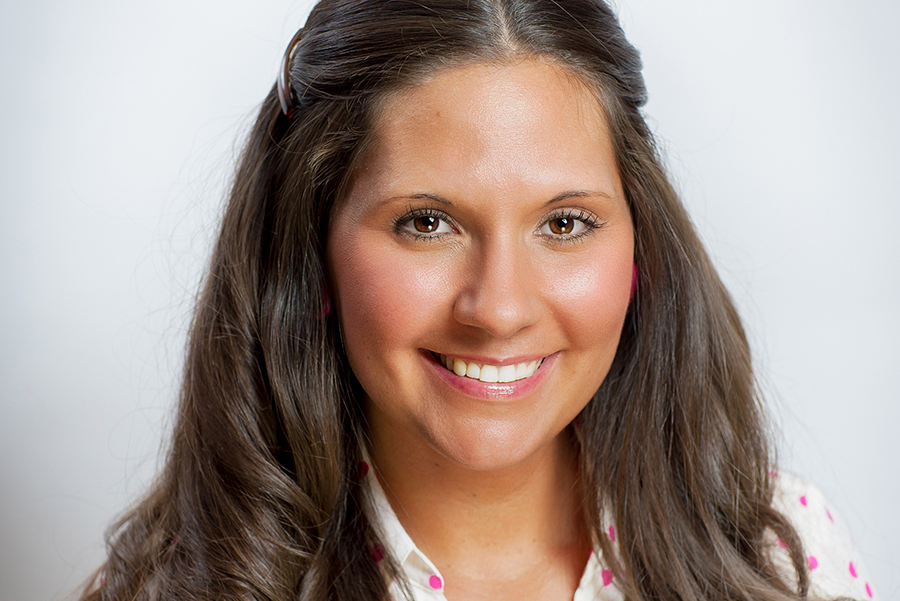 Bella Blvd's lead designer, creator, and president, Stephanie Smokovich
The Beginning of Bella Blvd
A young adult's bedroom is usually a place for talking on the phone superfluously and listening to music too loudly; it's not a place where a company is created. But, for Stephanie Smokovich, it was. While most fresh-out-of-college graduates were looking for a job, Stephanie was creating one.
A design from Family Tree, Bella Blvd's first collection
"Bella Blvd was born in the upstairs (aka my bedroom) of my parents' home in the Spring/Fall of 2008 with one single collection (Family Tree), a Mac from my college days, and little ol' me with a huge dream," Stephanie tells us when we asked her about the roots of Bella Blvd.
"My background is in Graphic Design and Photography. I always knew someway, somehow, I wanted to work within the Crafting/Design Industry, but just didn't know exactly how that looked until life started shaping up after college graduation... A huge amount of sacrifice was moving back into my parents' home after living on my own post-college... and cutting my personal budget to $500 a month in spending. To this day, I don't even know how I did it! I barely went anywhere, which saved on gas money, as I worked endless hours 'figuring things out' on my own and working with Bella's very first customers."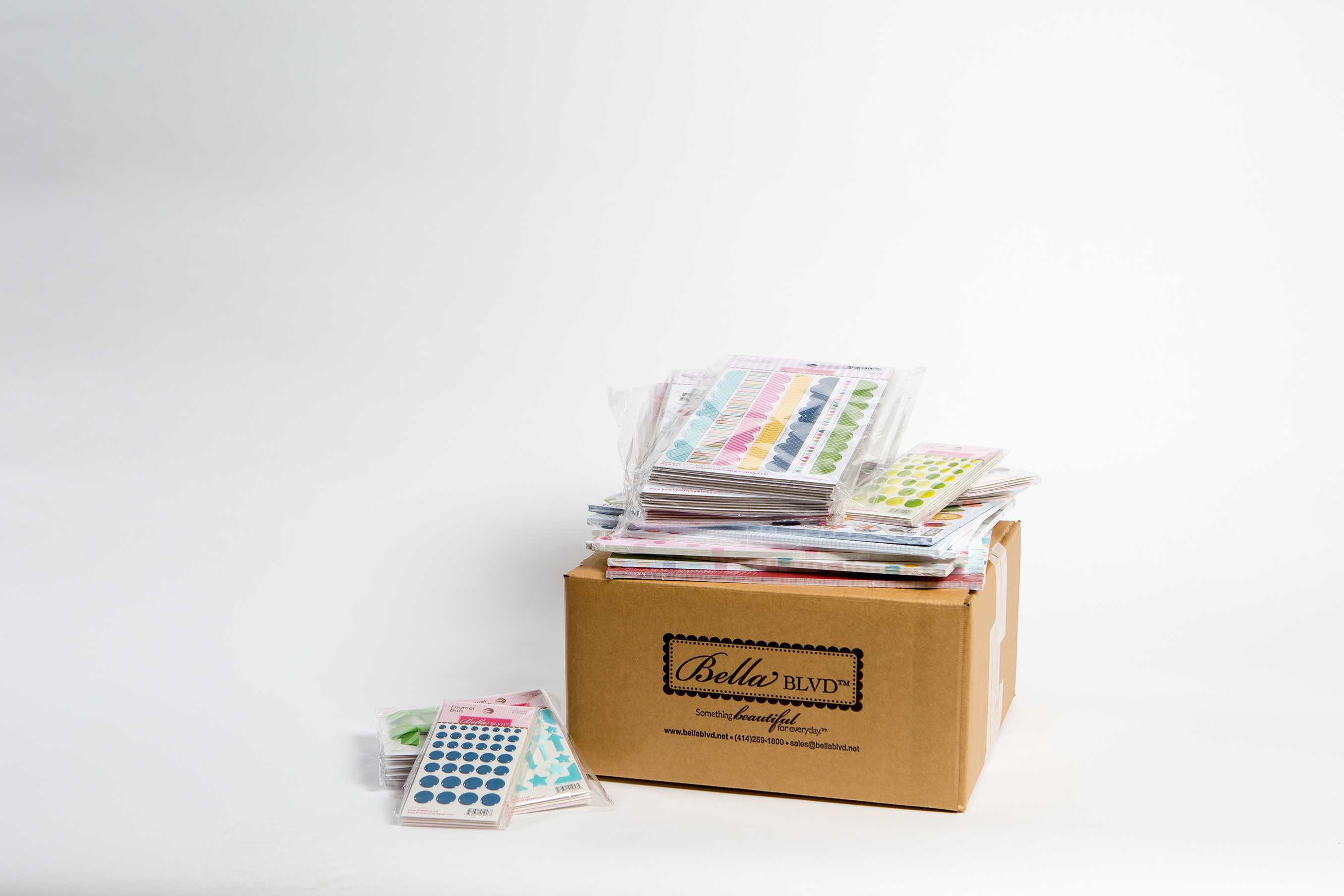 Gorgeous Bella Blvd products, ready to be shipped and utilized by crafters around the world!
Where Did the Bella Blvd Name Come From?
"I am Italian and come from a very close Italian family, thus the word Bella, which means beautiful."
Stephanie in the process of designing
"There were SO many name ideas!" Stephanie, who seems to never be short of ideas, tells us about how difficult it was to choose a name as she started to grow the brand, "I still to this day remember this process. I am Italian and come from a very close Italian family, thus the word Bella, which means beautiful," she explains, "As a creative, I knew I envisioned a street sign as the logo or trade show booth someday and, therefore, "Blvd" was a natural and catchy combination!" Spoken so casually, and seeming so obvious in hindsight, was the perfect name for her budding company: Bella Blvd.
The Bella Blvd Style
In the beginning, Stephanie's focus was simple: "to create pretty stuff and survive," and she did that, as the sole designer of Bella Blvd's cute designs. With a BFA in Graphic Design, Stephanie had the technical skill to make it happen and with a passion for all-things-creative, she also had the internal drive. Stephanie developed Bella's irresistibly sweet style from the get-go, "Bella's style is colorful, graphic, clean, and on-trend. While we are cute, we aren't juvenile cute, which sets us apart from other styles in the industry, offering a happy medium."
The Bella Blvd Brand

"Bella Blvd is built on color and strategy, commitment to original design, and caring for our staff and customers in a kind, Christian, and honest manner," Stephanie tells us about their core values.
"Each of Bella Blvd's employees is passionate about our products and our mission. Whether or not each of them actually scrapbooks or Bible journals, each of them cares about our mission and believes that we are doing good- and wants to be a positive part of our growing team! Of course, she needs to be super nice and love her family too!"
And their mission ties hand-in-hand with their values.
"It is our mission to inspire you, offering you colorful tools and products to create something that you love!"
"At Bella Blvd, we care deeply about documenting your story through pictures and words, and illustrating your faith in a way to help you draw closer to the Word on your personal journey. It is our mission to inspire you, offering you colorful tools and products to create something that you love!"
Bella Blvd Today
"A typical workday always begins with emails and meetings: This is the most challenging part of my day, as it doesn't necessarily lend itself to creativity at 9 am, right off the bat," Stephanie gives us an insider look on what it's like day-to-day at their Headquarters.
Stephanie, working at her office at the Bella Blvd Headquarters
She puts a positive spin on the tasks that aren't her favorite, "I've learned, over the years, that meeting and catching up on administrative related things is key to making my entire team work in unison. Together, we can accomplish a lot more than just myself alone."
Mondays, she tells us, are her organizational days, where she plans out the week, delegates, and does what needs to be done for Bella Blvd.
"... from Marketing Management, Product Development, Design, Managing Partnerships, and Planning booth and annual budgets- you name it, I'm involved in it somehow!"
With Stephanie's strong work-ethic, passion, and zeal, no job is too big or too small. And, on top of all of her daily responsibilities, Stephanie puts a special focus on the customers.
"Currently, we are really focusing on succeeding in customer service and sales," she tells us, "we have added to our full-time Marketing Team to help the consumer understand our products better, our intentions when designing, and, ultimately, to help inspire her."
The Future of Bella Blvd
Now, as a prosperous company with a team of creative contributors, a huge variety of retail locations, products from papers to stickers, to washi tapes, and more, their expanding line, Illustrated Faith, and nowhere to look but up, the future appears as bright and colorful as are their products.
"As we continue to evolve and grow Bella Blvd, [we] hope to expand our product offering so that [the consumer] will begin seeing our designs and products across additional platforms. We look forward to staying true to our scrapbooking and paper crafting roots, all the while exploring new opportunities!"
With an ever-changing crafting market, Stephanie understands the importance of adjusting and adapting to new interests, innovations, and trends, but she also understands the importance of always going back to her initial interests and goals.
"Small businesses need to evolve," she explains, "Even our product focus is transitioning to recognize and allow for independent artists to contribute and have a voice within the company. At first, the primary focus was to create pretty stuff and survive. Now, Bella Blvd continues to make pretty stuff, but for multiple markets, including the Christian retail market!" Stephanie exclaims.
Bella Blvd has grown so much in such a short amount of time. But what does success mean to Stephanie?
"I think success is measured by my happiness. While that sounds a bit selfish," she's quick to clarify, "I just know that a personal goal of mine is that I need to be having fun and enjoying this. While it's a career, it's also the backbone of my daily attitude and how I support my family. If I am happy, Bella Blvd is successful. They directly relate to each other."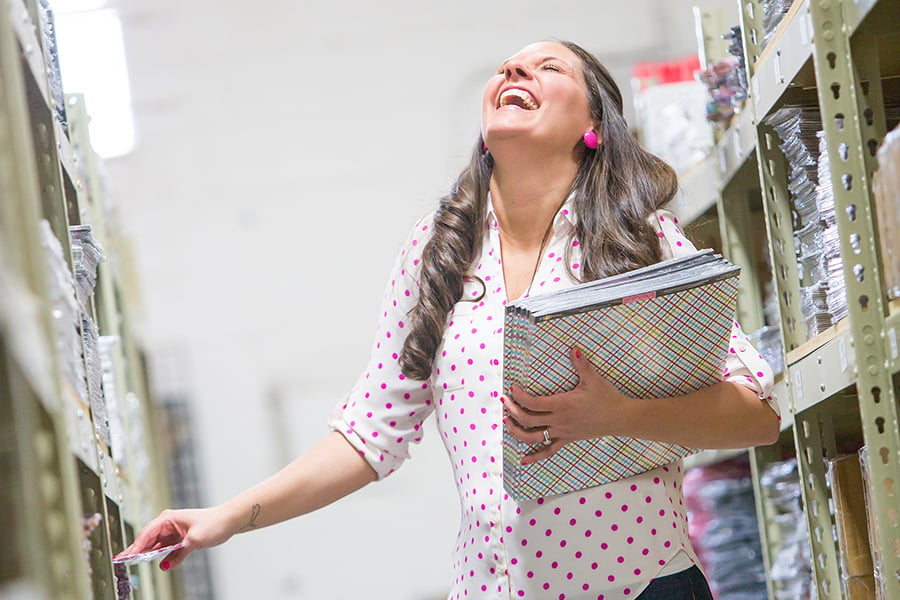 What Makes Bella Unique?
"Bella Blvd produces one-of-a-kind designs, alongside a color-stay strategy that allows for a lifetime versatility of products across 8 years [and counting] of Bella Blvd or 25 years into the future. Our backsides and color-stay lends themselves to something beautiful for everyday."
NOTE: "Color-stay" means that while designs and styles may change over time, the core color palette remains, so that products from years ago will still coordinate with new releases.
All of their lines coordinate, while each has its own unique feel and audience - from lines more suited to the Holidays, collections about love, or faith, each set of designs is Bella Blvd-esque, but also has design elements that are fresh and exciting.
Stephanie talks a bit about her favorite designs from Bella:
"I've always been a sucker for patterned paper," she confesses, "And, more recently, I love our 6" x 8" paper pads. 6" x 8" is an unconventional size for paper pads in our industry, but they truly are genius- as they accommodate the very popular Journaling Bibles, trendy planners, and also 6" x 8" scrapbooking albums! I love their tiny scale!"
As far as what sells the most with Bella Blvd's customers?
"We sell a ton of patterned paper!"
We asked Stephanie what she's most proud of.
"Proud moments come a few times a year, when the products we've been brainstorming and developing actually arrive at the offices for review," she expresses, "I love the excitement of something new, and seeing all our hard work and time pay off in these beautiful products. Another proud moment is knowing that I have been able to lead a growing team towards a common goal; I am a teamwork kind of person, and enjoy seeing my staff accomplishing in both small ways, and big!"
A Note From Stephanie to YOU!
Stephanie has some advice for Scrapbook.com crafters new and experienced. These tips are straight from Stephanie to you.
1. Get organized!
Print those photographs. Photographs are the most important piece of this hobby. All the product will fall into place as it should, as long as you don't lose focus... your photos are your story!
2. Try not to be overwhelmed.
3. Find some inspiration you love and go with it.
4. There is no right or wrong way to scrapbook or paper craft.
5. We are all inherently creative
don't ever let anyone (including yourself!) tell you that you're not.
6. And finally, enjoy the process!
For some people, it's about girl time, socializing, and friendship- instead of a huge to-do list, celebrate each page layout or mini album as an accomplishment!
More Information
Bella Blvd's fun and inspirational collections are available here for all of your creative needs. Shop their colorful papers, popular stickers, and Bible Journaling supplies from Illustrated Faith.
Don't forget to follow Bella Blvd on Facebook and Instagram!
---