Sizzix has roots that go back to the 1970's. The original company, called Ellison, created die cutting machines for classrooms. Ellison, which still exists today and continues to focus on teachers and the classroom market, branched out in 2001 and created Sizzix, a company that caters to crafters and DIY-ers.
The First Consumer Die Cutter
Original wooden model of the Ellison: the Ellison LetterMachine, created in 1977.
In their two bedroom apartment, LaDorna and Robert Eichenberg created an innovation together that rocked the school classroom, and later revolutionized the crafting world: the personal die cutter, which they called the Ellison LetterMachine.
LaDorna, who was an art teacher at the time, saw a need in the classroom and the Ellison was born. Perfect for teachers who spent a large amount of time cutting out letters and numbers for bulletin boards and signs, the Ellison made it possible to do so quickly and easily, saving an abundant amount of time.
"Our business was truly the first of its kind, so we had to blaze the trail as the industry pioneer."
"Making is in my family's blood - from my grandmother, LaDorna Ellison Eichenberg who, along with her husband, Robert, invented the first hand-held consumer die-cutter for the classroom...[and then] my mother, Lisa Corcoran, who succeeded my grandmother as CEO upon her retirement and continued our family's legacy of creativity." Kristin Highberg, Sizzix's CEO, tells us.
Robert and LaDorna Eichenberg, creators of the Ellison
Kristen and LaDorna
"As a third-generation, women-led business, our company is widely recognized as the pioneer and global market leader of die-cutting machines and accessories for the education and craft markets. Our business was truly the first of its kind, so we had to blaze the trail as the industry pioneer and discover early on what worked and what didn't," she talks about the roadblocks that appeared in the growth of Sizzix - from a single machine in a two bedroom apartment, to the top die cutting company in the world, "But there were a few constants," she continues, "we always treated our customers like members of our own family and maintained that a quality product is what keeps customers coming back - and those core principles (and that vision) still hold true today."
"we always treated our customers like members of our own family..."
Where Sizzix Got its Name
Sizzix was founded in 2001 as a branch of Ellison, influenced by the die cutting technology invented by Kristin's grandparents. This technology was used first in the classroom, but after much success, they wanted to reach more people who would benefit from and find use out of their innovative product: crafters.
Along Interstate 15, between Los Angeles and Las Vegas, there's a road with a very strange name. The man who named this road - and made up its name - had a simple goal: to make the name of this road the very last word in the English language, alphabetically speaking. He named the road Zzyzzx.
Many years later, Robert (Kristin's grandfather and co-creator of the Ellison), drove along that same road and noticed the street sign with the peculiar name. It stuck with him.
Kristin told us about the story of Zzyzzx and how that became the inspiration for the now famous, industry leading brand name Sizzix.
"I suppose that there were other names that were in consideration," Kristin told us, "but Sizzix was the choice that resonated with everyone."
Though the name may have been inspired by the last word in the English language, Sizzix is a homemade company that was the first of its kind.
Sizzix's Focus
"Our #1 focus is and will always be to inspire a fun, memorable making experience."
The focus of Sizzix, in the beginning, was really quite simple: to inspire a fun, memorable "making" experience. Though the company has adapted with the changes of the crafting market, and has grown into a multinational corporation, they continue to stay true to their original focus with the flexibility and willingness to rework themselves to meet their customers' needs.
The
Sizzix Big Shot Plus
, one of Sizzix's most popular machines today
"Our focus hasn't been any different [from the beginning]; we still manufacture tools and products to support the DIY craft market. Of course, I think we've evolved and grown, as we initially were only in the scrapbooking and cardmaking categories. Because our products are so versatile, we've expanded into papercrafting, mixed media, jewelry, celebrations, quilting/fabric arts, applique, and home decor. We'll continue to grow and evolve based on trends and needs of the market, as well as where our customers take us."
Customer Service to CEO
Kristin and an early model of the Ellison
"By the time I was named CEO, I had seen the business from so many angles that I was ready to lead the company into exciting new areas of innovation."
Kristin was a child when her grandparents created the Ellison.
"I have vivid childhood memories of cutting out sample shapes for schools interested in our die-cutting equipment," Kristin talks about her experiences growing up alongside her grandmother's innovation, "as a teen, I got my first real start in Customer Service, where I learned the importance of treating customers as members of our family."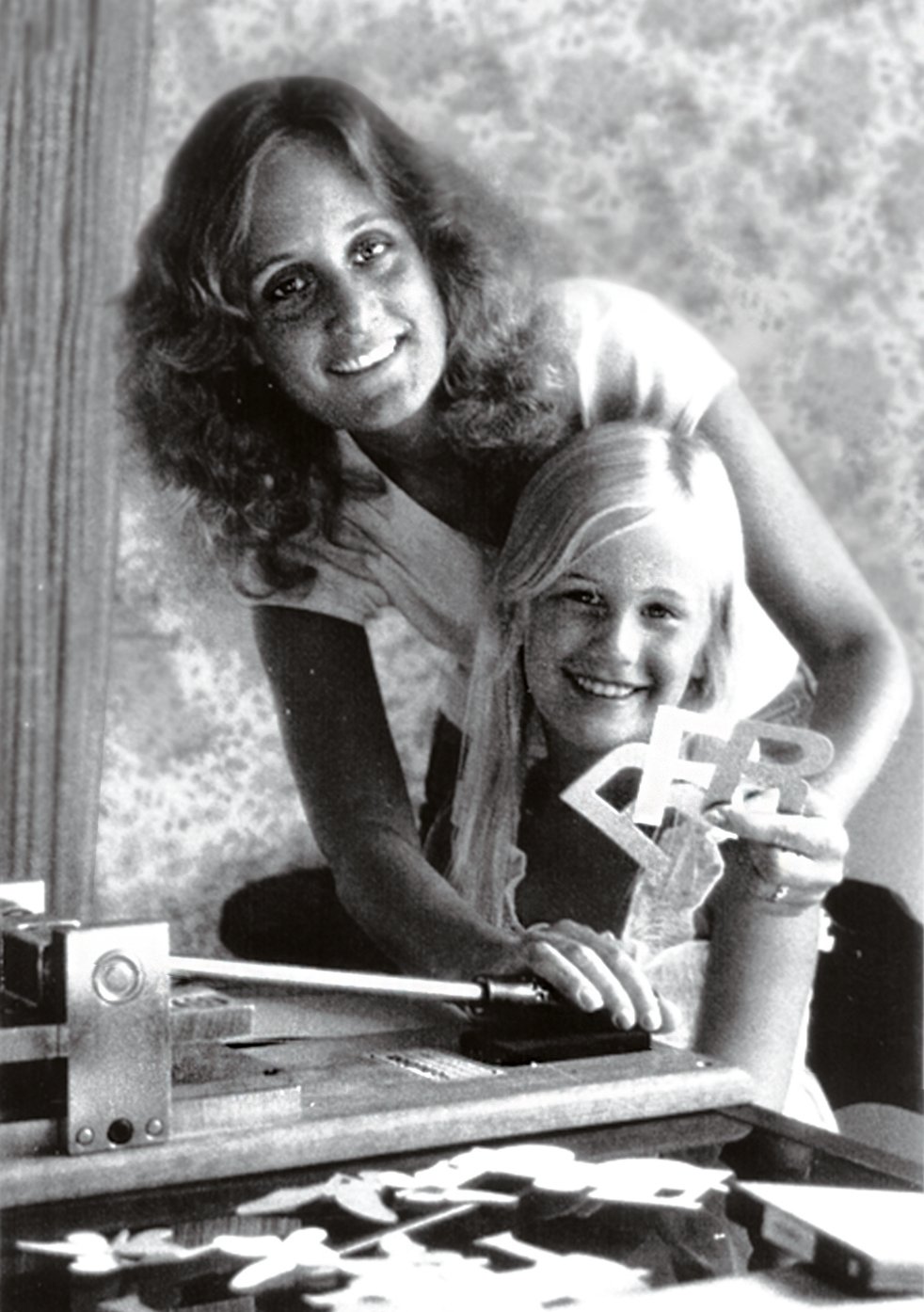 Kristin and her mother, Lisa, die cutting alphabet letters together with the Ellison
LaDorna started the company in 1977, which was passed down to Kristin's mother, Lisa, then eventually to Kristin herself.
"One fun fact about me," Kristin admits, "I initially went to college to pursue a different profession, but then was presented with the opportunity to leverage my skills here [at Sizzix], starting from the ground up, championing the Ellison and Sizzix brands, to help us reach new heights of success."
She started in Customer Service and worked her way up the "corporate ladder," to where she sits today: as CEO of this family-built company.
"Eventually, I worked my way up to Customer Service Office Manager. I followed that up with positions in Product Development, Operations, Business Development, and Sales & Marketing. I am proud to say that I opened our United Kingdom office and headed up our global sales team. By the time I was named CEO, I had seen the business from so many angles that I was ready to lead the company into exciting new areas of innovation."
Sizzix Today
Kristin in Sizzix's warehouse
Sizzix, as we know it today, is over 15 years old and the company headquarters is nestled in Lake Forest, California, about 3 hours south of Zzyzzx road. Lake Forest is a beautiful, large town on the Pacific Ocean, where the temperatures are usually warm and the sun is usually shining. Taking up almost 100,000 square feet, their warehouse is always busy with the constant ins-and-outs that come with selling products in over 100 countries.
"We were initially known for our die-cutting machines and steel-rule dies (dies that cut multiple types of materials). We continue to be recognized as a market leader in both product categories. Recently, as wafer-thin dies have increased in their popularity, we've established market leadership in that product category with on-going design innovations, including more intricacy than ever, to satisfy any creative appetite."
"We empower any individual to express themselves uniquely and memorably."
With an impressive amount of likes on their Facebook page, and a quickly climbing number of followers on their instagram, Sizzix has become a household name in the crafting world.
"I think our customers know that they get great value with Sizzix products, and trust the exceptional level of quality that is backed by a family-owned company that has been in business for almost 40 years."
Sizzix products in mid-production
"We empower any individual to express themselves uniquely and memorably. Through our expansive library of tools and designs, we give anyone the instruments to get in touch with their inner self and connect with others they care about most, in countless fun and diverse ways."
Sizzix's Inspiration
"Inspiration comes from anywhere and everywhere."
"Inspiration comes from anywhere and everywhere. I'm very proud of our creative team, that is led by a very talented creative director, Jen Long, who is always insightful in knowing what the next hot trend will be."
"The beauty of our product," Kristin tells us, "is that our style is always defined by our customers. So, at times, you could consider [the style] classic, but always agile enough to address today's hottest design trends. We continue to push the envelope with regards to design and product advancements through our R&D and innovations."
Kristin also shares with us what ideologies they live by at Sizzix. The list has 10 core values that they look for in their employees, and it's easy to see all of these characteristics in Sizzix itself, as a company.
Sizzix's Core Values
1. We must be the change we want to see - Mahatma Gandhi
2. TEAM- T-ogether, E-veryone, A-chieves, M-ore
3. Be a HERO to our customers
4. Respect all
5. Be the solution
6. Stay committed to your decisions, but stay accommodating in your approach
7. Expect excellence
8. Efficiency is doing things right, effectiveness is doing the right things
9. Plan with a purpose
10. Work happy
Sizzix's amazing team
Sizzix lives by its ideology, and hires people who reflect these values.
"We love those who are fearless in showing their creativity," Kristin talks about what talents contribute to these values, "Just as attractive is [an employee's] ownership in what they do by thinking outside of the box, being team players, and taking pride in knowing that they can make a difference each and every day."
We ask Kristin what advice she would give to a crafter: "I live by the motto," Kristin indulges, "that there is no right or wrong way to create. Trust your instincts and when you're ready to unleash your inner artist, you should give Sizzix products a try. We have an extensive selection of tools to appeal to every type of maker, from the beginner to more experienced and advanced levels."
The Future of Sizzix
Sizzix isn't exaggerating when they talk about their extensive selection. Along with their impressively massive supply of die cutting products, Sizzix is keeping up with the modern-day maker for the modern day maker.
"As we continue to grow, more opportunities constantly come our way. For instance, five years ago, we weren't nearly as into leather jewelry making or fabric arts as we are today, but now it's obvious how those efforts have paid off with a fully integrated presence in today's marketplace. Our proliferation into the international markets also continues to be a source of great pride. At this rate, we can only imagine what five more years will bring!"
A Note From Kristin to You
"We're here to support you with our portfolio of resources, like fun how-to videos, easy-to-understand step-outs and instructions, a knowledgeable and friendly Customer Service, and unrivaled social media that connects our users to evolving, inspiring content that fuels an unmatched creative dialogue."
Purchase Sizzix supplies here: Sizzix Crafting Products
Visit Sizzix's website here: Sizzix's Website
Follow Sizzix on Facebook: Sizzix's Facebook
Check out Sizzix's blog for creative ideas: Sizzix's Blog
---