Ask any card maker you know and they'll tell you that the craft of creating cards from scratch is exciting, challenging, extremely fun, and most will even agree therapeutic. They'll also probably tell you another thing: that there are a lot of gears at work when it comes to creating cards you're not only proud to sign, but cannot wait to share with your friends, family, heck, even your dentist!
One of the most cumbersome tasks faced with when beginning card making is figuring out which supplies you need in order to get started on your new and exciting card maker's journey.
We want to take the guesswork out for you. Below, you'll find the 16 supplies you want to have at hand in your card making arsenal! These 16 supplies will have you creating beautiful, meaningful, handmade cards in no time.
1. Black, White, and Colored Cardstock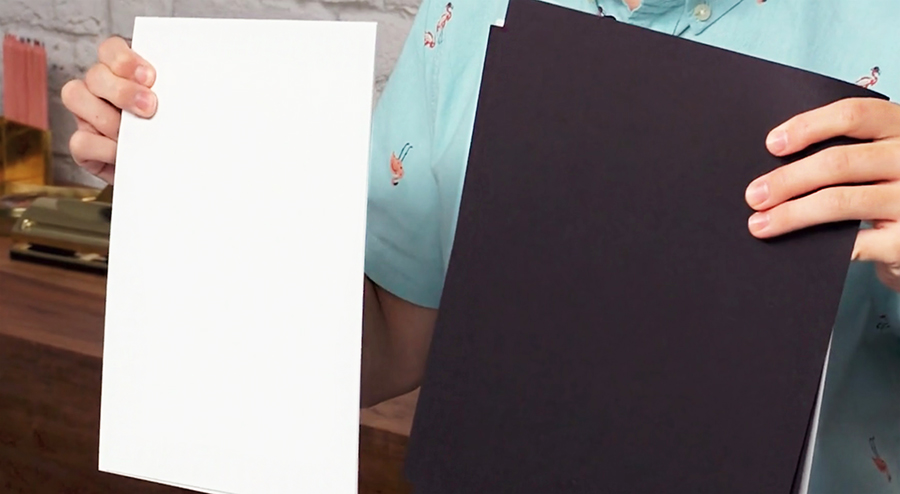 Cardstock is essential as it will be the base of all of your cards: the layer that ends up holding all of your creative explorations, sentiments, embellishments, and more! Because cardstock is your card's foundation, it's worth investing in. We recommend reading Everything You Need to Know About Paper if you're not sure which cardstock you should purchase.
You'll want a variety of colors to play with. It's okay to start small with a pack of cardstock in a color palette that speaks to you or fits with the season. Then, you'll want basic black and white (we love this white option!). You'll end up using white cardstock more than you thought you would!
As you move along in your card making pilgrimage, you may find you want to invest in specialty papers, patterned papers, handmade papers, and more. Don't be afraid to try new papers!
2. Adhesives
You're going to need a variety of adhesive types for your card making journey - and you'll find that you go through adhesives a lot more quickly than you ever thought capable. There's really no way around it. Adhesives are usually in an affordable price range and different types complete different tasks, so there's a fair bit of cross-use.
If you're completely new to paper crafting (First of all, WELCOME!), we have an article that will help you choose which adhesive you need.
For card making, we recommend a super sticky permanent adhesive roller and a liquid adhesive for more stubborn embellishments (sequins, seed beads, etc.). Just like paper, there are more adhesive types to explore that we highly recommend, such as Dots and Washi Tape.
3. Cling Stamps
Most card makers stamp their images onto their handmade cards. Stamping is one of the quickest and easiest ways to create highly personalized cards over and over again. Forget spending 5 bucks for a card at a local store. Purchasing a stamp set gives you an endless amount of creative potential.
Cling stamps are essential to your repertoire and come in thousands of sizes, designs, and styles. They're easy to use, easy to clean, easy to store, and quickly become addictive! For card making, choose a set (or 2, 3, or as many as you'd like) of either Acrylic Cling Stamps or Rubber Cling Stamps. Both types will work well for you, it's up to you on which you prefer.
If you're new to stamping, we recommend this convenient resource: Top Stamping Q & A where you can learn everything you need to know about stamping in one place.
4. Acrylic Blocks
Because acrylic cling stamps and rubber cling stamps aren't attached to wooden blocks (like your traditional rubber stamps), you'll need a block to attach them to in order to use them for stamping.
Acrylic blocks go with cling stamps the way that ice-cube trays go with ice-cubes. One is crucial to the other. Acrylic blocks are reusable and come in a variety of sizes to choose from. Just peel your cling stamp off of the acetate piece it came on and stick it onto the acrylic block. It will stick similarly to how a window gel-stick holiday decoration sticks to your window - effortlessly and easy to peel off. The stamp and block can both be used time and time again.
5. The Stamp Shammy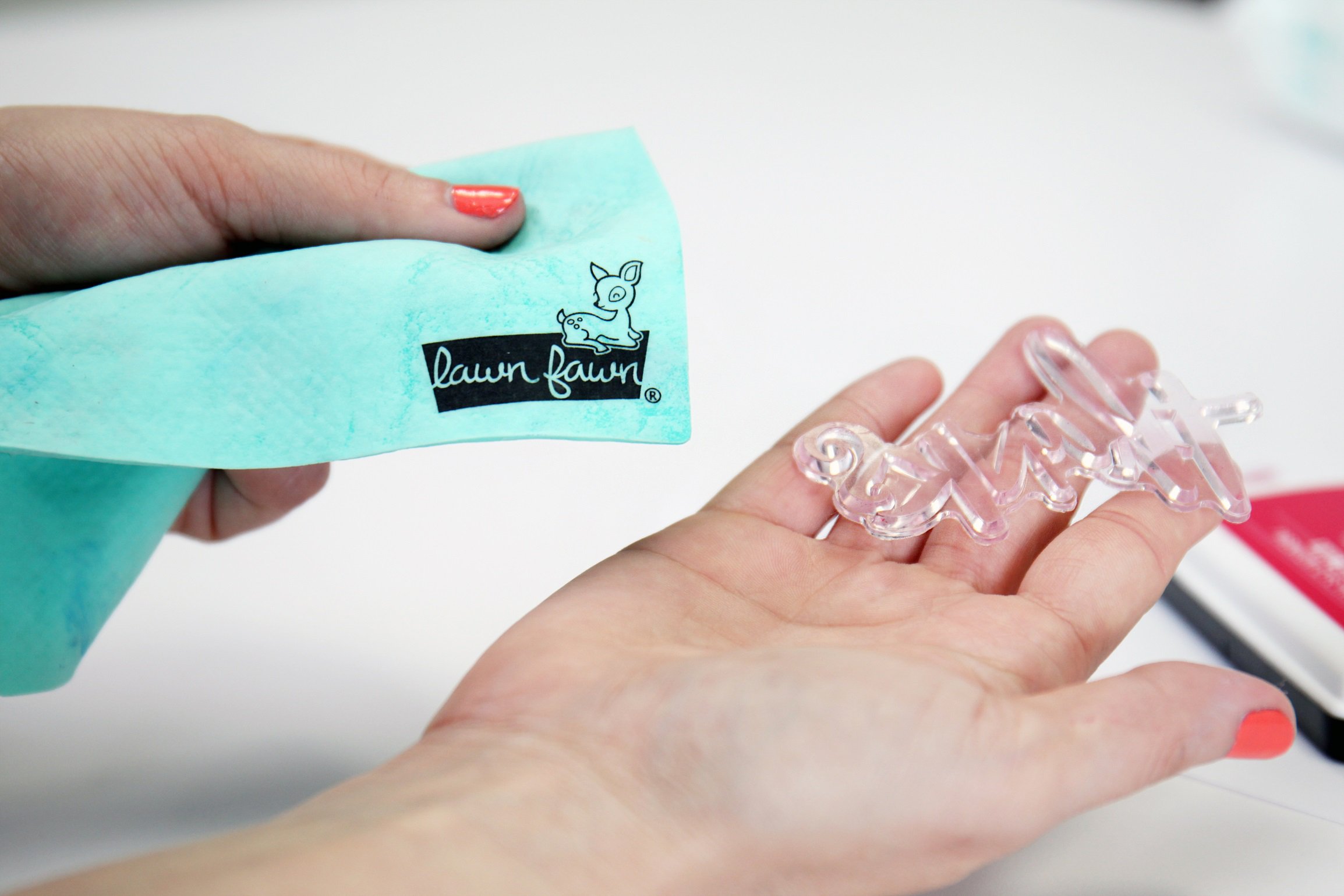 If you have acrylic stamps, the Stamp Shammy will be your best friend. This user-friendly cleaning tool has revolutionized how card makers clean their stamps. Think of this as a sponge. It hardens when it is dry and softens with water added. It's soft, flexible, and requires no cleaners, solvents, or soaps! Just run it under your water faucet, ring it out, and wipe your stamps clean!
Just repeat the next time you get creative with your stamping supplies and never worry about an inky stamp again!
6. Coloring Supplies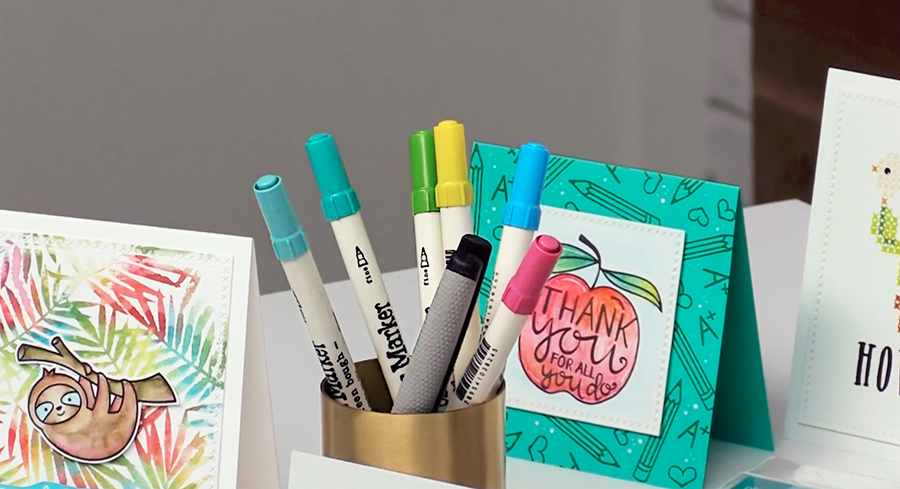 Whether you're stamping on your creations, drawing them, or handwriting a note inside, you're going to need some color in your card making exploits! Markers are popular among card makers, used to color in their stamped images. Alcohol Markers are some of the most popular options, as they are easy to blend!
If markers aren't your cup of tea, there are so many other fun and vibrant options to choose from!
Watercolor pencils mix the ease of coloring with colored pencils and the artistic effects of watercolor paint! Other options include crayons, Gelatos, colored pencils, brush pens and more. Find hundreds of options here.
7. Stamping Ink
Stamping ink is going to be a critical addition to your card making stock. If you're only going to purchase one stamping ink, black is the one you're going to get the most versatility out of. There are a wide variety of inks with varying properties (like dry time, opacity, and more).
There are a few things to keep in mind when purchasing a black ink. One general suggestion is to start with black ink that is waterproof. In doing so, you can use markers, watercolors, and more without worrying about your cute new stamp impression smearing to high heavens. It is also important to keep in mind whether or not the ink is acid-free, non-toxic, what type of ink it is, and how the pad was designed. All of these factors will effect your finished project!
If you're looking for a solid, all-inclusive black ink, you can't go wrong with Ranger Ink's Archival Ink.
As time goes on in your card making voyage, you may decide that you want to invest in more stamping inks (don't worry - this feeling of needing more colors is totally normal). Not only are there hundreds of awe-inspiring hues to choose from, there are also specialty inks you might find you love experimenting with. From Distress Inks and Oxides to pigment inks, and more, there are wonderful options available to take your card making to the next level.
8. Paper Trimmer
Card maker: meet your new best friend, paper trimmer. You two are really going to hit it off. Having a paper trimmer at hand is one of the best investments you can make, as a card maker, but also as a crafter in general. Straight lines, mass-producing capabilities, and consistent measurements are all fruits you will harvest from this handy tool!
There are many paper trimmers and cutters to choose from, from guillotine style to sliders on tracks, it's a matter of which you prefer.
9. Scissors
Even though you have a paper trimmer, nothing can replace a nice pair of scissors. From cutting thread to embellishments, or fussy cutting around the edge of a sentiment, a pair of clean, sharp scissors is going to be a desk-top favorite of yours.
Nowadays, scissors come in a wide variety of styles, sizes, and types, so pick the one that best suits you!
10. Craft Dies
Many stampers are also die cutters. Because the two crafting methods harmonize together so seamlessly, it's easy to find stamps that have coordinating dies. If you plan on making a lot of cards, dies are going to be instrumental. Easily cut borders, frames, card faces, and your stamped images with the turn of a lever, versus the patience and caution of sometimes unrelenting scissors.
Just like stamps, dies are available in a kaleidoscope of styles, shapes, and sizes. It's easy to find one that really suits you, whether you plan on only making cards at the holidays, or getting crafty multiple times a week!
If you're new to dies and it all seems a bit confusing, do not fret. We have a comprehensive article that tells you everything you need to know so you can dive in with not only an understanding of the medium, but a plan!
11. Die Cutting Machine
With dies, a die cutting machine is necessary. They are an investment, but end up earning their weight in gold. With a wide variety of machines to choose from, it's sometimes hard to know where to start. We compare and contrast the most popular die cutting machines in this article here (includes videos) so you can best choose the one for your space, time, and physical ability!
12. Embossing Powder
Embossing powder is a popular supply in the card making community. Easily create more 3-dimensional and/or textured effects on your cards with embossing powder. From creating shimmer to subtle background patterns in matte, with a sheen, metallic, or more, embossing powder adds a special flare to your creative designs that will leave your card recipients wondering "how in the world did she do that?!"
13. Heat Tool
Like the highly sought after Stamp Shammy, a heat tool is an irreplaceable asset to have in your crafting arsenal. You'll find that it saves you a ton of time. If you plan on embossing, a heat tool is a must-have, as it will set your design so it doesn't smear, fade, or wipe away.
Though embossing is one of the most popular reasons that card makers purchase heat tools, it's certainly not the only reason. Heat tools save you ample time if you're an impatient crafter - quickly dry backgrounds, pigment ink impressions, and more with a quick zap under the heat tool and go on your way to the next step of your project.
We get it: sometimes it's just too exciting to set something overnight to dry!
Note: Heat tools are electric and require an electrical socket. They get very hot so use with caution and be careful not to burn your hands while drying projects!
14. Bone Folder and Scorer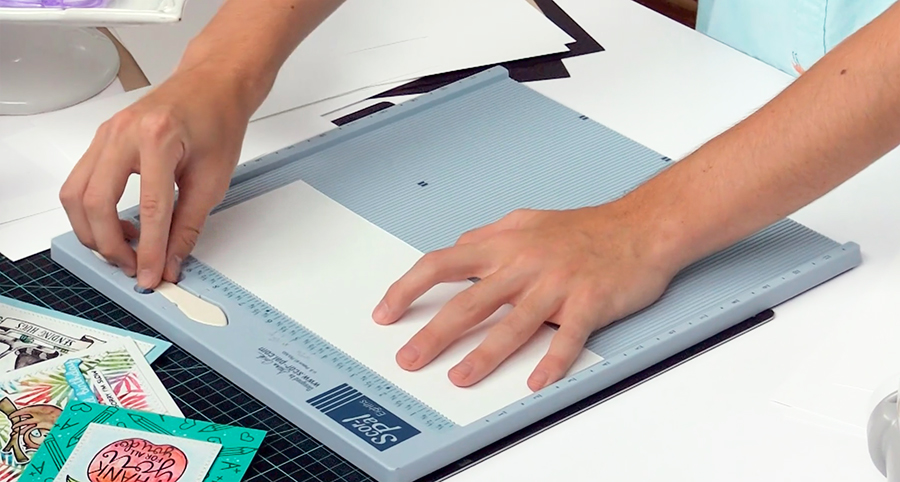 Though it's possible to purchase pre-scored and folded card bases, if you plan on creating your own cards even semi-regularly, you will want to consider purchasing a scoring board and bone folder. This set comes with both, so you can quickly create card bases without worrying about the edges not lining up, the paper wrinkling when folding, or not knowing exactly where to fold.
Trim your base cardstock to the size you would like it, then find the center with the measurements on your score board. Take the bone folder out of its nook and press down to create a crease in the center of your cardstock (think of it like an exacto knife, but the paper doesn't slice).
After that, you can easily fold at the straight, smooth crease and, voila, your new card base is ready to be stamped, colored, embellished, and sent off to make someone's day!
15. Embellishments
Last, but certainly not least, is a lot of card maker's favorite part of the creative process: the embellishments. Embellishments can be liquid additions, such as the highly popular Nuvo Drops from Tonic, to glitter, lace, stickers, brads, ephemera, and more. We have a huge section of embellishments to choose from in order to take your cards to new, beautiful heights!
16. Pre-Scored Blank Cards for Card Making
If you aren't interested in or don't have the budget to purchase cardstock, a trimmer, and a bone folder, you might want to just grab some pre-scored blank cards that are ready to go. These ones also have matching envelopes that come with them so you can have the card base done before you even begin!
Available in Kraft and White, these cards come in a nifty little pack. If you just want to "get to the good stuff," this might be thee ultimate card making supply out there! Plus, with their matching flat card fronts, creating quick cards that are still beautiful is convenient and affordable.
---
Now that you know all of the essential supplies for starting your card making journey, you'll be ready to dive in and have everything you need to create beautiful, meaningful handmade cards time and time again.
Happy crafting!
---