Halloween is a time for candy, costumes, and creepy (or cute!) crafting. Get creative this year with some of the most unique Halloween collections and supplies for SPOOK-tacular craft projects!
Here are the must-have Halloween craft supplies that are as awesome as getting a full-sized candy bar in your trick-or-treating haul!
NOTE: The paper featured in the image above is from the Ghost Stories Collection by DCWV!
Authentique Paper - Twilight Collection
There's something frightful and yet so delightful about Authentique's Twilight Collection. These ivory, fiery orange, and raven-colored Halloween papers and stickers have haunting hidden images in their patterns. With a 12 x 12 argyle paper that has bones for lines and another with delicate damask hiding sinister skulls, your cards, layouts, favors, and more will look wicked and wonderful!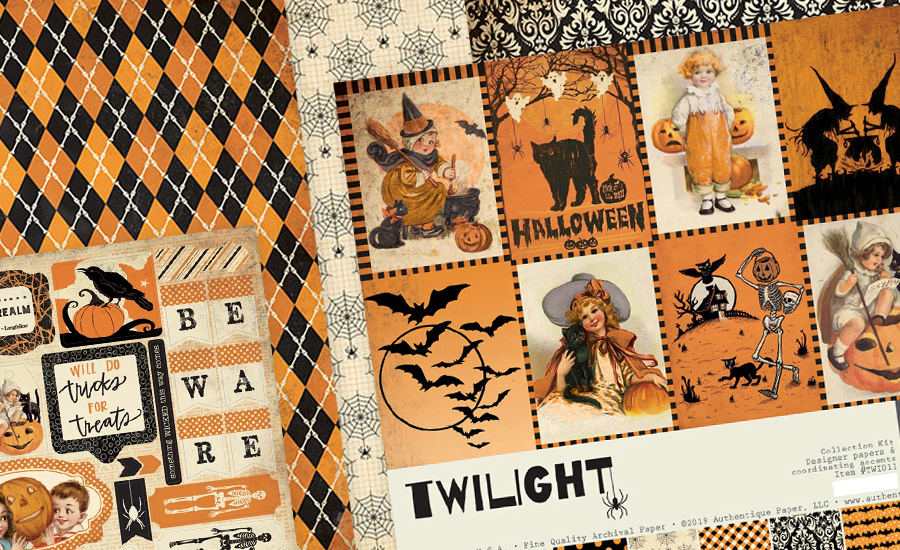 Alongside some spooky scrapbook papers are gorgeous vintage images of pumpkins, costumed kids, feisty jack-o-lanterns and some silly seasonal sentiments. Grab some paper pads, individual 12 x 12 papers, cardstock sticker sheets, or cute cut-aparts for all your Halloween-themed crafting!
Scrapbook.com Hybrid Ink Pad Kit - Halloween Group
While black may be the must-have ink color this Halloween due to its dark and ominous nature, we can't help but suggest a couple of other key components to your haunting color palette. Add a touch of witch's brew potion purple and jack-o-lantern orange and you're sure to have a frightfully fun crafting session!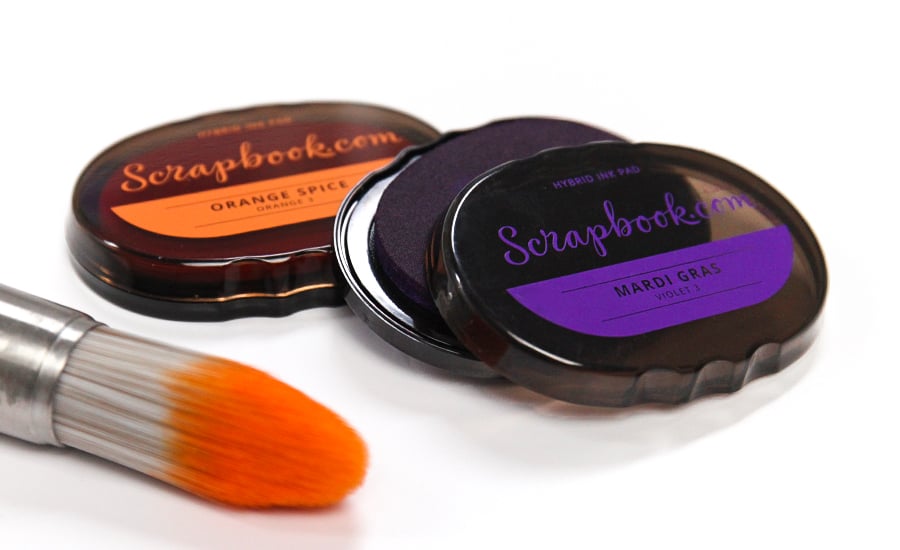 The Scrapbook.com Halloween Group is ready to help you create both silly and scary projects for the spookiest night of the year. This combination of Mardis Gras and Orange Spice is an absolute must-have if you want perfectly-shaded pumpkins and wicked witches.
Halloween Ink Tip: Looking to add some distress to your dangerously dreadful crafts? Check out the Ranger Ink Distress Ink Pad Fall 3-Pack.
Crate Paper - Hey Pumpkin
This cute and creepy collection is the pumpkin to your spice and the trick to your treat. Say hello to Hey Pumpkin by Crate Paper! The signature townhomes you love have been dressed up for Halloween with spooky bats, black cats, and festive trick-or-treaters roaming the area.
Fun phrases in bouncy fonts are found on the 12 x 12 papers, ephemera, washi tapes, and stickers. Add a little "Eeeeeeeek!" or "boo to you" on your cute Halloween treat bags or Happy Halloween Hellos to friends and family.
And there's just the right amount of glitter, sparkle, and holographic foil sprinkled like candy corn throughout the whole collection. There's even a couple of adorable holographic skeletons in the collection that are just dying to be your boo!
Simple Stories - Happy Haunting
These silly and spooky supplies by Simple Stories are for the Halloween lover who also can't get enough pink! Happy Haunting mixes the traditional black and orange color palette with a fancy cotton candy pink that really makes this a must-have collection to treat yourself to!
It's all about thrills, chills, and even some pretty floral frills in Happy Haunting! Grab your boo crew and start creating some unforgettable layouts featuring cuties in costumes, beautifully bewitching party decor, and some handmade Halloween cards that are so cute it's scary!
There's nothing cuter than Halloween craft projects filled with ghosts and skulls with fun pink bows and sweet frosted cupcakes! All treats - no tricks!
Foundations Decor - Halloween Collection
When your Halloween decor is so perfect it's scary, you know it's from Foundations Decor! These woodworking projects are an absolute must-have for adding spooky accents and laughable characters to your sideboard, dining room table, and curio cabinet for the season.
There are photo holders, your favorite Halloween characters like ghosts and jack-o-lanterns, and endless possibilities to get creepily creative. And with so many amazing Halloween paper crafting collections being released this year, the hardest part of this DIY project will be picking your papers and accents!
Just think about all the compliments you're going to get with one of these handmade projects on your dining room table, front porch during trick-or-treat hours, or your desk at work!
Die Cuts with a View - Halloween Stacks
No Halloween is complete without goofy ghosts, holographic skulls, eyeball florals, and crazy amounts of candy. Find all that and MORE with DCWV's Halloween Stacks. These rather curious and creepy 12 x 12 and 6 x 6 pads are filled to the brim with a crazy concoction of Halloween-themed papers.
How will you remember your wickedly fun night of spooky spells and hocus pocus if you don't commemorate it all in a bewitching layout? DCWV's Halloween Stacks have a haunting variety of tricks and treats for your creative creepiness. Choose from holographic bats and black and white skulls or jack-o-lanterns wearing fashionable eyewear. This haunted house is filled with curiosities you won't be able to resist!
Sizzix Sidekick
How about a die cutting machine that's all dressed up for Halloween? The Sizzix Sidekick in spooky black is the perfect accessory for all your dangerously devious die cutting for the spookiest night of the year. Get all your small accents cut out in no time for your cards, treat bags, decor, layouts, and more.
This Side-Order Halloween set by Tim Holtz is a must-have to along with your Sidekick. Add Frankenstein's Monster, menacing skulls, black cats and spooky bats to all your Halloween projects! We even have adhesive sheets that are so perfectly sized for the Sidekick, it's terrifying!
Echo Park - Trick or Treat Collection
If you want your Halloween to be SPOOKtacular, put on your scariest costume, grab a pillowcase for candy, and get ready to yell Trick or Treat! Echo Park wants you to have a hauntingly happy Halloween with their fun collection filled with ghosts, goblins, and dancing skeletons galore!
You'll be stenciling in bats and spider webs, stamping witch hats, and die cutting twisty Halloween sentiments for all of your pumpkin-themed projects. When Halloween is over and the last of the candy has been eaten, take all of the photos of your favorite trick-or-treater and create a delightfully scary scrapbook layout or album to remember the evening's events.
Clear Double Sided Adhesive
Have you heard the ghost story about the double sided adhesive that's so sticky it's SCARY? Scrapbook.com tells it best! Our exclusive ghostly Clear Double Sided Adhesive works so well on your scrapbook pages and handmade cards that it will positively terrify you!
This super sticky adhesive comes in a variety of sizes and shapes for every Halloween project in your cauldron. The 2" roll may look like mummy bandages, but we assure you it's better used on paper than a mummy!
And don't forget to trade in your ghost sheets for adhesive sheets instead! We have two brand new sizes that are the perfect size for your Sizzix Sidekick and Big Shot platforms. We know you're dying to die cut something spooky and spectacular!
Fun Tip: Not a fan of handing out candy? How about making homemade sticker sheets to hand out to the costumed cuties ringing your doorbell? Check out this video to learn how!
Jane Davenport - Making Faces
Halloween is a holiday all about dressing up, painting faces, wearing masks, and becoming something (or someone!) else for the night. Let the magic of that feeling pour right into your crafting with Jane Davenport's Making Faces Collection!
These makeup-inspired supplies are fantastic for creating a wondrous world of mystery and allure in your art journal, mixed media projects, layouts and more. Don't let Halloween be the one night of the year you get crazy colorful - Making Faces is here to let the magic of All Hallows' Eve last all year long.
These Favorites Are Back!
Doodlebug Halloween
No one does Halloween cuter than Doodlebug Designs. These supplies are so cute you'd give them the whole bowl of candy if they came trick-or-treating at your door. They're perfect for creating absolutely adorable party invitations and favors, scrapbook layouts or albums featuring your cute kids in their costumes, and sweet-as-candy home decor.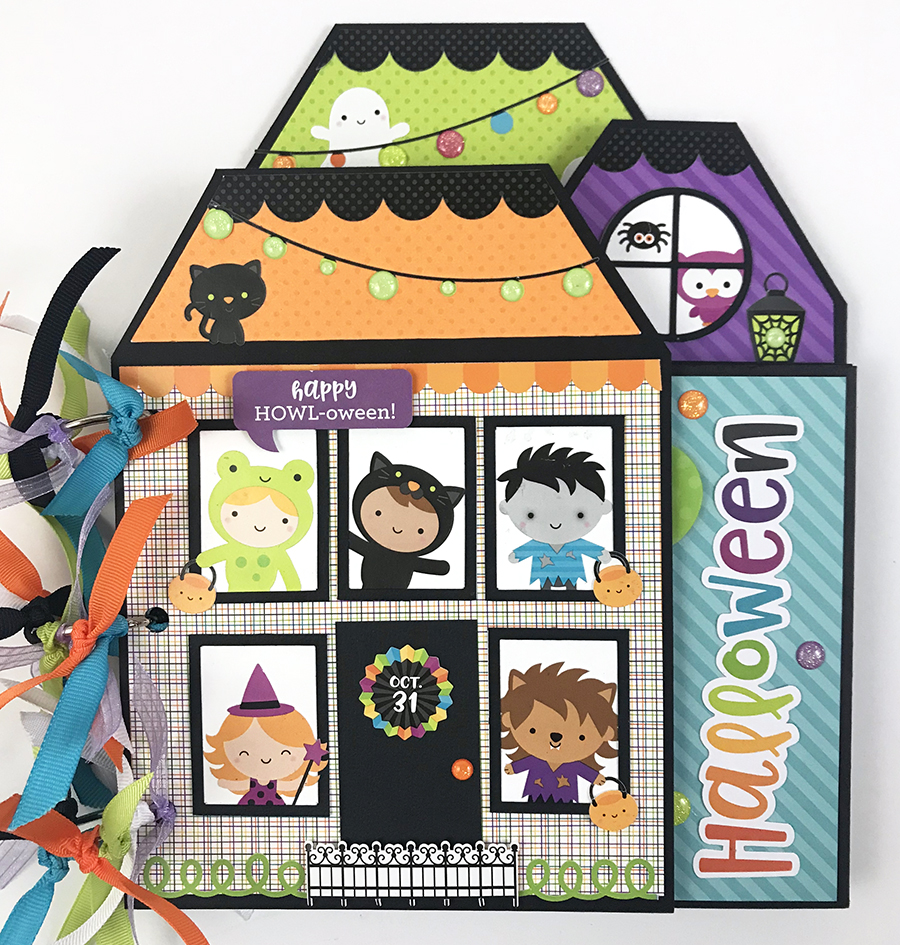 Fall under the witch's spell of patterned papers featuring delicious spreads of candy and subtly patterned solids to set off your photographs of adorable masked cuties. Complete the look with some can't-resist Doodle-Pops, cardstock stickers and washi tape complete with creepy crawlies and sweet little black cats.
Lawn Fawn Halloween
Speaking of designs too cute to be spooky, make sure to check out Lawn Fawn's Halloween-themed supplies. You'll have everything you need for cards, goodie bags, and fun layouts, including cardstock in traditional Halloween colors, inks, and some of the cutest stamps around.
You'll be creating pumpkin patch scenes, monster mash bash layouts, and sweet cards featuring jars of delicious looking candy corn. If you're looking for the best pumpkin in the patch, this is it!
Tip: Learn how to make the easiest and sweetest Halloween treat bags in this blog post from our friend at Creative Pixie Designs!
Advantus Idea-ology - Tim Holtz Halloween
The Advantus Idea-ology Collection by Tim Holtz will be your go-to for ultimate creepy crafting projects this Halloween! This collection is full of the macabre pieces perfect for Halloween party decor such as tabletop decorations, place setting cards, goodie bag embellishments and so much more.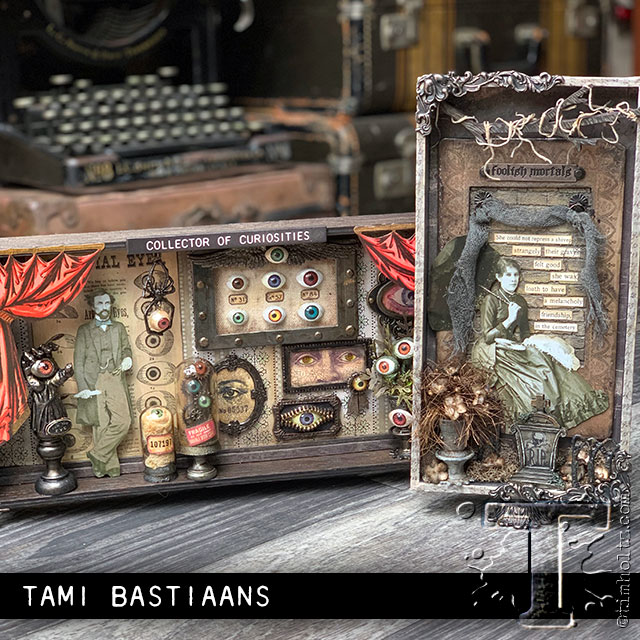 Your spine will tingle and the hairs on the back of your neck will stand up when you add errant eyeballs, skull fragments, bats, and bones to your haunted house celebration. After the party ends, flesh out your Halloween pages or mixed media projects with bone-chilling ephemera, dark and mysterious papers, and mummy wrapped accents.
Stampers Anonymous - Halloween
Keep the screams coming with the Stampers Anonymous Halloween products! Craft at your own risk with stamps and stencils featuring scary skulls, frightening phrases, and downright eerie designs.
Create horrifically haunting decor including place setting cards, gift tags, or horror-themed mixed media projects. Whatever you choose to do, you'll be howling in delight with the creative possibilities!
Stencil Blending Brushes
You'll be the ghostess-with-the-mostess with this easy-to-use, easy to clean and fun tool! These large, wood-handled stencil blending brushes allow you to create bewitching designs easily without the mess! Add a faded or stenciled background to your Halloween invitations, give your jack-o-lanterns an ombre hue, add an ominous distressed edge to projects and so much more!
It's not witchcraft! It's just wickedly smart! The stencil brushes can be used with a variety of media including inks, oxides, paints, chalks, dyes and liquid adhesives. Plus - since they come in a 3-pack, you'll be able to keep one for each of your most-used colors, perhaps orange, purple, and black?
Can't get enough of this nightmarish holiday before Christmas? Here's a super sweet tutorial for making Halloween treat bags, and more Halloween craft project ideas.
---