Halloween is a time for candy, costumes, and creepy (or cute!) crafting. Get creative this year with some of the most unique Halloween collections and supplies for SPOOK-tacular craft projects!
Here are the must-have Halloween craft supplies that are as awesome as getting a full-sized candy bar in your trick-or-treating haul!
Photo Play Paper - Gnome For Halloween
Knock, knock! Who's there? GNOME! Gnome who? Gnome one here but us ghosts who want to eat all your candy! Get your fill of adorable, wise-cracking costumed gnomes with Photo Play Paper and their Gnome For Halloween Collection.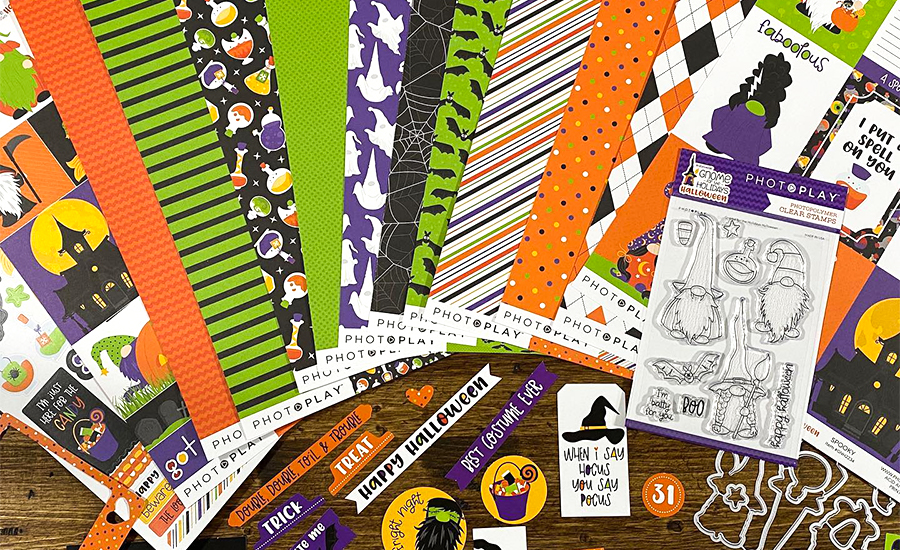 These cheeky little characters are dressed up like ghosts, pirates, wizards, and pumpkins and they're here to brighten your spooky holiday (and clean you out of delicious sweet treats!). Just think how adorable your costumed cuties will look next to these neat little gnomes.
Prima - Pumpkin and Spice Collection
You can't have autumn without a nice, hot pumpkin spice latte (PSL for short!). And you will need a deliciously elegant collection like Prima's Pumpkin and Spice to accompany your delectably spicy beverage!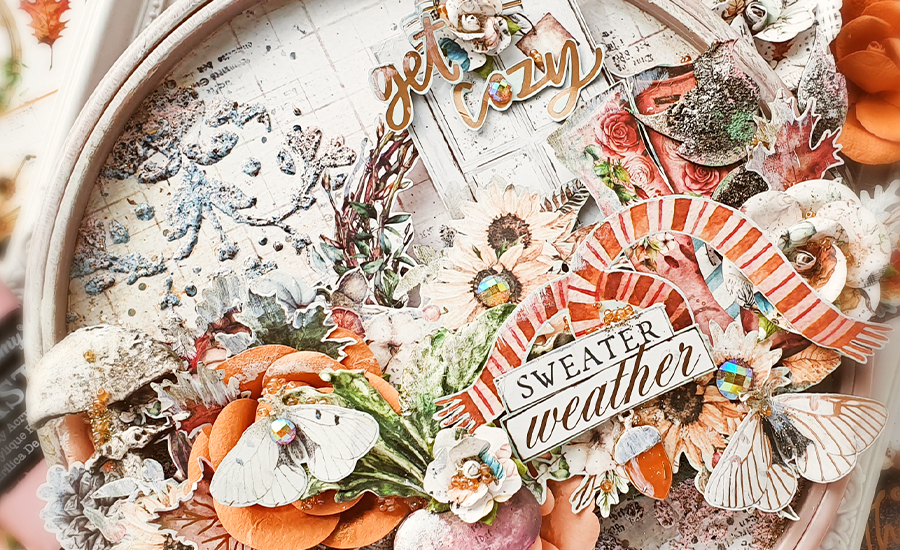 Pick the perfect pumpkin and then pick some Prima flowers to go along with your autumnal work of art. You will love all the opportunities to accent photos in the pumpkin patch or all bundled up with the leaves changing hues behind you.
Give thanks this year for friends, family, and fabulous scrapbook supplies from Prima!
Scrapbook.com Hybrid Ink Pad Kit - Halloween Group
While black may be the must-have ink color this Halloween due to its dark and ominous nature, we can't help but suggest a couple of other key components to your haunting color palette. Add a touch of witch's brew potion purple and jack-o-lantern orange and you're sure to have a frightfully fun crafting session!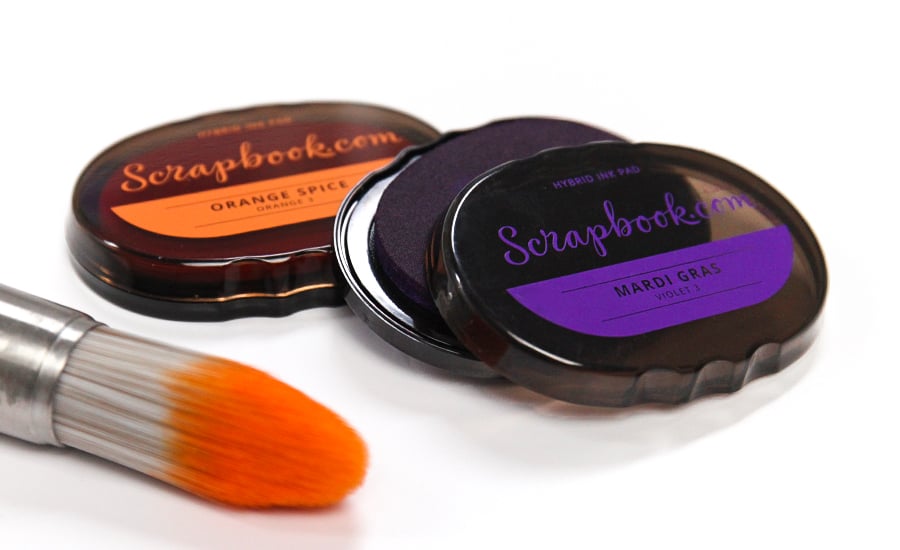 The Scrapbook.com Halloween Group is ready to help you create both silly and scary projects for the spookiest night of the year. This combination of Mardis Gras and Orange Spice is an absolute must-have if you want perfectly-shaded pumpkins and wicked witches.
Halloween Ink Tip: Looking to add some distress to your dangerously dreadful crafts? Check out the Ranger Ink Distress Ink Pad Fall 3-Pack.
Pebbles - Spoooky Collection
This cute and creepy collection is the pumpkin to your spice and the trick to your treat. It's time to get your spook on with Spoooky by Pebbles! It's so spooky, they had to had an extra 'O' for OMG, how spooky cute!
Fun phrases in bouncy fonts are found on the 12 x 12 papers, ephemera, washi tapes, and stickers. Add a little dancing skeleton or sparkly, puffy spiders on your cute Halloween treat bags or Happy Halloween Hellos to friends and family.
And there's just the right amount of glitter, sparkle, and shimmery foil sprinkled like candy corn throughout the whole collection. There's even a couple of adorable bats and spiders in the collection that are just dying to be your boo!
Tonic and Tim Holtz - Deckle Trimmer
What's dark as the night with metal, jagged teeth that slice and cut in one single motion? The Deckle Torn Edge Trimmer from Tonic & Tim Holtz, of course!
There's nothing scarier than taking your own two hands to a gorgeous piece of paper to get that skilled, effortless, torn edge look. So why venture into the unknown when you can have a handy trimmer do the tough stuff for you?
The unique jagged blade is non-repeating, which means that you can achieve different looks based on where you position your paper and the trimmer. The only thing that might scare you with this is the amazing results you'll get on your project!
This dark & mysterious crafting tool has been lurking in the coming soon section for a while and we cannot wait for it to make an appearance. Make sure you click 'Notify Me' here so you can be the very first to get a notification text or email as soon as it arrives!
Spellbinders - Halloween Glimmer Hot Foil Collection
The wicked witch got it wrong - it's not double, double, toil & trouble...it's double, double, FOIL & trouble! Clearly this is a spell for Spellbinders' Glimmer Hot Foil Collection! Why not heat things up in your own cauldron with your die cutting machine and some glimmer plates for fabulous & fancy foiled fun?
This year, add a little bit of charm and whimsy to your Halloween projects with some fall-themed addition to the fan-favorite Glimmer Hot Foil System. Choose from spooky options like spiderwebs, elegant bats, cute skeletons, or fall foliage. And with foils in hot neon orange or slick, deep black, you will love the final look on your hot foiled projects!
Authentique - Masquerade Collection
Paper faces on parade - Masquerade! Evoke feelings of classic costume parties and whimsical characters with the mysterious Masquerade Collection from Authentique. Alongside traditional colors and Halloween patterns, you'll find intriguing images of costumed figures that you'll love creating with.
Use 12 x 12 cut apart sheets for pocket page scrapbooking layouts or cute little Halloween greetings to accompany sweet treats for your friends, family, and trick-or-treaters. You'll love the vintage vibes of this vibrant collection so much, you'll feel a distinct desire to don a mask and get to the masquerade ball!
Hero Arts and My Sweet Petunia - Black MISTI Collection
Did you know that fan-favorite stamping tool, the MISTI has been wearing its Halloween costume for a few months now? Dressed all in spooky black, the Hero Arts & My Sweet Petunia co-branded MISTI adds a dark & mysterious air to your craft space.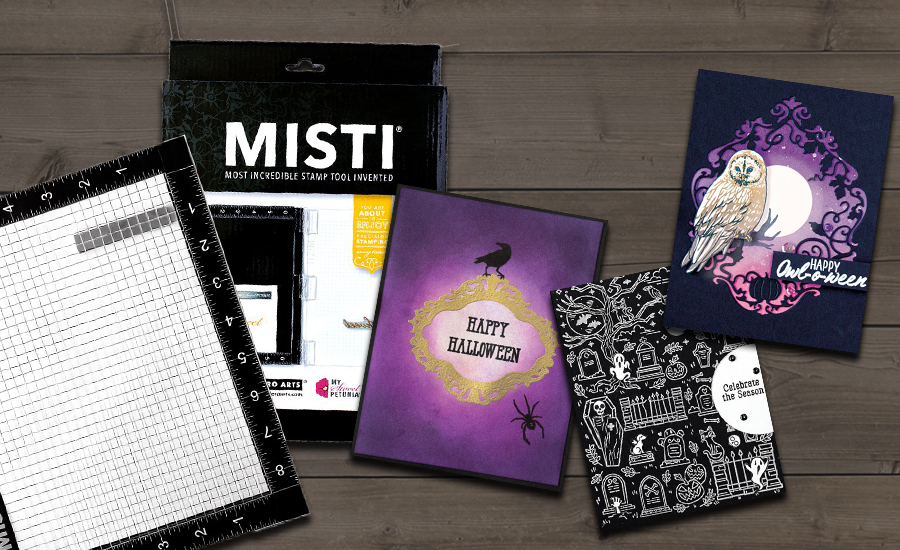 It's everything you love about the everyday pretty in pink version, but with a Halloween hue of perfect deep, dark black. What creepy, spooky crafts will you be making on All Hallow's Eve with the black MISTI?
Sizzix and Tim Holtz - Halloween Die Cutting
Get out your cauldron and add a dash of Sizzix, a splash of Tim Holtz, and a pinch of Halloween and watch the creative possibilities bubble and brew!
Year after spooky year, Tim Holtz positively outdoes himself in the creativity of Halloween dies. A fast fan favorite this year is a creepily intriguing owl named Arthur - part of the ever popular Colorize collection. Add layers of different colored materials to build depth on Halloween icons like skulls, bottles, and haunted buildings.
How about a die cutting machine that's all dressed up for Halloween?

The Sizzix Sidekick in spooky black is the perfect accessory for all your dangerously devious die cutting for the spookiest night of the year. Get all your small accents cut out in no time for your cards, treat bags, decor, layouts, and more.
Echo Park - I Love Halloween Collection
If you want your Halloween to be SPOOKtacular, put on your scariest costume, grab a pillowcase for candy, and get ready for trick or treating! Echo Park wants you to have a hauntingly happy Halloween with their fun I Love Halloween collection filled with cute kiddos, candy, witches, and skeletons galore!
You'll be stamping out little trick or treaters, and die cutting ghosts for your entire boo crew! When Halloween is over and the last of the candy has been eaten, take all of the photos of your favorite trick-or-treater and create a delightfully scary scrapbook layout or album to remember the evening's events.
Clear Double Sided Adhesive
Have you heard the ghost story about the double sided adhesive that's so sticky it's SCARY? Scrapbook.com tells it best! Our exclusive ghostly Clear Double Sided Adhesive works so well on your scrapbook pages and handmade cards that it will positively terrify you!
This super sticky adhesive comes in a variety of sizes and shapes for every Halloween project in your cauldron. The 2" roll may look like mummy bandages, but we assure you it's better used on paper than a mummy!
Fun Tip: Not a fan of handing out candy? How about making homemade sticker sheets to hand out to the costumed cuties ringing your doorbell?
Sizzix Cutting Pads
Halloween is a holiday all about dressing up, painting faces, wearing masks, and becoming something (or someone!) else for the night. Guess what else decided to dress up in fanciful colors for the festivities? Your favorite die cutting accessories - Sizzix cutting pads!
These standard-sized die cutting pads went to the costume shop and picked out some really eye-catching designs.
Escape to an island paradise with our teal blue Ocean Sparkle pads or go pretty in pink with glittery Ballet Slipper pads - both sets that can only be found at Scrapbook.com!
Other fun choices include blueberry blue, a grapey purple with glitter, refreshing minty blue, and gold glitter or silver glitter that will make you feel like royalty!
Stampendous - Halloween
Keep the screams coming with the Stampendous Halloween products! Craft at your own risk with cling and wood-mounted stamps featuring scary skulls, autumn mice, cute little ghosts & ghoblins, and fun costumed characters.
Create happy haunting decor including place setting cards, gift tags, or horror-themed mixed media projects. Whatever you choose to do, you'll be howling in delight with the creative possibilities!
Scrapbook.com - Storage Bins
Everyone needs a candy bucket for fright night, right? OK, this may not exactly be a candy bucket but you can certainly fill it with crafty treats for yourself and your creative boo crew.
Scrapbook.com's newest storage release is a must-have for Halloween and every other day of the year! Our new Storage Bins come in a variety of fun options for versatile organization at its most stylish.
Pick up a lidded bin in white or frost, or a bundle that includes fun plastic tabbed dividers for extra organization!
Just don't hand out your beloved stamps, dies, sticker books, or other favorite craft supplies to the costumed creatures ringing your doorbell!
These Favorites Are Back!
Doodlebug Halloween
No one does Halloween cuter than Doodlebug Designs. These supplies are so cute you'd give them the whole bowl of candy if they came trick-or-treating at your door. They're perfect for creating absolutely adorable party invitations and favors, scrapbook layouts or albums featuring your cute kids in their costumes, and sweet-as-candy home decor.
Fall under the witch's spell of patterned papers featuring delicious spreads of candy and subtly patterned solids to set off your photographs of adorable masked cuties. Complete the look with some can't-resist Doodle-Pops, cardstock stickers and washi tape complete with creepy crawlies and sweet little black cats.
Lawn Fawn Halloween
Speaking of designs too cute to be spooky, make sure to check out Lawn Fawn's Halloween-themed supplies. You'll have everything you need for cards, goodie bags, and fun layouts, including cardstock in traditional Halloween colors, inks, and some of the cutest stamps around.
You'll be creating pumpkin patch scenes, monster mash bash layouts, and sweet cards featuring jars of delicious looking candy corn. If you're looking for the best pumpkin in the patch, this is it!
Tip: Learn how to make the easiest and sweetest Halloween treat bags in this blog post from our friend at Creative Pixie Designs!
Advantus Idea-Ology - Tim Holtz Halloween
The Advantus Idea-ology Collection by Tim Holtz will be your go-to for ultimate creepy crafting projects this Halloween! This collection is full of the macabre pieces perfect for Halloween party decor such as tabletop decorations, place setting cards, goodie bag embellishments and so much more.
Your spine will tingle and the hairs on the back of your neck will stand up when you add errant eyeballs, skull fragments, bats, and bones to your haunted house celebration. After the party ends, flesh out your Halloween pages or mixed media projects with bone-chilling ephemera, dark and mysterious papers, and mummy wrapped accents.
---
Can't get enough of this nightmarish holiday before Christmas? Here's a super sweet tutorial for making Halloween treat bags, and more Halloween craft project ideas.
---