Christmastime: a time for twinkling lights, magical moments with family and friends, and endless holiday crafting with all the most wonderful supplies.
Whether you're creating all your greeting cards, making gifts for your loved ones, or just giving yourself the gift of amazing goodies, these are some of the best Christmas supplies you will want under the tree and in your stocking this year.
1. Christmas in the Country by Frank Garcia for Prima
Frank Garcia has done it again! After the beautiful blushing pink success of last year's Santa Baby, Frank has designed the unbelievably gorgeous Christmas in the Country Collection for Prima. Rustic reds mix with creamy whites and earthy greens for a chic vintage farmhouse feeling you're going to love using in your Christmas crafts.
Frank stopped by Scrapbook.com to give you all some beautiful inspiration and a hands-on walkthrough of his entire Christmas in the Country Collection:
2. The Big Shot Foldaway
Christmastime is when your home is filled with family, friends, food, and festive fun. But it's also filled with crafting supplies that need to be cleaned up before company arrives. Make sure your die cutting projects are still a top priority with the easy to use and simple to store Sizzix Big Shot Foldaway. This handy little unit packs all the power of your favorite full-sized machines, but has convenient folding sides, hidden storage compartments, and a slim profile for easy stowaway.
It's so easy to craft in between parties, gift exchanges, and ugly sweater contests when you have a portable machine for the holiday projects you're still working on.
Also, if you have crafty friends in your life that love to create on the go or bring their favorite supplies with them when they come over to create, this is the perfect gift!
Check out everything the Big Shot Foldaway has to offer in this video:
3. Scrapbook.com Exclusive Christmas Stamps
Say it with a big and bold sentiment, say it with sincere holiday wishes, say it with laughter that rings through the halls - Scrapbook.com has all the festive stamps you need to say Merry Christmas and Happy Holidays!
This year, Scrapbook.com released six wonderful holiday stamp sets that can be used for all your Christmas crafting, card making, memory keeping, and DIY gifting.
Here's a fantastic overview video of all six of these beautiful sets, and even some inspiration for how to create something magical with them:
Don't Forget the Gift Tags!

If every year you swear you're going to make handmade gift tags and then just buy the premade ones instead, this is your year!

With so many absolutely amazing holiday collections to choose from, and Scrapbook.com's 5-star rated customer favorite Nested Tag Dies, you have everything you need to create unforgettable gift tags for every present under the tree!
4. Heidi Swapp's Winter Wonderland Collection
You will truly believe in the magic of Christmas when you lay eyes on Heidi Swapp's Winter Wonderland Collection. Filled with beautiful rustic patterns and elegant designs, this collection is definitely your Christmas wish come true.
Sprinkled throughout the collection are special touches like gold foil sentiments in Heidi's distinctive handwriting, gorgeous holiday florals on stickers and papers, and wonderfully versatile stamps and dies for all your DIY projects this season.
To experience the magic of Winter Wonderland, check out this overview from Heidi Swapp:
Once you stock up on all of Heidi's Winter Wonderland supplies, head on over to our YouTube channel to watch her create magical projects that will inspire you this holiday season!
5. Sizzix - 2019 Christmas Collection
It's definitely not Christmas without a little something from Sizzix in your stocking! This year's release is filled with whimsical Christmas characters, beautiful holiday favorites, and plenty of 3D card and project dies to make the perfect handmade gifts!
There's so much variety in the dies and stamp sets that the creative possibilities are endless. With die sets that have presents, Christmas trees, sentiments, winter florals, wreaths, ornaments and more, you can mix, match, and make whatever your imagination tells you to.
The multi-layered Jolly St Nick die set is an early customer favorite, as is his fun little elf helper.
6. Scrapbook.com's Holiday Ink Pad Kit
Nothing says Christmas quite like bright Cardinal Red and festive Pine Green, so stock up on these two signature colors in our Holiday Ink Pad Kit! For every beautiful and touching holiday sentiment, Christmas tree, big red bow, gorgeous wreath, or holly berry, these two vibrant colors are ready to be your go-to holiday supplies.
Our hybrid ink pads are proudly made in the USA and are archival, acid-free and non-fading to ensure that your stamped images will last for many Christmases to come.
Don't forget to check out the whole collection of inks for stamping just the right shade on your projects featuring warm sugar cookies, tasty gingerbread houses, snowy blue hills, and crazy ugly sweaters!
7. Catherine Pooler Christmas Release
When it's Christmastime, all you need is love and Christmas cookies according to Catherine Pooler and her fun new Christmas collection! You may need one more thing though - new craft supplies!
This release of dies, stamps, and even a few paper pads has something for everyone on your list. From adorable Christmas cookie dies to gorgeous snowflakes, and all the wonderful winter sentiments you love for this time of year, Catherine Pooler's Christmas release is filled with holly jolly crafting possibilities.
Check out this amazing walkthrough of Catherine Pooler's new Christmas stamps and dies, as well as some top ink color choices for the best results:
8. The Spellbinders Glimmer Hot Foil Collection
Baby, it's cold outside, so why don't you warm your hands by the Glimmer Hot Foil Collection? This hot accessory for your die cutting machine is a magnificent tool for creating wondrous, shimmering foiled projects for the holidays.
Nothing says elegant quite like the shine of silver and gold foil on your handmade Christmas cards! Explore a variety of beautifully sophisticated and amazingly festive Glimmer Plates for adding a little heat to your holiday cards.
There's also an astonishing variety of foil color choices to choose from including iridescent silver and gold, starburst red and gold, emerald faceted green, and a few holiday favorite variety packs. You're sure to find the finishing touch foil you're looking for.
NOTE: A die cutting machine is required to use the Glimmer Hot Foil Machine System
9. Scrapbook.com's ColorCase Collection
When your stockings are filled with Christmas Red Stickles, Woodland Green Nuvo Drops, and Gold Liquid Pearls, you need a storage solution under the tree for getting them all organized!
Scrapbook.com's exclusive ColorCase Collection is exactly what you need for arranging your 0.5 oz and 1 oz bottles of your favorite products.
They're clear, they stack on top of each other, and they store your Stickles, Liquid Pearls, Nuvo Drops, Enamel Accents, acrylic paints and more in the manufacturer-recommended upside-down position.
You'll always know exactly what shades you have (and how much!), and which ones you should stock up on during an awesome sale (wink wink!).
And just think about the decor opportunities for your ColorCases as well! When you have them all lined up on your shelves or tables with festive colors of Nuvo, Stickles, and more, who needs party decorations?
10. Kringle and Co. by Photo Play Paper
Your holidays are sure to jingle when you get crafting with a little Kringle! Kringle and Co. by Traci Smith is a trendy gnome-themed holiday collection in bright red, grey, black, and white.
Make some handmade gift tags featuring funky flannel-wearing gnomes, or commemorate your awesome photos of the ugly Christmas sweater contest with these fun bearded little guys.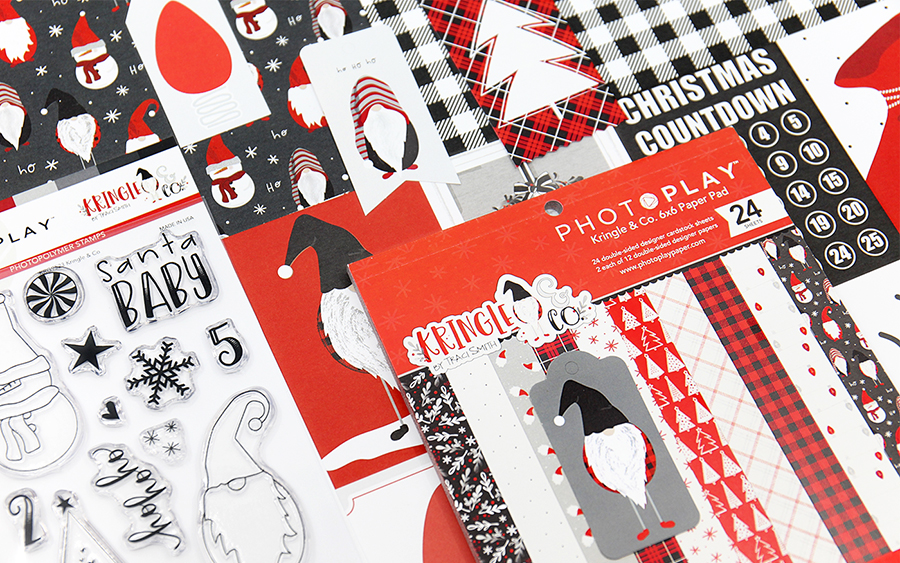 If you're looking to take Christmas crafting to the next level, there's GNOME place like Photoplay's Kringle and Co! Once you see these adorable snowmen, gnomes, and little Santas, you'll want the whole collection.
BONUS - Tim Holtz Christmas Idea-ology
Santa's elves were hard at work on the Tim Holtz Idea-ology Christmas line this year. As always, they churned out a charming, rustic, vintage vibe for these must-have holiday supplies. These charming, rustic supplies are always a fan-favorite each holiday season.
Some early customer favorites from the Idea-ology Christmas line include cute Christmas ephemera snippets, a fun sticker ook, and his 8" x 8" Mini Paper Stash.
If you're looking for a true vintage-inspired Christmas this year, then Tim Holtz Idea-ology is the way to go!
Last Year's Holiday Favorites
Echo Park's December Days Album Kit
A big fan favorite last year was the December Days Album Kit from Echo Park. This brilliant bundle includes absolutely everything you need to document all the wonderful winter memories of the Christmas season, all in one place.
With a quaint rustic Christmas theme and loads of amazing papers, stickers, and accents, you have everything you need to create an amazing keepsake of the holiday season.
It's also the perfect present for family and friends! Gift them the kit to complete on their own, or fill the pages for them to remember these special times all year long.
Ranger Ink - Tim Holtz Distress Oxide Ink Pad Bundle #5
With so many beautiful collections being released this year that have muted, organic tones and earthy accents, we can't help but love an ink bundle to go along with them.
The Tim Holtz Distress Oxide Bundle #5 is filled with twelve different blendable, water-reactive shades of ink that will pair perfectly with your holiday projects.
Not only do you have Festive Berries red and Pine Needles green, but a wealth of other hue options for creating snowy scenes and perfectly blended backgrounds for your Christmas cards.
---
If you can't get enough holly jolly holiday crafting and wonderful wintertime supplies, you won't want to miss our Christmas in July post showcases all the amazing new releases for the season.
You can also check out some fun techniques for creating this year's Christmas cards. Here is a quick and easy way to make a bunch of cards at once, and a brilliant rainbow idea you're going to love.
---