Tim Holtz for Tonic Studios walks us through some of the most important and useful tools of the trade that will simplify your crafting and produce amazing results. You won't know how you crafted so long without these super helpful tools!
We've got just what you've been looking for in the world of papercrafting tools. We're slicing, creasing, snipping, distressing, piercing, perforating, and cutting - and you can too! You won't believe how easily these tools fit in with your crafting routine and save you time.
8.5" Comfort Trimmer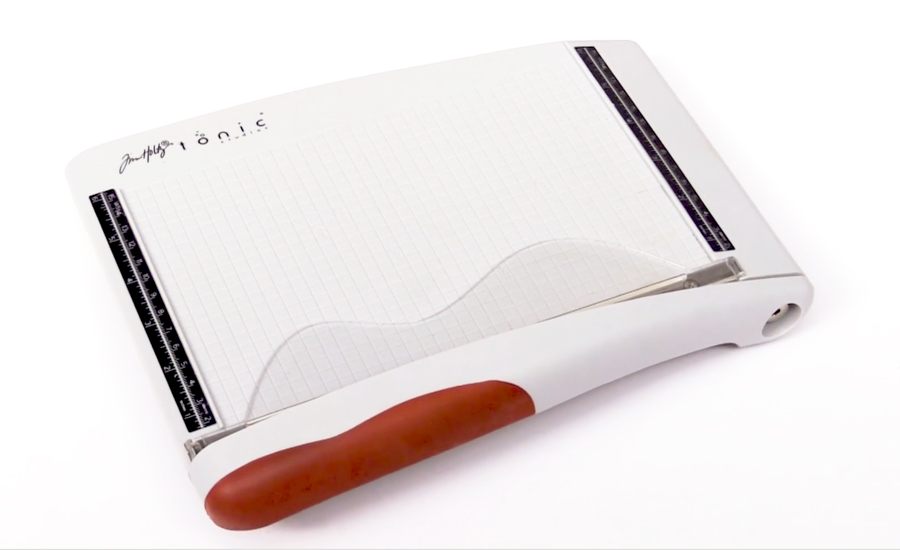 Use it in your crafting room, at a crop, on the kitchen table, wherever you need a clean cut.
The Tonic Studios 8.5" Comfort Trimmer is a paper crafter's dream come true. It's compact enough for tabletop cutting, but powerful enough for precision slices every single time. There are helpful .25" gridlines on the workspace, measure markings on the top and bottom, and even standard paper and card size markings (3" x 5", 4" x 6", etc.) for you to align and cut perfectly-trimmed and sized paper, photos, and more.
Using the handy edges on the top and bottom of the trimmer, and the clear see-through plastic guide will ensure perfect alignment and straight-edge cutting with each and every slice. And with no harm done to your fingertips!
This may also be the last paper cutter you ever need since the blade is self-sharpening - no replacement blades needed.
Serrated Scissors
No craft room or on-the-go craft bag is complete without at least one pair of scissors. But these aren't your ordinary kitchen scissors. Each pair in this amazing trio possesses unique qualities and performs cutting functions better than any old pair you have laying around the house.
Each pair has super comfortable Kushgrip handles and self-sharpening serrated blades.
Every pair has Kushgrip handles that are flexible and form to your hand, whether you're right-handed or left-handed. They also have micro-serrated blades for self-sharpening, making them long-lasting and durable through many a project.
Each is equipped with non-stick blades for easy clean-up and locking caps to avoid an unintentional ouch when stored.
5" Mini-Snips
The Tonic Studios 5" Mini-Snips are the perfect precision tool for fussy cutting intricate shapes with ease. The tiny tip is specifically designed for efficiently maneuvering details, outlines, and crevices without accidentally snipping through a masterpiece in the making.
Tip: If you're working with translucent papers such as vellum or transparency, and notice that your cuts are leaving small, bumpy ridges as you go, flip the scissors over to change the cut of the micro-serrated blade and slice out a smooth cut instead.
Original 7" Snips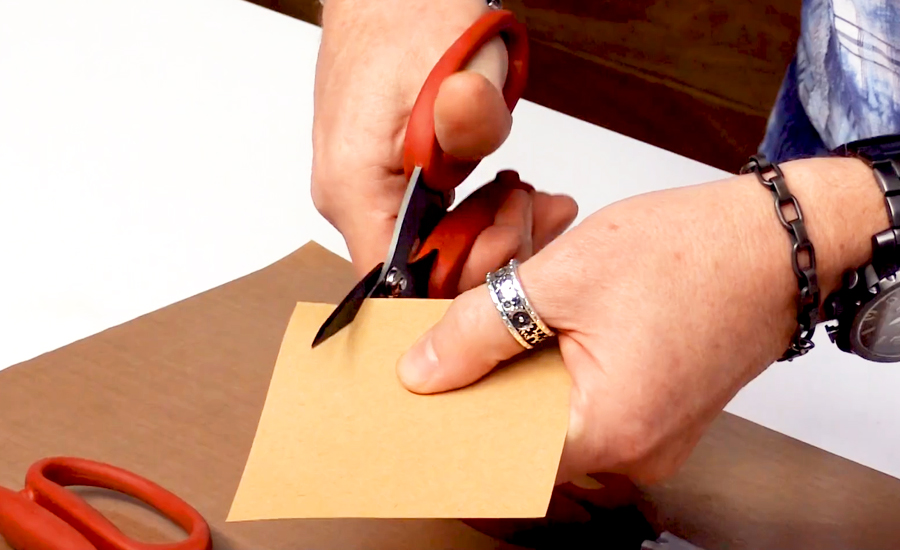 The original 7" Snip Scissors from Tonic Studios are a true workhorse cutting tool. Make long, smooth cuts with the full length of the blade, or even a few quick, small snips with the tip. They can be used with all types of materials, like wire, heavy cardstock, chipboard, sheet rubber, vinyl, and even adhesive-backed foam or glue dots.
9.5" Shears
The 9.5" Titanium Shears by Tim Holtz for Tonic Studios are more than just a giant pair of scissors. They are able to cut through paper or cardstock with one smooth slice straight across, and cut through fabric like butter. But these great big shears don't have to be your dedicated fabric scissors since the self-sharpening serrated blade will allow cutting through wooden dowels, leather, grunge board, ribbon, and so much more as well.
And according to Tim, "They're great!" so you know they are!
Retractable crafting tools are a lifesaver for your crafting bag - no stabbing while you're grabbing!
We like to think of retractable crafting tools as accidental-ouch-proof! Whether you keep them in a drawer, a cup, or your crafting bag, they won't end up stabbing you since their tool is safely stored within the Kushgrip handle. You'll be so grateful for the lack of injury that you'll use these again and again.
Retractable Craft Pick
The Tim Holtz Retractable Craft Pick* is both durable and versatile in many crafting scenarios. It is retractable in stages and increases in diameter towards the base, which means you only need to have it as far out of the handle as absolutely necessary. It's great for working with intricate and delicate die cuts, prep work for brads, mixed media stitch effects, and more.
*Please note this product has been discontinued.
Retractable Craft Knife
Just like the Craft Pick, this Retractable Craft Knife has various length options for ensuring the perfect amount of blade for your task. The blade is very sharp and very thin so you can easily maneuver it against a straight edge or slice the tiniest bit of material off with precision.
Tip: Crafting is exciting, but don't get carried away with excitement and use this craft knife without protecting your work surface first! The Tim Holtz Glass Media Mat is a fantastic multipurpose tool that allows you to cut to your heart's content (and do so much more!) without damaging the surface.
These foldable mini tools are portable and can even be stored on a key ring for quick, easy access!
The next trio of tools that you simply cannot pass up are all mini, yet mighty, and perform some truly amazing tasks for your papercrafting projects.
Mini Rotary Scoring Tool
First up is the Tim Holtz Mini Rotary Scoring Tool*, which packs a super useful crafting punch for cardmakers and paper crafters. Unfolding the small, hidden tool arm reveals a handy metal wheel used for creasing and scoring paper in one simple roll.
It's a game changer for creating perfectly-scored lines for your handmade cards, envelopes, treat boxes, accordion-style folds and more!
*Please note this product has been discontinued.
Tip: Need a small score board to go with your small scoring tool? Check out the We R Memory Keepers Mini Score Board!
Mini Rotary Cutter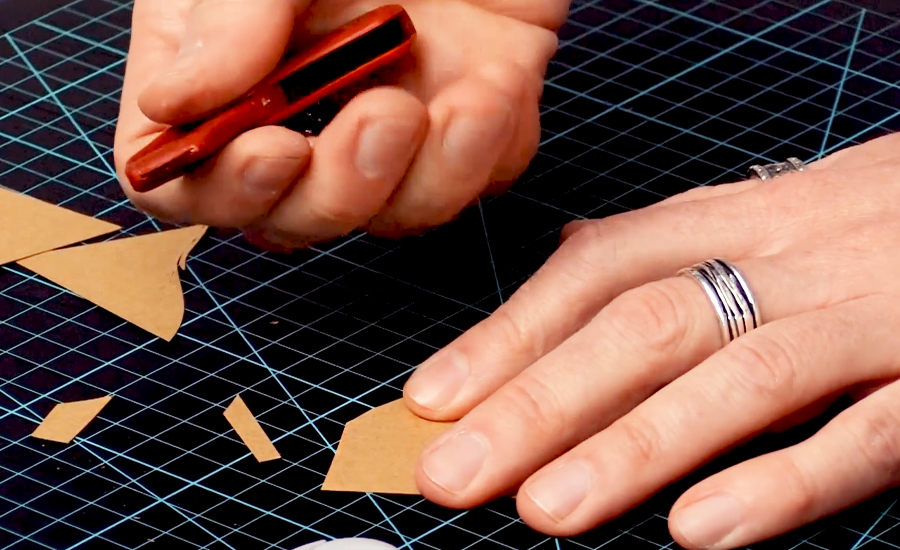 The Mini Rotary Cutter is everything you need in a tiny, portable, storable cutting device. Navigate straight edges and curves to swiftly cut through paper or cardstock. This versatile little device allows you to get a clean cut, sculpted cut, or just make a simple slice off the edge when needed.
Just remember to use a cutting mat to protect your work surface!
Mini Rotary Perforator
This little tool might be the one device you never knew you needed. One quick pass with the Tim Holtz Mini Rotary Perforator* will create perforations in paper or cardstock for adorable and detachable homemade tickets, coupons, party favors, and more!
*Please note this product has been discontinued.
Great Gift Idea: Craft a personalized coupon booklet for a friend's birthday, Valentine's Day, Mother's Day, Father's Day, anniversary gift, or as a thank you. Imagine the joy and delight as your loved one tears the perforated coupon and exchanges it for a wonderful, thoughtful gesture, adventure or gift! Who doesn't love coupons?!
Paper Distresser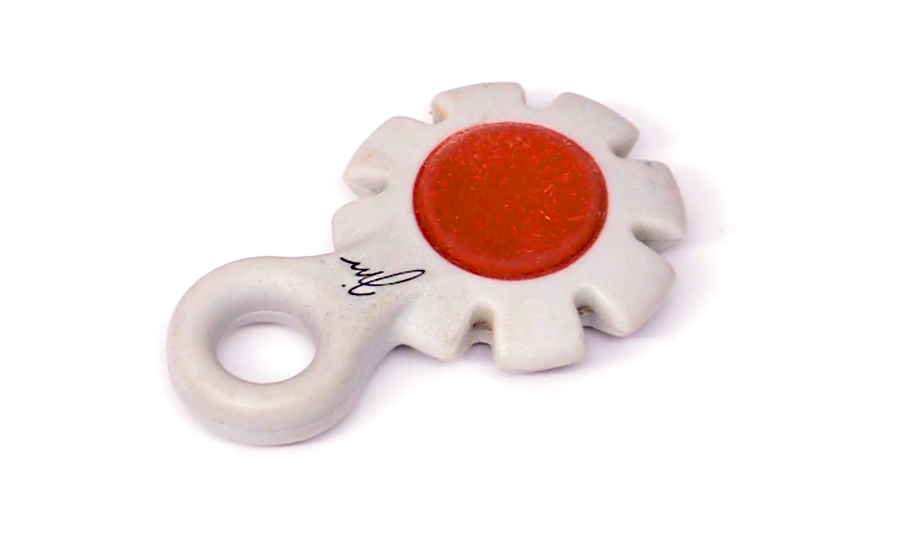 Tim Holtz's Paper Distresser* is another tiny tool with a ton of versatility. Designed with a comfortable ring-style handle and Kushgrip center, and 7 surprisingly sharp blades nearly hidden in the recessed edges.
*Please note this product has been discontinued.
Gone are the days of using just any old tool, or even a pair of scissors to get a distressed or tattered edge on your paper or cardstock. This tool does all the hard work for you. Use gentle strokes in one direction for just a slight distressing, or go crazy with a back and forth motion for a truly rugged, chewed up edge. Hint: it also doubles as a thread cutter!
Tip: All papers and cardstocks are created differently and as a result will distress differently with this tool. Try a few practice strokes on a scrap or unused edge to determine the exact look you're going for before going crazy on your project.
Grab one, or grab them all - these tools all possess a special, unique talent for elevating your projects and producing amazing results.
An enormous thank you to Tim Holtz for Tonic Studios for sharing some of these wonderful tools and how they can each add a new level of excellence to your papercrafting projects! Be sure to check out more tips and tricks with Tim here.
---
Shop the entire line of products by Tim Holtz for Tonic Studios to discover a world of tools that will transform the way you craft and create.
Can't get enough of the top tools? Check out the Top Tools for Stampers, and the 15 Must-Have Craft Tools for even more tools you'll want to get your hands on!
---