Though there are thousands of supplies for every taste, it's true that stamping doesn't require a lot of tools. You need the stamp, the ink, and the paper you're going to be stamping on - and that's about all that you absolutely need. However, as technology advances, the creative industry evolves with it and new ideas, commodities, and resources become available to us. There are a variety of very useful and helpful tools for stampers everywhere. Whether you're a wood mounted rubber stamp enthusiast or a connoisseur of cling, this article will show you the most handy tools for stampers.
1. Stamping Presses
This utilitarian tool has revolutionized the crafting industry, and we're not the only ones feeling impressed. Celebrity stampers, like blogger Jennifer McGuire, love them and use them to get the cleanest stamp impressions.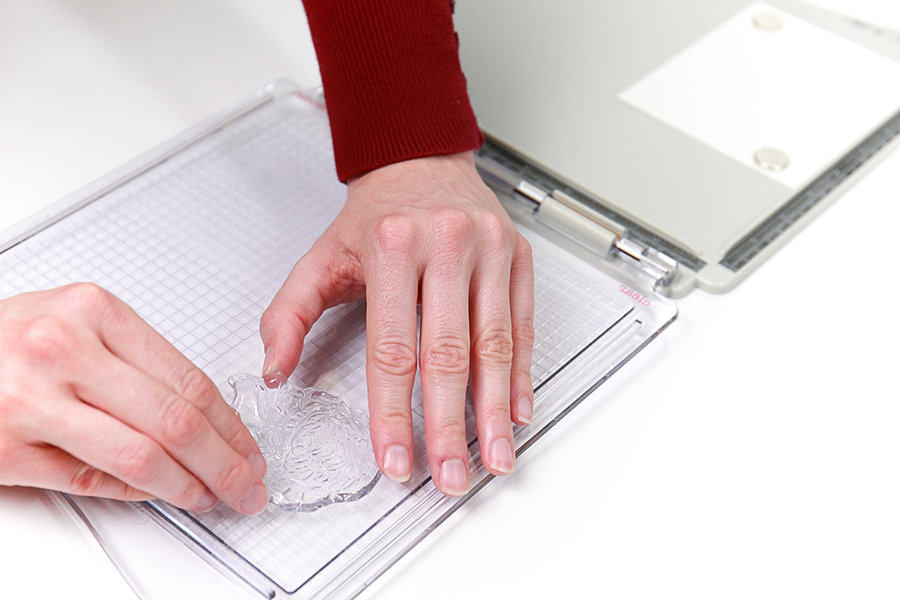 So... what is a stamping press, exactly? A stamping press, or stamp positioner, is a tool that ensures your stamps are always lined up in the perfect spot, so your image is stamped exactly where you intended it to be. They're very easy to use and fairly inexpensive, ranging from around $20.00 to $100.00, depending on brand, model, and size.
The most popular model is the convenient and super affordable Travel Stamp Platform from Tonic Studios and Tim Holtz. It's perfect for small workspaces and on-the-go stamp work.
Watch this informative video about how stamping presses work. Once you see one in action, you'll understand what all the fuss is about!
2. The Stamp Shammy by Lawn Fawn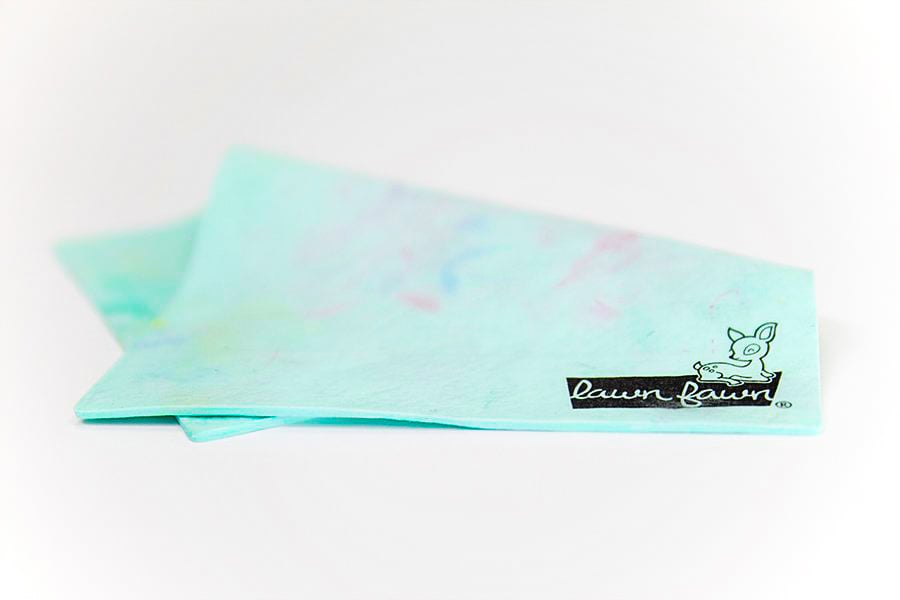 What if we told you you never had to buy baby wipes for stamp clean-up again?
Well... hold onto your seats, because this is the kind of invention that seems like a simple idea, but ends up totally changing your life. Meet the Stamp Shammy created by Lawn Fawn. As stampers, we grow accustomed to buying baby wipes in bulk and keeping them within arms reach while we craft, but this innovation has given us the serious upgrade that we didn't even know we were waiting for.
This convenient cloth cleans your stamps every time and all you need is water. That means no purchasing cleaners, using questionable chemicals, soaps, or an endless supply of baby wipes. This cloth is a bit like a sponge, in that it hardens as it dries. Ready to reuse? Simply add water and the cloth will dampen for another round of cleaning.

Put your baby wipes away, fellow stampers - there is a better way!
Ok, so we can't promise that the Stamp Shammy will change every aspect of your life for the better, but we can tell you that it will change your everyday stamping experience.
3. Daubers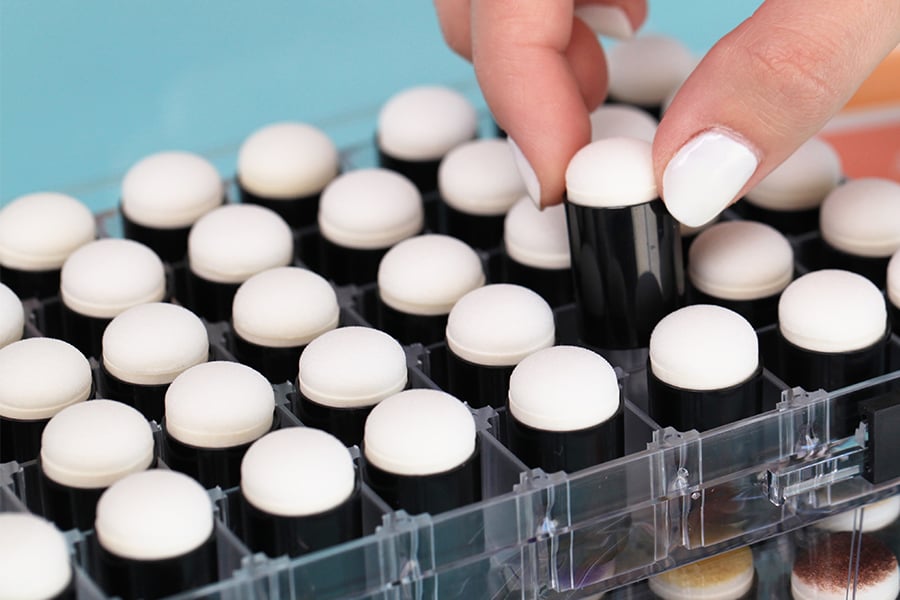 Beautiful ombre and pastel background effects are all the rage when it comes to stamping and ink. We love the messy, painterly look saturating our projects in a parade of polychromatism. After all is said and done, that's where we'd like all the ink to end up - on our projects, not our fingers. Though there are amazing tools designed to help us stay ink-free, like the aforesaid Stamp Shammy, creating messy effects is messy. That's where these magical little creations come in to play.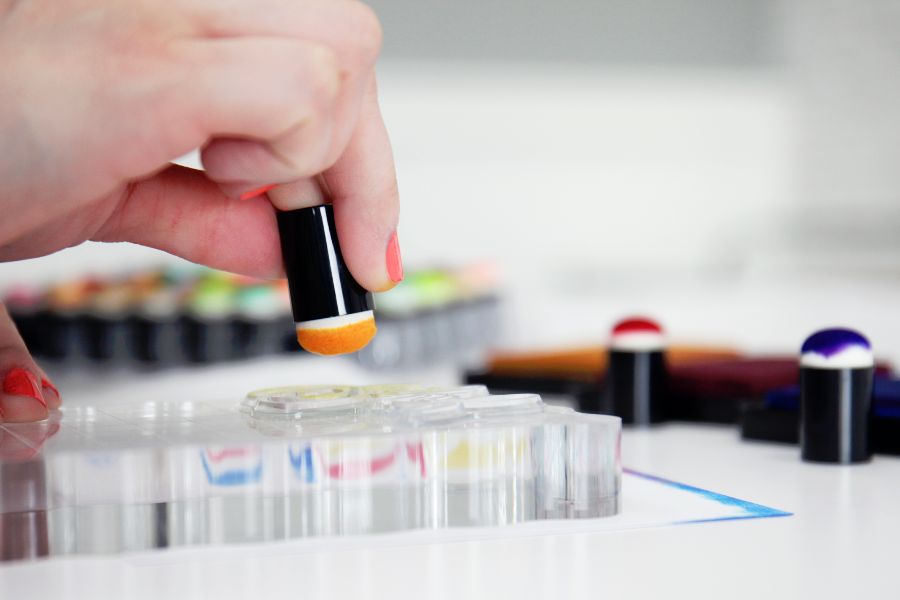 They fit cozily on your fingers and you can scrape, rub, press, and smear all of the ink you want: with your fingers, without the mess. Plus, if you use the same color every time for each individual dauber, you can reuse them over and over without having to wash between color.
This set comes with a convenient case to keep them clean and stored. These just went to the top of our gotta-have-it list.
4. EZ Mount Stamp N Store
Calling all wood mounted rubber stampers and stamp makers! This one goes out to you!
If you've ever thought about, or attempted to, detach your stamp from its wood mount to make it less bulky, easier to store, or to be functional with acrylic blocks, but found that the rubber doesn't exactly adhere to your block - or you create your own stamps and they just don't stay attached - here's your solution. Sunday International created a product called Static Cling Mounting Foam that adheres to the back of your stamps and turns them into acrylic-block-friendly stamps in just minutes.
Detach the red rubber stamp from its wooden block, cut the EZ Mount to fit it, and voila! Easey-peasey!
Attach a little bit of this to the back of your unmounted stamp and it will be acrylic block compatible. Genius. Red rubber stamps - meet your new best friend.
5. Rotary Stamps
Ok, ok. This one isn't exactly a tool, but we love it and had to add it to the list. Rotary stamps come in a variety of sizes, colors, and designs with all sorts of phrases and dates. The great thing about rotary stamps is they fit neatly in your hand and give you a ton of options in one. Because it's like having multiple stamps in one, they save room and time.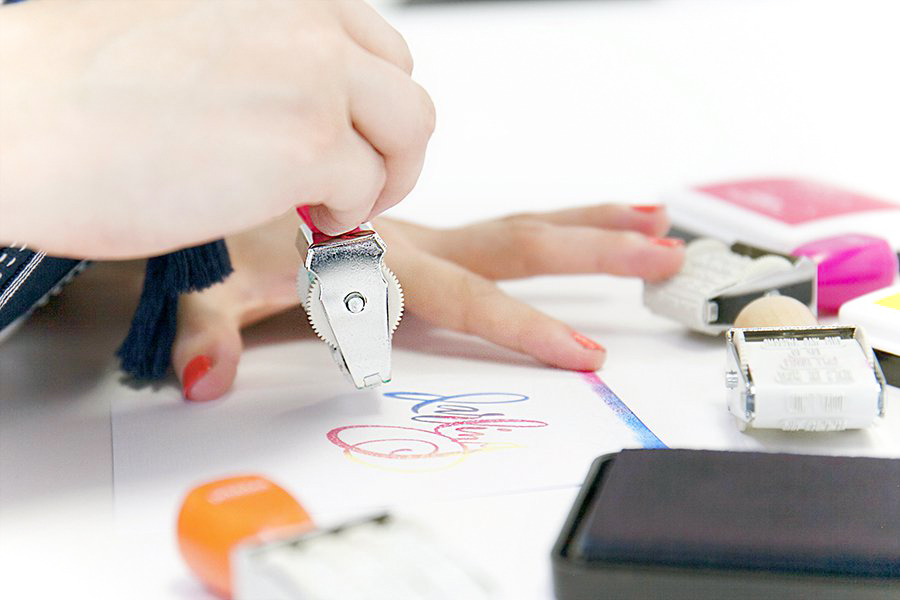 Some rotary stamps have adjustable dates, which is great for layouts about specific events and memories, or planners. They're easy to use, cute, and create tiny text - which is totally adorable and totally in.
Watch this video about rotary stamps now to get a better understanding of how they look and work.
6 Acrylic Blocks

If you are a cling stamp user, you know about these valuable tools. Acrylic blocks come in a variety of sizes, shapes, widths, and cuts. Some have smooth edges; some have rippled. Some are big; some are little!
Some of our most popular acrylic blocks are the Perfect Clear Acrylic Stamp Blocks. They have a scalloped edge for easy gripping, etched lines for accurate placement and they are the thickest blocks on the market. The extra thickness ensures that your fingers - which can sometimes have ink or glue on them - don't touch the project below.
Acrylic blocks are an absolute must for stampers.
Watch this video to learn more about acrylic blocks.
7. Mini Ink Blending Tool
If you love daubers and the fun, smeary effects that you get with their sponge tips, you'll love these mini ink blending tools by Ranger Ink. They have a wider, flatter surface and are made for blending, so you can create soft backgrounds that fade, are super subtle, have ombre effects, and more.
Unlike daubers, these nifty little tools have a handle that you hold and their foam pads are replaceable, so you can switch colors out with the same handle - pretty cool. Think of it like a rotary stamp for blending. Lots of blending of lots of colors - all in one.
Watch this video where Tim Holtz talks about the mini ink blending tool and see it in motion!
8. Stamp Mat and Paper Piercer
There's a reason celebrity stamper Stephanie Barnard calls the Stamp Mat & Paper Piercer a "Stamper's Secret Weapon." This mat ensures clean and smooth impressions every time by creating a firm cushion between the table and your stamp. This allows a little bit of room for give, creating a smoother, cleaner image every time.
The reverse side of the mat is more coarse, perfect for piercing. On the top of the mat, there is a coarse bar section for paper piercing, setting a brad, etc.
If you often worry about getting a clean impression, this mat will put you at ease. It's like a sleep number for stamps!
To learn more about this secret weapon, watch this video where Stephanie Barnard tells you (and demonstrates) exactly how the stamp mat and paper piercer works.
9. Stamping Mask Paper
Occasionally, after stamping an image, we decide that we wanted the background to have a splatter effect, but we don't want the splatter to get on our stamped image. A situation like this is where stamping mask paper comes in to play.
It's quite simple, but stamping mask paper acts like masking tape when painting the walls of your home. You cover up anything you don't want to get paint on, paint the areas you do want to get paint on, then remove the mask to reveal a clean, untouched, unpainted surface underneath.
Though the directions are on the back of the package (they are easy to digest), you might find this video helpful on how to use Inkadinkado's masking paper.
10. Laser Square and Mat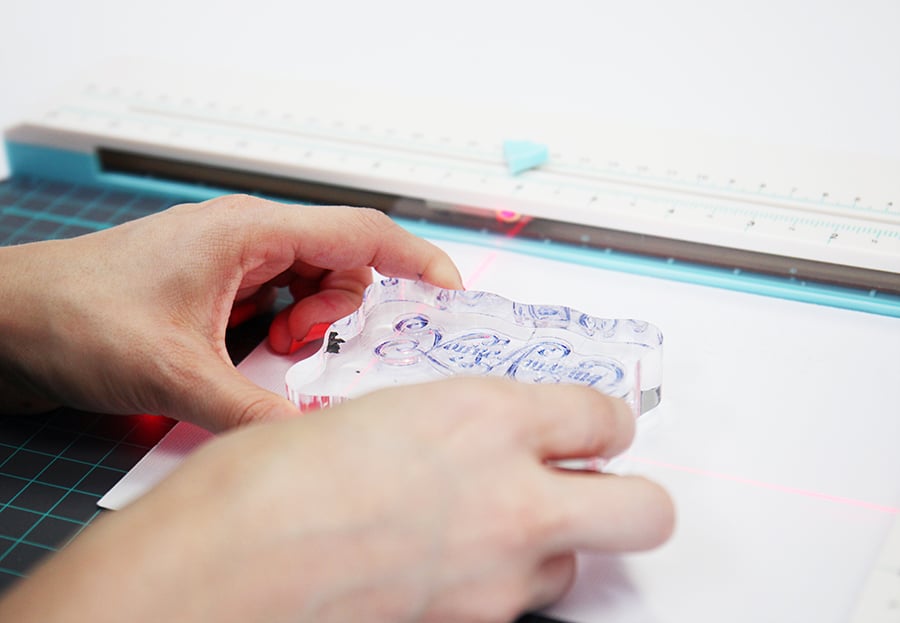 This tool is perfect for stamp placement and alignment. It is not your regular mat - it's a mat that has two adjustable laser lights that create straight lines for you to follow. With this mat, there is no more ruler measuring, pencil marking, or constantly checking to make sure your stamp is still positioned where you want it.
Adjust the tabs on the sides to move the laser line
All you do is adjust the lasers on the side to where you want them and, voila, you have a continuous stream of light to keep you in check while you're stamping.
Not only is this idea revolutionary - it also takes up minimal space. The entire mat comes apart and folds up for super convenient storage and safe-keeping. The Laser Square & Mat is a must-have for the self-proclaimed perfectionist.
Curious about seeing exactly how this tool works? Watch the Laser Square & Mat video to learn the ins, outs, whats, and abouts. Warning: you might fall in love!
---
Which tool do you like the most? Which tool do you think is an absolute must-have? Leave a comment below the article so others can learn from you!
Don't forget to add your stamping projects in our online gallery, where others can see your creativity in action! Check out what fellow stampers are making here.
Looking for additional stamping resources? Check out these informative and fun resources below to continue your stamping education!
Popular Stamping Questions and Answers
Top Craft Inks and Their Properties
Cardmaking 101 with Stephanie Barnard
---