So you've got that shiny new die cut machine and now you're just die-ing to cut all the things with it. But you look at the selection of dies and your head starts to spin. Thin metal? Steel rule? Nested? How do you know which one you need for your project – and more importantly, what is safe to put into your die cutting machine (sometimes also called a card making machine)? Plus, there are several manufacturers of machines like Sizzix, We R Memory Keepers and Spellbinders and even more manufacturers of dies. Which dies go with which machines and how do you sort through all of these products? Never fear - the Scrapbook.com die experts are here to guide you along!
One of the first things you probably noticed about dies is that there are two very distinct types. The first type, called a thin metal or wafer die, looks pretty much like a narrow ribbon of metal that has been twisted into the shape to be cut out. This one resembles a cookie cutter. The second type of die, called a steel rule die, looks at first like a large block of wood or plastic. The top of the block is foam, and hidden down in that foam is a twisted piece of metal – the steel rule - that forms the outline of the shape to be cut. These two types of dies don't just look different, they function very differently and serve very different purposes as well.
Wafer Thin Dies
Thin metal dies (also referred to as wafer thin dies) are smaller and more lightweight than their steel rule counterparts. This makes them easy to store, or to tote with you to crops. They can be stored on magnetic sheets, in plastic pockets, or even on binder rings. And since you don't have to pay for a base, and foam, these dies are more affordable than their steel rule big brothers. Less expensive thin metal dies are perfect for trendy or special use designs that you won't use over and over for many years.
The open center of thin metal dies makes it possible to precisely place them for cutting photos or die cutting stamped images. Many stamp companies now make thin metal dies as companions to their stamp sets, to eliminate the need to fussy cut images after stamping. Just stamp, run it through the die cut machine, and you're done!
As fabulous as thin metal dies are, however, they can't do everything. The materials that you can cut with thin metal dies are limited to mostly single sheets of light and medium weight paper and similar materials. These dies are simply not strong enough to cut heavy materials like chipboard, fabric, and other craft products. There's also size limitations to the designs that can be produced with thin metal die technology.
Many scrapbook and stamp companies sell thin metal dies using just the generic terms "die", "thin metal", or "wafer die". Occasionally, you will come across different terminology, which we have listed and described below for you!
Wafer thin dies are also very versatile, as they are compatible with nearly any manual die cutting machine!
Machine Compatibility for Wafer Thin Dies: BIGkick, Vagabond, Big Shot machines, Platinum 6, Grand Calibur, Evolution Advanced, and if die is small enough in diameter (2.75" wide or smaller), the Sidekick and Prizm!
Thinlits
These Sizzix thin metal dies are intended for cutting more intricate designs. To get this intricacy, Thinlits have a back edge that extends into the center of the die. This makes precise alignment of the dies with cutting material a bit challenging.
Framelits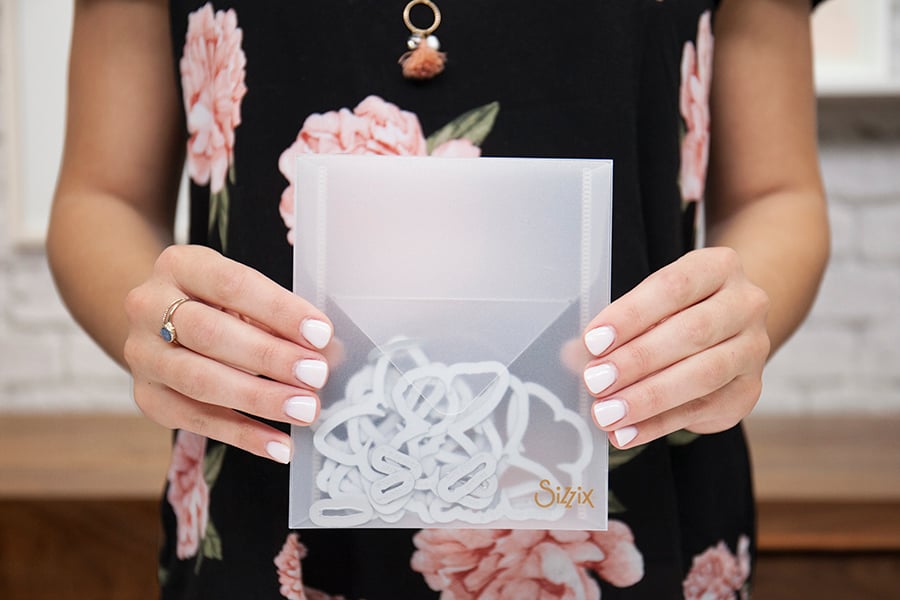 This brand of thin metal dies from Sizzix has no edge extending over into the center frame of the die's design. This makes it easy to "frame" items like stamp images for perfect die cutting placement.
Borderabilities
Spellbinders uses this brand name for sets of border dies that are all the same basic shape (such as a scallop) but that each cut out different designs. Mixed and matched and then cut together along an edge, they can create a multitude of different border designs.
Shapeabilities
This collection is the name Spellbinders uses for its dies that don't fall into their other collections (like Borderabilities). Many of the dies in this collection are quite intricate.
Frame Cuts
Many stampers and die cutters like to purchase correlating stamps and dies in order to create detailed stamped images without the pain of fussy cutting. Hero Arts calls their dies that are designed to cut out (frame) their stamp designs Frame Cuts. These dies have a completely open center, making it easy to align the die with the stamp design for cutting. For stampers who want their stamped impressions cut out beautifully, Frame Cuts are a popular die solution.
Fancy Dies
This collection is the name that Hero Arts uses for their designs that aren't dies matched to cut out their stamps. Since this collection complements the stamps, you'll find decorative shapes and elements to use on cards, like backgrounds.
A-B-C is Easy as 1-2-3
Say you're looking for just the right word, name or phrase and it just can't be found for sale. That's where the beauty and simplicity of Alphabet Dies come in. You can choose from uppercase, lowercase, thin, or bold letters for every project you're working on.
Lawn Cuts
The Lawn Fawn "Lawn Cuts" collection includes both dies that cut out their stamp designs, as well as dies to create other elements for papercrafting. These include scenic elements to use with their adorable animal stamps as well as 3-D items like candy boxes to make.
Xcut
This brand name encompasses an entire collection from DoCrafts that includes thin metal dies, embossing folders, and materials for cutting. Because this brand is European, some of these items are sized in A4/A5/A6 standard stationery sizes instead of the standard American sizes.
Nested/Nesting Dies
Wafer thin metal nesting dies
Many brands, including Scrapbook.com sell dies using this term. These dies come in sets containing the same shape in multiple steps of sizes. When two of these dies are used together, they create a frame that can be used to highlight a photo or frame a card front. You can also cut two different sizes from two different papers to create perfectly matched layers for photo mats or a card design.
Since nesting dies are considered "basics" in your die cutting arsenal (meaning they're must-have commodities), they oftentimes can be found paired with popular die cutting machines to get all-inclusive "starter" or "upgrade" kits.
As Nesting dies are wafer thin metal, they have the same machine compatibility as the wafer thin dies unless noted otherwise.
Pocket Card Dies
If you're a fan of die cutting & pocket page scrapbooking then this next die type is right up your crafty alley. Pocket card dies are designed to be your new best friend in pocket page scrapbooking. Create customized cards & perfectly-sized photographs with these dies. Cut out 3" x 4" and 4" x 6" rectangles to fill your pocket page protectors to perfection.
Nestabilities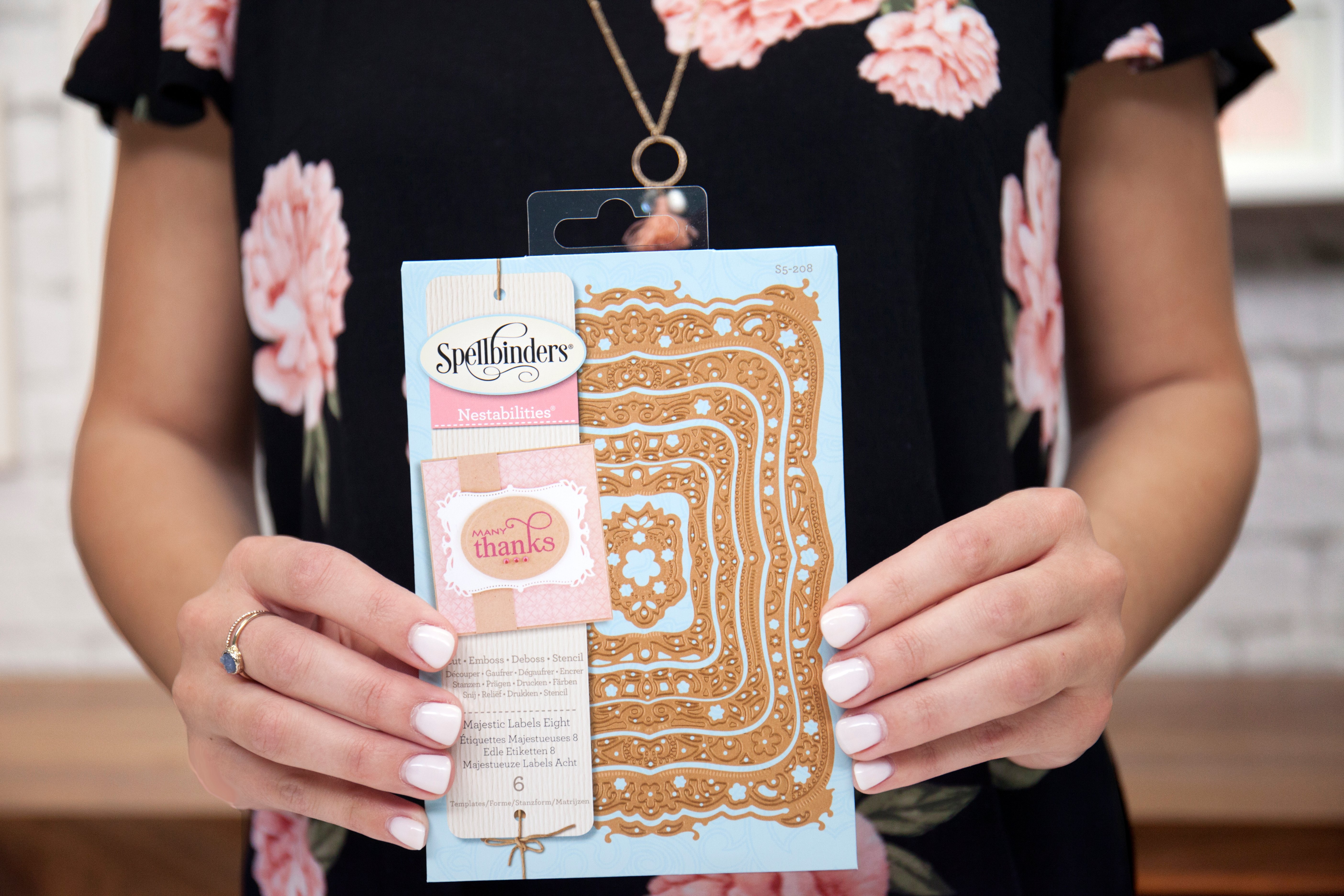 This is the Spellbinders collection name for its nested dies (sets of shapes that come in sets of stepped sizes) that make easy layered card fronts and frames. There are a wide variety of designs, shapes, and sizes and are popular among card makers.
Infinity Dies
Hero Arts sells its nested dies under this collection name. Like other nested dies, these are great for making layered or framed card fronts.
Stackables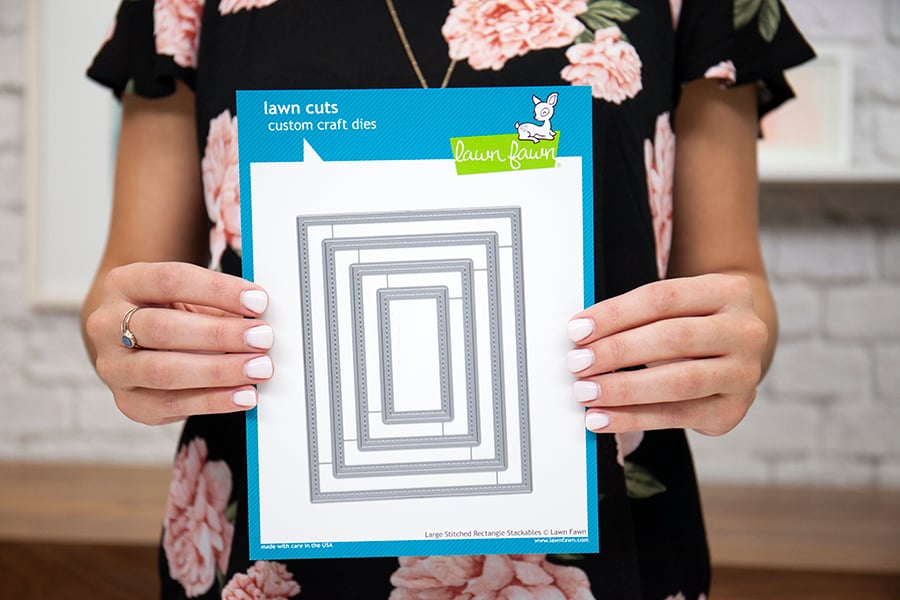 This is yet another term for nested dies, used by Lawn Fawn for them in its collection of thin metal dies, called Lawn Cuts.
Steel Rule Dies
The big advantage of using steel rule dies is that word "steel" right in their name. Since their cutting edge is steel and thicker than aluminum thin metal dies, steel rule dies can cut a huge variety of heavy materials. If you want to cut fabric, felt, chipboard, mat board, magnet, leather, wood veneer, craft foam, and other heavy materials, a steel rule die is what you need. Steel rule dies can also produce cuts from multiple stacked sheets of paper, for quicker mass production of items like cards and invitations. These dies can also cut larger items like card bases and 3D items that are too large for thin wafer dies.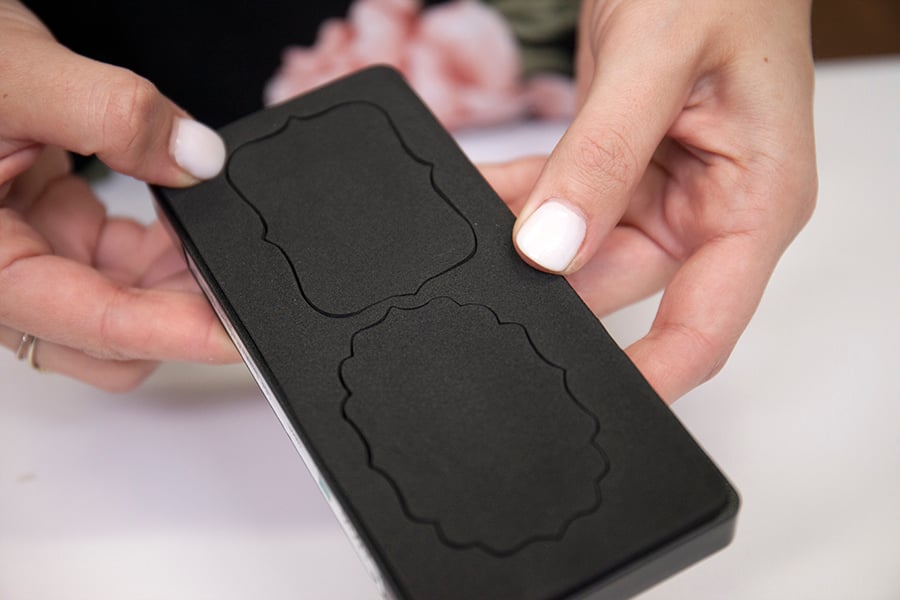 You'll also love the simplicity of cutting steel rule dies, compared to having to make complicated "sandwiches" to cut thin metal dies. With steel rule, you just slap your cutting pads on your die and you're ready to cut! And you can use these durable dies over and over with very little fear that you will love them to "death" and have to replace them.
The durability and strength of steel rule dies comes with a cost. First, there is the actual price that you'll pay for these. Unlike less expensive thin metal dies, a steel rule die is an investment piece for your die cutting collection. The price is higher, but these dies if purchased in classic designs will serve you reliably for years.
One side of your steel rule die will look almost like a case. When you flip it over, you'll see the black foam with the cut design. This is a steel rule die from Tim Holtz' Alterations with
Sizzix
The other price you pay for getting the cutting strength of steel rule is design limitation. Because the cutting edge is literally a ribbon of steel that has been bent and shaped to make the die, there are limitations to what shapes can be made in these dies. If you want to cut doilies or other intricate shapes, you will need to look for those shapes in thin metal dies.
Two primary companies, Sizzix and Spellbinders, currently make steel rule dies for the craft market. But you might see some different names used for different sizes and types of the dies that they make.
Originals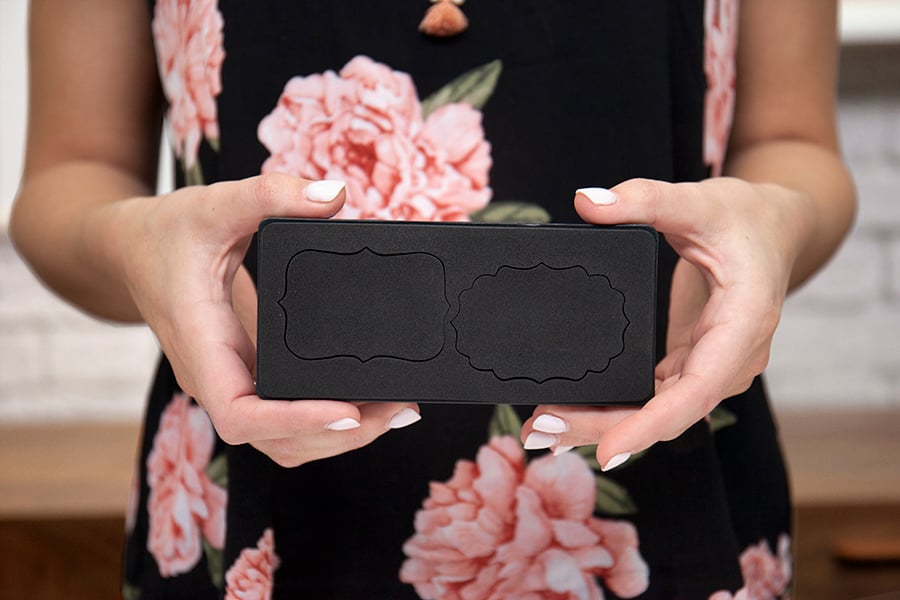 These dies are the first Sizzix line of steel rule dies. The small, medium, large and border sizes are compatible with Sizzix's Big Shot, Big Kick, and Vagabond machines.
Bigz Dies
These Sizzix steel rule dies are compatible with any of the Sizzix machines that have "Big" in the name, plus the Tim Holtz Vagabond. They are also compatible with both models of the Spellbinders Platinum machine.
Bigz L and Bigz XL
These Sizzix steel rule dies are larger than the standard Bigz dies. But they still fit into any of the Sizzix machines that have "Big" in their name, as well as the Tim Holtz Vagabond and both Spellbinders Platinum Machine models. Bigz L and Bigz XL are typically used for larger projects, such as albums, or for cutting heavier material, like leather and balsa wood.
Bigz Plus
Another line of large sized steel rule dies from Sizzix, these only fit in the Big Shot Plus and Big Shot Pro machines. They will also fit into the Spellbinders Platinum Machine.
Bigz Pro
These massive Sizzix steel rule dies only fit into the Sizzix Big Shot Pro machine. They're often used for larger, thicker, and/or more complex projects, such as home decor pieces and albums.
Contour
This brand name is the designation that Spellbinders uses for its steel rule dies. These dies are intended for use with Spellbinders' Platinum Machine. The standard sizes also work with all of the Sizzix "Big" named machines, as well as the Vagabond. The large sizes work with the Big Shot Plus and the Big Shot Pro.
Types of Die Cutting Machines
Just like there are two different types of dies, there are also two primary types of die cutting machines. Which type of die cutting machine is best for you depends on what kind of dies and materials you want to cut.
First, there's the die cutting machines like the Sizzix Sidekick and Spellbinders Prizm that can only cut thin metal dies and emboss. These are mostly small, affordable and easily portable machines that have small openings so they cannot cut larger designs. These machines are limited to cutting or embossing single sheets of paper with small designs. They're a great budget die cutting solution for card makers.
There is a larger option available, however, for those interested in only cutting thin metal dies and embossing. The Spellbinders Grand Calibur has a platform that is a full 8.5" wide. This machine is the perfect solution for scrapbookers and card makers who want to cut larger sizes from paper, but have no interest in investing in steel rule dies.
For the crafter who'd like a die cut machine that can but both thin metal and steel rule dies, there are certainly plenty of options available. The 6" platforms on the Spellbinders Platinum 6 and Sizzix Big Shot can handle most projects for card makers. But for scrapbookers and crafters making 3D objects, the Sizzix Big Shot Pro or Sizzix Big Shot Plus are the answer for making larger projects.
For die cutters looking for a little help cranking those die cuts out, there are several electric machine options that will handle both thin metal and steel rule dies. Sizzix has two electric die cut machines, the Big Shot Express and the Tim Holtz Vagabond 2, that can handle dies up to 6" wide like Sizzix Bigz and Spellbinders Contour. Another creative addition to the list is the We R Memory Keepers Evolution machine. The Evolution is sold as a manual machine, but its optional accessory motor easily turns it into an electric die cut machine for the best of both worlds. An electric machine can be a great assist for those with hand problems or those who do large quantity die cut production, but you'll pay for it - the motor does add to the price of the machine significantly.
Whether you call them Nestabilities, Stackables, or Infinity dies, one thing is certain – you'll call these dies one of your most indispensable creative tools!
---
To learn more about die cutting, read this informative article: The Ultimate Guide to Die Cutting. Have a specific question? Check our Top Die Cutting Q&A to see if we can answer!
Looking for the perfect dies, die cutting machines, and accessories? You can find all of those here.
---