Neon colors have become very popular with kids these days, especially for sports equipment and clothing. As my children have started wearing neon-colored shirts and athletic shoes, I have been working on different methods to match this bright trend on my scrapbook pages.
One of the best ways to match neon colors is with mists. Although most mists have subtle colors, some have very bright colors which are even brighter when applied heavily. I used Dylusions Ink Spray on this layout to produce a bright background complementing the neon colors in my son's athletic shoes.
Another way to achieve neon colors is with neon inks. I used both neon ink pads and neon ink daubers to match my son's neon green shirt on this running layout. I found that both the ink pads and daubers need to be used heavily to produce a bright neon effect. For example, I double-stamped some of the green arrows across the bottom to get the bright effect that I was looking for.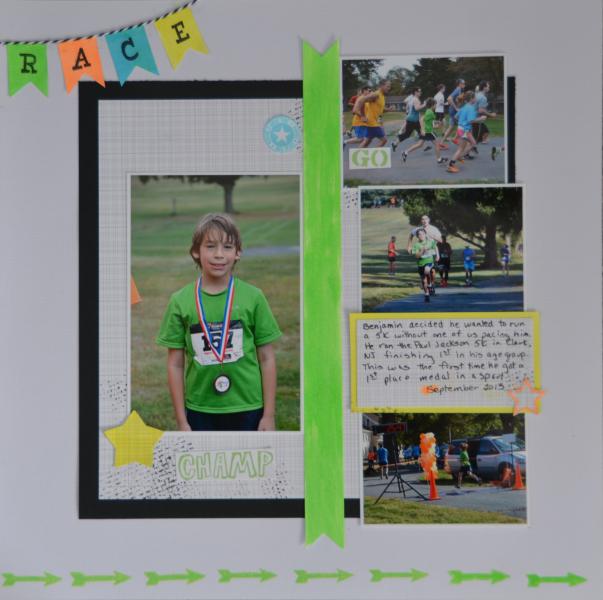 Another way to add neon to a layout is through the use of neon paper. In this layout, I added a small piece of a neon yellow patterned paper that matches the color in my son's shirt. This travel-themed layout also shows that neon can be used on layouts for topics other than sports and can be used in small pieces on layouts that do not specifically have a neon color scheme.
I hope I have inspired you to try neon colors on your scrapbooking projects.
---