Valentine's Day is right around the corner and we crafters are usually the first on board! We're already working on our love letters, handmade valentines, and heartwarming home decor here at Scrapbook.com and wanted to pass on a little bit of inspiration to you, including some tips and tricks to create your best homemade Valentine's Day Card ever.
1. Layers, Layers, Layers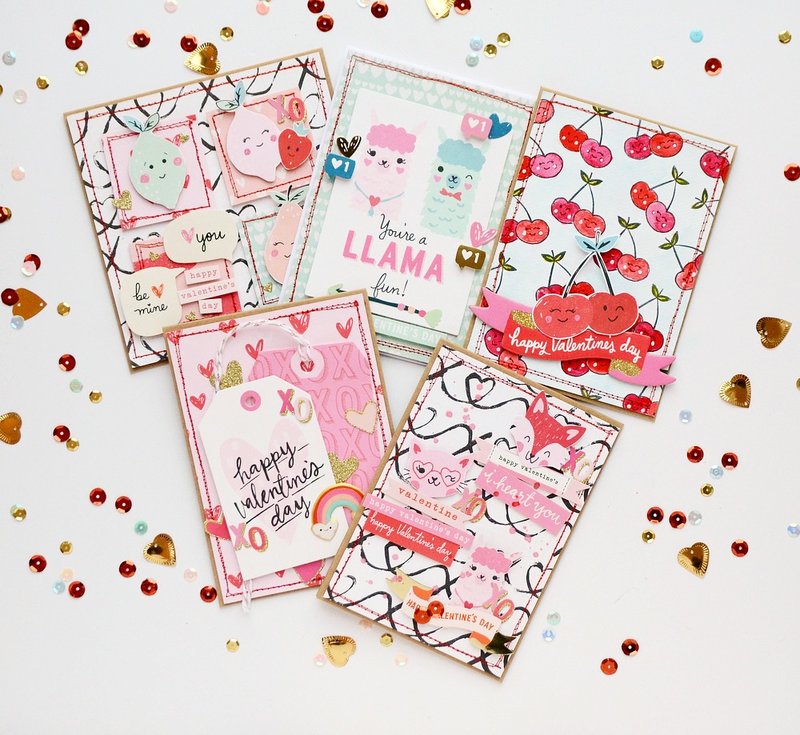 When creating your Valentine's Day cards, it's sometimes difficult to walk the fine line between "not enough" and "ahhhh what did I do?!" An easy way to keep your fun from getting over-done is to use your favorite ephemera packs and start playing! The more layers, the more fun! Your card will become a treasure trove of surprises, textures, and colors that your lucky card recipient will love looking at.
Tip: With this repositionable dot tape, you can position your ephemera, adhere them, and if you don't like the pattern of layers you've created, you can easily take them apart and reposition to your heart's content!
Get the Look!
Recreate these cards with these supplies:
Pre-scored blank cards with matching envelopes
The Main Squeeze Valentine's Day Collection
28 Lilac Lane Sequins and Embellishments
2. Make Your Own Heart Image by Stamping
Hearts and Valentine's Day go together like Four-Leaf Clovers and St Patrick's Day. We love this creative way to fashion a huge heart with subtlety! Ashe used smaller stamps and cleverly positioned them to create a heart shape.
How to Stamp in a Heart Shape

Choose a piece of "scrap" cardstock. This will be either tucked away for later use or recycled/thrown away.
Die cut a heart shape on your piece of paper by using your die cutting machine and your size of choice in this Nested Heart Die Set.
Set aside the die cut heart shape and use the piece of paper with the heart cut out of it.
Temporarily adhere the "empty heart shape" where you'd like the heart on your card face to be. We recommend washi tape to hold the piece of paper down so it doesn't slide out of place.
Place your card face and cut-out overlay in your stamp platform.
Position your stamps (face down) where you would like them, within the cut out heart shape. Make sure the stamps entirely and evenly fill the heart space with shapes.
Once you're happy with your placement, press the lid down on your stamp platform to pick up the stamps, ink them, then press back down.
Remove the piece of paper with the heart cut out of it to reveal your fresh design!
Get the Look!
Make your very own heart-shaped stamped card and recreate the look with these supplies:
Happy Valentine's Day Cling Script Stamp
Lawn Fawn "Love You a Latte" Cling Stamp Set
Decorative Nested Die Heart Set
Bazzill Basics Aruba Cardstock
Pre-scored blank cards with matching envelopes
3. Make a Valentine's Day Goodie Bag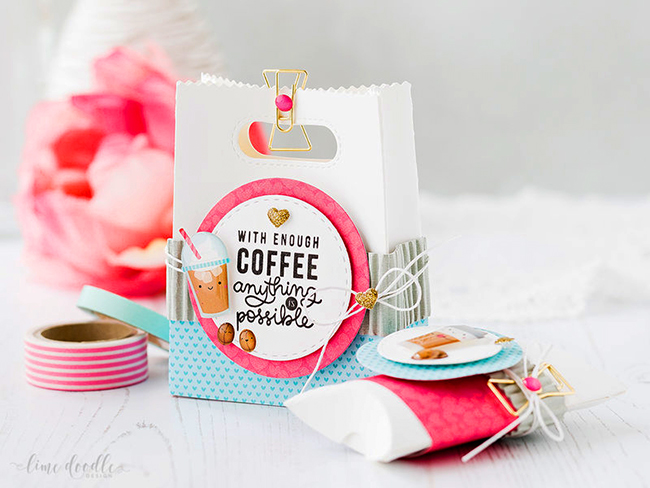 If you are desiring a shake-up this romantic season, create adorable goodie bags in lieu of traditional Valentines! Decorate and fill them with little chocolates, printed messages, and surprises! If you do not have treat box dies or are not a die cutter, you can quickly and easily embellish small pre-made goodie bags for quick, handmade Valentines!
Tip From Terri Burson of WavingMyWand: "It really is the thought that counts, so make easy multiple CAS cards with a sweet sentiment and pretty, focal heart (watercolor, die cut, etc) and give handmade love to your favorite barista, cashier, teacher, and others who could use a lift!"
Get the Look!
Make your very own Valentine's Day goodie bags by recreating the look with these supplies below:
Embellishments from the Cream and Sugar Collection
4. Try a New Color
Make your card stand out in your recipient's mailbox this year by using a pop of color that is sure to surprise, like Hero Art's card above that is total eye candy! It's easy to do and will give your Valentine's Day crafting an unexpected twist. Just grab a different color of paper or hue of ink and you'll be on your way to a mini masterpiece that wows.
Tip From Gale of The Darby Creek Diaries: Try using non-traditional color schemes... if you want to use pink and red, use one, but not both.
Get the Look!
Recreate your very own version of this card with these supplies below:
Hero Arts Alphabet Letter Dies
Pre-scored blank cards with matching envelopes
5. Make it Tiny!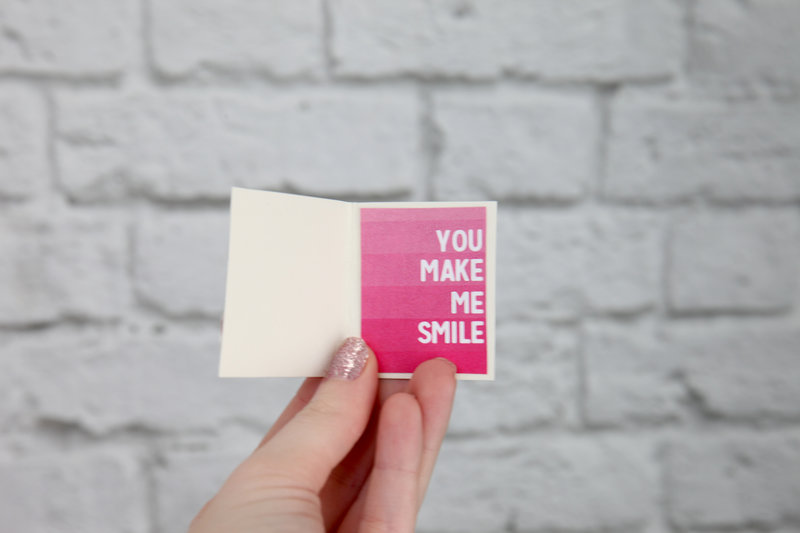 There's something really silly (in a good way) about making and receiving teeny-tiny cards - Valentine's Day Cards included. If you don't have a ton of time on your hands or have a huge list of recipients, creating tiny cards can save the bank and save time - double points for economy!
Tip From Kimberli of Modern Mess Princess: Tiny cards! Like the ones kids gave, but handmade with a simple die cut or heart painted and outlined. It feels whimsical and understated, and that reminds me of the fun of childhood valentine's cards!
Get the Look!
Make your own teeny-tiny cards and recreate the look with these supplies:
Mini-Snips Scissors from Tim Holtz
6. Special Valentine's Day Album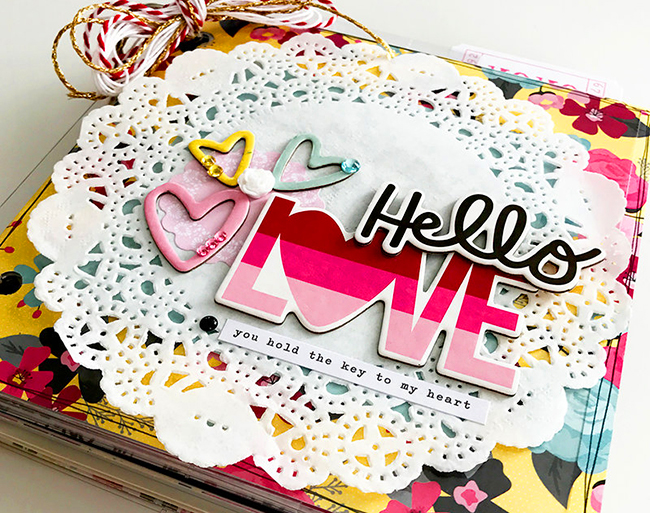 If you are looking to create something unforgettable for one particularly special sweetheart this season, composing a mini-album in place of a card is a wonderful way to not only show you care, but to document your love and life in a creative way that will last for years to come! A mini album and a Valentine? Two birds, one stone.
Tip: Clear Scraps creates a wide variety of chipboard and acrylic albums that are super small and perfect for your "quick" albums, such as these!
Get the Look!
Make your very own mini-album all about your sweetie pie with the items below!
7. Card with Flowers That Won't Die
We all know that a bouquet of flowers is a go-to gift on February 14th. Vivweinman has reinvented this classic token by making it on a Valentine's Day card! Using kraft cardstock, baker's twine, and an arrangement of flower embellishments, her little bouquet is sure to surprise, delight, then last a lifetime!
How To Make a Card with a Fabric Flower Bouquet

Depending on your card size, choose a variety of Flowers. 1 large focal flower, 2-3 medium accent flowers, and 5-7 small decorative flowers.
To make the "cone," grab 12 x 12 kraft (or other color of choice) and follow the directions on your We R Memory Keepers DIY Party Board. This tool makes amazing cones that are 3-Dimensional, but can also be pressed flat!
Adhere your flattened cone to the front of your card face
Arrange your flowers to your liking, then adhere them to the top of your cone. We recommend a liquid adhesive.
Once your flowers are arranged, add a little adhesive to the inside of the cone, directly below the flowers to make sure your cone stays nice and flat.
Get the Look!
Get everything you need to make your own version of this card below!
Pre-scored blank cards with matching envelopes
8. Unique Valentine's Day Card
Some of us are mass-produce card makers and some of us want to make each one a little different. A wonderful way to make your Valentine's Day cards the best ever this year is to personalize each one to your recipient. Now, not all of us have time for such a project, and if you do not, choose 3-5 people to create custom cards for and mass-produce the rest!
Unique Valentine's Day Card Ideas

Use a sticker or ephemera piece that reflects the recipient's personal passion - such as bike for bike riding or a paint palette for art.
Use an embellishment or piece of ephemera that will remind your recipient of a special time you two shared together
Use your recipient's favorite colors
Create a Valentine's Day card with a print out of a map of where they are from or where the two of you met
Treat the card front as a layout and design around a photo of the two of you together (a card that doubles as a layout!)
Get the Look!
Recreate this lovely bicycle card with the supplies below:
Pre-scored blank cards with matching envelopes
Jillibean Red and Pink Sequins
---
No matter the kind of card you create this year, with a mix of supplies or even with an Exclusive Valentine Kit, Valentine's Day is a special day that really comes down to us showing each other how much we care and gives us card makers and crafters another opportunity to create and give to our loved ones.
A Valentine's Day Card Making Tip from Keren Tamir: Celebrating love is not only about love between lovers, as not everyone fits into that category. Love can be celebrated between parent and child, between friends, cousins, or any relationship. Love is international and has no limits or boundaries. As long as someone is loved, they will feel that they belong.
Want to Read More?
---